Aurora Cannabis published their quarterly financial report, which indicates that Aurora made $19.1 million CAD in revenue just in the last quarter.
According to the Q4 financial report, Aurora Cannabis made $19.1 million CAD in the last quarter, a 223% increase compared to the same period in 2017.
That number goes up even further if we were to count in the revenue made by MedReleaf, in which case the total would be slightly over $33.1 million in Q4.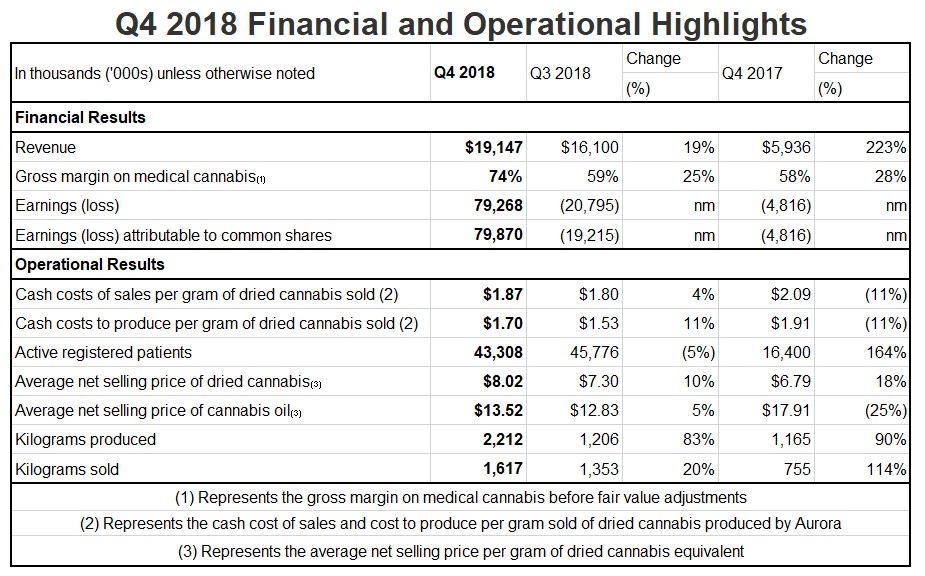 The company is undoubtedly moving in the right direction, as the cash cost of sales and cash cost per gram of dried cannabis sold both decreased 11% in comparison to Q4 2017, but rose a bit in comparison to Q3 2018.
Aurora still isn't producing the crazy amounts of cannabis we expect them to start putting out soon, as they grew only 2,212 kilograms of pot and sold 1,617 kilograms.
Compared to the potential output the company will have once all of its facilities are online, this barely scratches the surface.
Just to remind you, Aurora Cannabis has 7 facilities with production licenses, 5 of which also have sales licenses. Once you add up all the potential output capacity, the company could near 700,000 kilograms a year.
Aurora Cannabis will soon be listed in the US
Aurora Cannabis CEO, Terry Booth, announced that the company will soon be listing on one of the American stock exchanges.
The company plans to fill out and file a Form 40-F Registration Statement with the United States Securities and Exchange Commission in the near future.
"Listing our shares on a senior U.S. exchange reflects the level of corporate and business maturity and our high-paced execution. This listing provides access to a broader investor audience who gain the opportunity to participate in our continued success", said Terry Booth.
Aurora plans to get listed on one of the senior stock exchanges, meaning most likely NYSE or NASDAQ, and in doing so they would be the third Canadian company to do so, after Canopy Growth and Tilray.