Dab pens don't just make you "in." They allow you to consume your favorite herb more healthily and conveniently than traditional smoking techniques.
Though some people think dabbing is a contemporary trend, the truth is, people have been indulging in similar forms of this practice for thousands of years.
On top of that, researchers have discovered that vaping is a far healthier method of consuming cannabis than smoking is. These should be reasons enough to jump onto the dab pen bandwagon, if you haven't already.
So we decided to present you with reviews of some of the best dab pens (according to us) on the market today, as well as some fundamental information on how they work and the best way to use them.
What is a dab pen?
A dab pen is a small, portable, battery-powered device that serves to turn cannabis concentrates (wax, rosin, kief, shatter, etc.) into vapor. The advantage of using dab pens is the absence of smoke, as well as the device's discreet nature.
Three basic components of dab pens are: the heating chamber, mouthpiece (to inhale the vapor) and battery. Most dab pens use stainless steel or ceramic chambers for vaping herbs.
(As a side note, I'd avoid dab pens with plastic vapor paths. Though these pens tend to be cheaper than the ones with glass or ceramic paths, they begin releasing harmful toxins into your vapor after a while. I'm sticking with glass path pens, even though they're the most delicate ones.)
Dab pens allow their users to adjust the desired vaping temperature, depending on one's taste and the moisture of the herb.
It's crucial to point out that temperature plays a major role in securing an ideal vaping experience. If the temperature is too high (400°F or above), chances of combustion start increasing, and you end up inhaling the smoke that you're trying to avoid with dab pens.
On the other hand, if the temperature is too low (325°F or less), it becomes virtually impossible to squeeze out any flavor or vapor out of the herb.
So, the common agreement on creating optimal conditions for vaping is as follows:
325 – 349°F – Most suitable for arid herbs, producing a decent flavor and light vapor.
350 – 374°F – Ideal temperature for dabbing fresh herbs, because it creates a solid amount of vapor and an extremely rich and smooth flavor.
375 – 399°F – Very moist herbs need to be heated at a higher temperature to produce an intense flavor and a decent amount of dense vapor.
Benefits of Using Dab Pens
As hinted thus far, using dab pens comes with a number of amazing benefits. Here are the top three reasons why you should consider buying a dab pen:
CLEAN AS A WHISTLE: If we're being honest, smoking isn't the cleanest way of consuming cannabis. For many (myself included), this reason was sufficient enough for me to make the transition. Think about it. With dab pens, you don't have to deal with smoke or ash. It's a mess-free solution.
SUPER CONVENIENT: The name says it all. Dab PENS. Is there a more conveniently shaped device? Due to being extremely light and portable, dab pens make great traveling utensils. Moreover, instead of having to carry around various sorts of flowers, it's easier to use pre-filled cartridges and swap them out.
HEALTHIER THAN SMOKING: Though we still haven't seen any longitudinal studies being done on this topic so far, some studies have shown that dabbing is a healthier way of consuming cannabis. The smoke we inhale from combusted cannabis contains at least 100 toxins, some of which are cancerogenic.
Now that we got your attention, let's jump to the main thing you're here for – our recommendations for best dab pens in 2019.
4 Best Dab Pens
Even though the dab pen industry is still evolving and expanding, we've been able to enjoy quite a few superb devices thus far that are worth the money. Here's a list of the four we picked.
Source Orb 4 Vaporizer – Signature Kit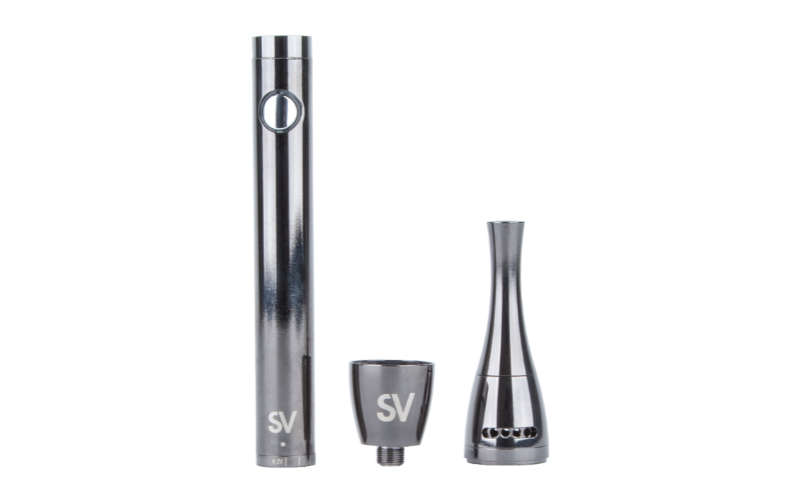 Source have made their name in the dab pen industry with some of their previous models, the most notable one being Orb 4's predecessor, the Orb 3.
I'm not going to lie, if you're looking to get your hands on this Source's signature kit, you're going to have to pay a pretty penny. Luckily, however, this device makes up for the steep price with its build quality and extreme versatility.
If you purchase this device, here's what you'll get straight out of the box:
One orb 4 attachment
One source volt max temperature control mod
One quartz single coil atomizer
One quartz double coil atomizer
One white ceramic double coil atomizer
One black ceramic double coil atomizer
One terra 2 ceramic coil-less atomizer
One terra 2 quartz coil-less atomizer
One source nail titanium coil-less atomizer
One source nail ceramic coil-less atomizer
One dab tool
One silicone wax container
One cleaning cloth
One charger
One wall adapter
One black metal carrying case
Pretty impressive stuff, isn't it?
I may be biased, but this is by far the best package you could get as an avid dabber. The thing I love the most about this pen, apart from its incredible temperature range (200°F – 700°F) and eight different atomizers, is its adjustable airflow!
This means that you can create a drawing experience that matches your preferences. I feel that there can be too much airflow, so I keep only one air hole open. It feels the most natural to me.
As far as the battery goes, the Source Orb 4 uses a 18650 battery with a 90-minute life and a charging time of 3 hours.
Orb 4's attachment is made of 303 stainless steel and it feels premium. To top things off, the unit comes with magnetic locking technology, which makes the Orb 4 one of the easiest dab pens to maintain. Plus, you get a lifetime warranty on it!
All in all, if you're looking to treat yourself (or someone else) with a sleek-looking, premium built dab pen that allows you to adjust everything in order to create a perfect dabbing experience, the Source Orb 4 might just be the one for you.
Puffco Pro 2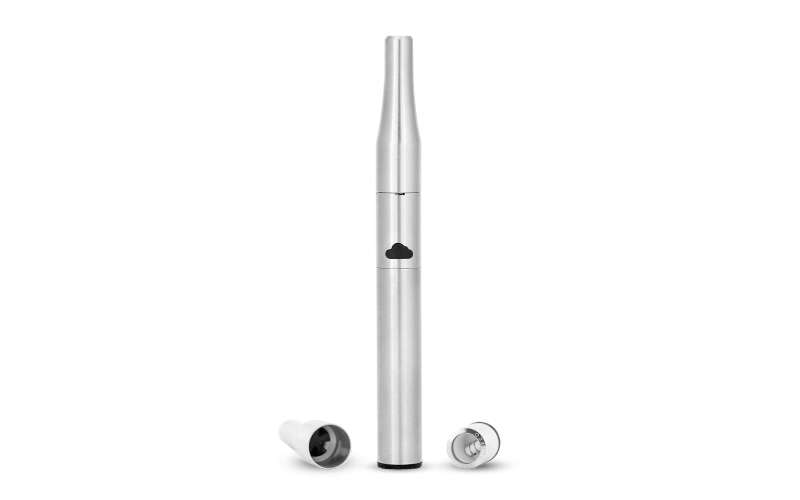 Compared to Source Orb 4, the Puffco Pro 2 is more reasonably priced, a bit cheaper than the newer Puffco Plus V2. However, that doesn't mean that you're getting a badly-built, cheap dab pen. Not by a long shot.
The Puffco Pro 2 offers everything you'd want from a dab pen.
First and foremost, it's large capacity ceramic chamber doesn't use any kind of glue or plastic and that means you're getting a healthier dabbing experience.
Apart from that, Puffco Pro 2 is super-easy to maintain and use. Especially when you're using Puffco's proprietary dab tool. You almost cut the average prep time in half.
This device uses an ultra long-lasting 430 mAh Lithium-ion battery. If you use it moderately, it could end up lasting for a full week only on one charge (which takes no more than one hour).
My favorite thing about this device is its special "Sesh" mode. You just double click the cloud button to turn it on, and you get a 12-seconds of continuous vaporization. It may even be my favorite feature ever implemented in a dab pen.
The Pro 2 offers three different temperature settings which means that it's suitable for vaping not only liquid, but solid concentrates as well. The three temperature settings are:
GREEN LIGHT (low setting) – 304°C / 580°F
BLUE LIGHT (medium setting) – 343°C / 650°F
WHITE LIGHT (high setting) – 382°C / 720°F
All things considered, the Puffco Pro 2 makes a perfect traveling companion. It's super portable, comes with three fixed temperature settings, and a long-lasting battery that can be used for up to 100 dabbing sessions on a single charge! Just shy under $100, it's an investment worth making.
KandyPens Galaxy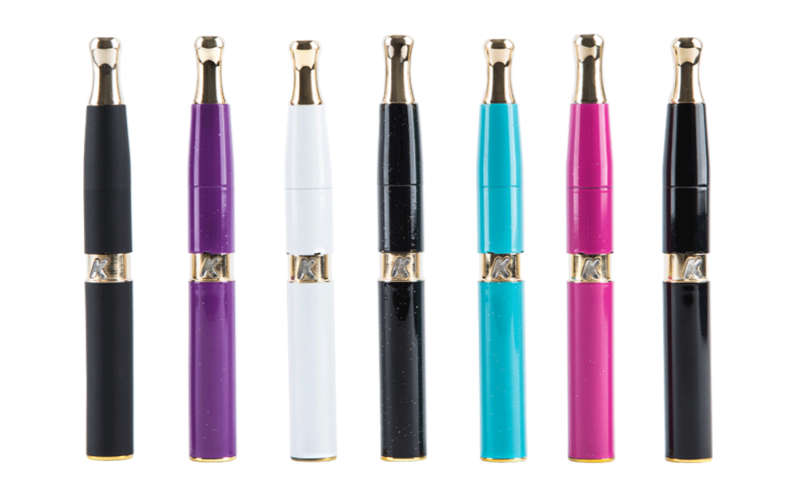 Even though dab pens are mostly about convenience and portability (which makes them all look quite similar), guys at KandyPens decided that adding a tad of coolness and style to dab pens is just what the doctor ordered.
Given that I bought one, I certainly wouldn't disagree with their decision. This is by far the sexiest dab pen I own. And that can never be a bad thing.
Apart from the seductive design, these pens bring a ton of performance to the table as well. For example, KandyPens Galaxy pens are equipped with a very durable and long-lasting battery. When fully charged (takes 2-3 hours), this pup can provide you with a solid 2.5 hours of vaping time.
Also, KandyPens Galaxy devices come with three pre-installed temperature settings:
Red – 176°C/350°F
Green – 199°C/390°F
Blue – 220°C /430°F
You may have noticed that these temperature presets are lower than the Puffco Pro 2 ones. That's a sign of this dab pen being suitable for wax and oil concentrates only! No dry herbs. But that shouldn't discourage you from buying one.
Taste-wise, this is probably my favorite dab pen of all time. The only word that does its taste justice is pureness. Now, there's a very special, even scientific explanation of why the taste is so good.
The answer lies in its Quartz crystal-lined chamber equipped with two quartz rods. This particular material produces the absolute finest taste you could imagine. Granted, the smoothness of the vapor isn't up to par, but the taste makes up for it.
If you end up settling on this particular dab pen, just one word of advice. Even though the capacity of the atomizer is about 0.3 g of concentrate, don't max it out. You'll avoid clogging if you put in no more than 0.2 g.
Mig Vapor WASP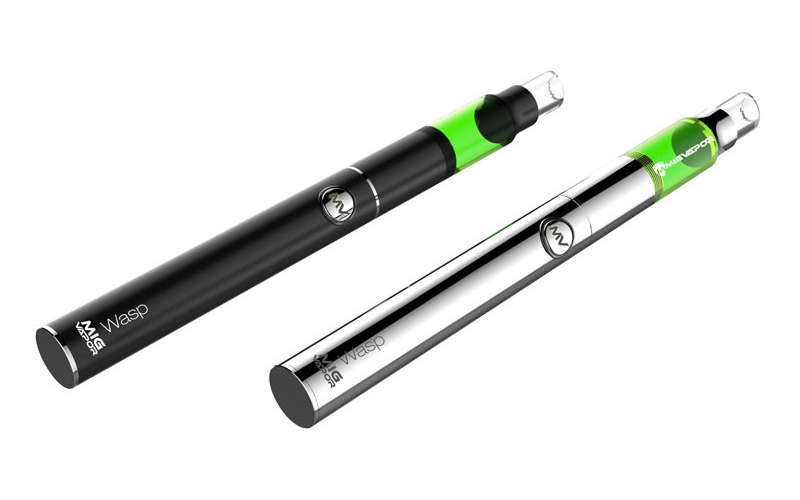 Unlike the previous three devices, the Mig WASP focuses on one thing, and one thing only. Simplicity. Apart from that, it's the most affordable pen of the lot.
It's worth keeping in mind, however, that this pen is made mostly for occasional smokers. That means that you don't get adjustable temperature control, and some parts of it are made of plastic.
To avoid any confusion, despite not offering different temperature settings, the wattage of this device is absolutely on point. I promise that your dabs will burn so smoothly, that you'll soon forget about its lack of temperature control. Unless you're a heavy smoker.
The Mig WASP's battery capacity is of decent size (900 mAh), and it takes no longer than 2 hours to fully charge. Again, it's suitable for meeting an occasional dabber's needs.
My favorite thing about this particular pen is the comfort the mouthpiece provides. It's so beautifully and ergonomically designed. But, unfortunately, it tends to get dirty fairly quickly.
As I did with the KandyPens Galaxy, I'd advise you to avoid doing heavy dabs with this one because it isn't hard to clog it up. Truth be told, it takes only a few hits for it to get unclogged again, but to some people, this could be a dealbreaker.
To sum things up, the Mig WASP is a beautifully designed dab pen that doesn't cost a fortune. It comes with a perfect temperature setting that allows for a tasteful and smooth dab that can easily suffice an average occasional dabber's needs.