On April 13, 2017, the Government of Canada brought on legislation to legalize recreational use of cannabis by adults. The statistical survey in the last edition of the Economic Insight conducted  by Statistics Canada tells us much of the potential demand in the wake of the upcoming legalization.
There have been many attempts at an accurate approximation of the future that the Canadian recreational cannabis market holds, but all of them seem to be miles, or perhaps tons, away from each other.
So, the statistical survey conducted by Statistics Canada tells us a lot about the age groups which relate to cannabis consumption, more precisely what does the Canadian stoner population looks like when it comes to demographics.
The historical records show a rapid spread of cannabis consumption among young people in the late 1960s and early 1970s.
However, most of these surveys were done on high-school age children and young adults, thus most of the relatively old results can be considered compromised/inaccurate to some extent.
From the 2002 and 2012 CCHS–MH (Canadian Community Health Survey – Mental Health), the prevalence for cannabis use is extracted for persons aged 15 to 17, 18 to 24, 25 to 44, and 45 to 64.
These levels by age group form the base to which annual time series movements are benchmarked.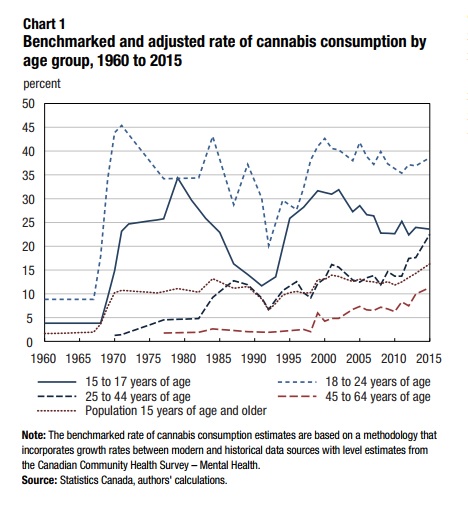 As you may see from Chart 1, the first boom on Canada's cannabis (black) market was back in the late 60's and early 70's when the hippie movement was at its peak.
As you may see, well over 30% of population aged 18-24 was almost always in the last 50 years somehow involved with weed. Today, that percent is still in the upper 30s.
The study presents experimental volume estimates along with corresponding estimates for the number of consumers.
Using this approach, the study estimates there were around 4.9 million consumers aged 15 and older in 2015, both medical and non-medical cannabis consumers were taken into consideration of course.
The study also estimates potential cannabis consumption by multiplying:
The number of consumers
The number of days of consumption
The number of grams consumed on a daily basis
Those three, when multiplied, give us an approximation of what the recreational market might look like.
According to this study, Canadian cannabis consumption is estimated at 697.5 tonnes in 2015, and assuming that price will be anywhere $7.14 to $8.84 per gram, the estimated value of cannabis consumption in Canada in 2015 ranges from $5.0 billion to $6.2 billion anually.
Not really what the government might have expected.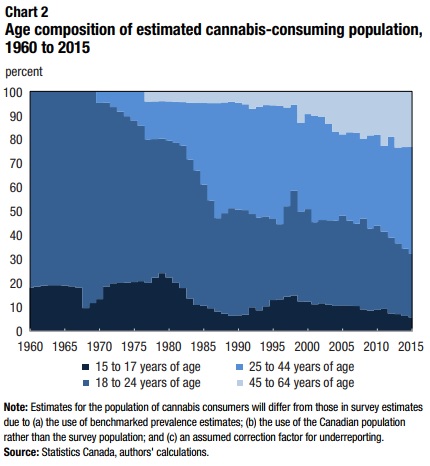 One very obvious thing from Chart 2 that we can all agree on is that the composition of the demography is starting to vary more.
In the 60's and 70's almost 95% of the consumer demographics was made up of people 15-24 years old. As we progress towards the 2010's we get to see that those aged 25 to 64 are making more than half of the of the whole demography.
After taking a second look at the chart we can also see this growth — those that were 15 years old in the 70's are now in their late 50s and 60s, and they are responsibly consuming marijuana.
By 2015, just under 6% of estimated cannabis consumers are estimated to be in the 15 to 17 group, while two-thirds of cannabis consumers are over the age of 25.
The study also concluded that the volumes of cannabis consumed over the years has proportionately increased over time from 1960 to 2015.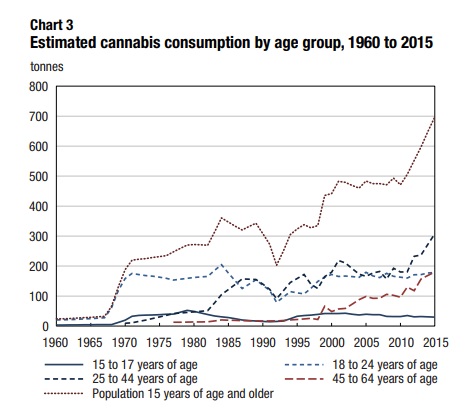 Lastly, we get to see which age group consumes which amounts of weed.
The group of people aged 25 to 44 comes on top yet again as we see them consume just over 300 tons per year, which is several times more than those aged 15 to 17, and then some.
In fact, they consume almost half of the total supply.
Read More: US Cannabis Market Will Be Worth 20 Billion by 2022