Canada's largest cannabis producer has once again seen a big boost to their business. Canopy Growth stock has risen by almost 5% as Justin Trudeau announced his $1 tax plan for recreational cannabis.
However, this is not the only thing going their way. Reddit user zoo55 did a very thorough research of their future growth potential and compared them with current cannabis growing abilities, and here's what he found: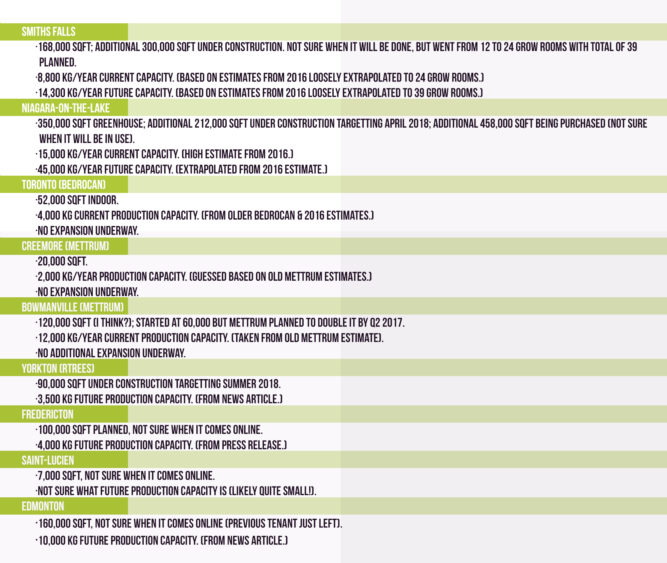 He also found Canopy Growth's total growing capacity:
Current production capacity: 41,000 kg/year.
Future production capacity: 96,000 kg/year.
Zoo55 also added that Canopy Growth is currently growing about 15,000 kg/year, which is just over a third of their production capacity. He suggests that one possible reason for this are the legal issues preventing them from growing more cannabis.
This could be an issue, as their main competitors, Aphria(TSE: APH) and Aurora Cannabis (TSE: ACB) are both looking into having 100,000 kg/year capacity by mid-2018.
Canopy Growth stock (TSE: WEED) will keep growing
As things on the domestic front are looking up with Ontario's and Quebec's model for cannabis sales, things on the overseas are looking even better. Canopy Growth has signed a deal with the Danish Spectrum Denmark ApS as cannabis sales in Denmark are to commence on January 1, 2018.
However, perhaps the biggest piece of evidence that this is the stock to invest in is the fact that they officially supported Justin Trudeau and his government in establishing a $1-dollar tax on sales of cannabis up to one gram, and a 10% tax on sales over 1 gram of dried bud.
"We are happy that they have taken a great competitive opportunity against the black market. It's a fraction of the tax on alcohol and tobacco," Canopy Growth CEO Bruce Linton told VICE Money.
Shares of Canopy Growth Corporation, Canada's largest cannabis company, rose by more than one percent, continuing their upward trend since Ontario's  distribution and sales plan for recreational weed announcement last month that is expected to largely benefit licensed-producers, such as Canopy Growth.
Given that many projections have shown that the supply of cannabis which is projected for July 1st won't cover the needs of Canadians consumers. It is quite possible that at one point in late June or July this stock will make a small dip, but it won't be anything significant enough to worry its investors.
As a long-term play, cannabis stocks appear to be a lock for investors as far as growth stocks are concerned.
Read more: Marijuana Stocks Are The Next Best Thing After Legal Weed