CBD oil and products containing solely cannabidiol (one of naturally ocuring compounds in marijuana) are no longer against the rules of the World Anti-Doping Agency, as the officials announced cannabidiol is now removed from the doping substance list.
The World Anti-Doping Agency announced in late 2017 that it will be making changes on the list of banned substances, and they delivered.
The change was implemented as 2018 started, with one of the biggest changes being the removal of CBD (Cannabidiol) from the list.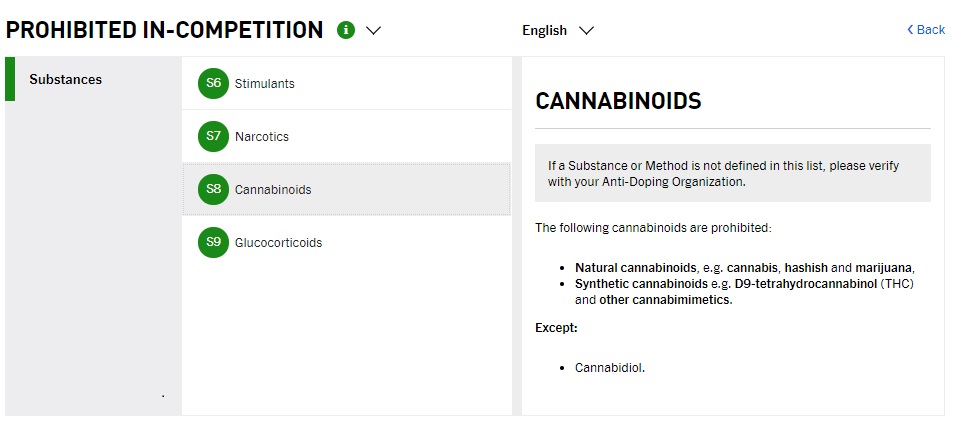 Source: www.wada-ama.org
Athletes have long been on the CBD train, and one of the first athletes who brought it to light as a way to treat injury, inflammation and other problems was Nate Diaz — a high level MMA fighter that's been active since 2004.
Diaz is a well-known fighter who showed his support for medical cannabis in more than a few occasions,  the most famous one being after the fight with Connor McGregor.
In fact, CBD oil and similar marijuana products have been supported by many athletes, so much so that an ex-NBA player started a company whose products are focused to helping athletes battle these issues.
Al Harrington (also known as Baby Al), is an ex-Denver Nuggets player who owns the above mentioned company. He, along with ex NFL player Eugene Monroe, is now advocating cannabis legalization in sports.
Yair "Pantera" Rodriguez is another MMA fighter ranked in the top ten of the UFC which also voiced his support for using CBD oil to help increase his recovery time in between training sessions.
Even former NBA Commissioner David Stern endorsed the decision to remove league penalties for players' cannabis use last year.
"I'm now at the point where personally I think it should be removed from the banned list," he said.
The current NBA Commissioner Adam Silver is also open to considering a change.
CBD is just one of the many compounds unique to marijuana. It doesn't have any psychoactive effects such as THC, which is partly the reason why marijuana hasn't been removed from the list as a whole.
Even though THC and other compounds in marijuana also have medicinal effects they will have to wait a while more to be removed from WADA's banned substances list.