Several studies in multiple locations have shown that chronic pain is by far the most commonly cited reason why patients sign up for medical marijuana.
Medical marijuana has been a blessing for millions of patients across the globe. Ever since the first countries legalized it, patients have been lining up in front of their doctor's office for a recommendation.
In the US, medical marijuana isn't legal or regulated at the federal level, which forced the states to take matters into their own hands.
State legislators were left with many questions, and they had to figure out the answers. One of the questions was which illnesses and issues are deserving of and viable for treatment with cannabis.
This led to states legalizing medical marijuana without any type of federal guidelines, which meant that states essentially had total freedom in determining how they wanted the medical marijuana system to look within their borders.
Growing enrollment
Seeing how more than 30 states legalized medical marijuana without fully resolving all policy inconsistencies, it was to be expected that some sort of problem would arise eventually.
Some states legalized medical cannabis only to later realize that the law was too restrictive and making it hard for patients to access their medicine.
In some cases, the illnesses which qualified for medical cannabis were simply not common enough for the whole system to make sense.
Once the laws were expanded and conditions such as chronic pain, depression, and similar were added to the list of qualifying problems, the enrollment started growing.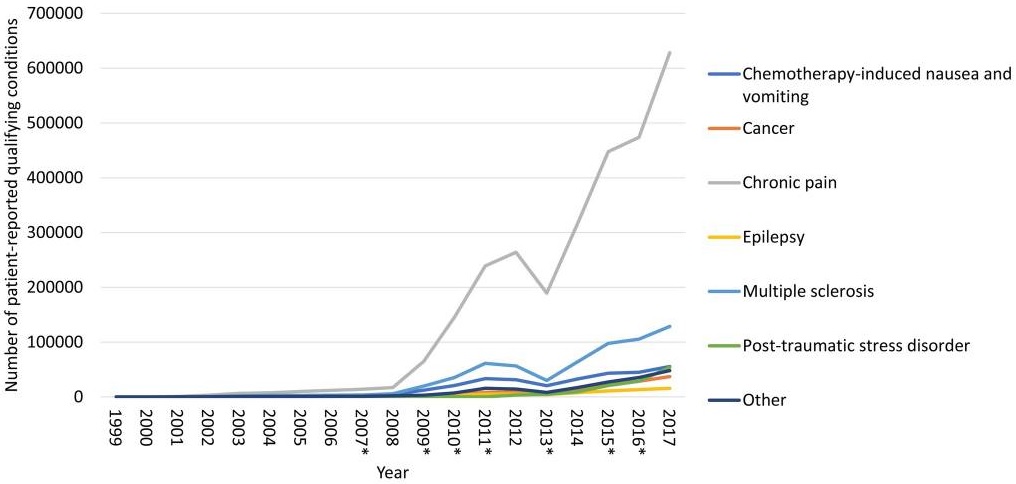 Chronic pain is the most common issue for which doctors prescribe medical marijuana these days. It can be induced in many ways, by having old injuries, scarred tissue from surgeries, etc.
So, it should come as no surprise to find out that chronic pain makes up about half of the patient base qualifying conditions, according to one study.
Pennsylvania legalized medical marijuana in 2016, and more than 50% of registered patients put down "chronic pain" as the reason for seeking a recommendation.
The second most cited reason was Chron's disease, while various neuropathies took the third spot.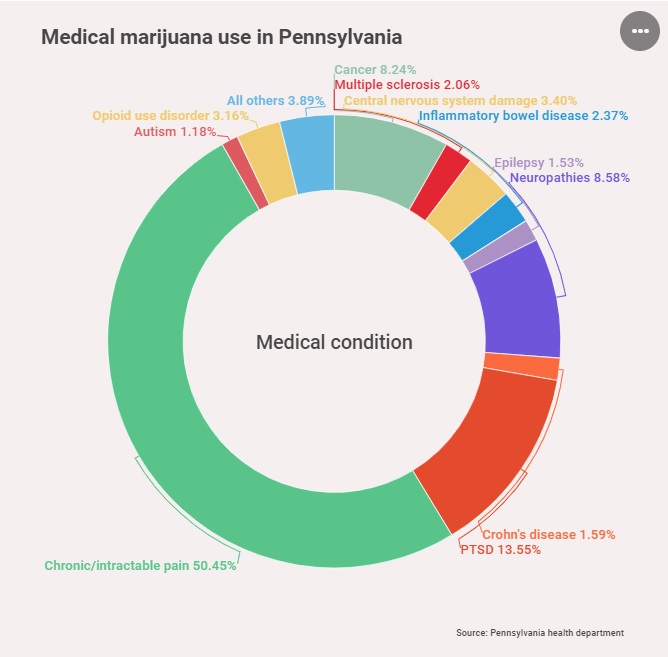 Other commonly cited reasons include MS, cancer, inflammatory bowel disease, and more. Interestingly, opioid use disorder was claimed as a reason for medical marijuana in only ~3% of cases.
Marijuana was suggested as one of the possible replacement therapies for those addicted to opioids.
Colorado has recently made provisions for patients to have the option of choosing between cannabis and opioids as a means of suppressing pain.