Coca-Cola and Pepsi are eyeing the Canadian cannabis market, but what about the US? Can they push the US politicians into federal legalization?
OK, I know this sounds a bit crazy, but not really when you start to think as the politicians and lobbyists do.
Hear me out:
The Canadian cannabis-infused drinks/edibles market won't open for at least a year.
Coca-Cola is in the process of making a deal with Aurora Cannabis, and Pepsi is said to be eyeing a strategic partner of their own, perhaps Aphria or Tilray.
That gives time to the big beverage companies such as Coca-Cola, Pepsi, and the rest of the sugar squad to enter the market, as well as the liquor companies that already started making big deals.
On the other hand, we've got states in the US legalizing medical and recreational cannabis left and right. The trend of legalizing cannabis is evident, just take a look at this map.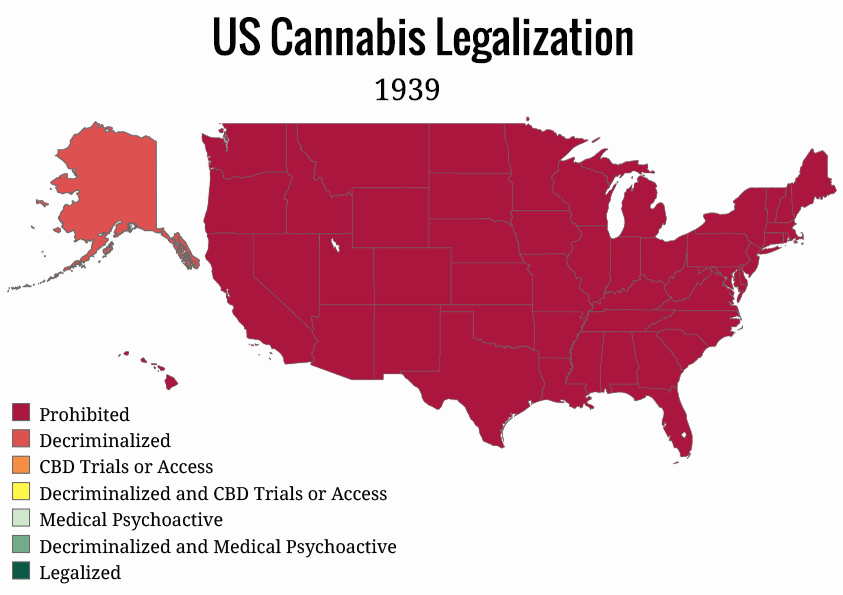 With that in mind, its time to start thinking like the politicians and lobbyists. Who can change the position of politicians towards legalizing weed?
Big corporations that want their products to make profits, that's who.
Coca-Cola, Pepsi, and other soda companies are making smaller revenues year after year because of the trend to cut down on sugar and non-organic drinks.
This is a worrying trend for them as their investors and shareholders are starting to pull out since their stock hasn't been very reliable in the last 10 years, even though it's been on an upward trend.
Companies such as Coca-Cola and Pepsi have been looking into their options and expanding their product offer accordingly.
Pepsi had tremendous success with Gatorade ever since they acquired it in 2001 for a 'mere' $13 billion USD.
Both companies also introduced branded water as a part of their product offer in the last 10 years, as the trend of reducing sugar intake has been evident in the US.
A play in the THC and CBD infused drinks would be a good move for the beverage giants, as it would indicate their shareholders that they are serious about holding their place at the top.
A perfect moment for legalization?
The US politics are currently dominated by the Republican party, as they have the majority in both the House of Commons and the Senate.
They also have Donald Trump in the White House, which means that he won't bog down any legislation they try to pass, just like with the new tax plan they introduced.
However, that may change soon as the midterm elections in the US are happening in November.
The Democrats are projected to get a majority in the House and lose the race for the Senate, but that isn't a done deal yet.
With a split Congress, big changes such as federal cannabis legalization aren't likely to happen. This is why either one of the parties has to hold a majority in both houses of the Congress.
There are already several motions in both the Senate and House to legalize cannabis to some extent:
All of these motions ask for the rescheduling of cannabis, and regulation and taxation, which would essentially push the US towards recreational legalization, somewhat similar to Canada's future system.
Even with the Democrats winning a majority in the House, some of these laws could be passed if all the Dems in the Senate vote as a block.
They would have to win over votes of several Republicans as well, as the Senate is projected to be split 51/49 or 52/48, but it's not like that hasn't happened before.
On the other hand, if the Republicans hold onto the majority in both chambers of the Congress, Coca-Cola's lobbyists should have an even easier time trying to have them pass these laws.
I know it sounds unreal, but when you zoom out a bit, it doesn't seem impossible at all. Federal cannabis legalization could happen.
States have been legalizing weed on their own for years, so why not go with the flow and stop burning bridges? The politicians already have the support of the people.
Legalization may not be likely, as all of this is just a speculation, but it does make sense for corporations to try and expand into the biggest market in the world.
So, if they have to push a few politicians and make them vote against their consciousness, so be it. Again, it's not like that hasn't happened before.