Manitoba based producer Delta 9 announced that it plans to increase its production output by 250% in the next two years, which would mean their total annual production might grow over 17.500 kilograms.
Delta 9 has been working on increasing their production capacity ever since they announced the introduction of "Grow Pods", their very own self-designed production units.
Currently, Delta 9 Cannabis has a total of 21 completed production units, but that is about to change.
The plan is to introduce more of the same units and bring the total to 180 by the end of 2018, which is supposed to drastically increase their production output.
According to their official announcement, 600 grow pods are expected to be constructed by mid-2020 which would put their total production output at around 17.500 kilograms yearly.
Low cost, but high-quality product
Seeing how Delta 9 prides itself on producing low-cost and high-value cannabis, this investment will prove to be a significant boost to the company's portfolio.
The production cost of cannabis is estimated to be $1.11 per gram once the company goes into full-scale production by mid-2020.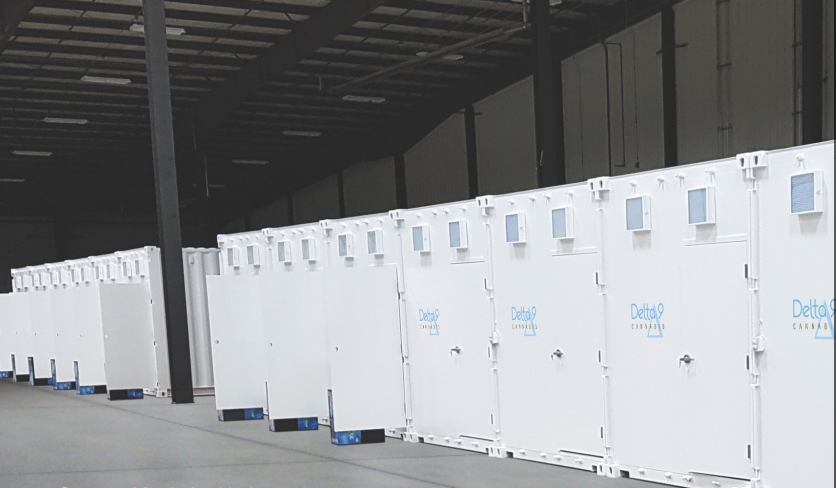 Delta 9 Grow Pods
Source: https://seekingalpha.com
If the plan goes through as expected, this upgrade is estimated to generate $130 million in revenue.
It is important to keep in mind that Delta 9 is one of only 4 producers in Canada who are fully-licensed under ACMPR laws in Manitoba.
The company has already secured deals with several companies, both domestic and foreign alike.
Just over a month ago, Delta 9 entered into a partnership with Westleaf Cannabis Inc. for the development of a production facility in southern Alberta.
Delta 9 and Westleaf Cannabis have both invested $3 million in this production facility and both hold a 50% interest in it.
As for the foreign markets, Delta 9 has entered an export agreement with Global Group Kalapa and CanPharma to export its product to the German medical cannabis market.
Once we combine this great update with Delta 9's already very stable financial situation, their stock appears to be a steal at only $1.45 CAD.
Please don't make any investments based solely on Greencamp News company and stock updates. See more