There are many disagreements in regards to how big will be the demand for cannabis in Canada come October, and who will consume the most product.
Health Canada employed the Marijuana Policy Group to write a report on what they assess that the demand for recreational cannabis might be once the market is open on October 17th.
The Marijuana Policy Group is an experienced group that has already showcased their precise methods when they did the same for Colorado a couple years ago.
The report was just published, and in accordance with that report, Health Canada announced that they believe the demand for recreational cannabis will be bigger than what they previously thought it would be.
The report used a 2017 survey on cannabis use which was conducted by the federal government to estimate how much cannabis do adult Canadians plan on consuming in the first year of legalization.
Reports may be inaccurate and biased
The Marijuana Policy Group calculated that the demand will be just below 1000 tonnes, 926,000 kilograms for both recreational and medical use in the first year to be exact.
In 2016 the Parliamentary Budget Officer calculated that the demand was estimated to be at around 655,000 kilograms, which is 41% lower than the newest number.
The newest number estimated by the Marijuana Policy Group is higher than estimates by many private investment companies, which could mean that the number is grossly inflated.
Also, this isn't the first time we've been saying that the market will be smaller than what the projections are telling us.
For example, CIBC World Markets Corp conducted a report that concluded that the demand would reach 850,000 kilograms by 2020, which many say is a long shot.
The same report found that Canadian producers have a yearly output of around 350,000 kilograms at this point.
On the other hand, we've seen alcohol companies take huge chunks of the LP's stock over the summer, which was a clear sign that the alcohol companies are preparing to enter the market.
The Marijuana Policy Group said that they surveyed a total of eight reports released in 2016 by multiple private companies.
They also noted that none of the eight studies were published in scholarly journals, but rather through other media channels.
The demand estimates in those reports ranged from 370,000 kilograms a year by 2020, to of 800,000 kilograms by 2024.
Licensed producers might not have the capacity right now, but they sure as hell are working to improve their output.
Both of the country's biggest producers, Canopy and Aurora, are working on improving their annual output.
In fact, here's what it's going to look like as soon as they finish working on their facilities:
Canopy Growth:~500,000 kg
Aurora Cannabis + MedReleaf: ~570,000 kg
Total of ~1.1 million kilograms
Some are estimating that the market for cannabis-infused products will be much larger than the flower market itself.
This is due to the speculations that the majority of the users will be new and non-regular users, which is a very loose speculation in my opinion.
After all, there has been a lot of talk about how the whole legalization is just a sham for the investors to make more money on the meteoric rise of their stock positions.
Could it be possible that the whole industry is just built around the hype that's been there since day one when Trudeau announced legalization?
User behavior won't change much
Take a look at the chart below explaining the user behavior when it comes to the distribution of users in regards to how often they use cannabis: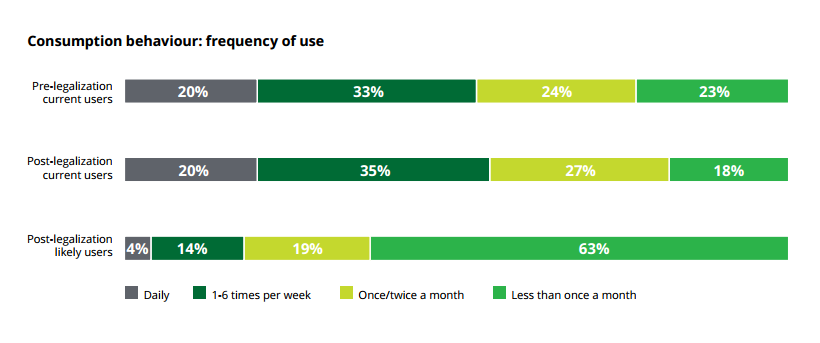 Source: Deloitte
As you can see, the number of users that consume less than once a month is projected to go through the roof, which means that these users will make the most of the cannabis-smoking population, but they won't be the group that spends the most money on it.
This is not to say that the industry will suffer, or lose money on one type of users or the other. This only means that the money will come from new pockets now, but in smaller quantities.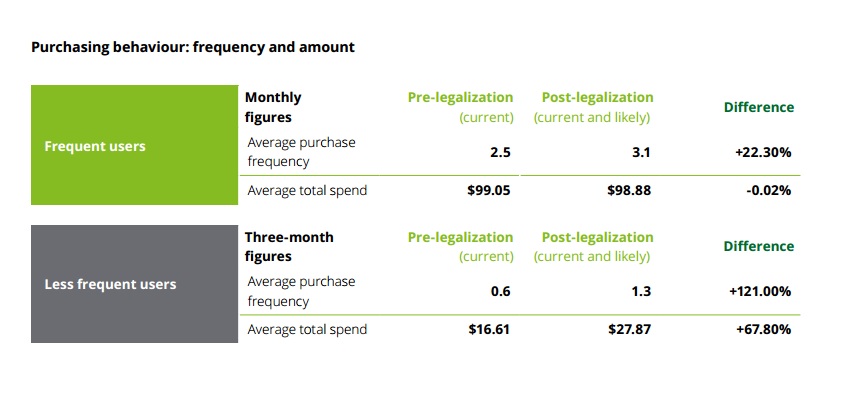 Source: Deloitte
The image above shows spending patterns of frequent and less frequent cannabis users.
Considering that over 80% of the consumers will probably be making purchases once a month or less, why is everyone making so much noise about a potential shortage?
Deloitte's research study called "A society in transition, an industry ready to bloom" went deep into the demographics and behaviors of the Canadian consumers.
In my opinion, it also pinpoints the consumption levels with relatively high precision, as they assume that the amount of cannabis won't increase significantly in comparison to what is being consumed now.
Legalization isn't some mysterious way to suddenly get more people smoking, but the increase in cannabis consumption comes as a result of the general availability.
"A society in transition, an industry ready to bloom" went on to prove this by taking in account the average amount consumed during a single occasion, or how much you smoke in one session.
It would appear that this number is expected to rise 11%, from 0.82g to 0.91g, perhaps driven by the anticipated popularity of edible products, as the report was made way back in mid-2017.
Given that now we know that edible and infused products won't be legal for at least a year as of October, it is possible that we are back where we started in regards to that number.