When we take a glance at our stores and pharmacies, we can almost hear the dying trumpet of the war on drugs. But a new fight is emerging – the fight for a regulated market.
As shown by the recent studies exploring the issue of mislabeling, the need for strict labeling and a regulated market is gaining momentum.
The discrepancy between stats speaks for itself: half of the American consumers assume CBD products are safe, while only 30.95% of them were accurately labeled in 2017.
Somewhere between these numbers, there lies a conclusion that we have good faith in products that are not being transparent about their content.
It's an issue that goes beyond any general debate on drugs and possibly surpasses the discussion on the therapeutic value of cannabis compounds.
The urgency of the facts shouts out the necessity of regulating the cannabis market:
CBD products have highly variable CBD content
THC-free labels are put on products containing THC
Not one manufacturer mentioned the presence of various compounds that shouldn't be there.
Not sure how to dose CBD? Download Droppy – the app that calculates your perfect dosage based on research studies.
Studies on the accuracy of labeling
The mentioned stat was taken from the 2017 JAMA study, which collected 84 samples from online retailers and submitted them to further testing.
The results were disquieting, to say the least: almost 70% of the products were mislabeled for CBD content, and 13 of the 84 samples tested had THC in them (that was not labeled).
Fast-forwarding to 2019, the situation might even sound worse.
In May 2019, FDA held a public hearing on "scientific data and information about products containing cannabis or cannabis-derived compounds."
The issue of mislabeling was addressed by two separate examinations that were presented by Bill J. Gurley, Ph.D., from the National Center for Natural Products Research, based at the University of Mississippi School of Pharmacy, and Jaclyn Bowen MPH, MS, from the Clean Label Project, a national nonprofit organization with "the mission to bring truth and transparency to consumer product labeling."
A team of scientists gathered at the University of Mississippi School of Pharmacy purchased 25 CBD-containing products in that country and submitted the samples for further testing.
Only one product had its contents accurately labeled.
Other samples had more or less CBD than claimed on the label, variable THC levels that shouldn't be there and were adulterated with synthetic cannabinoids (4-fluoro MDMB, 5-fluoro MDMB,5-fluoro ADB). (see Table 1).
Table 1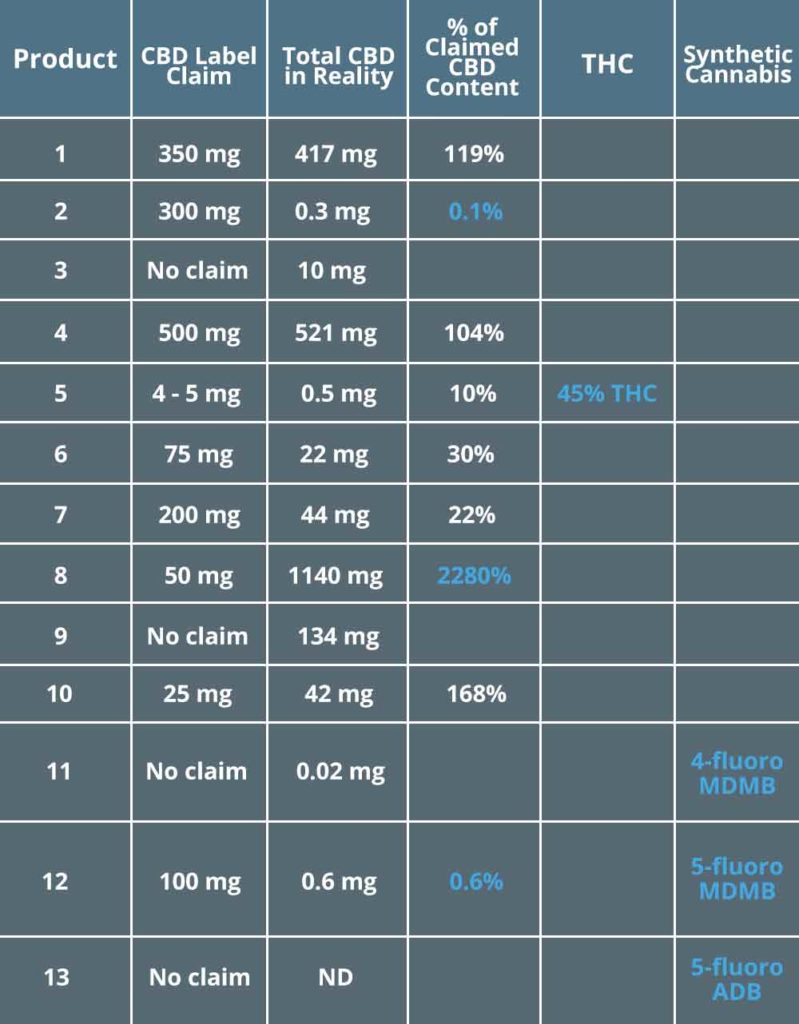 Clean Label Project spotted similar potency inconsistencies, but also tested the collected sample (208 best-selling CBD products) for the presence of over 400 different industrial and environmental contaminants, and product potency.
The CBD industry yielded the highest lead average out of all consumer product categories Clean Label Project has tested.
40% of the samples were contaminated with at least trace levels of pesticides, while some of them had high amounts of a plasticizer called phthalates. (see Table 2)
Table 2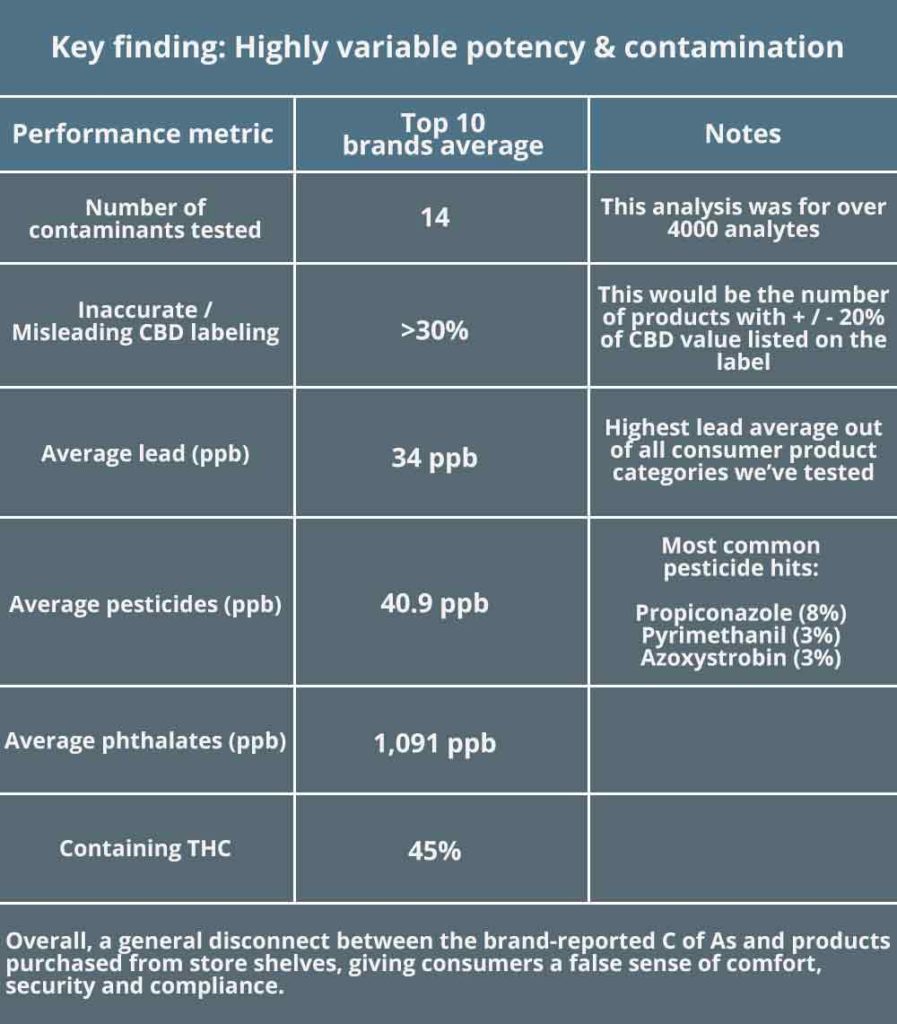 The trouble is that both surveys were concordant in their conclusions: "Clearly, many "CBD products" have little or no relation to any potential benefits of CBD itself, and pose a range of risks to consumers, from fraud to serious health dangers."
Highly variable CBD content
Economic aspects of the "fraud" reveal themselves when we consider just how much of the listed CBD isn't there.
"People are paying for something [in many products] that is not there," said Dr. Larry Walker, who was one of the scientists that led the research presented at the FDA hearing.
"Some products were actually non-detect for CBD, while some were as much as 700% of what was declared on the label. This inconsistency makes it impossible for a consumer to identify the level of CBD that is the right fit for them," said J. Bowen from the Clean Label Project.
Malpractices like these are not only making consumers feel "duped," they are harming the industry as a whole.
"The potential economic fraud associated with the products that have no CBD is a significant risk to the industry, as interested consumers may avoid the category or exploratory consumers may abandon the category if a product doesn't work," said Bowen.
The THC content in THC-free products
The presence of THC in collected samples raises questions that go beyond the purely economic aspects of mislabeling.
45% of the products tested by the Clean Label Project had detectable levels of THC in them. It roughly equals the potential of 45% of consumers being impaired by the substance without knowing or desiring so.
Things get significantly more complicated if we consider that there are sensitive categories of consumers (children, people with poor health conditions) taking CBD products for various health issues, said Dr. Mahmoud ElSohly, who was one of the scientists that led the research presented at the FDA hearing.
In a word, people should be cautious, as THC-free claims on the label don't always mean that the product is THC-free, concluded Bowen.
The presence of contaminants, pesticides, and synthetic cannabinoid
If THC presence is a cause of concern, different contaminants in CBD products could give the whole story alarming accents.
For example, Bowen noted that the average amount of lead was 34 ppb.
"This is the highest lead average out of all consumer product categories we've tested. To put this number into perspective, the average amount of lead found during the Flint, MI drinking water crisis was 27 ppb," she explained, while adding that "as a whole, heavy metals have been linked to a variety of cancers."
But what really struck her as surprising was the quantity of a plasticizer called phthalates.
"When present, we typically see levels in the double-digit parts per billion. With CBD, on average, we saw 1,0991 ppb. I can only assume that it is leaking from the tubing used in the manufacturing of the CBD," she stated.
Similar alarming accents can be heard from the team of scientists from the University of Mississippi, relating to the presence of synthetic cannabinoids in CBD products.
In the case of synthetic cannabinoids, health risks are palpitations, seizures, paranoia, and death, said Dr. Larry Walker.
Synthetic cannabinoids are very potent compounds, strongly active, not studied enough, illegal, and related to the number of health risks, added Dr. Mahmoud ElSohly.
Do CBD brands intentionally mislabel their products?
It's hard to say whether brands intentionally mislabel their products.
"It's important to note that in no way do I want to imply that I believe that any brand is intentionally adding heavy metals, pesticide residues, or phthalates to the products. Many CBD brands in America are staying true to their consumer promise of quality and purity," said Bowen.
What data suggests, she explains, is that many top-selling CBD producers could improve their production and labeling practices.
However, she added that "intentional economic adulteration is potentially a very real reality."
On the other hand, the malpractice of inaccurate labeling might have something to do with the lack of quality control in the manufacturing process.
One of the reasons could be the manufacturing failure to keep the CBD suspended within the solution.
The CBD then adheres to the sides of the packaging walls, or floats at the top or bottom of the product, making it physically unavailable in the packaging, explained Bowen.
Identifying the weak link
When I asked the experts if they could identify the reason why mislabeling is even possible, their answers were pretty unanimous.
"If I were to identify the weak link, I would name three. One, the absence of robust federal guidelines. Two, the aforementioned issue of undeserved trust and confidence in Certificates of Analysis. Three, would be the theoretical failure of brands to recognize that in the absence of federal regulation, consumers are the new arbiters of truth and transparency in America," answered Bowen.
A team of scientists from the University of Mississippi was more explicit when identifying the weak link. "'Fly by night' companies, here today and gone tomorrow, just to make a buck", Dr. Larry Walker was concise in answering.
"The industry is corrupt," added Dr. ElSohly, "[fly by night companies] cut corners everywhere."
"What's more, they only give their products to laboratories that will provide them with the answer they want," he said. "We've tested products that had QR codes, only to find that their Certificates of Analysis had nothing to do with the actual content of the product."
Clean Label Project has reached a similar conclusion from their practice.
"One of the issues that I routinely see are laboratory Certificates of Analysis that use poor levels of detection and poor levels of quantification that yield "ND" (non-detect) test results", said Bowen.
"In other words, if a laboratory only tests down to parts per million, a contaminant that is only present in parts per billion would not be detected. A laboratory that tests down to ppb vs. ppm is 1000 x more sensitive," she explained.
In a word, an "ND" result can sometimes be just a consequence of a poor instrumentation sensitivity.
When that is the case, both brands and consumers are left with "a false sense of comfort, security, and compliance," Bowen concluded.
Takeaways from FDA's 2019 public hearing
In the sea of bad news stated in this article, there remains one that brings hope, both for consumers and brands who are damaged by their "colleagues'" malpractice: everyone we spoke to had an impression that we'll have an adequate FDA reaction soon.
Meanwhile, Bowen lucidly noted, "the market will determine what wins with consumers."
Because regulation takes time, and the industry is still "figuring things out," brands should use consumer expectations as their driving force.
We would only add that consumers should drive their decisions by checking out gallons of research.