Aphria's stock dropped 25% in the wake of news that the company might have swindled its shareholders in regards to the value of overseas investments.
There have been insinuations going around for a while that Aphria hasn't been fully honest to its shareholders in regards to the large overseas investment the company has made, but now, the damning evidence has surfaced.
Aphria's recent acquisitions in Jamaica, Columbia, and Argentina have been raising suspicions among the market analysts and investors.
So, some of them decided to take due diligence to a whole another level and actually traveled to the addresses listed in Aphria's paperwork.
What they found was, at the very least, astounding. Since that story got published, Aphria's stock plunged down to around $8 CAD.
Troubles started with Nuuvera
Aphria's troubles didn't start here, today. They started a long time ago when the company decided to acquire Nuuvera.
In early 2018, Aphria balled out a hefty $425 million USD for the acquisition of Nuuvera.
They justified it by explaining how Nuuvera had already signed a supply deal with New Brunswick, as if Aphria couldn't have done that on their own.
However, what Aphria chose not to disclose, was the fact that the company executives and directors had big stakes in Nuuvera.
After this scandal came out, Aphria addressed the public and set an "investment strategy and rules" for their employees.
So, that was the first time Aphria got caught lining their own pockets with the investors' money.
Ghost locations in Jamaica
Earlier this year Aphria made a big acquisition of Marigold Acquisitions Inc. through Scythian.
Marigold Acquisitions was a private-held company in B.C. which was at the time in the process of purchasing a 49% stake in Jamaican company Marigold Projects,  meaning they didn't even own the Jamaican asset yet.
Aphria paid $145 million CAD for the 49% stake, netting Scythian a $127 million gain for an asset it owned for only 2 weeks.
On a side note, undisclosed investors in Marigold were paid $18 million CAD.
So, on paper, Aphria became the owner of the Jamaican company Marigold Projects which had an official registered office at 28 Lancaster Road in Kingston, Jamaica.
The company reported three other leases on properties in it latest financial filings: Suite #6, Unit 51 and cultivation premises at Lot 6.
Here's where things get weird.
The author of the article says he visited all 4 locations and saw nothing of significance. In fact, two of the locations were non-existent.
The 28 Lancaster Rd location is actually just an abandoned apartment house that looks as if it might have belonged to a big-time weed dealer, maybe some time long ago.
Unit 51 is actually a herb house in collaboration with the Peter Tosh Museum, but the landlord said that units only go up to #50. The museum couldn't provide them with contact information for Marigold either.
To be totally honest, Suit #6 looked to me like a legit doctors office, and it was photographed late at night so I won't take away anything from it.
The author goes on to question the reputability of the doctors and the team on the ground, as well as the fact if Marigold is even fully licensed to own their facility.
The Argentina purchase
Here we start seeing a trend of worrying acquisitions: This acquisition, for some reason, had Scythian heavily involved again.
Scythian signed a LOI to acquire MMJ International in April, only to go through with the acquisition in September.
MMJ International had an agreement to purchase a company called ABP, which was a "pharmaceutical import and distribution company".
Six days later Scythian announced the sale of the ABP letter of intent along with other LatAm "assets" to Aphria.
Scythian got $23 million CAD from that trade and to me this is starting to look fishy. Why was Scythian even involved? Why couldn't Aphria close the deal on their own?
Basically, Aphria paid ~$50 million CAD for the acquisition of the ABP letter of intent.
They presented the acquisition as a strong platform for its distribution and retail business to build on in South America.
That would be great, if MMJ International even had any potential to do so. In fact, MMJ International had only one pharmacy under the trade name Farmacia & Perfumeria, and a distribution center which also served as a warehouse.
The good side of the story is that this time there are actual physical locations to go to, and the author even bought something in the pharmacy, and showed a receipt which clearly says ABP.
The warehouse, on the other hand, was a total polar opposite to the pharmacy. It was completely empty and void of any presence, located in a residential area.
He also managed to track down 3 actual employees of ABP:
The author of the article goes on to say that there's probably serious insider trading going on, and shows different reports regarding to the revenues ABP reported, and the one's Aphria reported.
ColCanna acquisition
Here we go again with Scythian and its schemes.
So, in April Scythian signed a letter of intent to acquire MMJ Colombia Partners, which was described in filings as "a privately-held Ontario company".
This was due to the companies ongoing process of purchasing a 90% stake in Colombia-based ColCanna SAS.
In other words, Scythian entered a letter of intent with a privately-held company that had zero assets.
Later on, Scythian sold the letter of intent and other Colombian assets to Aphria which they paid C$84 million for.
Scythian came up about $45 million CAD heavier, again. On the other side of the deal, unnamed investors in "privately-held" MMJ Colombia Partners got ~$39 million CAD.
If that's not a worrying trend, I never saw one.
To be fair, ColCanna at least does have a functioning office. But that's it. They aren't even fully licensed to produce cannabis even though they got most of the licenses necessary.
ColCanna was established on December 27, 2017, meaning that it was only 4 months old when Scythian signed the letter of intent to acquire MMJ Partners, which was already moving to purchase ColCanna before April.
Can't say that's not fishy.
The part where everything ties in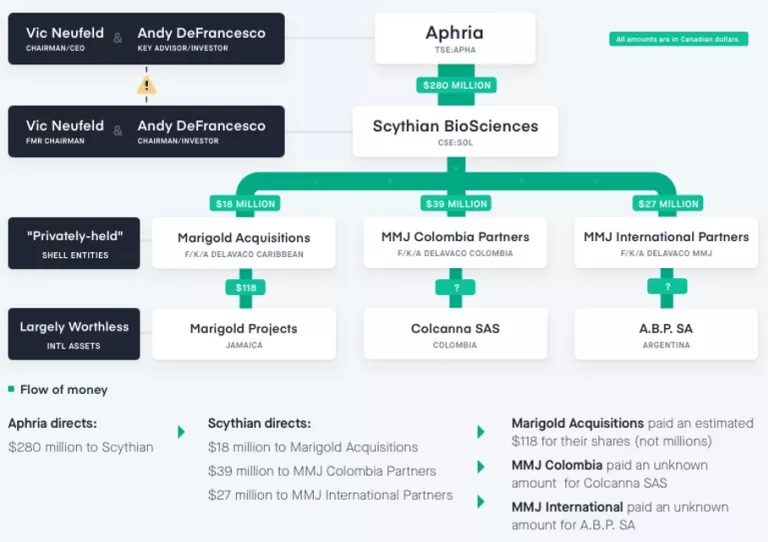 The one thing, or better say person, that connects all the dots with Aphria, Scythian, and the overseas acquisitions is non other than Andy DeFrancesco.
Andy DeFrancesco is the founder of the Delavaco Group, which is a private equity firm based in Toronto, however, he's been recently removed from their website.
His wife is now listed as the Chairman and CEO of the Delavaco Group.
DeFrancesco has a very tight relationship with Scythian BioSciences, which got renamed in the meantime to Sol Global Investments.
Scythian's reverse-merger deal that took the company public was handled by the COO of the Delavaco Group – DeFrancesco's personal private equity firm.
DeFrancesco was also listed as the founding investor in Aphria on the Delavaco website, which can still be seen here.
The Delavaco Group was also listed as the advisor in Aphria's reverse-merger into a company named Black Sparrow Capital Corp. This deal took Aphria public.
Here's the shocker: at the time of the deal, the COO of Delavaco Capital was the CEO and CFO of the Black Sparrow shell.
There's something funky happening with Aphria's acquisitions and deal structuring, and it would be a shame if it is happening off the backs of trusty investors.