Nova Scotia might be one of the smaller provinces in Canada, but don't be fooled. As we are yet to discover, this province is set to have one of the most profitable markets in Canada.
2017 has seen nearly 5 million Canadians spend an estimated $5.7 billion CAD on cannabis, both for medical and non-medical purposes.
Only 1/10 of that amount was spent on legal cannabis, meaning that the illegal cannabis market in Canada was around $5.1 billion in 2017.
From the official Statistics Canada market study, we know that the less populated provinces are also prone to less cannabis consumption.
According to the statistics, Nunavut residents smoked only 13.6 grams per capita in 2017, while Yukon residents smoked a bit more with 17.7 grams per capita.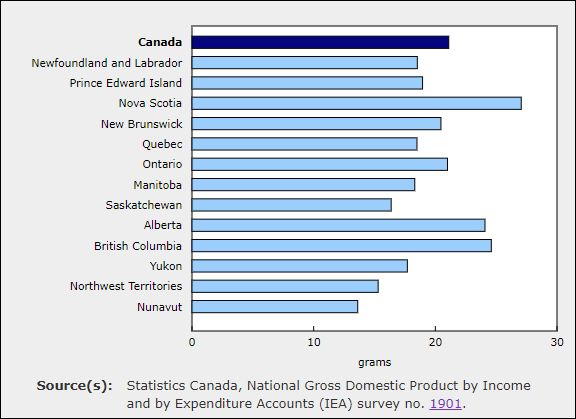 Source: www.statcan.gc.ca
Surprisingly, Nova Scotia found itself on the other end of the spectrum and leading the nation, as the province had consumed a whopping 27 grams per capita.
No other province, asied from Nova Scotia, reached the 25 g/capita mark, not even British Columbia (24.6) and Ontario (21.0) which are homes to 2 of the largest cannabis markets in Canada.
LP's scrambling to make a deal
From the Statscan's Economic Account we know that there are nearly 5 million Canadians engaging every year in the, still illegal, recreational cannabis market.
That equates to roughly $1.000 CAD spent per consumer on a yearly basis. Seeing how 22% of residents in Nova Scotia will be a part of the recreational market once it goes legal, that makes Nova Scotia extremely interesting to everyone looking to profit.
According to a 2016 census, Nova Scotia has had 923.598 residents at the time of the census, so let's say that 22% of the total residents in Nova Scotia is ~200.000 people.
If the people of Nova Scotia continue the trend of smoking 27 grams every year, that would mean that Nova Scotia will need around 27 million grams (27 t) of dried cannabis every year.
Seeing how only about 200,000 people in Nova Scotia will actually consume cannabis, that number equates to about 135 grams per year, per consumer.
From what we've seen in the foreign markets, especially those that recently legalized recreational marijuana, the consumer cost per gram of cannabis is very hard to predict.
However, many sources have suggested that once recreational marijuana gets legalized, the price will be anywhere between 5 and 10 dollars, and most sources agreed on a mean price of 7.5 CAD/g which is also in line with the recent trends of cannabis prices on the illicit market.
Altogether, the size of the market would be roughly 202.5 million CAD in Nova Scotia, following the calculation we've just made above. This market would see around 27 tonnes of cannabis yearly.
This is also in line with the projection that the Canadian market as a whole will be around 1000 tonnes yearly.
When it comes to domestic (in-province) producers listed on the ACMPR — Highland Grow Inc, Aqualitas Inc, and Breathing Green Solutions Inc, none of them have the capacity to satisfy Nova Scotians or a license to sell, meaning that the provincial government will have to outsource their product acquisition to some extent.
Ray Gracewood, chief commercial officer with Organigram Inc, said that Nova Scotia and its extreme market will be one of the primary targets for the company.
The neighboring provinces of New Brunswick and PEI have already made deals with a few companies in order to secure that buds are in store once the legalization goes in effect.
New Brunswick has signed deals with four companies: Nuuvera Inc (now a part of Aphria), Organigram, Canopy Growth and Zenabis.
According to the PEI government, the province entered into agreements with Canada's Island Garden, OrganiGram, and Canopy Growth Corp.
Seeing how both Organigram and Zenabis have locations in the neighboring New Brunswick it wouldn't be a far-fetched prediction to say Nova Scotia might secure deals with the two as well.
Canopy Growth will also be one of the options the NS government could look into, as they will be supplying both of their neighbors, and will likely be in the position to produce up to 500 tonnes once all 6 of their production facilities are up and running.
The NSLC said that it wants to hear from producers interested in becoming a vendor partner, which they can do by applying on the government website and filling in an application document.