The medical marijuana system in Canada makes it so that any patient anywhere in the country always has easy access to the drugs they need, but what about those same patients in the USA?
If you're a medical marijuana patient in Canada, you probably have little to no trouble accessing your medication.
In Canada, patients order their medical marijuana via online services and usually LP's websites.
In the US, the situation is a bit different since medical marijuana is only legal in some states, and only to a certain extent in others.
The difference in illnesses that fall under the category of "treatable with medical marijuana" is significant from one state to another.
Also, some states offer medical marijuana programs, but the medical marijuana in those states has a limited amount of THC contents or is purely CBD-based.
For example: if a patient living in one of the states that have such limits, he may not be able to acquire the medicine he needs.
Let's take a look at the "weed map of USA":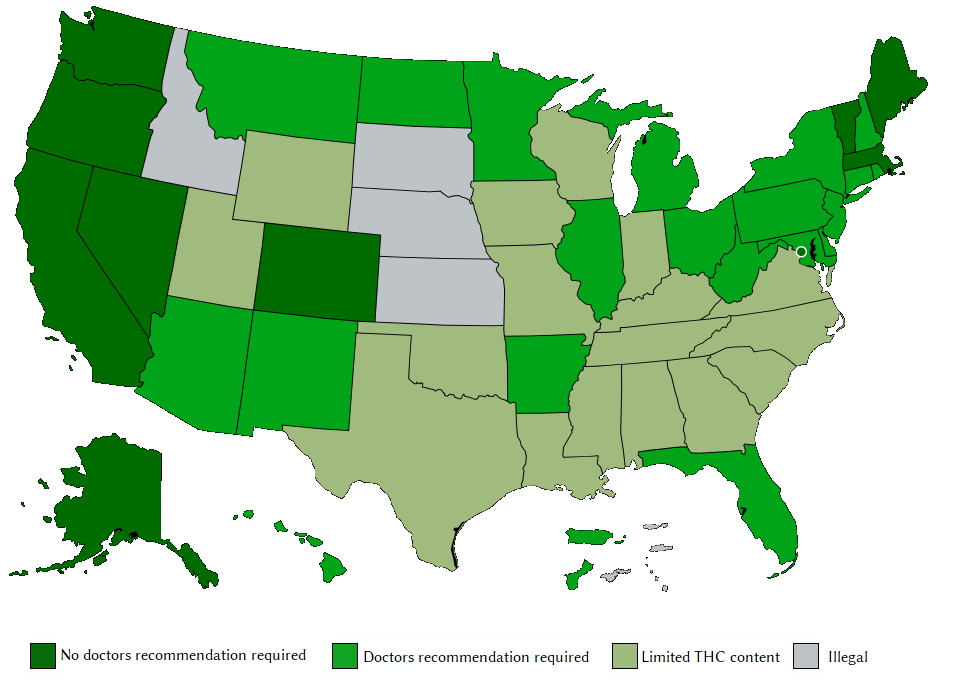 Source: http://www.wikipedia.org
Medical marijuana with high THC contents is known to be helpful in treating a wide array of problems such as depression, pain suppression, and many other issues.
Stuck in a state with no medical marijuana?
So, with the map above in mind, say you are a legal adult living in Southwestern Kansas which hasn't even decriminalized marijuana at all, you have four choices to combat your pain.
The first choice is to stay where you are, hold your pain in until you no longer can, hope for the best and wait for medical marijuana to be federally legalized.
This choice is probably not the best if you are in acute pain and looking for an imminent solution.
The second choice would be similar to the first, you can stay where you are, but you can take drugs that your doctors are prescribing you with, in this case, that would be opioids.
So, the second choice would probably temporarily rid you of your pain issues, but you are likely to develop a pain-killer dependency of some sort.
Third and fourth choices offer you the best solution to your problem but may require a bit more extra hustle.
Seeing how our imaginary resident of Southwestern Kansas doesn't have what is required for a medical license in either Oklahoma or Colorado, he would have to do one very important thing — change his place of residency.
That's it. That's all he would have to do in order to start the process of applying for a medical marijuana card.
See, in order to apply for a medical marijuana card in any state, you need to show proof of residency — an address that links you to this state.
You don't need to have any type of properties in that state, all you need is for your state issued ID to say that you live in that state.
This means that if you have any relatives or friends that might want to help you resolve your problem, all you need to do is ask them to help you go down to their local DMV and change your place of residency to their address.
This way you can officially start the process and apply for a medical marijuana card in your neighboring states.
However, do keep in mind that you should only consume and handle medical marijuana in states where it is legal.
Transporting medical marijuana across state borders is still a crime in the eyes of federal enforcement services and punishable with up to 5 years in federal prison and a fine of $250,000 to $1 million USD, so make sure you don't make any such mistakes.