Tantalus Labs just might have one of the coolest people in the whole cannabis industry. I found this out by 'roasting' more than just their weed.
The other day I had the opportunity to talk to one of the most polarizing personalities of the cannabis industry — Tantalus Labs CEO Dan Sutton.
Dan is the type of guy to post selfies like this on his Twitter.
So far, everyone has heard stories of how cool Dan is, being in the weed business and all, but what I wanted to know is if this man is really that friendly and outgoing as he is presenting himself to be.
Let me stop you before you start spewing misconceptions about how this is just paid promotion—it's not.
Dan and Tantalus Labs have been on my radar for quite a while, but now felt like the perfect time to reach out and find out .
Simply put, I was pleasantly surprised.
What the industry wants to know about Tantalus Labs
So far, Tantalus Labs has been pretty much flying under the radar when it comes to the amount of press and publicity they've been getting.
Compared to Aurora, Canopy, Tilray, and similar publicly-traded beasts, you could say Tantalus has had basically no exposure.
A lot of people don't even know of Tantalus Labs, so let's get some facts about them on the record.
Alex: I've read some stuff about the SunLab, but can you tell me a bit more?
Dan: The SunLab is a really interesting piece of infrastructure, it took us about two years to design it.  It's a unique greenhouse in the sense that it enables cannabis to grow in a very clean and impactful way.
By doing that, we are not only producing the lowest environmental impact, but we are also producing cannabis of the highest purity feasible without the use of pesticide or herbicides.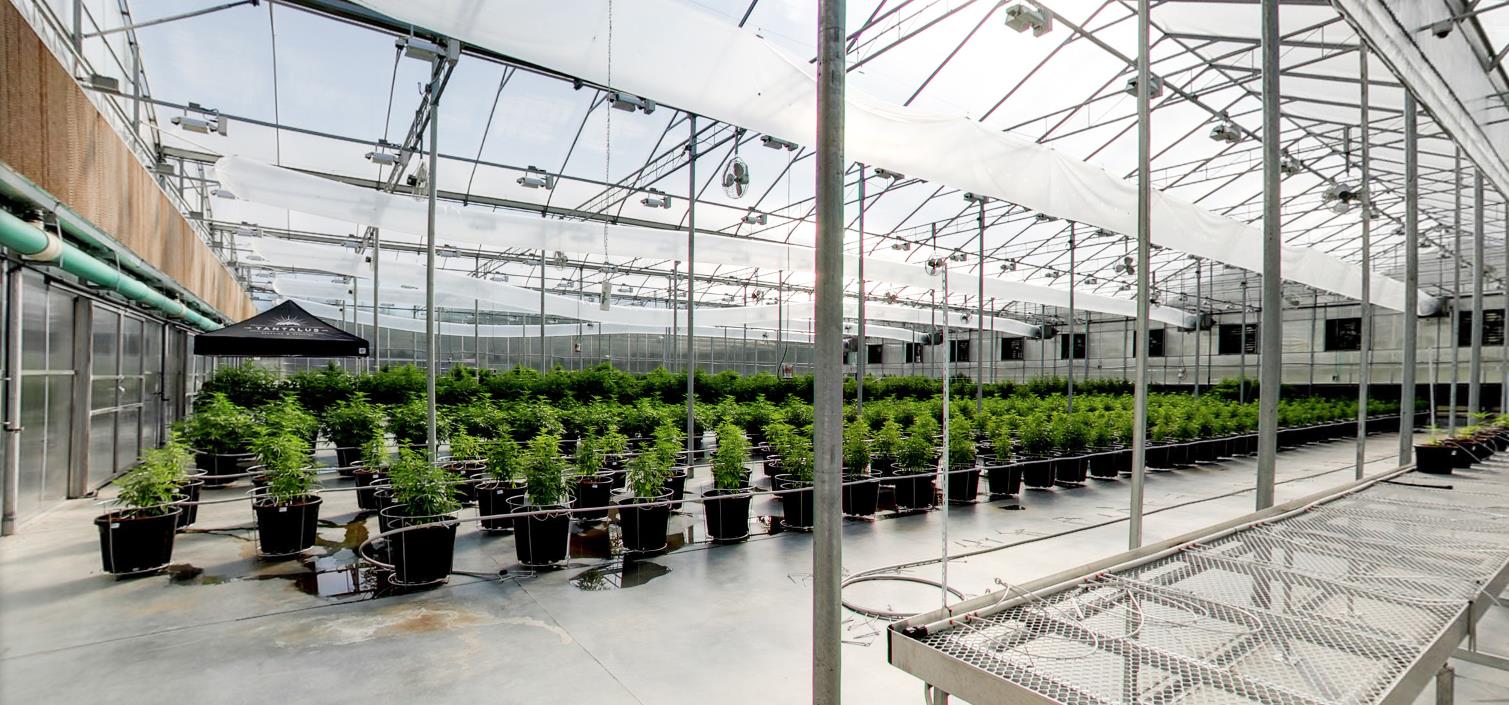 Tantalus Labs' SunLab¹
Alex: So that cannabis is grown in soil, right? Is it going to be sold as a value product or a premium product?
Dan: It's grown in a substrate, which is coconut husk.
We are most likely going to attach ourselves to a value proposition that is providing you with a consistently excellent cannabis experience, this is the kind of product that you'll want.
This is in part due to the way we grow the cannabis; we don't cut corners, we don't rush the plant, and we don't use any pesticides and additives that would artificially boost the growth.
This way you get the same high-grade cannabis experience every time.
Alex: How much flower can Tantalus Labs grow per harvest in full capacity?
Dan: We currently run between 140 and 190 plants per harvest. Those plants flower anywhere between 500 and 700 grams per plant, sometimes a bit less, but that's really the key to our cannabis.
We're not trying to stretch ourselves in terms of maximizing the quantity of flower per plant.
We are focused more on longer flowering times, we have a very long drying process that is different from any other competitor that I am aware of, and that allows us to retain its flavor and terpene contents.
Alex: So you'll be making a product similar to craft beer, but for the cannabis market?
Very much so. It's a small batch product that's grown with a lot of care to each individual plant.
Alex: What portion of your business going forward will be focused on the medical market going forward?
Dan: We have a huge vested interest in ensuring that the medical market is always our top priority. I think the real answer to that question is to be seen because we are about to see how big of a medical demand we can meet. After that, anything that we cannot sell to the medical market will go into the recreational market.

Alex: What type of products do you plan on offering on the recreational market? Oils, distillates, capsules?
Dan: So, what's important to know about Tantalus is that regulatory we won't be able to actually sell anything other than flower and very weak oral ingestion oils until October 2019.
After that, we'll be set with regulations to sell vaporization products and concentrates such as hash, dabs, edibles and possibly beverages as well.
We are currently exploring all those options and we believe it would be beneficial to diversify our offer for people who want a more convenient consumption.
Alex: If I read the reports correctly, Tantalus Labs is one of the few BC-based producers that didn't sign a supply agreement with the province?
Dan: You are correct, but only in part. We did not sign the initial supply agreement, but that was only because we didn't have our sales license.
In other words, I think it's very likely that you will see our cannabis on B.C. shelves by the end of the year.
Alex: Have you signed supply deals with any of the other provincial distributors?
Dan: We are actively in negotiation with a diversity of other provincial distributors, but at the moment we do not have material supply agreements signed with any of them yet.
Alex: Tantalus Labs is privately held. Do you see yourselves going public any time soon?
Dan: You are correct again, we are currently privately held and we are very happy with that.
I don't think it's likely that we'll be going public in the short term simply because we don't have the capital needs nor that kind of desire for liquidity that would prompt us to go public, however that may change as our business evolves, but for the time no, we won't be going public any time soon.
Alex: What is the next big step for Tantalus?
Dan: We are currently trying to get our production center squared away and finalize the domestic agreements.
There's also been a lot of complication with the supply chain for packaging and limits on packaging supply throughout LPs across Canada. We really need to get that set in place.
That will help us build up the backbone that we need to negotiate with confidence and make deals with the provincial distributors.
Simply put, our next big step is ensuring that our products are available not only to customers in BC but nationwide.
What I wanted to know about Dan Sutton
Dan is quite an interesting figure. He's the CEO of a prosperous cannabis company, he's 32 years old, and he's proudly bald.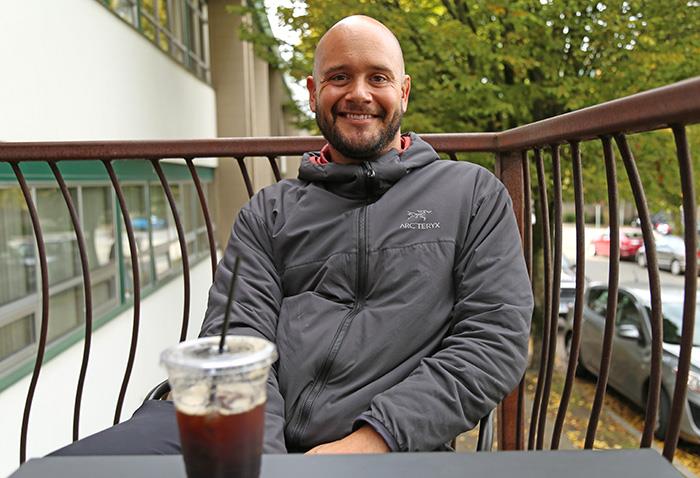 Image credit: vancouverisawesome.com
Also, he's not the type of guy to say "no" to a classic comedy central roast, even if he's the person being roasted.
Alex: Why did you name your company after a Greek mythological figure known for his eternal punishment and not the mountain range in BC?
Dan: Because when I don't have high-quality cannabis I feel like I'm grasping at a low-hanging fruit that's never within my reach.
The Tantalus mythology is definitely a part of my day-to-day life in that sense.
Alex: Has anyone ever called you Dan The Weed Man?
Dan: People call me that all the time and it's incredibly annoying. I wish they would just stop…
Alex: How many ounces of weed has Tantalus sold so far?
Dan: Oh man, thousands and thousands. To be honest, we don't measure them in ounces anymore, this is the game now, we're in the kilo-business!
Alex: You claim the weed you grow is organically. Which compositions can it play on the organ?
Dan: We don't claim that it's organic because we don't have that type of certification, but let's put it this way: If you were a pianist, and you never played the organ, smoking Tantalus Labs cannabis will definitely boost your artistic capacity to the levels of Beethoven and his peers.