President Donald Trump could solidify his legacy in the White House by signing a federal cannabis legalization bill in the next few months.
Ever since Donald Trump started running for president of the United States he was firm on his position that medical marijuana should be legal, even going so far to voice his thoughts on national television during one of his speeches during the campaign run.
He also said, in a July 2016 interview, that he is in favor of states legalizing recreational marijuana if that is the will of the people.
However, after that, there wasn't much talk about cannabis with President Trump once he got elected, but several significant things did happen in the meantime, most importantly California legalized recreational marijuana, as well as Vermont.
New York is also pondering the decision to go legal with recreational cannabis, as they've already had some movement on the political stage in regards to legalization.
So, what changed so significantly in the past 2 years that all of a sudden made Trump "the weed kingpin" in America?
Well, there are probably more than a dozen factors that tie into Trump possibly bringing federal cannabis legalization, but I'll cover 4 that I believe are heavily influencing this decision.
The Congress is pushing for legalization
This is the big one. Both Senators and House representatives have been fighting for de-scheduling marijuana.
Members of Congress from both sides of the floor have joined forces in a bipartisan effort to do something about marijuana since it is obvious that the current system is failing.
Currently, there are bipartisan bills in both the Senate and the House pushing for legalization.
Those bills would amend the Controlled Substances Act in the following ways:
by removing marijuana and THC from schedule I list; and
by eliminating criminal penalties for an individual who imports, exports, manufactures, distributes, or possesses with intent to distribute marijuana.
This would essentially mean that, if passed, these two bills would end the War on Drugs (at least war on pot) which has been going now for more than 40 years.
The Senate bill currently has 6 sponsors, while the House bill has just under 40.
So far, the Senate bill has only been introduced to the Senate, while the House bill has been referred to several subcommittees for consideration.
In the recent few days, Trump also came out in support to Senator Gardner who is, alongside Senator Warren, pushing for a bill which would ensure that each state has the right to determine the best approach to marijuana within its borders.
If the Congress passes Senator Gardner's bill, Trump would stay true to his original remarks that "medical should happen" and that each state should decide on their own how to solve the issue.
Canada understands federal cannabis legalization
The USA's northern neighbor is days away from legalizing recreational marijuana, as Canada's Senate just passed Bill C-45, also known as the Cannabis Act.
This bill will now go back to the House where members of the Parliament will vote on the last set of amendments the Senators have on Thursday.
The vote will happen on July 7th and it is expected to pass as the Liberal Party who campaigned on the platform closely tied to legalizing recreational cannabis still holds a majority in the House.
So, essentially, Canada is just weeks away from having legal cannabis which will significantly improve their economy.
In the light of this new market, Canadian companies have already started making deals with countries that have legalized marijuana.
Aurora Cannabis, Canopy Growth, Aphria and several other companies have already signed supply agreements with countries that have medical marijuana programs, such as Germany, Italy and Israel.
Having legal cannabis on the federal level allows Canadian government to make significant amounts of money off taxes.
However, taxes are only a part of the money which will be coming in, as the Canadian government has also been making a lot of money from issuing licenses and similar paperwork to its businesses.
This has been going on for over 15 years as Canada has had legal medical marijuana since 2001, and has been capitalizing on it for a while now.
There are lots of things that America could learn by studying the Canadian cannabis system, and apparently getting your politicians to go along with one another is a big part of it.
States are legalizing one by one no matter what
The "weed map" of America started turning more green after President Trump got elected, as several other states jumpstarted their own medical marijuana programs.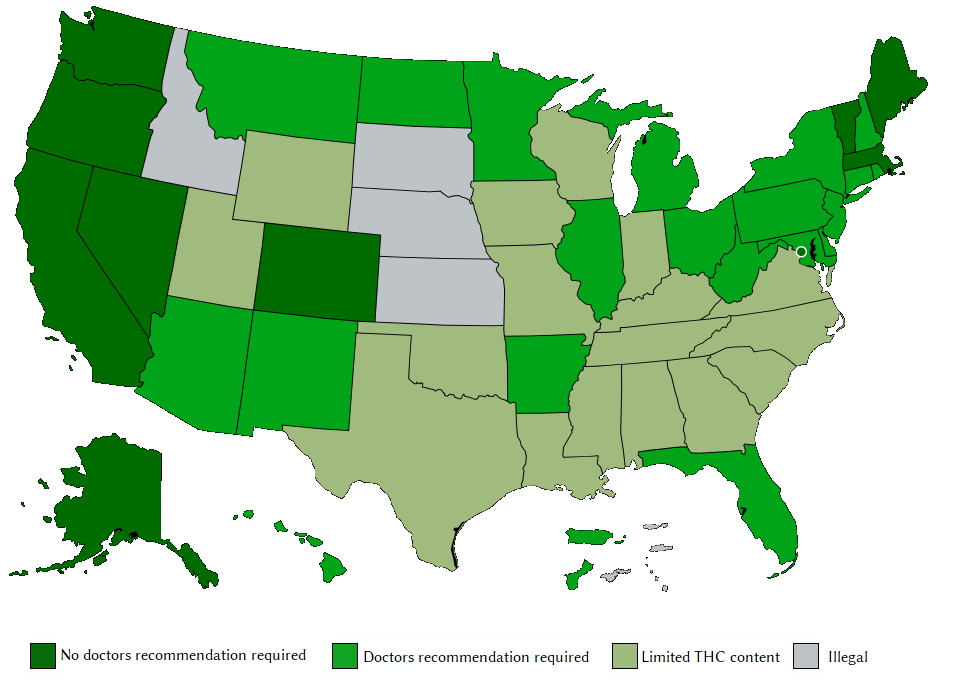 A 2017 Gallup poll showed that 64% of Americans support legalization, and this number hasn't been this high ever since the Vietnam war and the hippie movement.
Just in the past two years, several states legalized either medical or recreational marijuana.
I've already mentioned California and Vermont, and the New Hampshire governor signed a bill decriminalizing up to three-quarters of an ounce
Here's a list of states that passed laws legalizing some form of medical marijuana in the past two years:
Florida: medical marijuana legalized as of July 1, 2017, when voters passed Amendment 2 by 71%
Illinois: lawmakers proposed legalizing recreational marijuana allowing possession up to 28 g and five plants
Kansas: CBD oil exempted from the state's definition of marijuana
Utah: House Bill 195 signed in March 2018 allows cannabis for certain terminally ill patients
New York is also just a few steps away from legalizing recreational marijuana. Some of the top faces in NY politics have came out to support legal marijuana.
Mayor Bill De Blasio came out in support of legalizing it and directed the state's police and law forces to stop arresting pot smokers.
Even the whole Democratic Party of New York came out in support of legalization, but that's where the fun came to an end.
Just yesterday, DEA Special Agent in Charge of New York. James Hunt said that as long as anti-marijuana laws are in effect he "won't stop enforcing them."
Jeff Sessions' failed attempt at a crackdown
Lastly, Jeff Sessions' failed attempt at trying to perform a federal crackdown on states which legalized marijuana in the previous years has failed miserably.
Early in 2017, Sessions was in the focus of all media because he started announcing a federal crackdown, and nothing happened ever since.
He also publicly stated that "many heroin addicts start with marijuana", and he was sued over medical marijuana, although the judge tossed the lawsuit in the end. This didn't go in his favor.
In fact, U.S. Attorney General Jeff Sessions said on Friday that he "missed the invite" to recent meetings between Trump and Sen. Gardner concerning marijuana legislation.
It is probably more likely that AG Sessions was simply left out of these talks as he is simply the herald of old-school politics and long forsaken policies.
You could say that Sessions is somewhat in the same situation Lyndon B. Johnson found himself in once JFK was assassinated.
As you can see, the "green revolution" is growing by the moment, and President Trump should definitely find a way to capitalize on this.
Taking part in legalizing, or at least de-scheduling and decriminalizing marijuana will be perhaps President Trump's greatest success.