British Columbia announced a hybrid system in which private retailers will be able to sell recreational marijuana in traditional brick-and-mortar stores, but the provincial government licensed only one retail store so far.
Sales of recreational cannabis in BC will start in just seven days—that is if you can get to the store before they sell their whole inventory.
Some provinces are well on their way to be sufficiently supplied when that day comes, but British Columbia won't be one of those.
Sure, they signed up 31 licensed producers as suppliers, but of those 31 only 12 are based in BC.
Some of the major BC-based producers, such as Tantalus Labs and Emerald Therapeutics, didn't get signed as suppliers at all.
However, that's not even the biggest issue with the recreational cannabis system in British Columbia.
BC caught lacking?
The big problem with BC's system currently is that the province has licensed only one retail store so far—the one that the Liquor Distribution Branch will run.
Here's a graph of how many stores are licensed so far by each of the provinces and territories.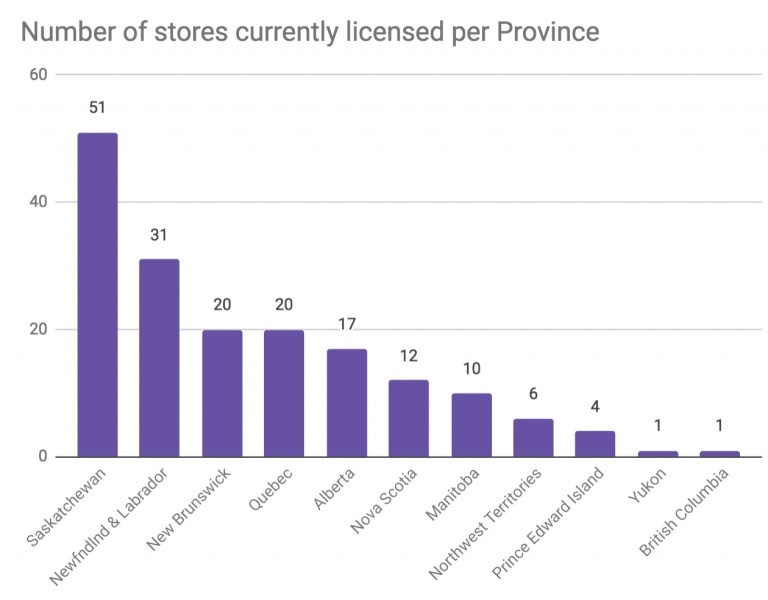 Graph credits: Marijuana Moment
The BC government has so far received more than a 100 applications for retail stores. Some of those stores may get licensed in the next week, but surely not all.
Now, you may say: "But British Columbia already has hundreds of illegal dispensaries" and you'd be right. Emphasis on the illegal.
The provincial government said that the dispensaries that are currently operating all over the province will have an opportunity to go legal after October 17th.
The ugly truth is that most places around BC aren't prepared for legalization.
The first store that will be managed by the LDB is opening within the Kamloops' Columbia Place Shopping Centre.
This decision was made way back, but Kamloops only started accepting applications for licenses in September.
Deepak Anand said that the 2017 provincial election, in which the government changed parties, played a big role in putting BC behind others in drafting legislation and writing regulations.
Here's a short summary of what the recreational cannabis system in BC will look like.
| | |
| --- | --- |
| Minimum age: | 19 |
| Retail model: | Private retail stores will be allowed, online sales will be controlled by the government. |
| Number of retail locations: | No cap on the number of licenses. One government-run store will be open on October 17th. |
| Distribution: | Will be done through the BC Liquor Distribution Branch. |
| Home cultivation: | Up to 4 plants, hidden from street view. Landlords will have the power to forbid growing cannabis in rental properties. No pot growing in daycares and assisted living homes. |
| Public consumption: | Only where tobacco can be smoked, but not where children are present (beaches, parks, and playgrounds). |
Unless anything changes, residents of British Columbia should just sit tight and order their weed online, as sales via the internet will be available right away.