Oregon's cannabis system has been dysfunctional pretty much since cannabis got legalized back in 2014, and now the state legislators are trying to improve it and shrink the current glut.
Oregon may be one of the prettiest states with its many mountains, beautiful shoreline and one of the best climates across all 50 states.
This also makes it a perfect place for cannabis growers which have been populating the area in the last couple decades—the further you go away from the ocean the less populated it is.
Cannabis growers found this perfectly fitting for their needs, and as the myth of OG Kush started to spread in the '90s, so did the growers in that area.
Years of this lead to a large number of illegal growers and once the state legalized recreational marijuana a lot of them turned and entered the system due to the subsidies offered to illegal growers who turn legal.
The state government handed out production licenses left and right, and this quickly led to a huge glut of legal cannabis in the State.
Recreational marijuana became the hottest trend, and almost nobody focused on medical marijuana—so much so that at one point Oregon had only 3 medical marijuana processors left.
A problem waiting to happen
At one point, cannabis stores were firing people because they couldn't make enough revenue to pay their employees since cannabis was so cheap, and the price is still dropping today.
The Oregon Liquor Control Commission estimated that the State could supply the residents with cannabis for the next 6 years with what is now in stock – and more is being produced as we speak.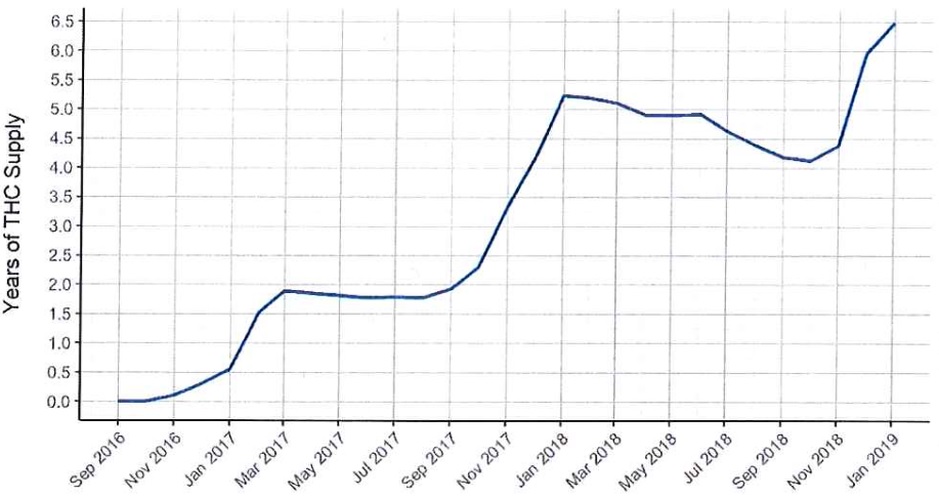 A couple of weeks ago, an Oregon man got busted in Boise, Idaho with what the Police assumed was just over 6,700 pounds (3,040 kilograms) of marijuana.
After sitting in jail for a month, the DEA's test results are in. The attorneys said hemp should contain 0.3% or less THC, but a couple of samples came back just above that threshold, at 0.4 or 0.5 meaning that according to current law some parts of the shipment is legally considered marijuana and some parts hemp.
This kind of thing really shouldn't be happening, even in states with more strict laws relating to cannabis.
If the Farm Bill legalized hemp federally, police officers should be able to make the difference between the two on the spot.
The state is currently locked in by its decision to legalize cannabis, but no business model at the moment provides the state a chance to have a very successful program similar to Colorado's or its northern neighbor, Washington.
Can Oregon export cannabis?
One idea that came to light recently was suggested by a group of business owners in Oregon who asked state legislators to permit local cannabis companies to export crops and products to other states.
This is highly illegal according to the federal laws and would be hugely frowned upon by the federal government.
Hell, I'd dare to say that if states went on to try and do this on their own the federal government would go as far as completely rescinding the Cole memo, not just halfway like Sessions tried to last year.
So, in order to make this happen, Adam Smith who is the founder of the Craft Cannabis Alliance is working with state legislators to pass a law allowing licensed cannabis companies to ship to other states with legal cannabis programs by 2021.
His export plan would cover products ranging from marijuana plants to edibles, and many politicians from Oregon are highly doubtful that it will pass.
They are questioning the possibility of realizing this bill as long as the federal Controlled Substances Act bars interstate shipments of marijuana.
"The amount of coordination between these state agencies is mind-boggling to think how that would work," said Brad Blommer of Green Light Law Group.
Smith hopes that the federal government will throw them a hint, or something that would be legally binding (similar to the Cole memo) so that they may start the process.
There was one similar bill that died in the House in 2017, according to which the producers in Oregon would ship the product to states with legalized programs as long as both governors signed the deal.