Sour Diesel is one of the most famous high-THC (>20% THC) strains ever, and it's been around for more than 20 years.
The history of Sour Diesel isn't quite straightforward, however some sources claim that the strain originated in New York. According to one story, a New York-based strain hunter AJ is the one responsible for maintaining the sales of Sour Diesel in the illegal US market.
According to AJ, this strain was bred by his friend who was growing a strain known as Chem 91, way back in the early '90s.
On one occasion, after a trip to Amsterdam, his Chem 91 mixed with something else, and from it grew the original Sour Diesel.
What does Sour Diesel look like?
Sour Diesel strain has a light green color, and its pistils range from yellow to bright orange. The buds are stocky and attractive, especially the trichome-packed sugar leaves that are on the darker side of green, so they stand out from the rest of the bud a bit.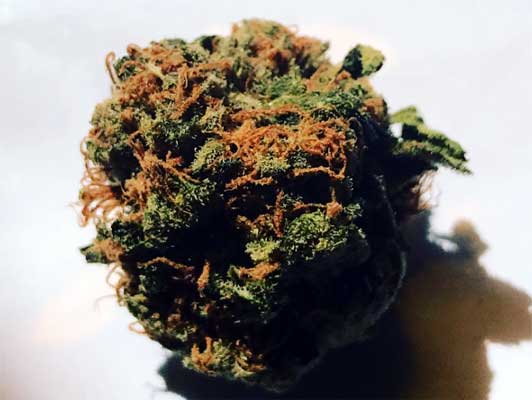 Sour Diesel covered in trichomes. Photo credit: instagram.com/mackinnon905
The aroma and taste of Sour Diesel
This strain has a very strong and pungent scent out of the box, and its aroma resembles diesel fuel which is where it got its name from.
Sour Diesel also has large quantities of limonene, which gives it a pinch of citrusy.
Depending on where you purchase it from, you might also smell a hint of pine, but this will not always be the case. You will be blown away by just how well the aromas of diesel and lemon work together.
Seeing how the taste and the smell are very similar qualities and they are both registered in the same part of the brain, they don't differ too much one from another.
Sour diesel can sometimes have a bit of an earthy taste, but the diesel and lemon flavors are what gives it its well-recognized flavor. I would describe its taste as a perfect mix between citrusy and earthy, with a somewhat herbal aftertaste.
Where to find Sour Diesel?
Sour Diesel is an extremely sought after strain across the whole North America, so it's available both in the US dispensaries and also through Canada's licensed producers. It used to sell for $50-gram and a pound used to go for $10.000, which is crazy.
Nowadays, it usually goes for around $9/g in Canada.
What are the effects of Sour Diesel?
Being a potent sativa, Sour Diesel has an uplifting effect and is best consumed during the day, when you're out and about. I have found that it just makes me very happy, uplifted and energetic and allows me to sit down and focus, all the while boosting my mood.
Sour Diesel should work great for people suffering from stress and depression, as it is a well known mood booster. It's also great for fighting fatigue, but just make sure that you take it easy if you're a beginner, as it can be very potent.
Sour Diesel flowering time and yield
Sour Diesel flowers between the 10th and 12th week of the grow.
It has a relatively nice stretch and, if grown in optimal circumstances, you should be able to grow about 3 oz/ft².
For those of you that plan on growing Sour Diesel for either medical or recreational purposes, keep in mind that this strain is notoriously hard to grow.
First-time cannabis growers should definitely go for something less challenging than this strain.