Cannabis in beauty products? Sounds like a good idea, considering our increasing awareness of the plant's wellness potential.
The beauty industry is one of the fastest-growing industries. Snake venom, snail mucus, and many other unusual ingredients became part of our everyday skincare routine in no time. The same goes for cannabis.
In order to get the maximum effect from their products, many companies started adding cannabis into them, allowing users to feel the full cosmetic potential of the plant.
As the popularity of cannabis grows, it's become normal to go to the most popular shops and find a body lotion with CBD oil among beauty products.
But before you purchase any of these products that include hemp seed oil, you should know it they won't make you high, although it penetrates into the deepest layers of the skin.
Cannabis plants contain different groups of active ingredients and many of them are not psychoactive. The main component that causes "the high" is THC, which is present at zero or very minimal levels in hemp oil, so these products won't affect your state of consciousness.
What are the benefits of cannabis in cosmetics?
Over the centuries people used marijuana to treat different skin diseases.
Cannabis oil has 80% of fatty acids (linoleic acid, alpha-linolenic acid, and gamma-linolenic acid) and these acids are already used in most beauty products. They can be found in any other plant as well, but not at such a high percentage.
The most interesting thing is that this percentage of fatty acids in cannabis equals the percentage we have in our skin naturally, and that is why this plant is so efficient — it can penetrate into the deepest layers of the skin.
This means that cannabis-based products can hydrate your skin much better than many others you've used so far, which makes it excellent for every skin type, even oily.
Aside from fat acids, cannabis oil contains vitamin B and E. There is a neat study from 2018 about vitamin B that shows it can produce new skin cells in the body. It helps with signs of skin aging and reduces the appearance of dark spots that appear on our faces as we age.
Aside from that, vitamin B contains folic acid, and according to this study, it can support the collagen gene and collagen fiber density.
As we age, the amount of collagen in our skin gets lower and lower causing the appearance of wrinkles. This means that cannabis facial oil can reduce the appearance of wrinkles but only if we start using it on time. It cannot have an effect on the ones that are already visible.
On the other hand, vitamin E is a great antioxidant that slows down aging caused by free radicals.
There are also studies that show it reduces the visibility of scars and it helps wound healing. This means it has an anti-inflammatory effect. In that case cannabis-infused products could help us with many skin problems such as:
Acne vulgaris
Allergic contact dermatitis
Asteatotic and atopic dermatitis
Hidradenitis suppurativa
Psoriasis
So, hemp-derived products are potentially very beneficial, either with specific skin issues or simply as prevention in everyday beauty routine.
Refresh your beauty s(h)elf with these cannabis-infused products
Year by year the number of products that contain cannabis Sativa with less than 0,3% of THC becomes higher.
A few years ago we'd struggle to find a facial cream with industrial hemp and nowadays they are in every store.
One of the first companies that included this plant in its products is Lord Jones.
They became popular after receiving praise from celebrities who fell in love with their creams.
The most popular cannabis product they have is CBD foot cream.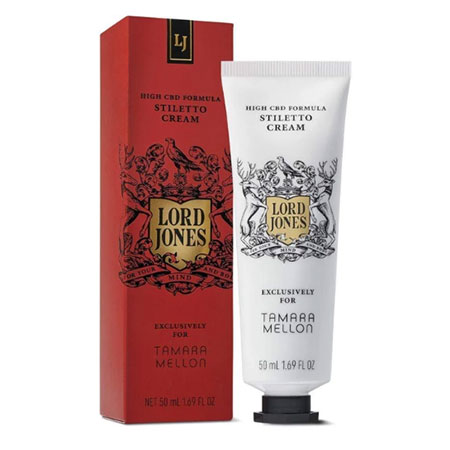 They combined it with cocoa and shea butter, olive oil and 200 mg of CBD oil so you can get hydration as well as relief after a long day.
The main purpose of this cream was to provide relief after a day spent in high heels. In no time it gained a lot of popularity and people started using it not only for pain relief but as a regular nursing cream which made it a best-seller all over the world.
Charlotte's Web made a hemp-infused balm for many purposes.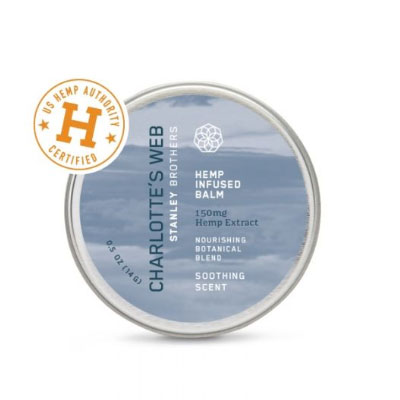 It's formulated with apricot kernel oil, shea butter, and sunflower oil. If you decide to buy it, you can use it for your entire body and face for extra hydration. It's a universal product with a lot of benefits.
Marley Natural recognized the full potential of this plant and they made a whole line with cannabis that contains seven different products. You can choose between soap, lip balm, body wash and moisturizer, essential oil, etc.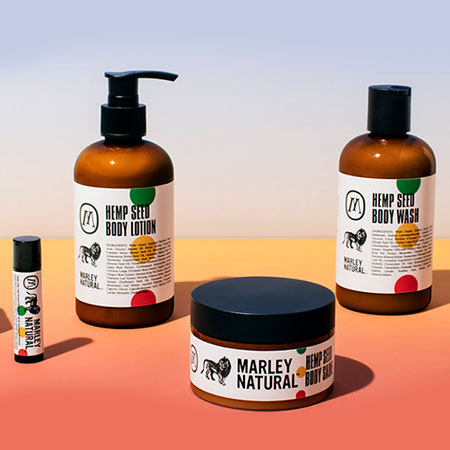 All of these products are made from cold-pressed cannabis Sativa oil and spiced up with Jamaican botanicals like lemongrass, cerasee, and rosemary.
As I already mentioned, beauty products with cannabis do not contain THC. There is one exception, though.
Papa and Barkley made a relief balm and they have two different options for their customers: with or without THC.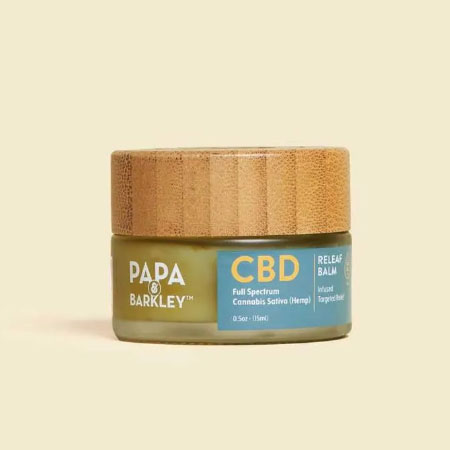 When you apply this balm on your skin, you will experience warmth, and then a cooling sensation. Both creams have a similar effect, but of course, the one with THC will be much stronger.
One of the most popular brands, The Body Shop, made a hand cream product with hemp. You can guess it became their best seller in a short period.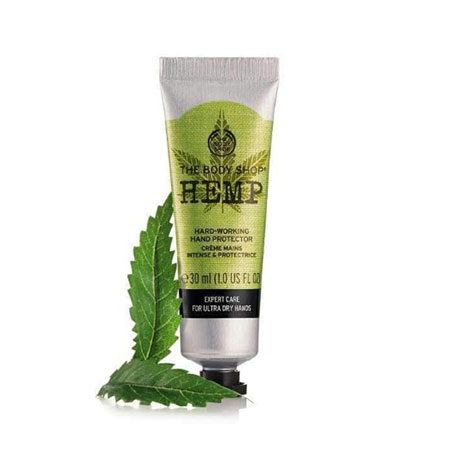 They used everything this plant can offer and made a protective balm. It will regenerate very dry skin, protect it from wind and cold, and apparently, they did a very good job since it is famous all around the world.
If you decide to add a little bit of luxury to your facial care, Herbivore made an Emerald Deep Moisture Glow Oil. It's a lightweight oil with hemp seed and it's colored green. It is supposed to reduce redness (thanks to the green color), dullness, and dryness on your face.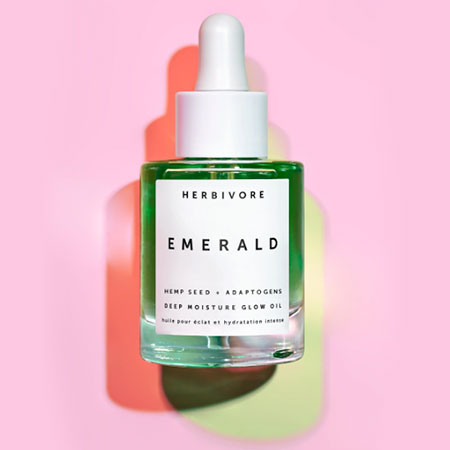 You may be surprised to know that cannabis can be used in makeup too. Milk Makeup decided to make a mascara with CBD oil and named it Kush High Volume Mascara.
This way they made the perfect product that will add instant volume to your eyelashes, but it will also hydrate them if you use it for a certain amount of time.
Experience that unusual scent on your skin
If you are not a skincare junkie, but you still want to try something that contains this amazing plant because of its health benefits, there is something for you as well.
Malin + Goetz is the first brand that came to an idea to make a cannabis perfume. They said it's "naughty, inescapably chic, and always a rite of passage." It's made of spicy herbs, coffee notes, and cannabis, and it does not contain THC.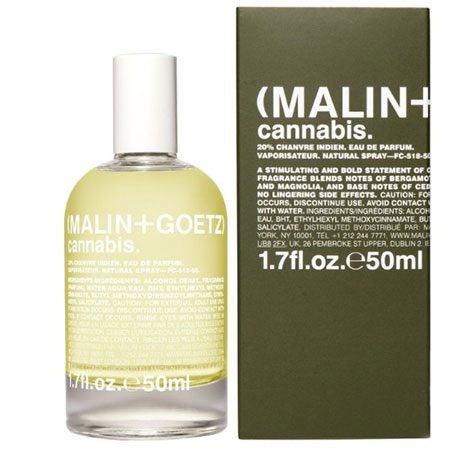 After that, many different brands followed in their steps. Fresh got an idea to combine cannabis with santal, bergamot, orange, etc. so they made a perfect sensual perfume for every woman who loves strong and unusual scents.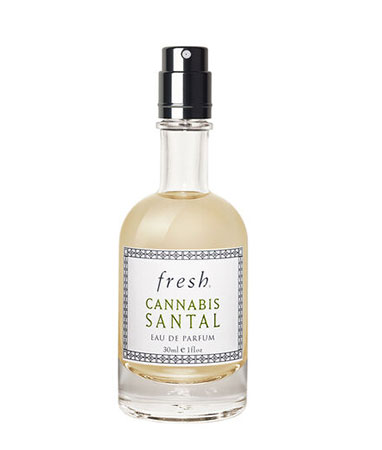 Herb Essntls decided to make a perfume that will keep an oily structure. So, if you are a fan of oils with the citrusy smell, this one is perfect for you.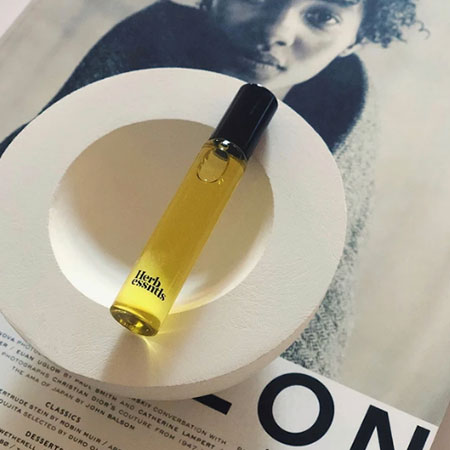 As you can see, companies don't use cannabis only used for skincare. It has a specific scent that is unisex and they can combine it with other essential oils which makes it a perfect choice in the perfumery world.
Our consciousness about natural cosmetics is growing day by day.
We realized how harsh some of the synthetic ingredients can be, so beauty industry specialists used the growing cannabis popularity to use this amazing natural ingredient in their products.
Cannabis has a very important role nowadays when it comes to skincare and it won't be so surprising if it becomes the number one ingredient in skincare products in the years to come.