As many people can attest, the cannabis industry is shaping up to not be the most diverse one ever.
Similar to tech, it is being led mostly by white males — which is ironic, given the white patriarchy arguably led the prohibition days and "reefer madness."
Since diverse or female cannabis players are few and far between, I was drawn to one cannabis brand that is flying in the face of that trend. It is called Cucci and is Toronto-based and all-female with a mission to create stigma-free, inclusive spaces for women to learn more about pot and its claimed health benefits.
I was also drawn to its name, Cucci, which I find pretty funny. Founder and CEO Hannah Nakawatase tells me it is a mix of the term "coochie," which is hip-hop slang for a woman's private part, and the high-end brand Gucci.
"I wanted [a name that was] short and that made you remember it was by women and for women," Nakawatase said. "Plus it is just fun to say."
Cucci has been all over Toronto holding a variety of events, from comedy nights to a rose petal blunt rolling session. It has teamed up with cannabis producer Bodega to create a "fully CBD-infused self-care kit" that includes bath salts, a body scrub, and face mask, which are all pineapple-vanilla flavoured.
"It's all woman made from bottom-top," Nakawatase tells me. "So, from the rolling trays to the bag it comes in and the products themselves, [they] are all made by women."
Playing on the health and wellness theme, Cucci recently held a "Hot Box" boxing event at United Boxing Club in downtown Toronto.
There they had a booth set up with CBD oil, which they gave me a generous sample of before beginning the high-intensity workout.
I don't usually take cannabis before working out, but Nakawatase explains to me that the drug can be helpful in healing and concentration during exercise.
"[Cannabis helps to] get more in tune with our bodies," she said.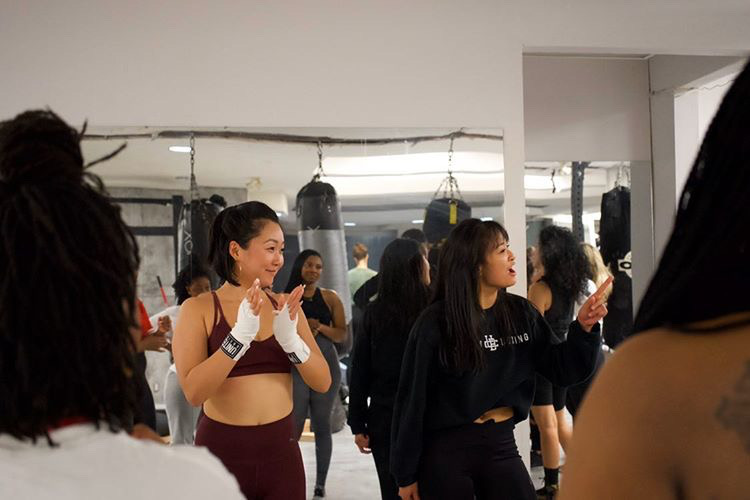 I have to admit I did feel a little calmer when the workout began. After boxing regularly at United for at least 8 months, one of the biggest challenges I've found is mental — that inner voice that says you can't do more.
The CBD oil helped quiet my constant self-criticism, which led to a calmer body presence that aided in easing the relentless pain. Before I knew it, we were all bouncing on the spot to blaring hip-hop music, throwing jabs, crosses and hooks — 1, 2, 3!
The class was mostly women — true to Cucci's mission statement — but there was one other guy who gave me a fist pump in male solidarity.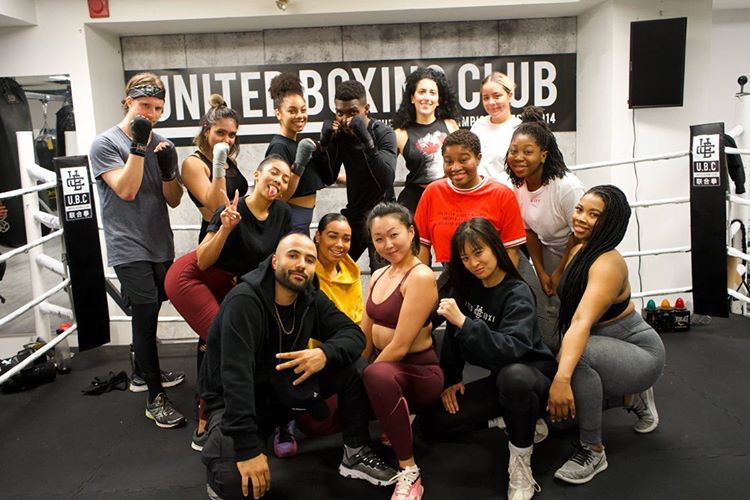 The class featured an introductory cat-walk for participants to introduce themselves and strut their stuff, which, believe me, they did at every opportunity — I'm talking twerking instead of squats. Clearly this was a space the ladies were comfortable in.
After some hopping around, hitting the bags and (of course) a "100 abs" closer routine, we were all sweaty and spent, giving props and high fives to each other for all the hard work.
Now it was time for celebration, and Nakawatase had the perfect method — a zip-lock baggie filled with mini-joints she handed out to us tired boxers-in-training, on-the-house.
Sucking back on the joint, my body was buzzing and ready for a well-deserved cool-down. My mind again went blank, my jazzed up muscles eased and I eventually hit my bed, happy that I finally met some ladies killing it in cannabis and doing it their own way.