A new study by the Université of Montréal shows that cannabis can harm teenage cognitive development.
During a convention run by the Canadian Association of Neuroscience in Toronto from May 22 to 25, Dr. Patricia Conrod and her colleagues presented their findings from a four-year-long study on the alcohol and cannabis use of 4,000 teens in Montreal high schools.
Their results concluded that the more teens increased their cannabis use, the more their cognitive abilities were negatively affected. Cognitive abilities affected included problem-solving, logic, work memory, and inhibitory control.
According to Conrod, the latter two abilities "…are very important functions involved in decision making in adults, in self-control and in control of behaviour."
"Regular cannabis users lost three years of cognitive development at certain levels," said Conrod, whose study showed that students in the 7th grade, who had never used cannabis, had the same level of inhibitory control as regular cannabis users in the 10th grade.
"At the moment there is nothing to lead one to believe there is a safe consumption level for teenagers," said Conrod.
A 2019 report by the Canadian Centre on Substance Use and Addiction showed that among students in grades 7 to 12, up to one third reported using cannabis in the last year. Given these findings, how should countries with legalized cannabis industries respond?
Raising the minimum age
Quebec premier François Legault tabled a bill last year that would raise the legal age for smoking cannabis to 21. This would make it the province with the highest legal age in Canada.
"I want to send a clear message to all young people. Please, don't use pot," said Legault to the National Assembly in December.
Junior health minister Lionel Carmant believes that increasing the legal age of smoking cannabis would deter young people from using the drug.
The bill was met with resistance from experts, with the Association pour la Santé Publique du Québec (ASPQ) publishing a statement from a coalition of six specialists speaking out against the bill.
The statement argued that prohibition will not prevent youth from using cannabis, but instead drive them into the black market.
One member of the group, Jean-Sébastien Fallu, a professor in psycho-education and addiction specialist at the Université de Montréal, told the CBC "there's no way that the prohibition of cannabis before the age of 21″ would prevent youth from using the drug.
Instead, Fallu said that increased restrictions would increase stigma and criminalization while exposing the youth to uncontrolled and unregulated variations of the product.
Chatbots and Toolkits
One cannabis company is taking the issue into their own hands, funding educational initiatives aimed at teens in order to curb underage marijuana use.
Hilary Black, CAO of Canopy Growth, formed a partnership with drug awareness organizations Parent Action on Drugs (PAD) and Canadian Students for Sensible Drug Policy (CSSDP), providing funding to create an interactive digital program that could engage with youth.
CSSDP strategic advisor Dr. Jenna Valleriane helped shape the material of the program using the Sensible Education toolkit, which PAD then used to create a new chatbot and text program.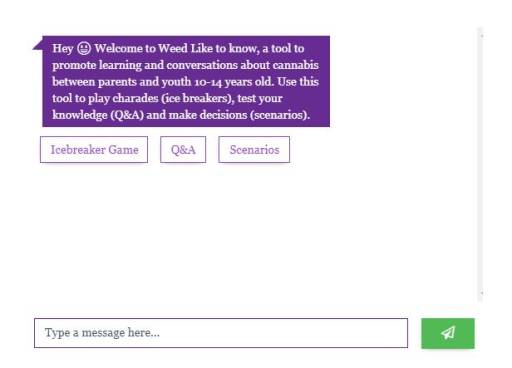 The program, released on Tuesday, offers three interactive experiences that are meant to open up frank and honest discussions about cannabis use to teens and young adults aged 15 to 21. These activities include games of charades, question and answer chats, and scenario-based discussions.
Those interested in trying the program out can subscribe to the automated texting program on their website. They will deliver one text a day for 54 days, which would include facts about how weed affects the body and alternate methods to cope with stress.