The Firefly 2 is a decent vaporizer capable of delivering exceptional flavor. But it seems it's ready for a new, more powerful successor – the Firefly 2+.
Somehow, the company managed to improve the Firefly 2 in almost every regard. The battery life is better, it charges faster, the draw resistance is significantly reduced, and we're looking at one awesome device in every way.
Boy, is the Firefly 2+ a great vaporizer!
What's in the box?
Well, not too much stuff, that's for sure.
Our stance has always been that what you get in the box, apart from the vaporizer, should influence your purchasing decision immensely.
This holds true especially when you're paying a premium price for a certain device.
You shouldn't have to buy additional accessories when you're buying a top-tier vaporizer. End of discussion.
Now, we're not saying that you're not getting the essentials with the Fireflight 2+, you are, but not much more than that.
Within the box you'll find:
Firefly 2+ vaporizer
Charging dock
Rechargeable batteries
Concentrate pad
Given that Fireflight's batteries aren't all that powerful, let alone superior to the batteries found in other portable vaporizers, they really should've provided a spare one with the device.
Design – same but better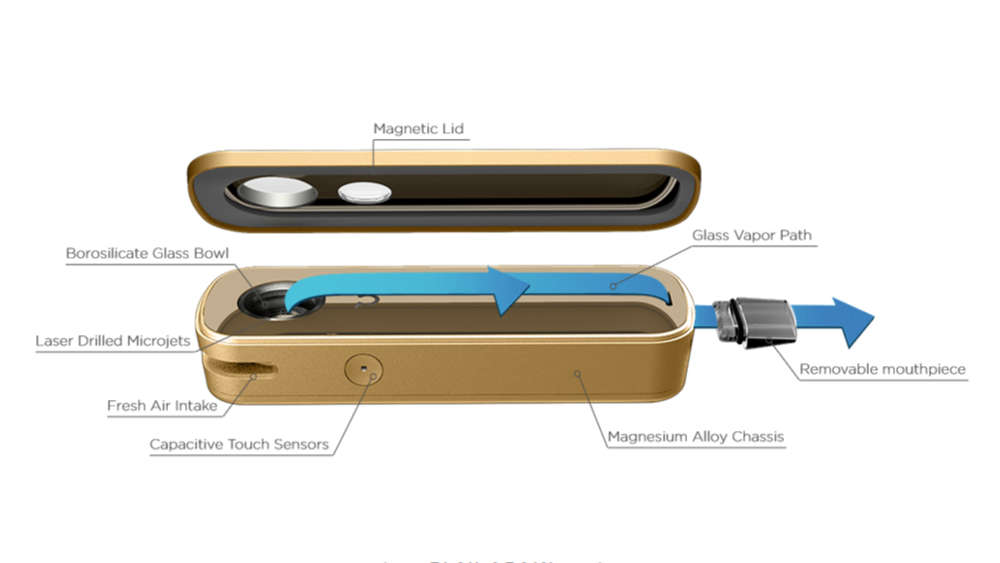 Much like its predecessor, the Firefly 2+ is a true crowd-pleaser when it comes to aesthetics.
Just looking at the device is enough to understand that it's built to perfection. It's lavishly designed and the used materials are above par.
For example, both the lid and the body of the device are made from magnesium alloy. For the viewing portal, they've used Quartz. The airpath is made from borosilicate glass, whereas the heating chamber is made from a ceramic superalloy.
All these elements combined together allow the device to perform incredibly well (in terms of taste and vapor quality and purity). Moreover, because of these top-notch materials, even looking at and holding the device becomes a very unique experience.
Size-wise, the Firefly 2+ is still a very portable vaporizer that easily fits in all pockets.
And, because it's so brilliantly designed and has a curvaceous body, you can smoothly take it out and start using it.
Here are the Firefly 2+'s dimensions:
Weight 4.9 oz (140 g)
Length 5.1 in (13 cm)
Width 1.4 in (3.6 cm)
Depth 0.95 in (2.4 cm)
When compared to the original Firefly 2, the main design difference has to do with the look and the placement of the company's logo.
On the plus version of the Firefly 2, the restyled LED logo can now be found below the heating chamber. Though some reviewers have criticized this implementation for its lack of utility (i.e. they could've put a small screen instead of it), we find that it makes the vaporizer look even more stylish and modern.
One design feature that we aren't so sure about are the touch-sensitive buttons that are used to operate the device.
Because it's necessary to touch both buttons at the same time to start using the device, the chances of it turning on in your pocket are fairly slim. However, holding a fairly slim device in your hand whilst managing to push two buttons simultaneously isn't very easy nor intuitive.
Luckily, you can use the proprietary Firefly app to customize your interactions with the device. By that we mean that you can choose one of the two buttons as your main one for the purpose of turning the device on.
The app interface looks stunning and is really useful because it allows you to further broaden the temperature scale which is otherwise limited. But more on that later.
Improved battery life
Firefly 2+ is using the exact same 770mAh Lithium-Ion battery as its predecessor (great news for those who own the previous version, because the batteries are interchangeable).
But, it turns out that Firefly's new firmware significantly improved the device's battery usage, allowing you, the user, to get at least six sessions out of a full battery. That may not seem like much, but for a highly portable vaporizer, that's plenty.
What's not so standard, however, is the fact that the Firefly 2+ takes under 30 minutes to charge to around 80%! That means that it takes less than an hour for a full charge. Well, that's impressive.
In order to max out the Firefly 2+'s battery life, we strongly suggest that you get a spare one. Intermittently changing batteries will significantly improve both battery performance and longevity.
Also, try not to let the batteries sit unused for a long time when they're either empty or fully charged.
Temperature control
When it comes to full temperature control, the Firefly 2+ is a force to be reckoned with.
Not only because of its temperature spectrum which spans from 200 F to 500 F but also because it uses dynamic convection for heating purposes. Unlike conduction-type vaporizers, convection ones gradually build temperature allowing you to waste no precious compounds from your herbs.
The more you draw, the more the temperature increases. That's one of the main reasons why the Firefly 2+ produces such incredible results in the vapor department.
As we've previously mentioned, you can use either the app or the physical buttons to control the Firefly's temperature. Our advice would be to use the former. It's much easier and it enables you to experiment with the device's full temperature spectrum (in 10 degree increments).
But that's not all.
The feature of the Firefly 2+ that is the real selling point is its on-demand heating.
This means that the device heats up and cools down in a blink of an eye. It's really that fast.
However, this doesn't just make the Firefly more efficient, but practical as well. Because it heats and cools down so fast, you can comfortably take a dab or two, and come back to the device later in the day with zero waste! Plus, this device fully embraces the use of microdoses.
Therefore, if microdoses are your jam, the Firefly2+ is the vaporizer for you.
Firefly's hallmark
Though on-demand heating is a brilliant implementation, the biggest reason why you'll want to purchase the Firefly 2+ is the quality of the vapor it produces.
Ask anybody who knows a thing or two about vaporizers about the Firefly's vapor production and you'll be surprised to discover that almost everyone agrees it's one of the best out there.
Top-tier materials, on-demand heating which reduces waste, dynamic convection heating, full temperature control, all of these factors contribute to the impressive results in the vapor department.
Mind you, this is not a cloud machine. Everything that is vaporized ends up in your lungs, leaving very little squander. The clouds are slight, but the high is immense.
No other vaporizer we've tested has ever produced such purity of taste as the Firefly 2+. It's no coincidence that the industry's started referring to it as the true connoisseur's vaporizer.
It all adds up
Looking at how this vaporizer has evolved over time does nothing else but skyrocket our reverence for the company.
Experienced vaping aficionados are probably the ones who are going to enjoy this product the most. First of all, it's not cheap. Second of all, it takes a veteran to really understand and enjoy the purity and quality produced by this device.
Though everybody can use and enjoy the Firefly 2+, not everyone can afford it. But, because it's so good, we don't really have a problem with that.
Therefore, if you have some spare cash to spend and you're looking to purchase a premium-quality portable vaporizer, we really can't recommend the Firefly 2+ enough.