Grenco Science was the first vaporizer producer to introduce a tank system for oil concentrates to the vape market, which later became an essential feature in most vaping pens.
Besides the device we're reviewing today, Grenco Science also sells the G Pen Connect, G Pen Pro, G Pen Gio and the original G Pen, as well as a bunch of different accessories.
G Pen Elite is their best selling product, however, the experiences of users are mixed, ranging from bad to good.
My experience with this unit is a mix of good and bad things, so I wanted to do a write-up and share my thoughts on this good-looking portable vape.
What's in the box?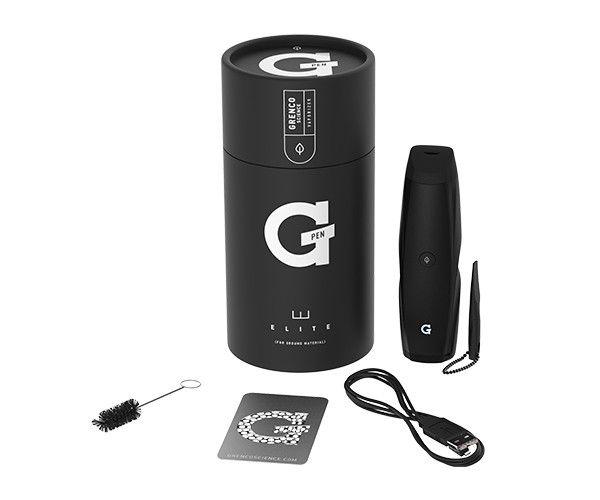 This unit comes in a beautiful, cylinder box which contains:
G Pen Elite vaporizer
One G card
G Pen tool
USB charging cable
One cleaning brush
To be honest, at first I was a bit disappointed because I expected to find more accessories.
These are just the bare essentials, which is fine considering the price, but have in mind that you'll probably need to buy a few additional gadgets: a protective sleeve, extra mouthpieces, charging dock and a USB charger are a must for me.
And this might not be a bad idea at all.
The device itself costs $150 (which is quite cheap for a vaporizer kit of this quality) and you can basically personalize it by buying accessories you are really going to use.
Tech specs
Battery life & charging options
The G Pen Elite has a 2200 mah Li-ion internal battery, which needs 3 hours to charge using a USB cable from the box.
If you'd like a faster charging time, you should get a charging dock right from the get go.
Depending on the temperature you are going to be vaping at, and how well-cured your weed is, you'll be able to pull out between 4-10 sessions on a single charge.
The one thing I particularly like is that you can easily check your battery life on the LED display. Battery is shown in the form of bars.
The battery is neither removable nor replaceable.
That means if something happens to the battery and it dies, there's nothing you can do—except just throwing the whole device away or asking for a refund.
Compatibility with different materials
G Pen Elite is compatible with dry herbs only.
It's not compatible with concentrates, so if you are not a big fan of dabbing, this is the right vape for you.
If you like to treat yourself with concentrates from time to time, you should try to find a vaporizer suitable for both concentrates and herbs.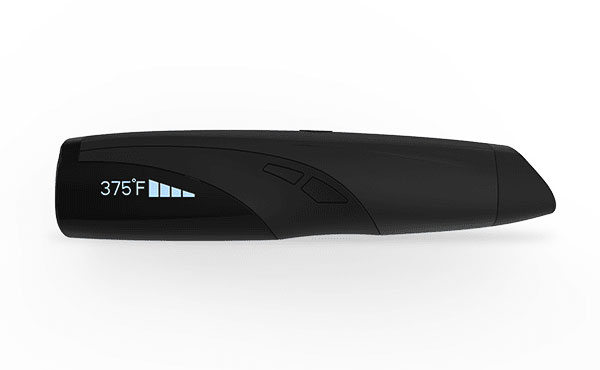 Temperature control
G Pen Elite is very flexible with its temperature.
You can easily set it to any temperature between 93-220°C just by pressing the up and down buttons—this allows you complete control over the vapor.
The exact temperature is shown on a neat, little LED display. You can even switch between Fahrenheit or Celsius.
Here's a quick tip: To change from Fahrenheit to Celsius hold the power button and the up arrow at the same time. To change it back to Fahrenheit hold the down arrow and the power button.
The G Pen Elite's temperature range is just about right for a dry herb vaporizer. You can play around with it and see what temperature produces the best vapor for you.
I usually like to keep it at 190°C, but you can turn it up of course if you prefer a more potent high.
Keep in mind that the device gets really warm, especially when heating it to high temperatures. The mouthpiece can get hot, too, particularly at the end of your session.
Once you set the temperature, the unit takes about 20 to 30 seconds to heat up, which is quick and efficient.
Vapor quality
G Pen Elite produces thick clouds of milky vapor. Since you have full control over the temperature, that also means that you have full control over the vapor, too.
But in general, the vapor is smooth and consistent. The ceramic chamber heats the material evenly so it provides a rich and tasty flavor. You can almost taste the terpenes, it's that yummy.
The airflow is fine, but the heating chamber is right under the mouthpiece, and there isn't much time for vapor to cool down, which can make the vapor a bit harsh and dry at times—you might find this unpleasant, but I personally didn't (it's a rare occurrence).
Design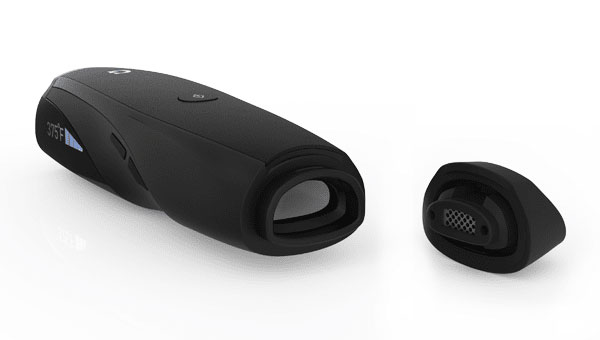 This unit only comes in black (they did have two special editions, but they are not available anymore). Maybe this has something to do with my taste, but I've seen better-looking vaporizers in the same price range.
However, there are a few things about the design that make this device stand out. Although I don't like how it looks generally, I have to admit that the design is actually functional.
First of all, its ergonomic shape makes it extremely comfortable to hold and use.
Its dimensions are 4.5''x1.5''x1'' and since it's made of rubberized plastic it's pretty light—it weighs only 88 grams.
Its discreet size means that this G Pen will easily fit in your pocket or purse.
Chamber size
The chamber of the G Pen Elite is actually huge and holds up to 0.75 grams.
This is probably the largest chamber among all other portable vapes.
While this is a perfect chamber for a vaping session with your friends, we can agree that it's too much for a solo vaping experience (considering that about 0.2 grams are enough for one solo session).
The Elite does not come with a half-pack oven lid like Pax 3 for example.
How to use the G Pen Elite
Sterilization
Before you use your vaporizer for the first time, you'll want to sterilize it to remove any harmful substances and the factory smell.
To do this, press the power button five times.
Then, press the up arrow button until you hit the highest temperature. To start heating it up, press and hold the power button and let it run. The device will automatically turn off after five minutes.
To complete the process, repeat this two more times.
Getting started
Here's how to vape weed with the G Pen Elite:
Take off the mouthpiece, pack the chamber with ground weed, and put the mouthpiece back.
Once you've done that, hit the power button quickly five times to turn the LED display on. Select the temperature by toggling the up and down buttons.
Now, hold the power button once again. You'll see how the warm up progresses on the LED screen. When it warms up to the desired temperature (about 30 seconds), you can start drawing.
Cleaning and maintenance
To clean the mouthpiece, just take it off, pull off the silicone cover from it as well as the filter screen. Soak these parts into alcohol for 20 minutes and then let them dry for another five minutes before assembling the device again.
Using the cleaning brush included in the box, you can clean the inside of the heating chamber, mouthpiece connections and the filter screens.
Standout features
Grenco offers one year warranty for the G Pen Elite, which is a horrible warranty considering that this vape costs $150.
Since it also has a non-replaceable battery, we're potentially entering a world of trouble, but, we'll see how long my G Pen Elite is going to last—I will be updating this article.
A few upsides are the flexible temperature regulation and an ergonomic design, but are those two really worth this much money?