One of the fastest-heating vaporizers on the market, Firefly 2 is a cutting-edge device—but also one of the most expensive portable vaporizers you can come across.
Firefly Vapor released the original Firefly in 2012, and stole the spotlight of the vaping world right away.
In 2016, they released a new version of the same device in the form of Firefly 2, which is smaller, thinner and a far more advanced unit.
It's time to dissect it.
What comes with the Firefly 2 vaporizer?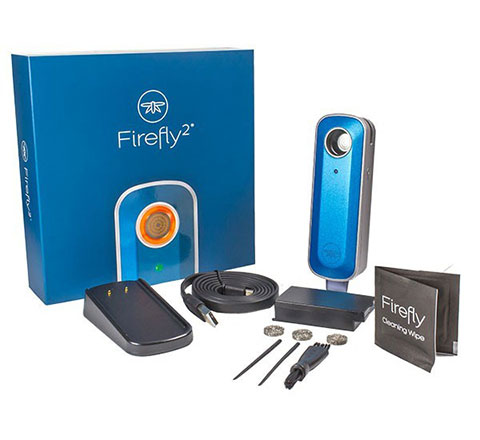 When my package arrived, I was very pleased with the design of the box. It appears that the designers paid a lot of attention to detail, which is something I always appreciate.
Besides the unit itself, the posh-looking package contains a couple of other accessories packed in smaller labeled boxes:
An extra rechargeable battery
Charging dock
Micro-USB cord
Cleaning kit (cleaning wipes, cleaning brush, two stirring tools)
Three pads for vaping concentrates
Firefly 2 tech specs
Firefly 2 battery life and charging options
Firefly 2 features a 7.4V lithium-ion battery, which provides twice as much battery life than the original Firefly—or about five hours of continuous use.
One thing I especially like about this device is the extra battery that's included in the kit.
Keep the second battery charged, as it will allow for longer uninterrupted sessions while you're on the go.
The battery is charged through the docking system, and takes about 45 minutes to fully recharge when empty. It reaches 80% capacity in under 20 minutes, which comes in handy if you're in a hurry.
For longer-lasting battery life, it is recommended to remove the device from the charging dock only when it's fully charged, and use the vaporizer until the battery is completely spent.
Material compatibility
Firefly is primarily a dry herb vaporizer but it's also compatible with concentrates. You get three specialized concentrate pads with the unit.
Does it have a display?
Unfortunately, Firefly 2 doesn't have an LED screen. Instead, it comes with an indicator light and two touch-sensitive buttons on the side. The light indicates when the device is ready for use, which happens in just a few seconds.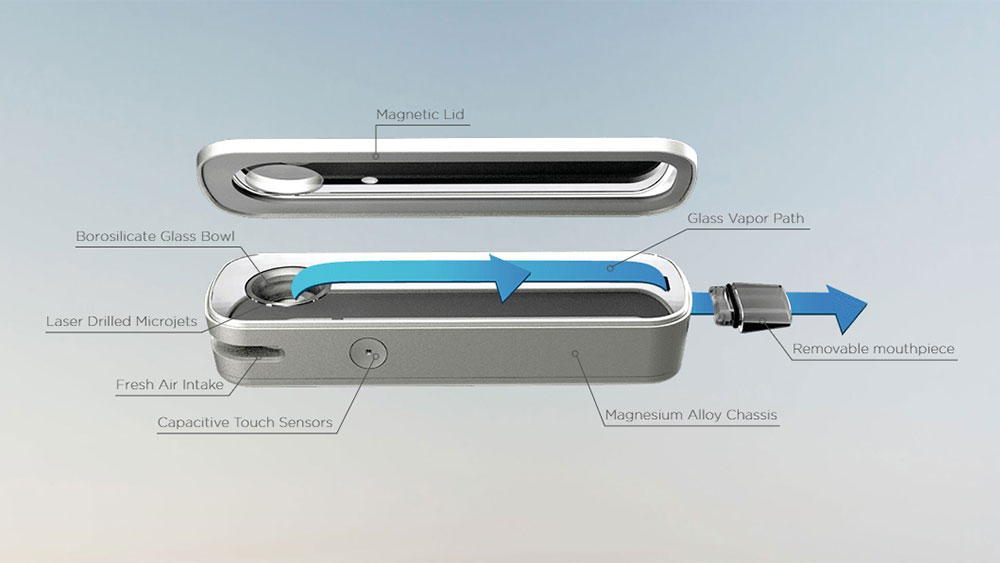 Firefly 2 temperature range and temperature control
The temperature range on the Firefly 2 is very wide. It goes from room temperature to 204°C (400°F), but with the mobile app, it can reach up to 215°C (420°F).
According to the manufacturer, it's able to go even higher—up to 260°C (500°F) to be precise. These super high temperatures should only be used for concentrates.
When it comes to controlling the temperature, that's a bit tricky with this device, or perhaps it's just me because I'm not used to controlling it this way. Luckily, there is another way to crank up the heat.
To be honest, I wasn't feeling the first option: You need to hold your fingers on the buttons and just draw in. The longer you draw, the higher the temperature goes.
This might even be a neat feature, because the device heats up very fast and produces fine vapor straight away, but I really like to have full manual control of the temperature.
I guess you can say I'm a bit of a control freak, at least as far as vaping goes.
When you use Firefly 2 like this you're utterly clueless as to what's the exact temperature.
The other option is to use the app, which is really nice, but I would prefer if the temperature could also be set on the device itself.
You'll need to download the Firefly app for other customizable settings as well, but more on that later.
Firefly 2 vapor quality
Firefly 2 produces massive clouds and the vapor quality is awesome. It's really smooth and beautifully cool. There is very little draw resistance, and the vapor is just so tasty!
To make the vapor smooth but also to preserve all the aromas and flavors, this vaporizer has borosilicate glass bowl with 55 air holes. There is no combustion of the weed and absolutely no smoke emission.
Firefly 2 design
Firefly 2 is a bit minimalist, but not minimalist enough for my personal taste. But that's just me.
You can choose from seven different colors: Black, Blue, Gold, Red, White, Jet Black, Oak and Zebra.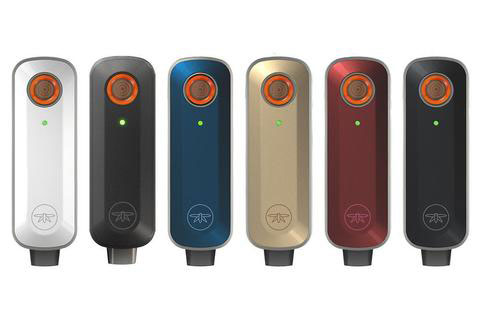 The unit is relatively small. Its dimensions are 5.1 x 1.4 x 0.96 inches, and the unit weighs around 140 grams.
However, it's slightly bigger and much heavier than (for example), Pax 3 which weighs only 90 grams. So I must say, this device is not as discreet as I presumed.
The exterior is made from high-quality magnesium alloy, which makes it very durable.
How to use Firefly 2
Sterilization
Before using any brand-new vaporizer, including the Firefly 2, you'll want to sterilize it first.
To do that, just touch and hold the buttons on both sides of the device until the LED light stops flashing and turns solid green.
Leave the device to run for one full heating cycle (30 seconds), after which it will automatically turn off.
Once you're done, repeat this step for two more times. That way you'll be certain that there are no oils or smells left over from the factory.
Your Firefly 2 is now ready for its first vaping session.
Filling it up & chamber info
Firefly 2's chamber is quite small: It can fit about 0.15 grams of finely ground weed.
This is a perfect quantity for one solo smoking session, if you ask me.
To get started, crumble up your pot but don't go too crazy because you don't want the plant material to fall through the mesh screen.
Once that's done, remove the magnetic lid and load the chamber with ground weed.
If you're planning to use cannabis concentrates, place the concentrate pad in the chamber before loading it with some wax, BHO or rosin.
Put the magnetic top back on, and you're ready to start vaping right away.
Firefly 2 app
As I previously mentioned, to have better control of the temperature, download the Firefly app from Google Play or Apple Store, and enable Bluetooth on your phone so it can connect with the unit.
Don't forget to touch the sensor buttons on the sides of your vape to turn it on, and when you see that it appeared on your app, just click connect.
The app offers six previously set temperature settings:
Low – 171°C
Medium-low – 182°C
Medium – 193°C
Medium-high – 204°C
High – 215°C
Concentrate mode – 260°C (use it only for concentrates)
When you choose the temperature, the LED light will turn red.
Afterward, push both buttons and wait for the blinking green light to turn solid before you start inhaling.
The app allows you to change the name of your device, lets you see the current battery levels, and you also can change which buttons activate the vaporizer.
How to clean Firefly 2?
Firefly 2 is definitely one of the simplest vaporizers in regards to cleaning and maintenance.
To get started, remove the magnetic lid to clean the chamber. Use the cleaning brush that came with the set to clean the leftovers from the bowl, and also from the lid.
Don't brush too fiercely because you might damage the delicate mesh screen.
Next, dip a cotton swab in alcohol and clean the chamber. Don't remove and clean the screen unless it's really dirty, because you'll probably break it by accident and then you'll have to replace it with a new one.
Do the same with the lid, soak some paper towels in alcohol and clean the stainless steel parts of the device.
By using the small brush from your cleaning kit, scrub the air path and the mouthpiece.
Leave everything dismantled for a few minutes so the parts can dry off. Assemble them, and your unit is ready to be used again.
Firefly 2 standout features
First of all, I would like to point out to Firefly 2's extremely fast heat up time, which I consider its stand out feature.
Once you turn the device on, you can use it almost instantly. And when you're making a short break, the device will turn itself off automatically to prevent overheating and to preserve battery life. That way you can stretch one packed bowl over several mini-sessions.
The replaceable battery is also really cool. You can always have a fully charged spare battery in your pocket to continue the session.