Louis Armstrong is one of the most iconic musicians of the 20th century, influencing numerous jazz musicians and winning over the hearts of millions with his unique trumpet playing, unusual gravely voice, and a very charismatic persona.
One aspect of this immensely recognizable pop icon was that he was one of the first famous musicians to openly admit his love for cannabis, but because pot was shrouded in such controversies at the time, this information reached the light of day several decades later.
He was also the first celebrity to have troubles with the fuzz for smoking weed, but luckily, he got out of it without any serious long lasting consequences.
But let's start from the beginning.
The early years
Louis "Satchmo" Armstrong was born in the year 1900 in a tough neighborhood of New Orleans called the "Battlefield".
His father abandoned the family while Louis was still just a kid, leaving his mother in charge, who really struggled to make ends meet. While still a young boy, Armstrong was introduced to the dance halls where he encountered the delights of night life, filled with ladies of seemingly low morale, loud jazz music and provocative erotic dancing.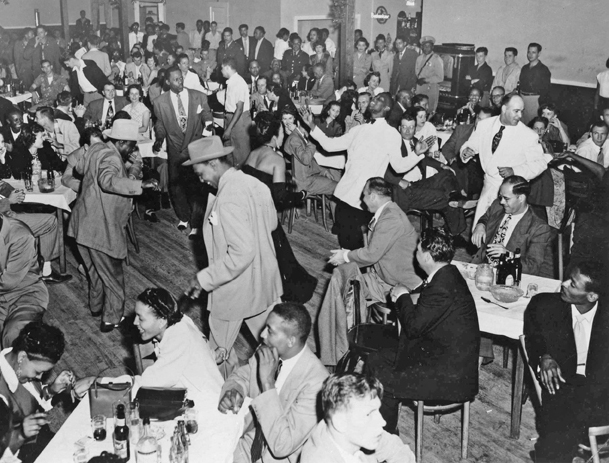 Source: riverwalkjazz.stanford.edu
This left a scorching impression on little Louis, as he had many issues with the law in his formative years.
The most important of those was a time when he was sent to the New Orleans Home for Colored Waifs, where he befriended Professor Peter Davis, who taught him to play the cornet, igniting in Armstrong the passion for musical expression.
He started to play on steamboats that were sailing the Mississippi River, and one of the biggest influences on his playing was Fate Marable, who was their band leader at the time, who supported young Armstrong to accept and embrace his already characteristic improv-based style of playing.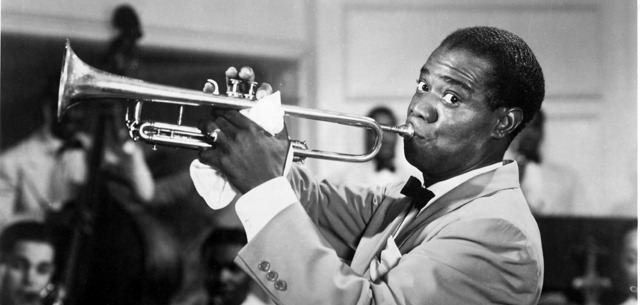 Source: cfile3.uf.tistory.com
"Gage" and the Viper Crew
Since the first time he tried marijuana at the start of the 1920's (which was quite popular among the musicians at that time), Armstrong was truly amazed and pot became a staple of both the concert performances and recording sessions during his entire career.
He and his mates only referred to cannabis as "gage", which was an accepted slang term in New Orleans at the time.
The crew called themselves the Vipers, and no one could be a part of it if they weren't a true "gage" aficionado. It was noted in his autobiography that pretty much anyone could be a Viper, as long as he/she enjoys and respects cannabis.
Armstrong also stated that marijuana was a much better vice than liquor, and that he and his Vipers always looked at pot as a sort of medicine, that relaxes and eases the mind.
The Arrest
While smoking a joint with his drummer Vic Berton outside of the Culver City's Cotton Club in California, police apprehended Louis in november of 1930. He recalled the incident in his biography:
"Vic and I were blasting this joint, having lots of laughs and feeling good, enjoying each other's company. Just then two big healthy dicks (detectives) came from behind a car nonchalantly and said to us, 'We'll take the roach, boys.'"
Because the cops who made the arrest were true fans of Satchmo's music, they revealed to him that a certain bandleader ratted him out, because he was jealous of Armstrong's unique talents.
This was particularly troublesome because of the epic government propaganda that was taking place during the 1920s/1930s in the United States, and this arrest could have totally destroyed Armstrong's reputation as a household-name musician.
He had to spend nine days in the Downtown LA City Jail, but in the end only received a six month suspended sentence. They were both originally sentenced to six months in jail and a 1000$ fine, and it's widely believed that the studio-heads of the jazz world intervened and managed to suspend this draconic verdict to Armstrong's favor.
This stint was the law enforcement only reinforced his appreciation for weed, and there were also some hilarious reactions from his famous fans, who believed that marijuana (because of the "girly name" of the plant), was actually a prostitute.
"I laughed real hard when several movie stars came up to the bandstand while we played a dance set and told me, when they heard about me getting caught with marijuana, they thought marijuana was a chick. Woo boy – that really fractured me!"
Even though the cannabis arrest was a big deal at the time, Louis didn't receive too much negative attention because of it, but actually brought him and his gage-loving fans even closer together. He remembers one specific situation shortly after the jailing while he was in Chicago:
"The doorbell rang. I went to the door and found one guy standing there, pointing towards four other youngsters getting out of the car. These boys pulled out their guitars, ukes, and wailed awhile with a perfect beat which lifted me up beautifully. Then they put up their instruments, one cat pulled out a big 'bomber' – lit it, took two drags and looked straight into my eyes as he passed it to me, saying 'Pops, we all feel like you could use this stick after all you've been through.'" He reflected on the moment as one of joy and inspiration. "That moment helped me forget a heap of ungodly things."
The arrest of Armstrong's wife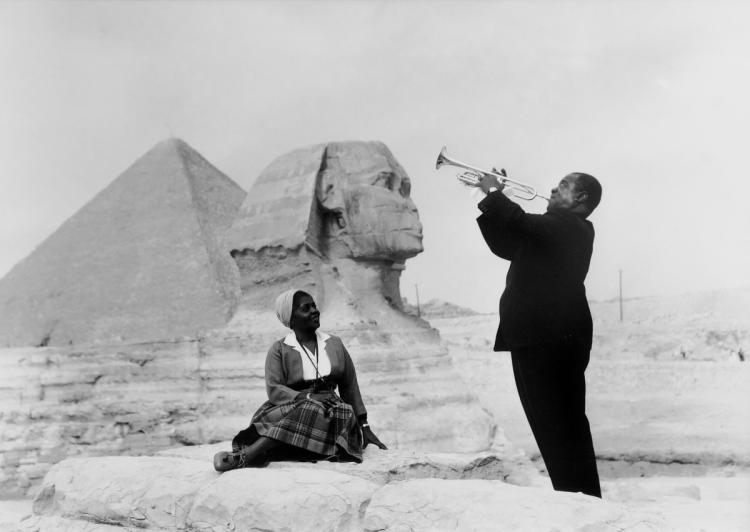 Source: assets.nydailynews.com
In 1954, Lucille was arrested on new year's eve in Honolulu Hawaii, when police found a joint and two half-burned stubs on her, weighing at exactly 14.8 grams.
Even though it was found in her sunglasses case, it was speculated (and all things considering pretty evident that the pot actually belonged to Louis).
This unpleasant experience urged Armstrong to express his discontent in a letter to his manager Joe Glaser, which revolved around marijuana. The main parts of the letter read:
"Mr. Glaser, you must see to it that I have special permission to smoke all the reefers that I want to when I want or I will just have to put this horn down, that's all."
"I can gladly vouch for a nice, fat stick of gage, which relaxes my nerves, if I have any…I can't afford to be…tense, fearing that any minute I'm going to be arrested, brought to jail for a silly little minor thing like marijuana."
He also stated: "I just won't carry on with such fear over nothing and I don't intend to ever stop smoking it, not as long as it grows. And there is no one on this earth that can ever stop it all from growing. No one but Jesus, and he wouldn't dare. Because he feels the same way that I do about it."
The sum-up
Satchmo's official autobiography was published in 1954, but his manager was adamant that the "gage" parts of his life should be left out, because pot wasn't accepted by mainstream society at that time, fearing that Armstrong would receive serious backlash if he was allowed to be honest about his decades-long affection for cannabis.
He persuaded Louis to go with the edited version of the book, with a possible sequel which would only be about the relationship between Armstrong and the gage. Unfortunately, this sequel was never published, and during his lifetime it was only speculated that Louis was a passionate stoner.
A few months before his passing, Armstrong finally sat down with his biographers Max Jones and John Chilton, and revealed the "entire story" to them.
Because the penalties for cannabis possession became more and more severe over the years, the closest people around Louis even persuaded him to completely stop with the smoking of reefer, because the risk was just too great.
"As we always used to say, gage is more of a medicine than a dope. But with all the rigamaroo going on, no one can do anything about it. After all, the vipers during my heydays are way up there in age – too old to suffer those drastic penalties. So we had to put it down. But if we all get as old as Methuselah our memories will always be lots of beauty and warmth from gage."
Armstrong was definitely one of the most important jazz musicians of all times, and it's truly an inspiration to know that a wonderful artist such as Satchmo was indeed a person who held the marijuana plant in such a great regard, understanding and positively exploiting all the creativity and stress-release benefits that this glorious plant has to offer.