Pineapple Express is a sativa-dominant strain that has been highly sought after in the past ten years, ever since the similarly named movie came out.
Seth Rogen really did a number on the weed industry when he introduced the world to his new movie, Pineapple Express, which over time became a classic stoner comedy.
The plot of the movie revolves around a process server and his weed dealer running away from hitmen and a corrupt police officer, after witnessing them commit a murder.
Weed appears to be one of the only recurring motives in the movie, as you can see it in small bags, big bags, big mason jars, pipes, joints, etc.
In one scene, Seth Rogen and James Franco enter a house filled with jars of Pineapple Express, the strain after which the movie got its name.
However, Rogen says that Pineapple Express strain came after the movie, and that the genetics were developed as an homage to the movie.
In #PineappleExpress, me and my co-writer Evan had to roll all the cross joints needed to film (about 100) ourselves because nobody else on the crew could roll them properly.

— Seth Rogen (@Sethrogen) August 6, 2018
Here's a little fun fact in regard to both of those: Only 2 people on the whole Pineapple Express set knew how to roll cross joints, a technique which appeared in the movie a lot.
Visual aesthetics
Pineapple Express is one of the fanciest and prettiest strains to look at. It has lots of orange and yellow-ish strains of hair, and a bunch of trichomes.
The nugs are usually very light green with some orange in them. If grown in a hydroponic system the nugs are known to be extremely sticky.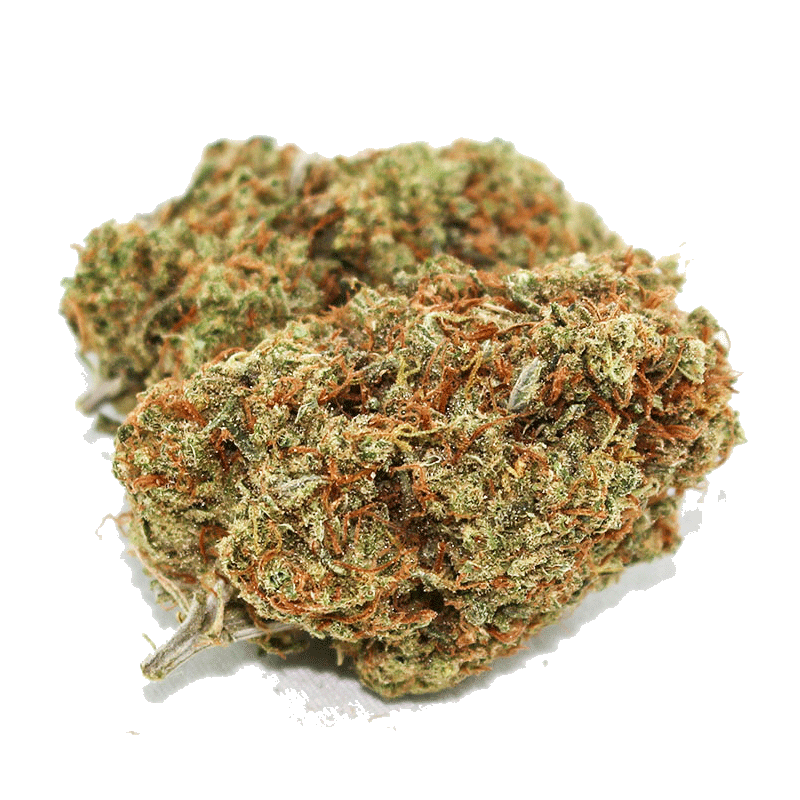 Aroma
Pineapple Express strain is a hybrid crossed from the genetics of a Sativa called Hawaiian and another hybrid called Trainwreck, which is also a sativa-potent hybrid.
These two combine to give Pineapple Express an extremely high THC level and depending on the specific grow, it can go as high as 25% THC.
Pineapple Express has a very strong odor both before and after burning, so make sure to bring a bottle of cologne to freshen up afterward.
Since it's a 'fruity' strain, Pineapple Express has a fruity and exotic smell, similar to that of a pineapple.
Taste
This strain has a very nice taste to it, which most people describe as earthy and fruity.
The smoke is usually not harsh at all and users tend to go back to this strain due to its strong, recognizable taste.
Availability
Pineapple Express strain has been growing in popularity ever since the movie was first released.
After the first initial wave of popularity, it stuck around due to its strong high and a very recognizable taste and aroma.
It is also rather easy to grow, and growers say that this strain has amazing yields and growing several plants will result in you having more weed than you could possibly need.
Where to find Pineapple Express in Canada
As far as we know, none of the licensed producers in Canada are currently growing Pineapple Express.
Every now and then street dealers sell stuff that smells like Pineapple Express, and most likely is, but you can never know with street dealers as they aren't reliable.
The best thing you, and everyone else interested in growing Pineapple Express is to go down south to Washington or California and buy yourselves some Pineapple Express seeds.
Once growing weed for recreational purposes is legal in Canada (as of October) you may be one of the first people to harvest and smoke Pineapple Express in Canada!
Effect
Some say that Pineapple Express leaves your mind feeling super spacey and unfocused, while others say it leaves your body feeling euphoric.
Don't start your day with this one if you are going to get social, because it will really hit you hard!
The general consensus with this strain is that it is perfect for outdoor activities which will leave you wishing for more free times and more Pineapple Express.
Find the right strain for you
Whether you want to relieve anxiety, pain or depression, the right strain is out there. Use our online tool to narrow the search.
Get Started
How to grow Pineapple Express strain
Pineapple Express is relatively easy to grow, and it has some of the best yields reported so far:
540 grams per plant in an outdoor grow;
500 grams per square meter in an indoor grow.
It is possible to grow it both indoor and outside, however you can make even better results with hydroponic growing and some carefully picked nutrients.
Make sure you flush the plant hard in its final weeks so that the flower has that true Pineapple Express taste.
Adding silica products to your grow will help your plants stay up-strong as the colas tend to get quite heavy once you are several weeks into the flowering stage.
About 2 weeks before harvest, Pineapple Express starts smelling insane. This is not your typical weed smell, but rather a really sweet and strong smell, so keep that in mind while growing it.