Let's face it—there has never been a better time to start learning how to grow weed outdoors (or in a greenhouse) than today.
There are many areas in the world that are famous for having great sun-grown cannabis, most notably Jamaica, California, Oregon and British Columbia. These 4 places reached legendary status in the growing game and here is why:
Lots of sunlight and high temperatures in the summer.
These are important factors when growing outside, so take that into account when planning your outdoor grow.
Later in the article, we'll go a bit more in-depth about growing weed in soil and why you don't see that many hydroponic outdoor grows.
But for now, let's check out the growing equipment you'll need for growing cannabis outdoors.
Equipment for growing weed outdoors
Cannabis growing equipment can be split into two types:
Gear that is absolutely essential for growing cannabis
Optional equipment that will help you produce higher yields
In this case, the most expensive thing on your list will be a greenhouse, and greenhouse prices depend on the type of the structure. I strongly suggest you get a greenhouse as it will make things significantly easier, and while you are at it get a good one.
Don't be afraid to spend $100 to $200 on a good greenhouse—the last thing you want is to find your plants dead because of hale or vermin.
Essential growing equipment: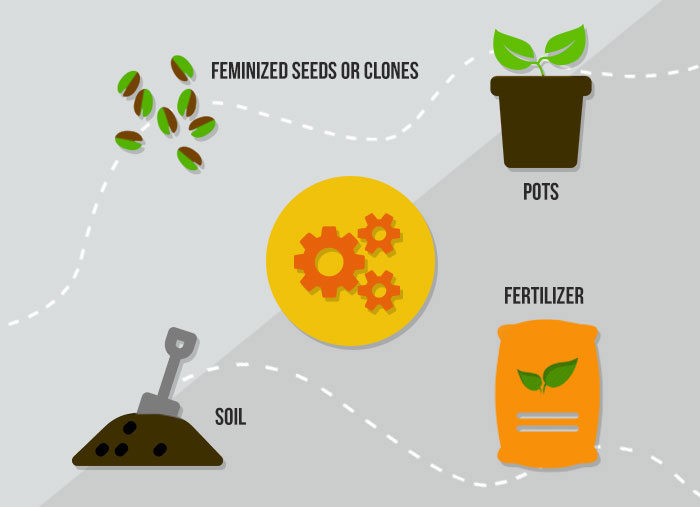 Optional growing equipment:
Greenhouse;
pH meter;
Pesticides;
Humidifiers and dehumidifiers;
Fan.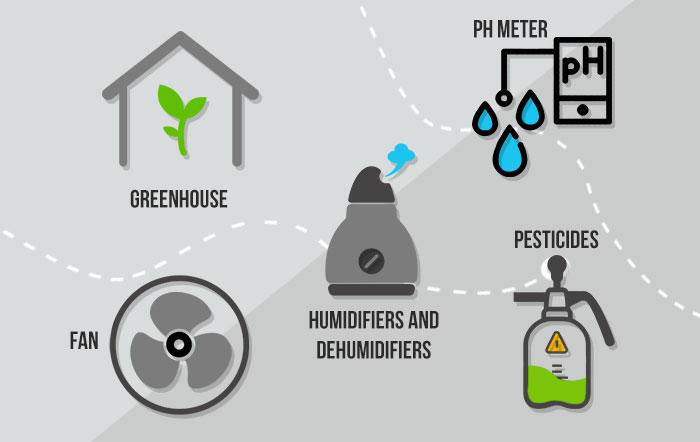 Which strain is the best for outdoor growing?
Any strain can be grown outdoors, as all cannabis strains were initially grown outside before being brought indoors.
However, not every strain will yield the same results. Some strains are more adept at growing at higher temperatures, while others are used to growing in colder areas, and these plants are usually smaller.
So, naturally we want a strain with good genetics, and that it is traditionally grown outdoors for its potent yield.
Best indica strains for outdoor growing
Afghan Kush is one of the most popular Afghani strains. It started gaining in popularity in the '90s after US soldiers started bringing seeds home from Afghanistan.
Quickly after, they started crossing them with already established American and Dutch strains, thus the name Afghan Kush.
This strain is unusually tall for an indica, but still not as tall as an average sativa.
Afghan Kush has a decent yield (500-600 grams per plant) seeing how it doesn't grow over 2 meters (80 inches). Its flowering time is 5-7 weeks. If you decide for this strain watch out for moisture and mold.
The other indica I believe is great for growing outside is Grape Ape, although this one might be a bit harder to grow.
Experienced growers say that this strain is better grown in water as the buds tend to grow bigger with good nutrient management, although growing it in soil works as well.
Some also note that you shouldn't attempt to grow this strain outside if you don't have a greenhouse.
Best hybrid strains for outdoor growing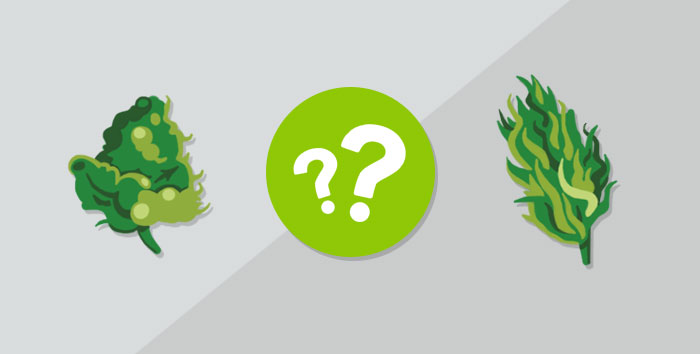 Blue Dream is a hybrid cross between Blueberry and Haze, two very well known strains with good lineage and genetics.
Its flowering time is 9-10 weeks, which means that this strain might take a while.
However, don't give up from growing Blue Dream just yet, as it has a huge upside. If you've never trained plants before, you will be able to do so with this one and get an even bigger yield than you might have expected.
Training cannabis plants significantly increases their yield, and this strain reacts well to all types of plant training. Also, Blue Dream can take high levels of nitrogen without burning so you don't have to go easy on the nutrients.
On average, Blue Dream yields around 600 grams per plant when grown outdoors, with October being the best month for harvesting.
Trainwreck has been around for a minute now, and it is one of the best and easiest strains for growing outside.
It easily grows well over 2 meters and has a very potent yield—one plant can yield as much as 700 grams when grown outdoors.
It takes only about 8 or 9 weeks to flower, and you can also train and top it to further increase its yield. It's not very susceptible to mold or rot so you should have an easy time growing this bad boy.
Lastly, Pineapple Express has been one of the most-in-demand strains over the last 10 years since the release of the movie that was named after the strain. This strain also takes around 8 to 9 weeks to flower, which is characteristic for crossed strains.
Pineapple Express is reasonably hard to grow in soil, especially outdoors, but the upside once harvested is just ridiculous. Don't even think about growing this strain outside without a greenhouse as winds are the biggest enemy of Pineapple Express.
Best sativa strains for outdoor growing
Sour Diesel is a great pure sativa for growing outdoors because it quickly grows huge and it is fairly resistant to just about everything.
Sour Diesel is known for being more of a weed than a plant, as it can grow uncontrollably, without producing too many buds. You can control this by pruning, training, and topping your plants to keep them from getting out of control.
Also, if growing Sour Diesel outdoors, make sure it's in a place where you'll have warm weather until late September or early October, since it usually flowers after 11 or 12 weeks. If you do it right, Sour Diesel can yield around 650-700 grams per plant.
Maui Wowie is a classic Hawaiian strain which is perfect for growing outside. Flowering time is around 9 to 11 weeks and it has extremely big, thick buds and large yields.
Experienced growers say that this plant should be kept at around 25-30℃ and that it can handle high humidity and rain without a problem, so a greenhouse is not necessary for this strain.
Indoor vs outdoor weed growing: Essential differences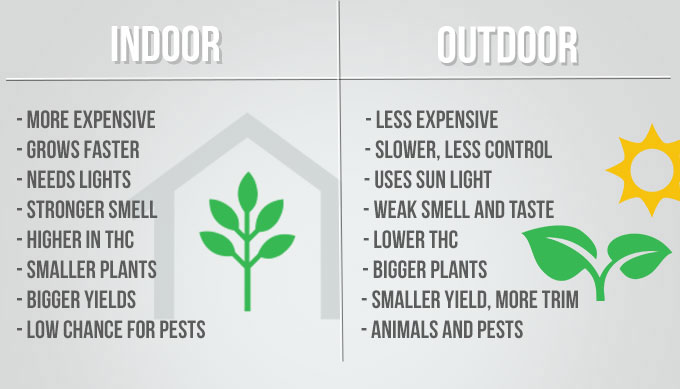 Growing cannabis indoors requires a lot of preparation and there are a lot of moving elements that can sometimes be forgotten—like turning your lights on or off.
It is also expensive if you are trying to make a return on investment by growing with high-powered lights to get a bigger yield.
However, the main difference in growing weed indoors and outdoors is in the growing medium, as purely hydroponic systems are basically non-existent in the world of outdoor growing.
Most of the outdoor growing is done in pots with soil, and some even choose to grow their trees from the Mother Earth itself, although I don't recommend it.
Growing weed directly from the ground is one of the hardest things you can do as you have little-to-no control over your grow unless you plan on digging around your plant every now and then to add nutrients.
Another big difference is that outdoor-grown cannabis usually has lower THC levels as the lack of controlled environment is known to lower the levels of cannabinoids.
Weed grown outdoors is usually a few shades darker than what you'd expect high-grade weed to be, although this also depends a lot on the drying and curing process.
One thing is for sure, indoor grown weed, especially if grown in a hydroponic system, will always have a much stronger skunky smell and taste.
Growing weed indoors requires you to set up everything so that the plant thinks it's still outside means that you won't have to do this when growing outdoors, which is another bonus.
Why grow weed in a greenhouse?
Keeping your plants in a greenhouse is a pretty good idea, if you can afford it.
A greenhouse will help you control wind and pests, plus the temperature inside is usually a few degrees higher than the outside, which cannabis plants like.
Without a greenhouse, you risk weather harming your plants, as well as other unexpected things such as uninvited visitors.
I generally strongly advise in favor of getting a greenhouse because the control you get far outweighs the extra money you spend on it.
Greenhouse growing especially makes things easier when growing indica strains.
If you plan on growing Blue Dream or Trainwreck you won't need it, but consider getting one for Pineapple Express.
If you plan on growing one of the sativa strains I recommended, don't use a greenhouse as both Sour Diesel and Maui Wowie tend to grow huge and will quickly outgrow it.
How to grow weed outdoors (step by step)
As I already wrote an extensive article (and an eBook) about growing weed in soil (although in that instance I wrote about indoor growing), there isn't much to be added here.
All the basic things that were mentioned in that article can be applied to this situation as well.
So, if you feel that I've skipped some important steps in my step-by-step guide here, feel free to fill in the gaps by peeking at the article linked below.
1) Prepare your grow
Make sure to choose a perfect location for your grow as this will have a big impact on the end result.
Keep in mind that you want your plants to get a lot of light, but not too much wind.
You will also need to prepare your pot by mixing Supersoil and Perlite (or something similar) in order to give your soil some air.
Adding a little bit of coco coir will also do wonders for the soil, as it will give roots more space to grow and they will be supplied with oxygen much more.
Now, I've also seen people growing in the ground, digging up pits and using them several times over for multiple grows. They reported having twice as big yields as when compared to growing in pots. However, this will expose your plants to numerous problems which can sabotage your grow, such as pests and bigger animals like cats and birds.
Mix 2 parts of your Supersoil with one part Perlite in the pot, as this ratio will give your plants the best access to oxygen through their roots.
2) Germinate seeds
Germinating is when a young plant leaves its seed and starts developing into an "organism" of its own. It is very simple to do this, and the only thing to keep in mind is that healthy cannabis seeds should float in water, and sink after spending some time in the water as they absorb it.
If you still don't know how, here are 3 ways to germinate seeds.
After you've germinated and planted your seeds, all you have to do is wait for the plant to grow.
If you're going with a clone, put it in a pot with some dirt and, voila, you just potted your first plant.
3) Water your plants
Water them whenever you feel that the top of the soil is dry and make sure that the water isn't collecting at the bottom of the pot.
Make sure you don't over-water the pot with the seed. Overwatering is one of the biggest mistakes you can make.
Here are my 5 general rules of watering cannabis plants:
Flush soil before planting;
Water whenever you feel that the top of the soil is dry;
Bigger pots — water less often, smaller pots — water more often;
Make sure you have appropriate draining (to avoid overwatering);
Flush soil two weeks before harvesting, and stop adding additives (nutes and ferts).
Never forget to add nutrients and fertilizers to your water when it's time to do so. If you don't add a growing fertilizer in the vegetative stage, your plant might not grow enough, or it might grow too slowly.
If you forget the blooming fertilizer, your plants will have smaller flowers which won't weight that much, and you won't have as big a yield as you might have expected.
4) Train your plants
After they've grown and started looking like real plants and not just some dandelions, start training plants to get bigger yields.
There are several plant training techniques, however, topping is the most popular one if you're growing big outdoor plants. Check out the post below for more info.
Outdoor-specific plants are also perfectly suited for topping, as these strains are known to grow to monstrous sizes. Some strains, especially hybrids with a higher sativa presence, are known to grow extremely tall, easily over 3m (10 feet) tall.
Now, if you were to top these plants, you could easily increase the yield by two or maybe even three times, depending on how skilled you are in training plants.
Having one plant with which you can play around and practice your training techniques will prove to be very much worth your time and effort, as knowing how to train plants is a great skill to have.
You can't learn this in school, only through practice.
5) Don't forget pesticides
This is a huge mistake many people make.
Add growing and blooming fertilizer to your water when watering the plants.
You'll also want to get pesticides in case your plants are harassed by animals, especially insects. Keeping your plants protected is a must, which is why I always say getting a greenhouse is a good idea.
Once you get the hang of how simple growing weed outdoors can actually be, you'll forget all about wanting to grow it inside, in complex hydroponic systems.
As I've mentioned before, cannabis grown in water usually has a stronger smell, and can often taste a bit like the chemicals used for fertilizing the plants. These plants are also usually smaller than outdoor ones and have a bigger yield due to the controlled environment.
Cannabis grown in soil smells much more pungent and has a nice aftertaste. Plants tend to grow huge, sometimes over 4 meters, and even up to 6 meters if kept in the vegetative stage for long enough.
Soil-grown plants can be a bit tough to control or even harvest on your own due to the sheer size of their colas and nugs. I've heard stories of people harvesting a whole pound easily off a 3.5m tall plant, so you can see why little investment in plant training can go a long, long way.
Enjoy growing outside and feel free to send us pics of your outdoor grow!