To help you bring some new colorful plants to your garden, I've decided to make a list of the most beautiful strains I've had the pleasure of seeing.
I've decided to place them into 3 separate categories:
Strains that have black and gray phenotypes
Strains that have the purple and pink phenotype
Brightest strains
Strains that grow black/gray nugs and leaves are the latest trend in cannabis growing.
It's all about black weed now. It's almost as if black was the new purple.
Some strains have a genetic trait which adjusts the color of the flowers and leaves when certain conditions are applied. These conditions include specific temperatures, type of nutrients, and many other variables.
Disclaimer: Most of the images below are either user submissions, photos listed on Reddit, or just random images found on the Internet. If you're the owner of an image and you desire credits, please contact us.
Black Diesel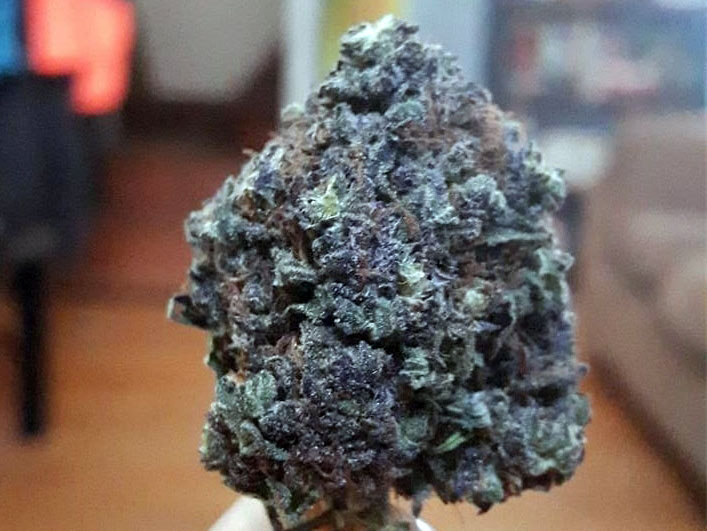 Images of a strain dubbed Black Diesel have been circling the internet for a while now. At first, people didn't believe how intensely black the nugs grew.
As you can see on the image above the nugs are practically black from all the dark calyxes. The buds are usually large and quite thick, however not all Black Diesel plants seem to share this trait.
The Black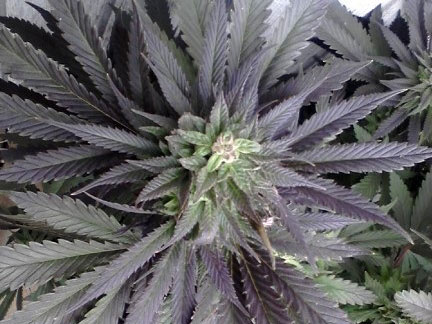 The Black is another black strain, although its nugs are not really that dark. It was discovered in during the 1980's, but it didn't become popular until 2008.
The plant is known for having a dark complexion all over the bushy canopy, and gorgeous pale flowers. The peak of its beauty is during the flowering phase because the sleek black leaves look like huge fingers.
Black Dog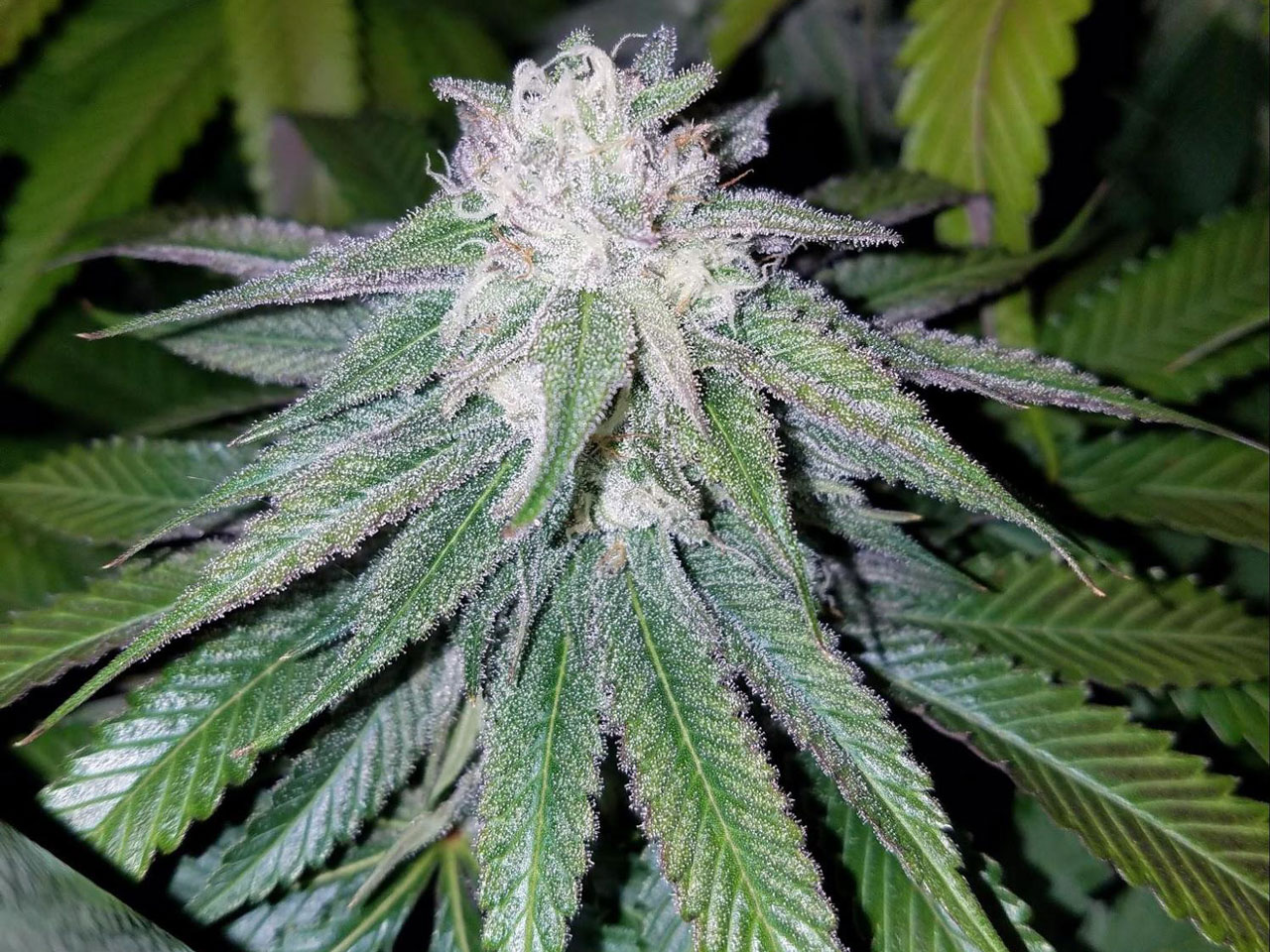 Black Dog is a prominent West Coast strain that's been gaining popularity over the last couple of years. This strain is very interesting to watch because as grows and flowers very rapidly.
It's known for going early into flowering, yet turning into a seriously resinous strain with very high THC levels.
The colas are very tall and they stick out from the canopy. The leaves are bright green throughout its life until the last month of flowering when both the leaves and flowers start becoming blackish in color.
Dark Devil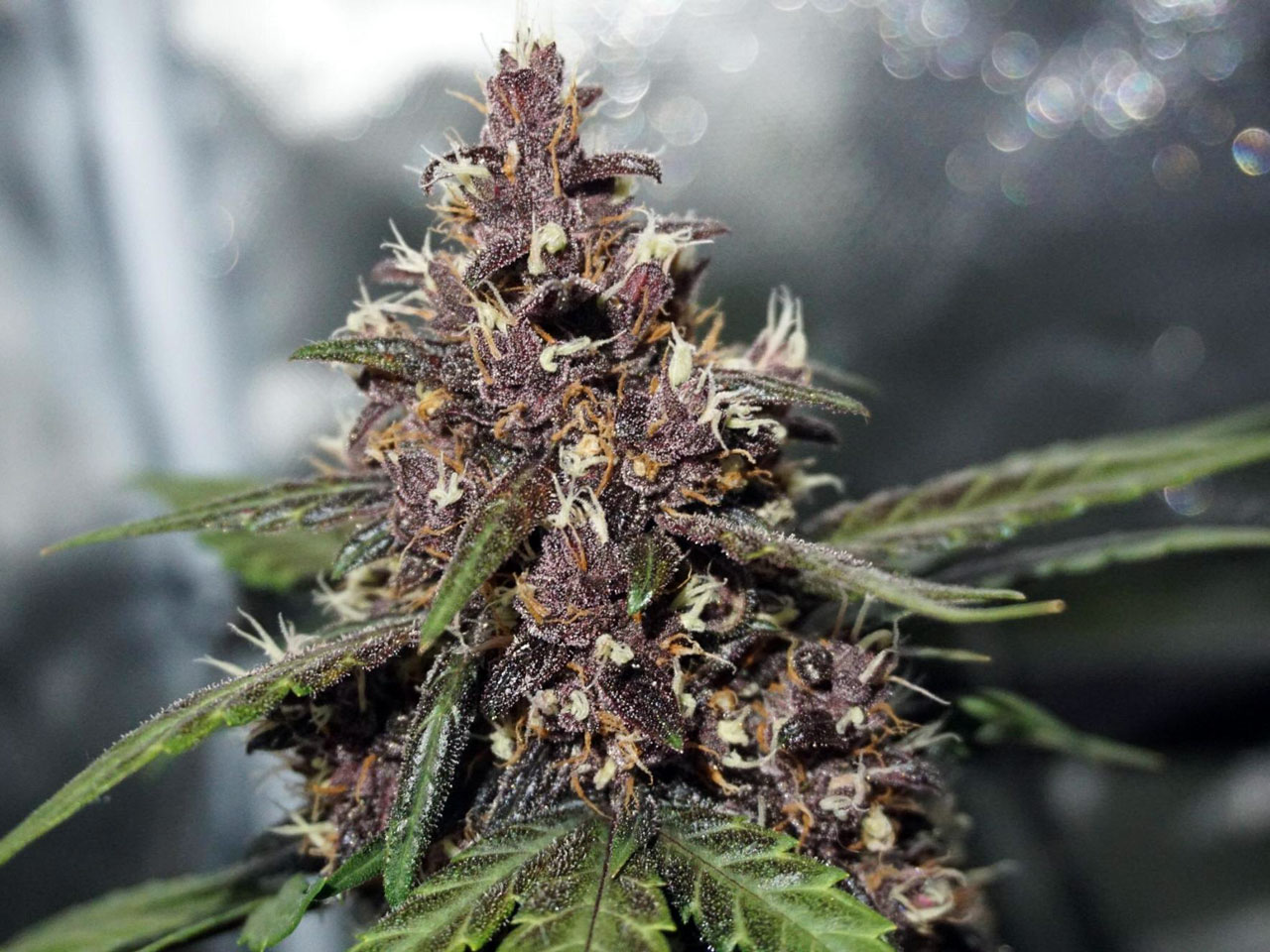 Dark Devil is a cross of Big Devil XL and an unknown Ruderalis plant. It is a magnificent mixture of genetics which makes this strain a simple must have for growers.
Its colas grow to a medium size and the buds themselves have a powerful fragrance. This is an autoflower version, so they don't tend to grow really too big, but they sure are beautiful.
The leaves are dark green by default, but sometimes they express a light green outline.
Buds vary from dark green to purple and black, and they provide a great contrast to the leaves which are in much lighter hues.
Black Domina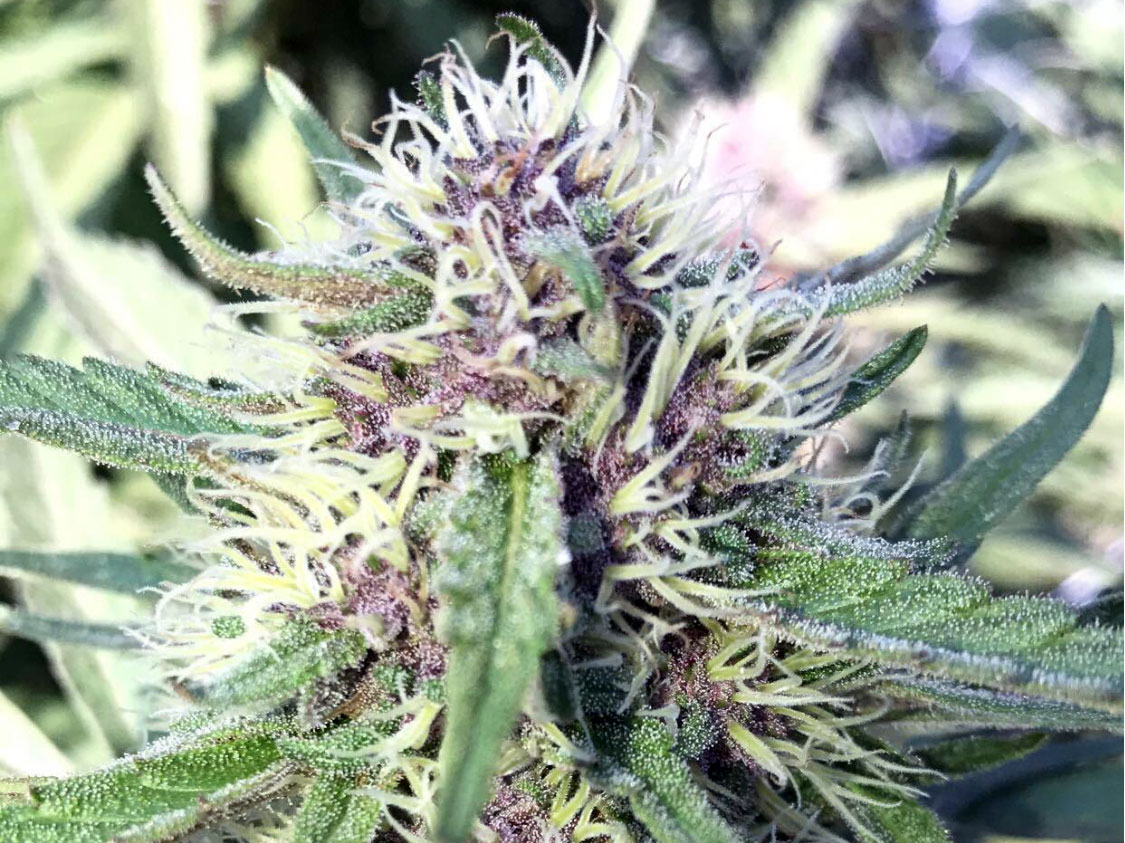 The Black Domina is a beautiful strain that will grab the attention of your guests as soon as they enter the garden. This strain has very thin leaves that stick out from the colas stacked with thick purple flowers.
However, the thing that makes the Black Domina stand out are her incredible pistils. The pale white-yellowish pistils and purple flowers look like something straight out of an alien movie.
Purple Kush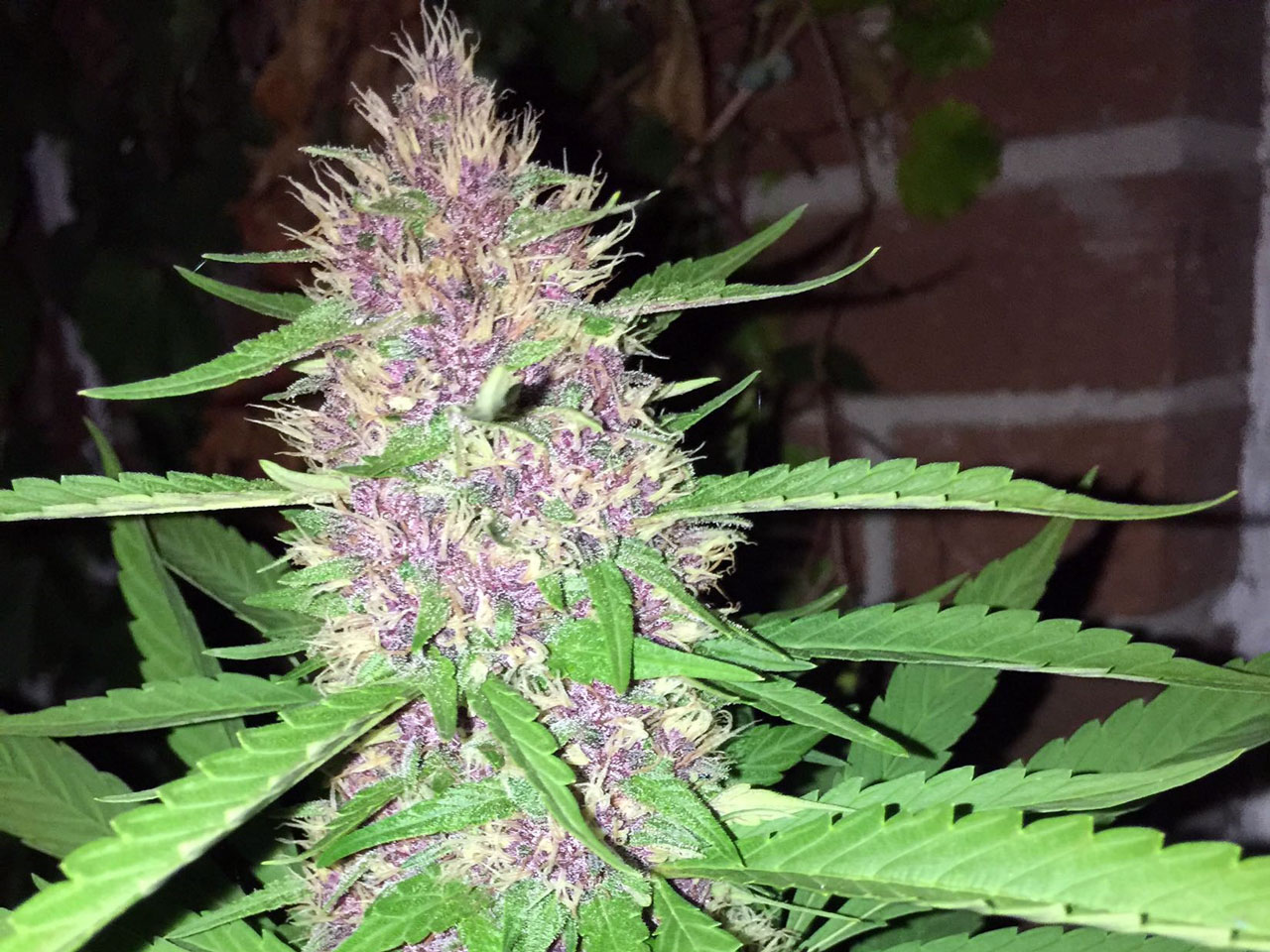 Purple Kush is one of the many strains carrying the purple phenotype. This strain has been hugely popular for more than 20 years and it still has a strong genetics.
The nugs on Purple Kush are not necessarily thick and dense, as they usually grow somewhat thin. However, this strain really brings a plethora of colors, including orange and purple buds, and some extremely green leaves.
It grows short and bushy like most Indicas and these vibrant colors will definitely breathe new life into your garden. You can also try growing its close cousin Purple Afghani and get similar result if you're lucky.
Frisian Duck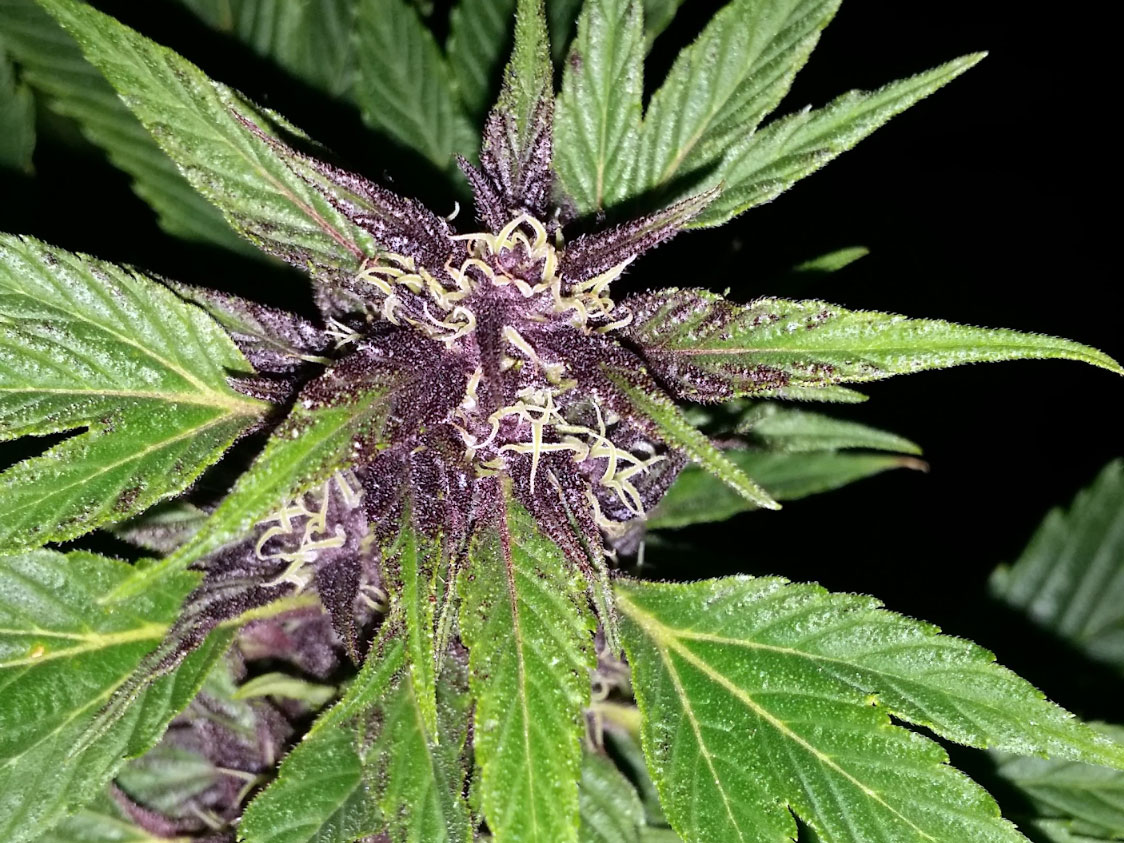 This is another one of those strains that has a crazy contrast in the color of the flowers and basically the entire cola, comparing to the leaves.
Frisian Duck is an unknown cross. Some people assume that this strain is a cross of a Webbed Hawaiian and an Aussie Bush Sativa, or maybe Pinot Green. Others say it's a cross of Frisian Dew and Ducksfoot, but it's impossible to say with absolute certainty.
These plants prefer growing outside on the sun as they have a lot of Sativa genetics. Keep them in soil, and feed them with lots of carbon dioxide for maximal growth.
The Big North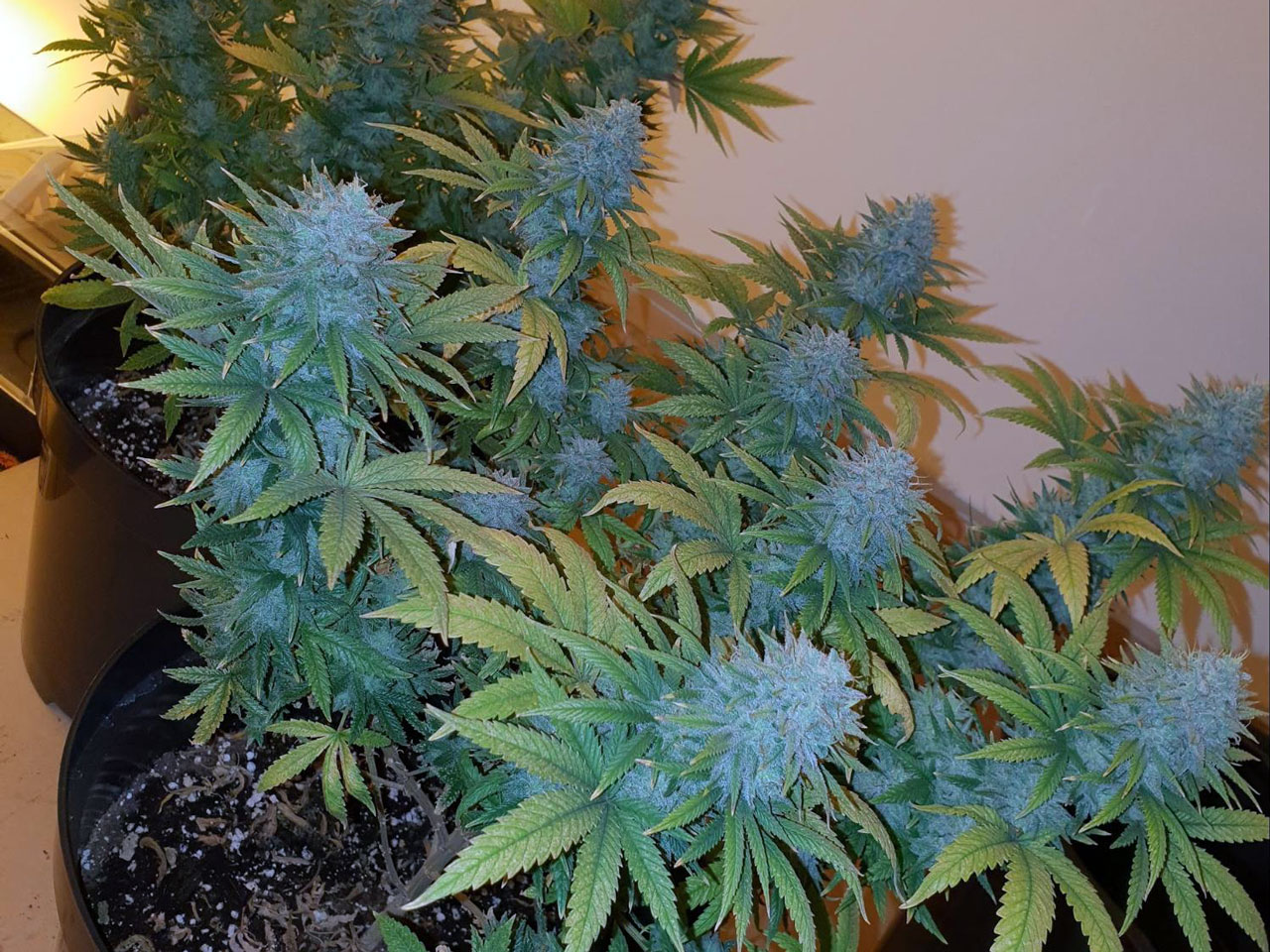 I heard about the Big North just a few days ago, when a friend told me about the monster his acquaintance grew. It's a cross of Big Bud and Northern Lights, that resulted in a ghostly colossus.
As you can see, the buds are eerily bluish with a very light leaf complexion. The plant got topped a few times and grew over a dozen huge colas. It doesn't grow too much in height, but it will spread out all over the place.
Unfortunately you'd have to attempt to cross those two strains, and chances are that you won't hit this combination even if you tried your best. But that shouldn't prevent you from trying.
Grape Ape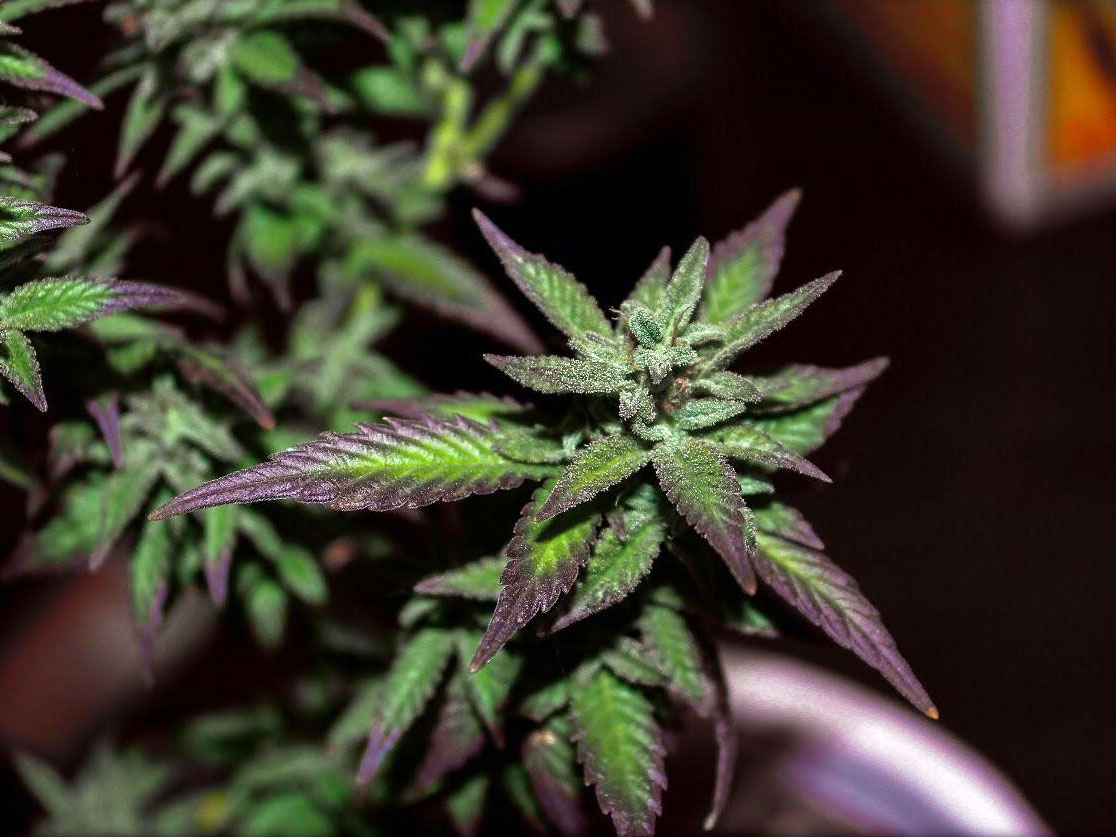 Grape Ape is a legendary strain that gave its genetics to many famous strains, such as Grandaddy Purple, Sour Grapes, 3xPurple, and Cherry OG Kush.
This variety grows beautiful wide leaves with a dark, sometimes almost black outlines. The nugs tend to be huge and extremely potent.
Grape Ape is known to get purple from time to time as it carries the purple phenotype. It is relatively skunky, but can also smells of grapes, making it a perfect outdoor addition.
Pakistani Chitral Kush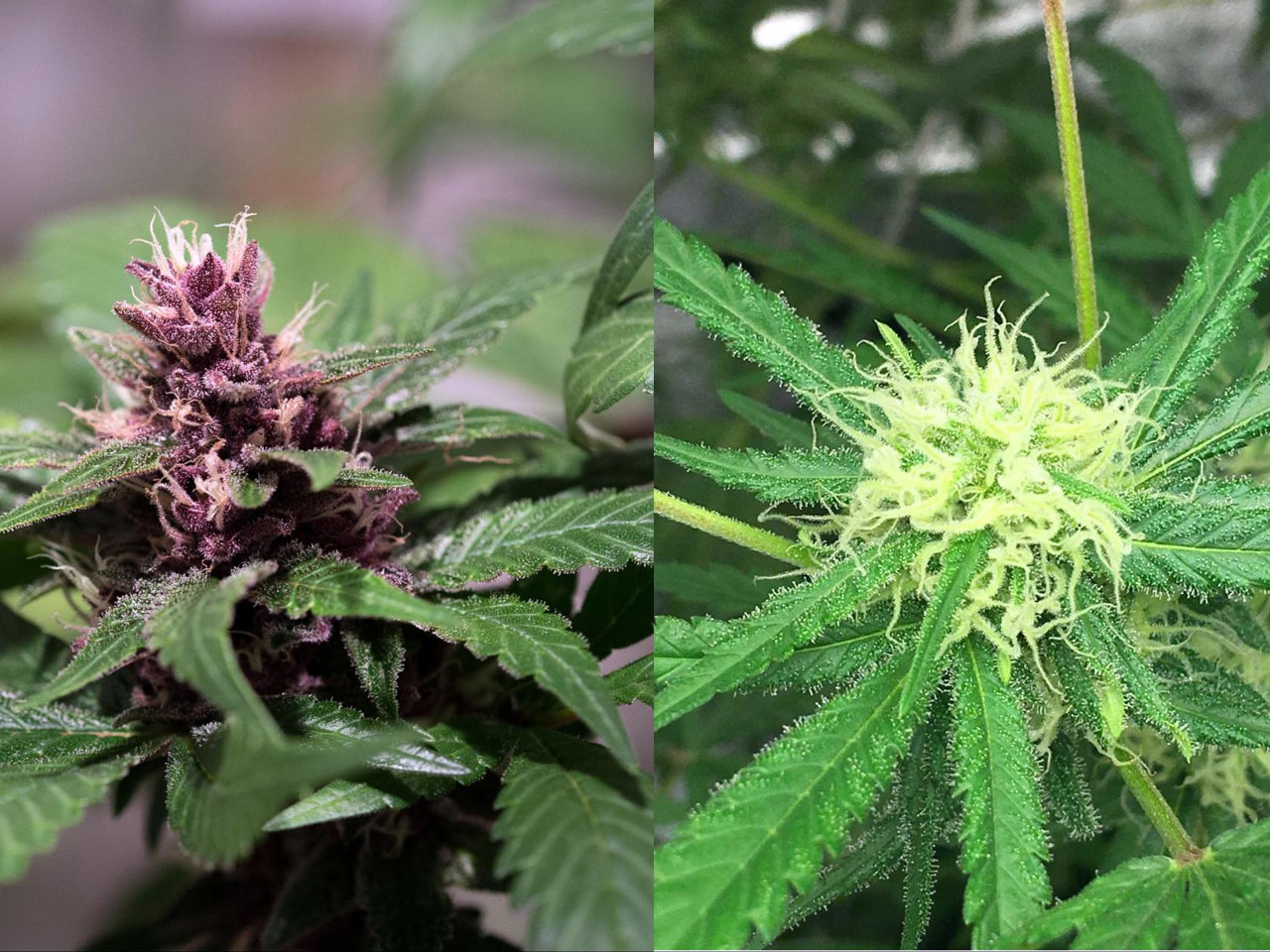 Another beautiful strain from the Kush family, the PCK is a full-blown Indica with awesome genetics. It probably has the most diverse color palette of all Kush strains, as you can see on the image above.
It grows very short relatively quickly, and it also carries the purple phenotype. That is why it's sometimes called Purple Pakistani or Purple Chitral. This strain has many phenotypes and it's kind of like a Kinder Surprise you because you never know how it will come out when you plant a PCK seed.
Red Poison Auto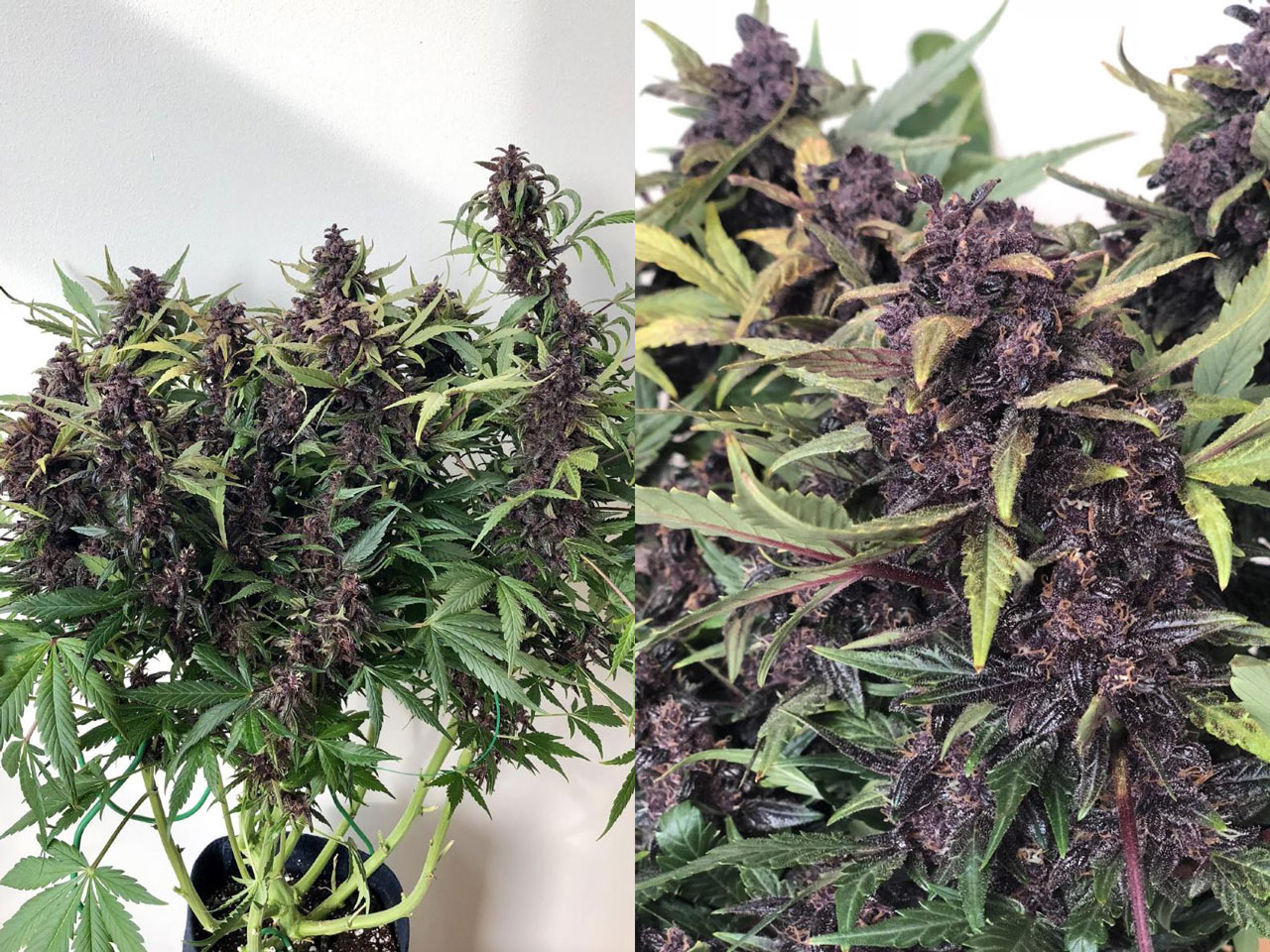 Red Poison is a cross of Green Poison and Pakistani Kush, the one I just spoke about. Keep in mind the heritage when buying seeds, as sometimes you just might get lucky like this grower.
This is an auto-flowering strain with a medium THC content. It is easy to grow and it looks very exotic, compared to the strains that didn't make it on this list.
It starts showing red and purple colors on the flowers and leaves as soon as it starts going into the flowering phase. It grows up to 120cm in height, which is great because you may have to top it only a couple of times.
Purple Trainwreck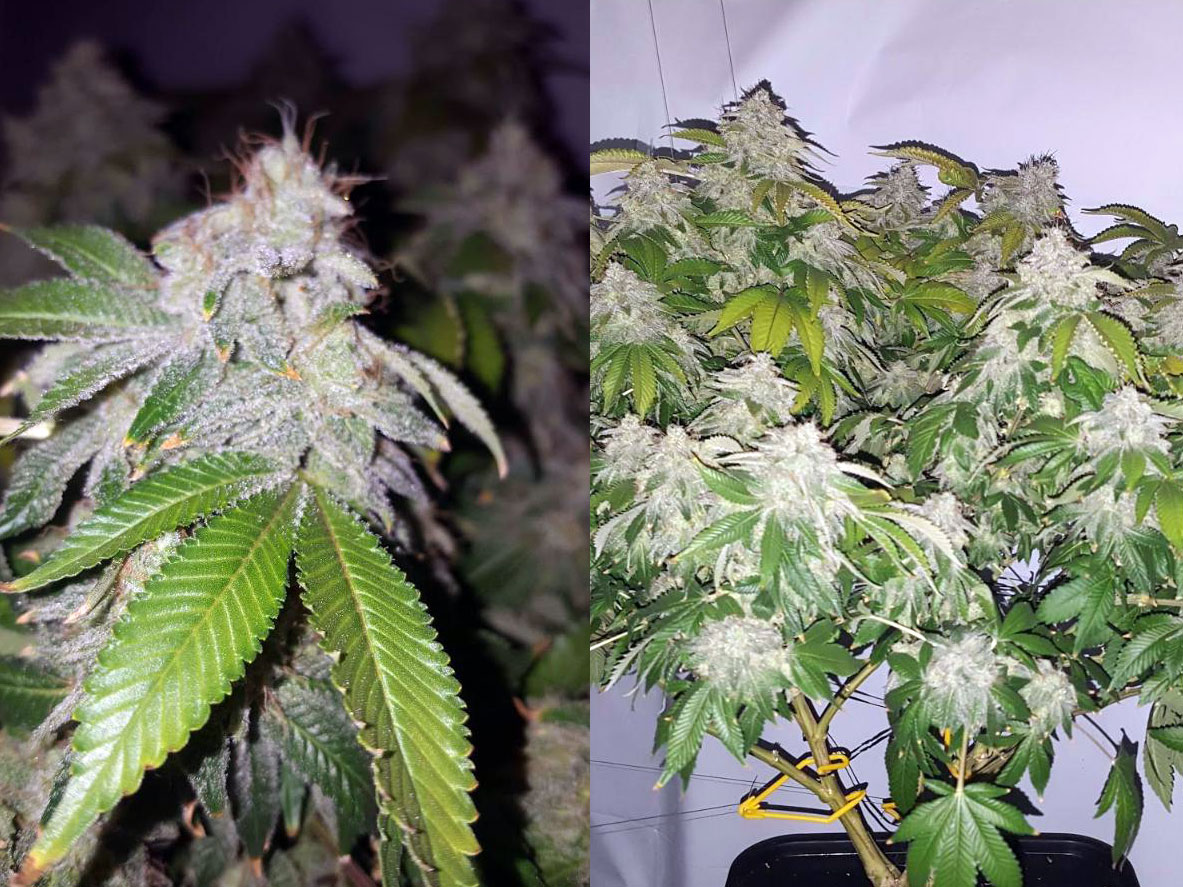 This strain is another legendary cross of two epic strains – Trainwreck and Mendocino Purps.
Purple Trainwreck isn't purple at all, it just has a misleading name.
It grows very short and bushy with a really strong stem, and you can expect lots of colas peeking through the canopy. The leaves are very wide, a direct result of exceptional Indica genes.
They love to grow in soil, so keep them outside and they'll be happy plants with potent nugs.
Bubblelicious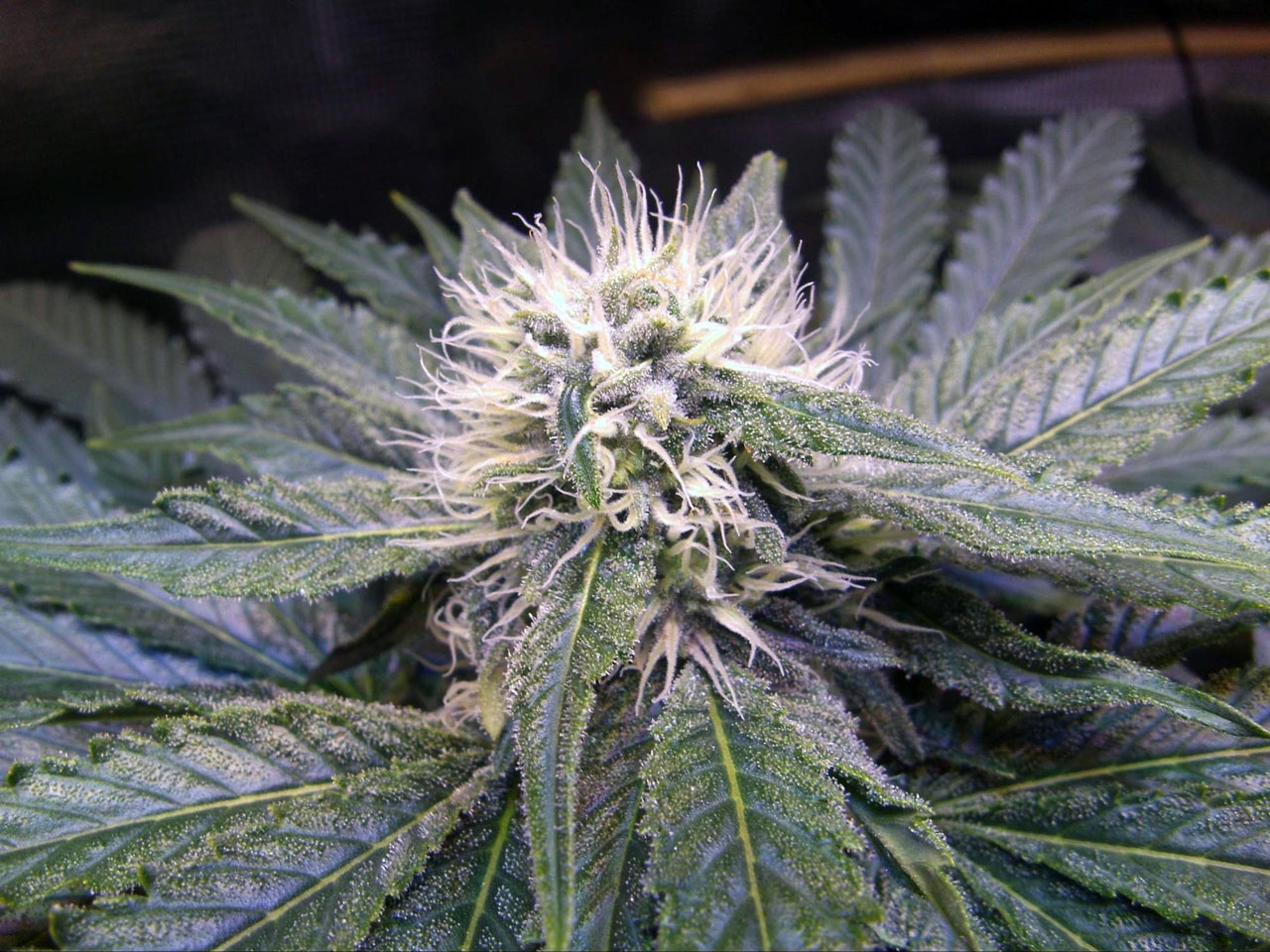 Bubblelicious is one of the newest strains out there. It has a very nice mix of green, pink and gray. It is a medium tall sativa that prefers growing outside.
If you're extremely lucky one of your Bubblelicious plants may carry the pink phenotype, similar to Pink Kush. This phenotype is known to bring out pink pistils in this strain, after which it got its name.
Bubblelicious is also known for their wonderful scent of bubblegum, which means the fragrance will probably visit your neighbor's yard.
Pink Kush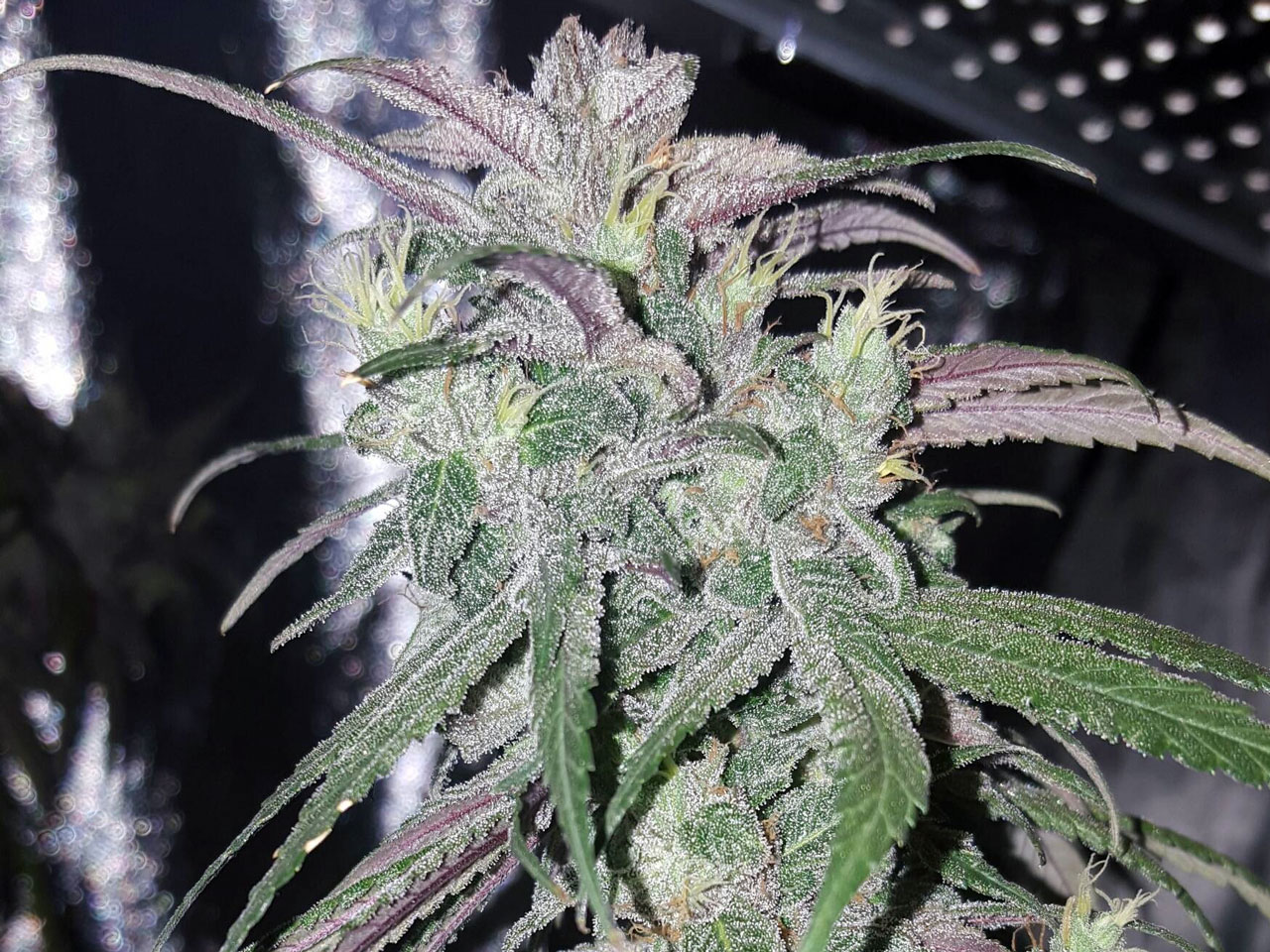 For a little while, Pink Kush was the fan favorite among Canadians. This strain also gets its name after the pink phenotype it carries, although if you don't acquire seeds with really stable genetics you might not get that particular phenotype.
Pink Kush is very resinous and tends to have relatively pale nugs. When the pink pistils decide to come out, they are easily visible because of the contrast.
The best way to check for this trait is to look on the back side of its leaves.
Bubble Gum and Bubble Gum Kush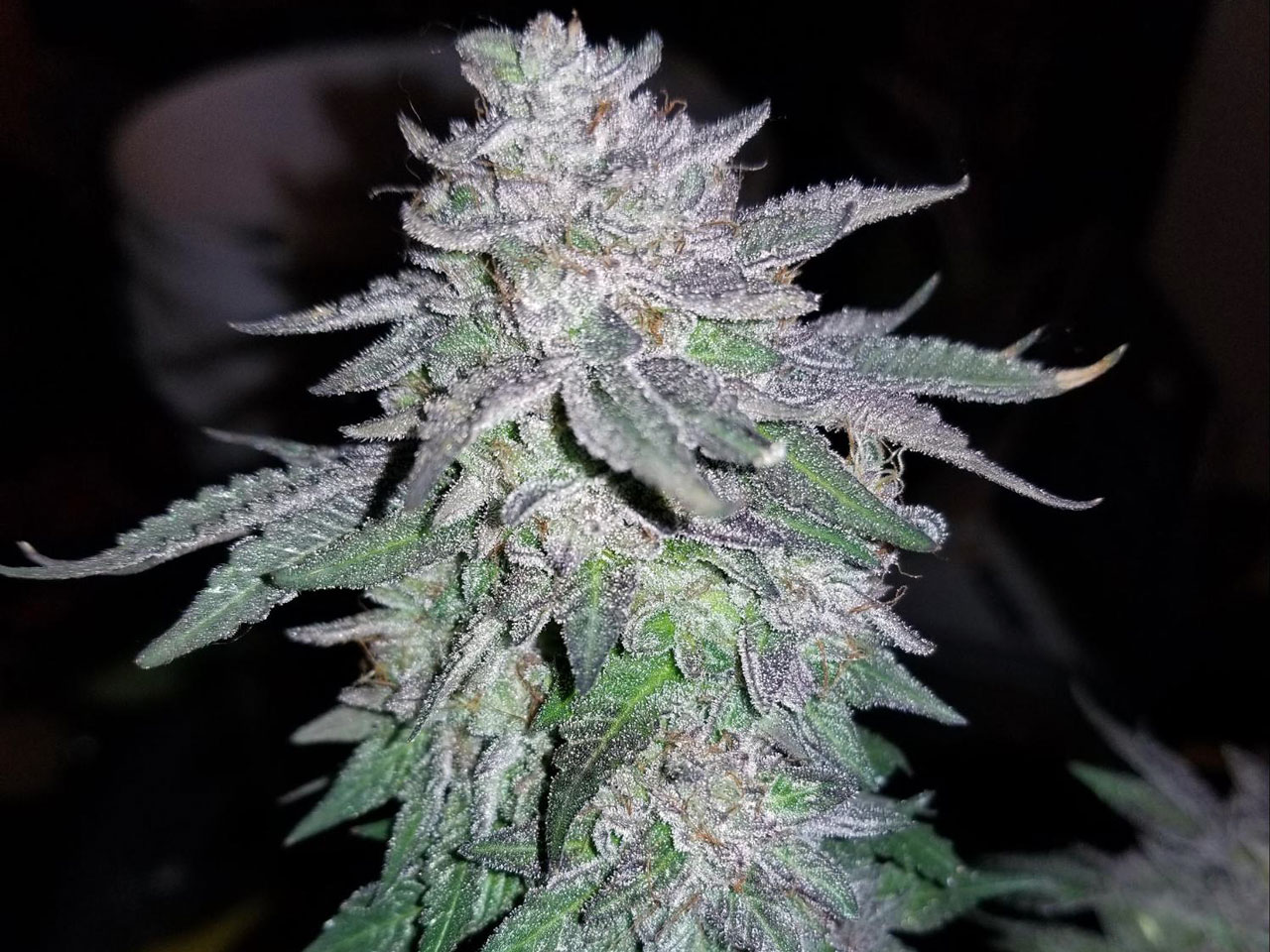 These two strains have to go one alongside each other. Bubble Gum was first grown in Indiana by an anonymous grower. After that, it got widely popular, and became one of the top picks in the Netherlands.
We got Bubble Gum Kush by combining this strain with an undisclosed Kush variety.
They both give off a powerful sweet scent, almost as if you were chewing a piece of gum. These strains grow short and bushy, with long colas sticking out from the canopy.
They share a common deep green color in the leaves, with ghoulish white nugs. The nugs are very resinous and resilient, meaning they can be grown both indoors and outdoors.
Peach Purée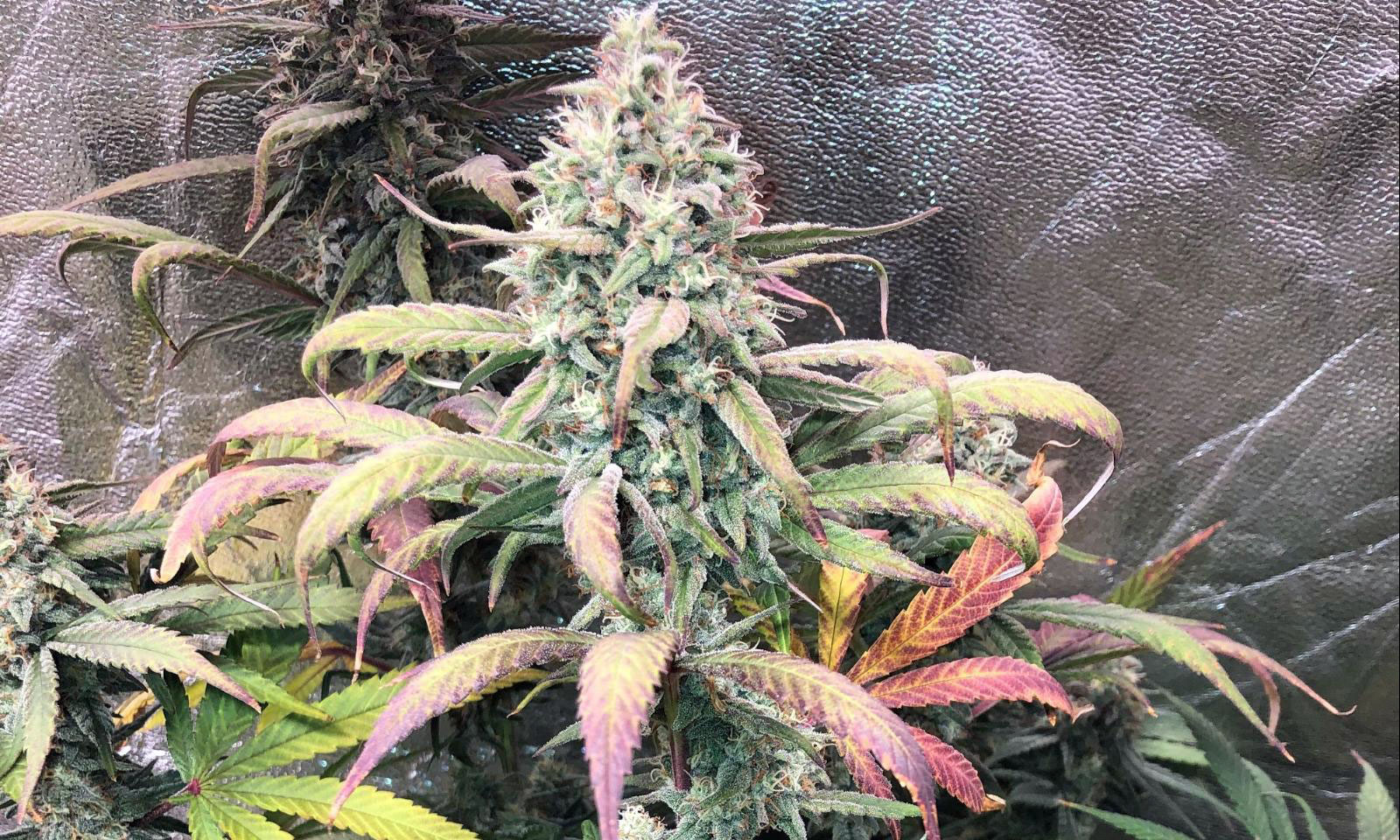 Peach Purée is one of those strains that you could just sit around and stare at it for days, as it has colors on top of colors.
Aside from high CBD levels, this strain draws great traits from both of its parents. Peach Purée is a cross of Sweet Diesel and California Orange.
As you can see on the image above, this combination gives an incredible versatility of colors and a variety of phenotypes. Just perfect for a mother/father of your next cross.
Gorilla Glue #4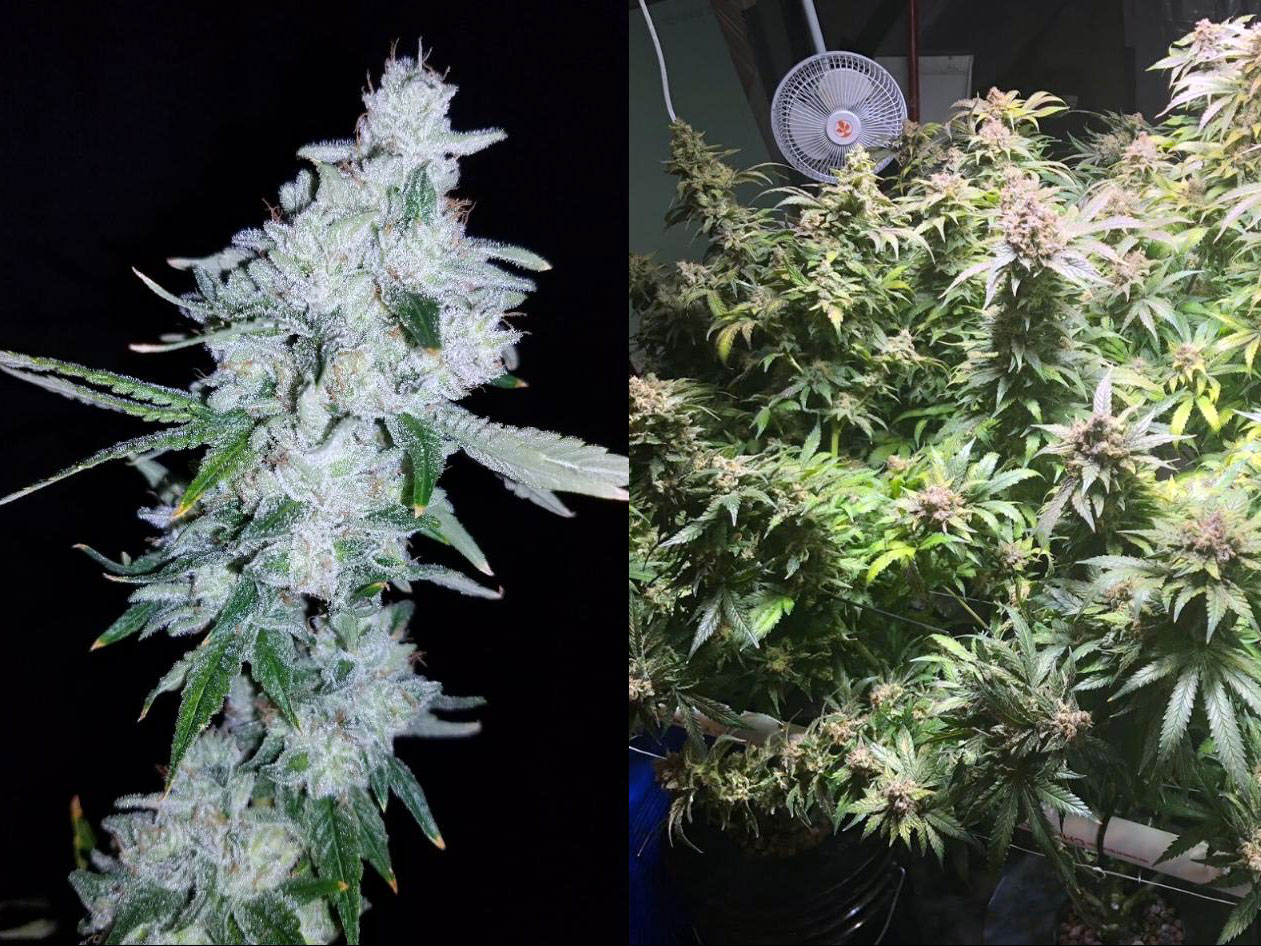 Do you want your garden to really smell like cannabis? Well then you should get yourself some Gorilla Glue, or more precisely Original Glue, because that's what it's usually called nowadays.
GG#4 came to us as a cross of Chem's Sister, Sour Dubb, and Chocolate Diesel.
Superior genetics made this strain a fan favorite all across North America. This strain also has a lot of resin, which makes its flowers appear like tiny apparitions at night.
It grows mostly sideways, so its bushes get both huge and skunky!
Black Cherry Cheesecake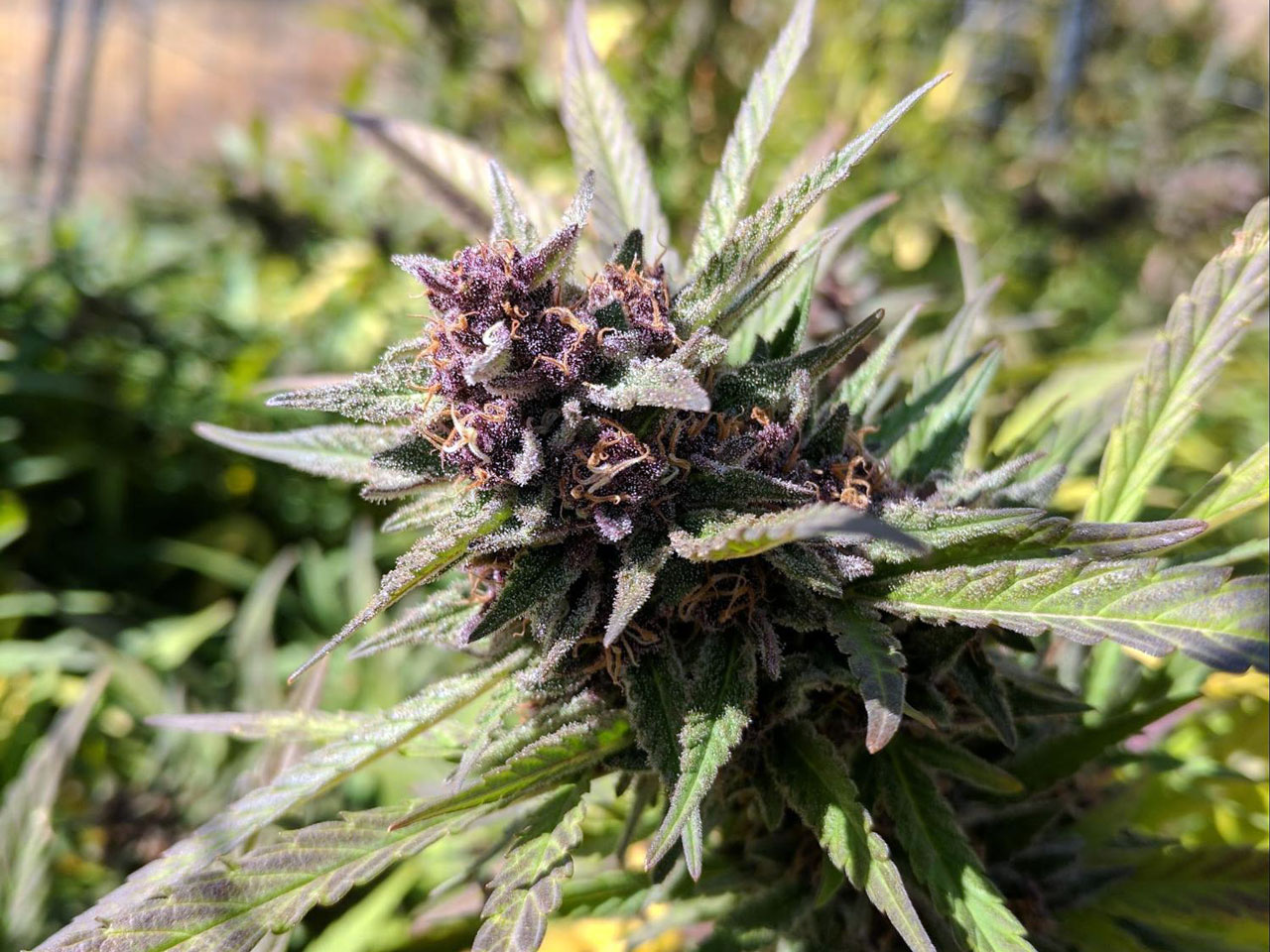 This is also one of the strains with a purple flower and green leafs which heavily contrast the flower. It's a cross between Black Cherry Soda, Super Silver Haze, and Cheese, which means truly epic genetics.
This strain has beautiful thick pink-tinged purple flowers, and the buds smells like cherries and sugar. The leaves are pretty elongated and they tend to have a purple complexion at the tip.
It grows rapidly (7 to 9 weeks), and Black Cherry Cheesecake plants are usually very resistant to mold.  
Sour Apple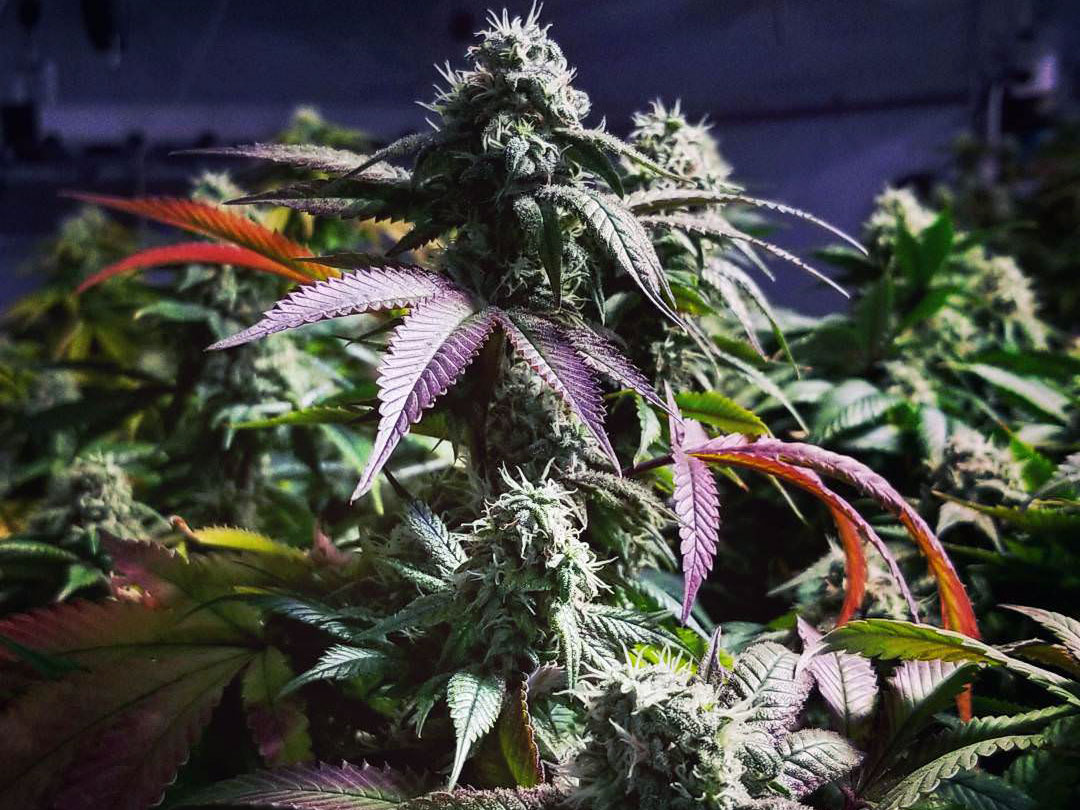 Sour Apple is a cross between Sour Diesel and Cinderella 99. It is a sativa-dominant hybrid that first became popular in the Washington State area.
This strain is a gorgeous cross with lots of different phenotypes that come out depending on the amount of light, temperature, and nutrients it's being fed with.
Just like Black Cherry Cheesecake, Sour Apple also grows between 7 and 9 weeks, and it gives off a distinct sour-apple candy aroma that will definitely attract visitors to your garden.
The flowers are usually purple, but they can also express lime green hues.