Since Canada legalized recreational marijuana in October (and in the months leading up to legalization) American cannabis companies have started getting listed on the Canadian Securities Exchange in large numbers.
US may be the biggest cannabis market in the world, but what's the worth of being that big if you can't get listed on any stock exchange in that country?
Cannabis companies located in the US have figured this out and some of them have already mapped out their moves and started executing on them.
Meanwhile, Canada legalized cannabis on the federal level, meaning that all institutions are allowed to do business with cannabis companies.
Hence a lot of newly-founded legal cannabis businesses now had a chance to ask for funding from banks that up until now closed doors to most cannabis companies.
And I'm not talking about only funding, as some banks even refused to hold the money of cannabis businesses.
A new hope for the US
The unfriendliness of financial institutions towards cannabis lead to many cannabis companies often holding hundreds of thousands of dollars in cash. However, all that changed with legalization.
Well, at least for Canadians.
American cannabis companies were still stuck with the same federal laws preventing them from doing just about anything.
But, somehow, some way, American companies found a loophole. They decided to look into their options. One of the options was getting listed on a stock exchange outside the US.
Canada was seen as the obvious choice as weed was about to become legal. Plus, it's pretty close.
However, not every stock exchange wanted to accept their listings. The Toronto Stock Exchange (TSX) explicitly said no to US cannabis companies.
The TSX saw all American cannabis companies doing business in Canada as "not in compliance with federal regulations", and thus refused their businesses.
TMX Group, Canada's biggest exchange operator, warned cannabis companies with activities in US and Canada that they are not in compliance with TSX requirements and that they may get delisted.
However, the Canadian Securities Exchange (CSE) didn't follow the pack.
Thus started the unloading of US cannabis companies onto the Canadian Securities Exchange.
In just a few months, several huge cannabis companies from the United States went public on the CSE.
MedMen, Liberty Health Care, Chalice Farms, and Green Thumb Industries all jumped at the opportunity to easily raise funds.
Those are just 4 of the cannabis companies listed on the CSE.
There are now 113 U.S. and Canadian cannabis companies listed on the CSE.
Canadian banks are flourishing
A large number of Canadian banks that decided to start doing business with cannabis companies have now started reaping the benefits.
So far, $582 million has been raised for cannabis companies through initial public offerings to date, according to Dealogic.
That number pales in comparison to the $8 billion in mergers and acquisitions that have been made so far.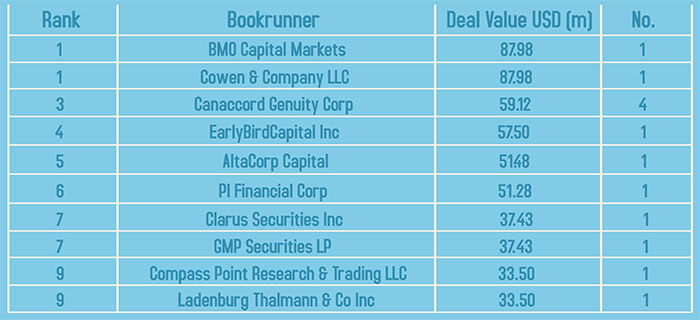 Stats showed that Canadian companies performed a large number of deals through less-traditional methods, such as reverse mergers and private placements.
This gave a huge push to the Canadian banks which facilitated these deals. As we got closer to October 17, banks got closer to the companies.
The number of regional financial institutions serving the industry has grown by nearly 30% to 411, between October 2016 and March of 2018, according to Frontier Financial Group.
So far this year companies raised $2.4 billion on the CSE in the first nine months, $1.54 billion of which came from cannabis companies.
That is a big step up when compared to last years' results when $1.37 billion was raised throughout the year, $691 million of which came from pot companies.
U.S. banks still at bay, most of the times
David Silverman, president and CEO of Union Bank, told the press that Union Bank chose to do business with a select number of cannabis companies.
These companies produce CBD (cannabidiol) which is most often produced from hemp, and not potent marijuana flowers.
"We have chosen in some cases to bank these folks," Silverman said. "We have a very strict due diligence process that we go through to decide whether we want to do that or not. In cases we've chosen not to because they couldn't meet our due diligence criteria."
He also pointed out that banks work with CBD companies by default. If they weren't they'd be out of business.
Chris D'Elia, president of the Vermont Bankers Association, believes that the banking industry needs to get a leg up in this field.
"That's a business decision that banks have made," said D'Elia,"We would like to see that change."
One of the major reasons why big banks such as JP Morgan Chase and Goldman Sachs are still shying away is the federal prohibition in the US.
However, smaller banks aren't really operating under the same radar as the big banks. They are much less susceptible to that type of scrutiny and rigorous check by the federal authorities.
The number of banks open to working with the cannabis industry grew steadily over the course of the last year, as you can see from the image below.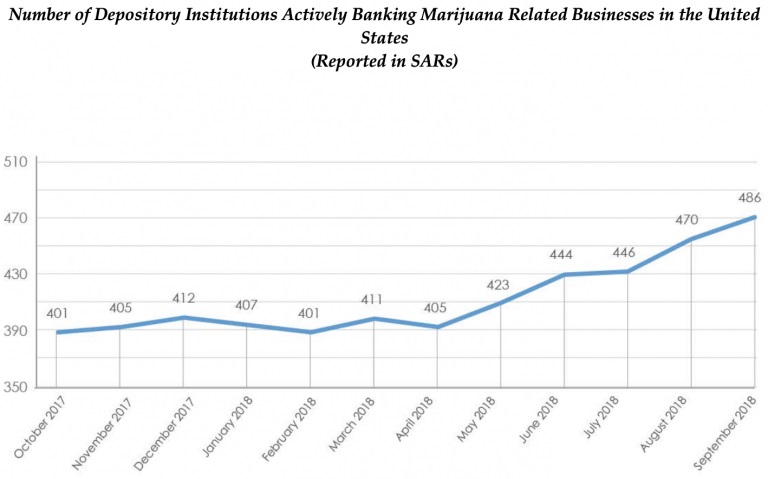 Source: FinCEN
That's also one of the main reasons why they are able to provide services to cannabis businesses in their area.
Changes in the federal law are very likely, as many newly elected US congressmen have openly come out in support of legalization.
One of the major changes that they must introduce is to allow banks to work with the cannabis industry as a whole.
Given that the Democrats took over the majority in the Senate, it's looking increasingly likely that we'll see some type of federal legalization and regulation happening in the next 2 years.