As a veteran cannabis user, I've owned my fair share of bongs.
Some were good and some were downright amazing, however, before I could start writing this piece I needed to decide what separates good bongs from bad ones.
Well, these five are a good start:
Is the glass thick?
Does it look sturdy?
Does it have very few moving parts?
Does it clean easily?
Does it have a decent volume?
There are other things to look for in a bong, such as airflow restriction and smoke diffusion, but you won't really know the airflow until you've used it for a few times.
The first three on the list are very important as they will determine the longevity of your glass if you are careful with it. If you throw your bong around, no amount of sturdiness will save it.
If you are clumsy, you'll want your bong to have as few moving parts as possible. Parts that stick out far from the core of the bong also contribute to them being easily breakable, so you might want to keep that in mind while shopping as well.
What are the 3 main types of bongs?
Bongs come in various shapes, but three of the most popular are tubes, beakers, and bubblers.
Tube bong
Tube bongs are what most people imagine in their head when you mention a bong.
They usually have a cylindrical neck which goes all the way down to the bottom of the bong and ends with a disc, which gives tube bongs the stability they so lack.
There's nothing wrong with tube bongs, in fact, they offer a lot of variety. Tube bongs often have percolators and other parts that make them visually attractive.
They are usually very easy to clean and the smoke clears pretty fast because of the simple shape.
Beaker bong
Beaker bongs are similar to tube bongs in the sense that they also have a long neck. However, at the bottom of the neck, the bong doesn't end, as it would with tube bongs.
At the end of the neck in beaker bongs, you'll find a chamber that is added for extra smoke. This gives beaker bongs a bigger volume and bigger hit potential.
Beaker bongs get their name from looking somewhat like beakers used for chemistry and such. The extra space on the bottom is filled with more water than in tube bongs. This gives them extra stability.
Bubbler
The age-old question that many cannabis enthusiasts like to argue about is whether you should get a bong or a quality bubbler?
Bubblers are much smaller than regular bongs. They are often referred to as water pipes.
The main difference between the two boils down to size and volume.
Bubblers are usually meant for one person, while bongs are more apt for sharing as you can get bigger hits.
The volume of the bong is also very important as it will determine how much smoke you can take in. Human lungs have a volume of 6 liters on average, which is 200 Oz fluid, or 1.5 gallons.
CAUTION: Don't buy cheap (Chinese) glass
In the last couple of years there's been a huge increase in the number of websites selling bongs and other smoking utensils.
Some of these websites offer American-made glass, and a select few offer Canadian-made glass.
The overwhelming majority of these websites almost exclusively sell bongs made in China.
These bongs are usually lower in quality than those made on this side of the pond. They aren't as thick and resilient to breaking.
Sure, there are cases where they might last, but my experience has proven otherwise.
My friends and I ordered dozens of Chinese-made bongs from these websites only to see them break in record time.
Best Bongs in 2022 and beyond
1) Marley Natural Smoked Glass Bubbler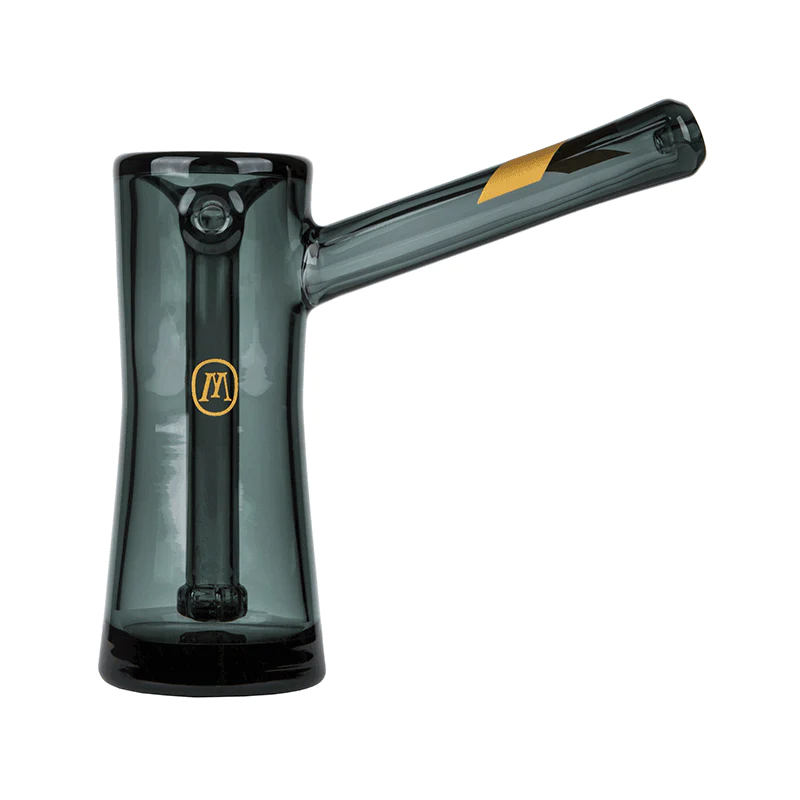 You might be familiar with the Marley Natural brand — a classic glass company founded by Bob Marley himself.
So here we're taking a look at my #1 pick around the $100 mark — the Marley Natural Smoked Glass Bubbler. This piece is a part of the "Smoked Glass" line, which in my opinion makes it perfect for the wake & bake sessions.
By purchasing the Marley Natural Bubbler you will also be contributing to the social impact initiative created to address the injustices of cannabis prohibition and the war on drugs.
The Marley Natural Smoked Glass Bubbler has a carb, which means there aren't any moving parts to it. This also means that taking care of your smoking utensil will be relatively easy – just fill it up with warm water, and leave to sit.
After a couple of minutes, empty the water, add the cleaning solution (isopropyl alcohol and salt) and shake vigorously while holding the holes on it closed until all the residue is removed. Fill it up with warm water again and rinse.
2) K. Haring Bubbler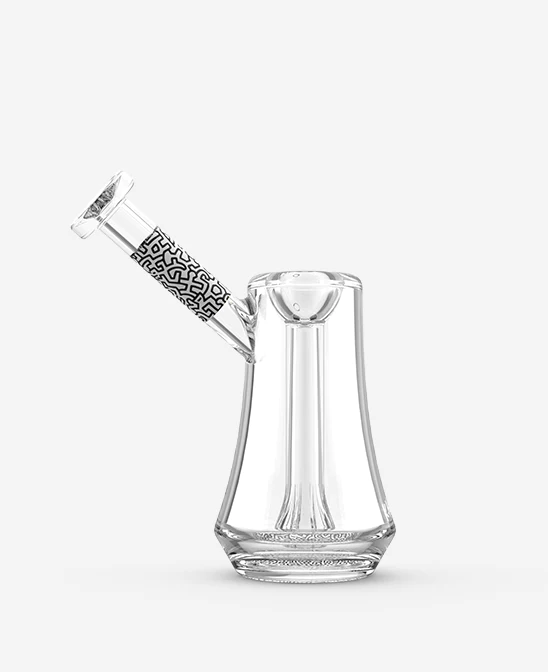 The K. Haring Bubbler is a glass piece that will have you completely hooked onto smoking with water. It comes in two colors: Black & White and Multi Yellow.
In order to make sure you get only the optimal hits, it was designed with an 8-Slit Showerhead Percolator and a Bell-Shaped Construction.
This bubbler has a fixed downstem which ends in a wide and sturdy base, making it rather hard to get simply knocked over by a stray cat or something of that sort. It's also made from borosilicate glass — adding to its already enviable toughness.
The K. Haring Bubbler comes packaged in a very durable box that's coated with Haring's signature and dynamic imagery.
3) Mini Bent Neck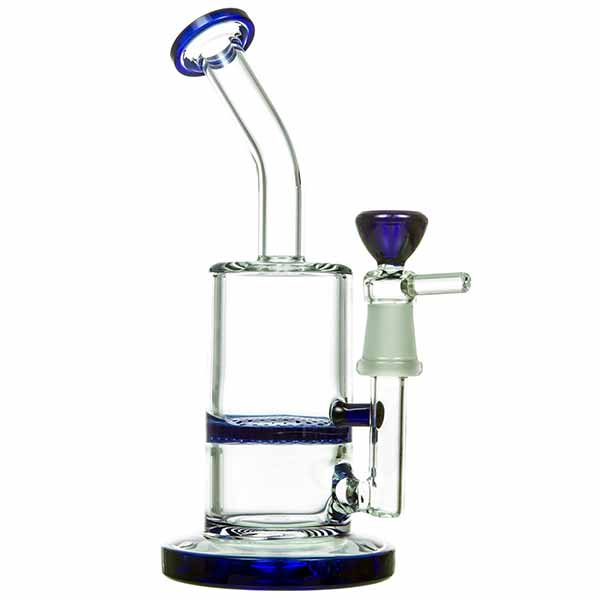 The Mini Bent Neck is a really good piece for those who are just starting to explore the world of glass. It is made of borosilicate glass with colored accents and it comes in 4 colors: Blue, green, pink and clear.
It is just seven inches tall (17.8 cm), and it has a bent neck for ease of access, thus its name.
It also features a 90˚ 14mm male joint with an additional stem joint for added stability. Trust me, that stem isn't going to break easily.
This bong can also be quickly turned into an oil rig with the quartz banger and a carb cap which are both offered as a part of the add-on package.
If you are worried that it might easily flip over due to the stem which does somewhat stick out, this bong has a disk base which helps with the stability.
The flower female joint which comes with the bong has a nice glass bar on the side, which hugely helps when making a drag or clearing it through.
4) The "Flavor Tube" Mini Beaker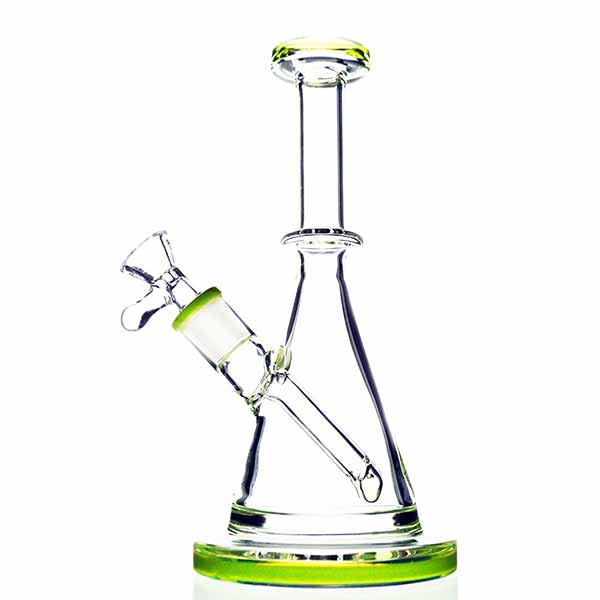 Flavor Tube is another bong that is great for those looking for their first piece and those who like smoking alone. This small piece is made out of thick borosilicate and slime green glass.
It is 8″ tall (20 cm) and has a glass disk on the bottom of the beaker. The primary role of the beaker is to create more volume and provide stability.
So, with the added disk at the bottom, only a direct hit at the top of the neck will knock over The Flavor Tube.
It has a 14mm female joint and a diffusion percolator which is set at an angle to prevent splash back. It is incredibly easy to clean as it literally has no moving parts other than the slider.
The slider can be replaced with a quartz banger and a carb to easily transform The Flavor Tube into an oil rig for added flavors.
A small downside to this bong is that it doesn't have a bent neck so you'll have to take hits at an awkward angle or tilt the bong.
5) AMG 10-inch Wide Base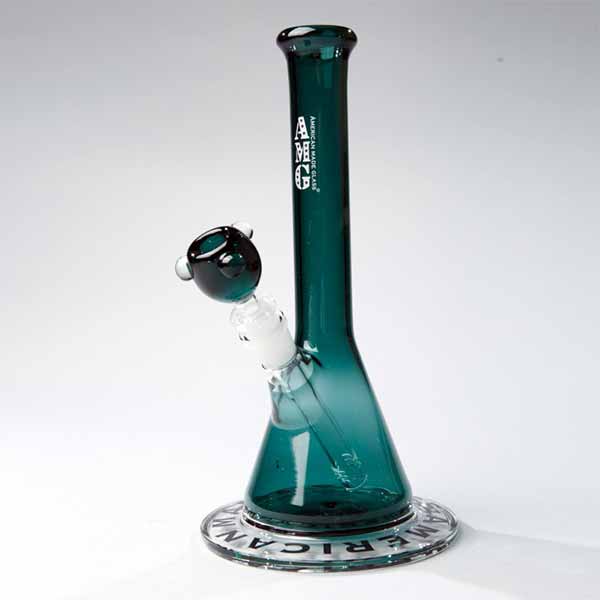 AMG stands for American Made Glass, which stands behind thick, nearly indestructible bongs that you'll fall in love with.
The AMG 10-inch has a wide base which offers additional stability for its tall stature since it is 10 inches (25 cm) tall.
It is made with super thick borosilicate glass, on American soil using American resources. It's a real American bong. Que the white eagle.
This AMG bong comes with a diffused male stem which significantly helps with the cooling effect water makes.
It comes in teal, Black & Mint, black, and blue colors. It is extremely easy to clean due to the simple shape, its lack of percolators and the easily detachable male stem.
The AMG 10-inch wide base glass bong usually comes in at around $80 USD. For this price tag, you'll get a very good bong which will last you a while, and provide smooth hits as long as you clean it.
6) Marley Natural Black Walnut Bubbler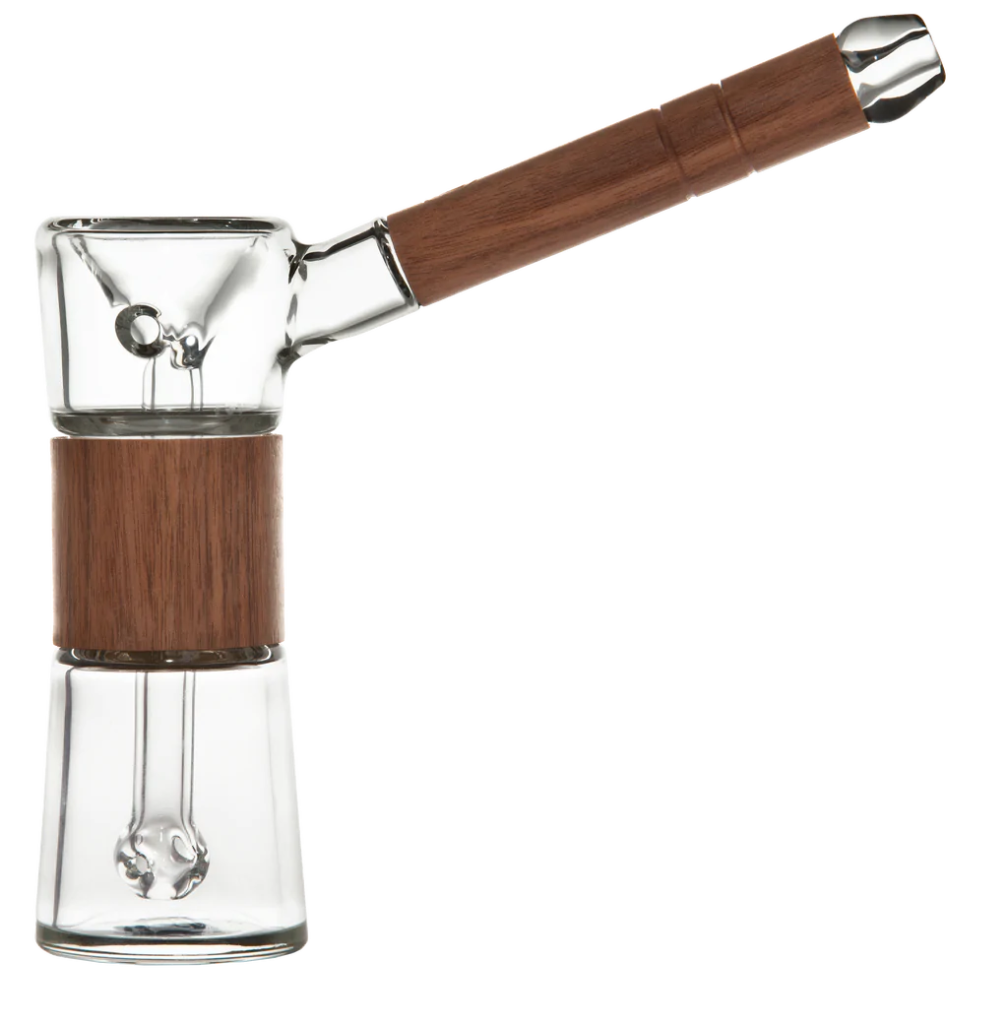 The Marley Natural Black Walnut Bubbler is just a thing of beauty. Made from all natural materials — black walnut wood and borosilicate glass, it is a great gift for those looking for a balance of beauty and utility.
The Marley Natural Black Walnut Bubbler weighs in at 400 grams, a bit more than other bubblers from the same brand.
It's most unique function is that this bubbler can also be used as a regular pipe as well as a water pipe. Its hybrid design makes it very unique in that sense.
This bubbler has only two parts, the handle which is connected to a rather large water chamber, and the removable bowl. This makes it extremely easy to clean and maintain.
The Marley Natural Black Walnut Bubbler comes with a cotton drawstring carrying case, which means you can easily carry it with yourself without having everyone around know you're about to have a mean session.
7) The "Double Trouble"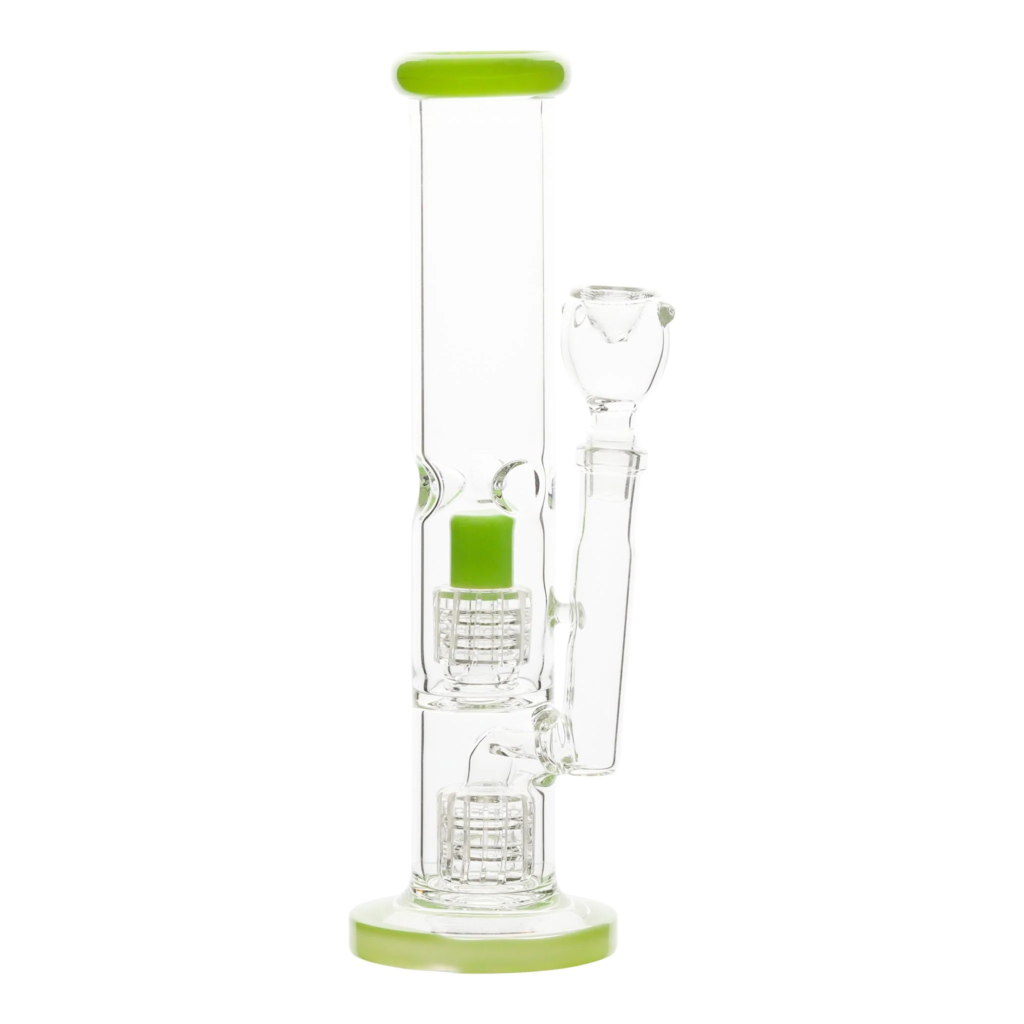 You know what you are getting into when your bong is named The Double Trouble. It is very tall with the mouthpiece sitting at 16 inches above the desk.
It has a straight tube with a disk at the bottom, two stereo percolators embedded in the tube which offer high-grade filtration, and a 18.8mm female joint which fits a large male bowl.
However, what sets apart The Double Trouble from the "under $100 bongs" group are its unique features, not its awesome percolators.
The Double Trouble has an Ice Pinch and a Splash Guard, which help you get much cleaner hits.
The Ice Pinch serves as to catch the ice and hold it above the water line, and the splash guard prevents water from coming up to your mouth.
The Double Trouble is primarily made for flower consumption, although retailers claim that it can also be safely used for cannabis extracts simply by swapping out the bowl for a quartz banger.
Users report this bong to be extremely sturdy as the downstem has an additional joint tying it to the body. They also say that it is relatively easy to clean, given its massive size and the double percolators.
8) Higher Standards Beaker Water Pipe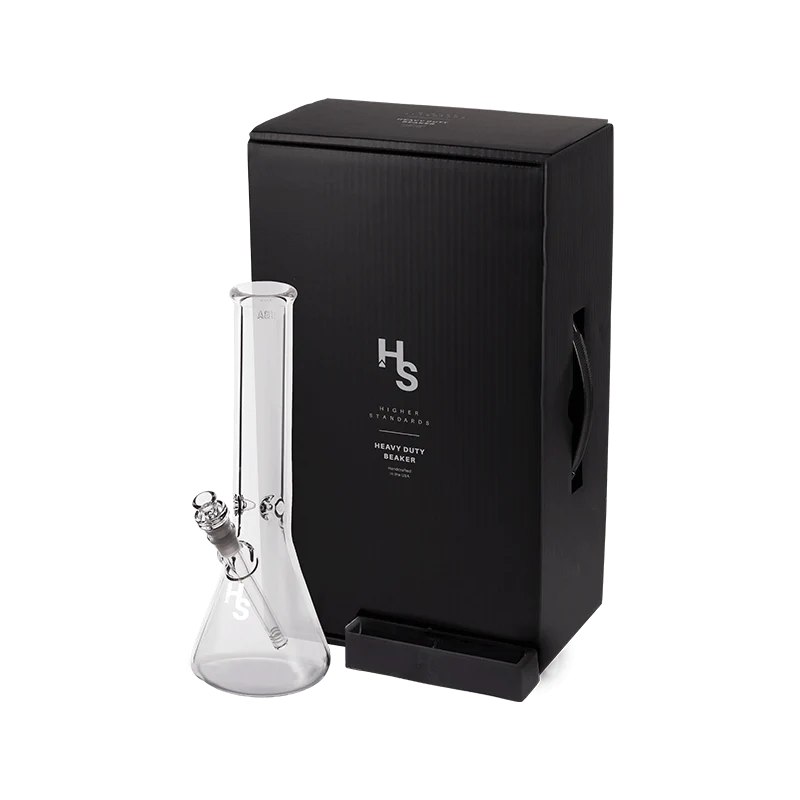 If you're ready to spend a bit over $100 USD for a bong, then you should look no further than the Higher Standards Beaker.
This bong comes in a package with the Higher Standards Ice Mold, which means you won't have any trouble stuffing it with ice for a cold and smooth hit.
The Higher Standards bong is a 36.2cm tall beaker which is handcrafted from durable medical-grade borosilicate glass. It is completely transparent in color.
It comes packed in a reusable collector's case made for safe storage and transportation, so that you don't break it on accident while on the go.
This beaker bong features extra-thin slits on the downstem which generate fine bubbles and maximize the contact between smoke and moisture for a smoother draw.
In order to keep its crystal-clear look throughout the years of constant use, make sure you wash it with the Higher Standards ISO Pure and Salt Rox for best results!
9) GRAV® Straight Base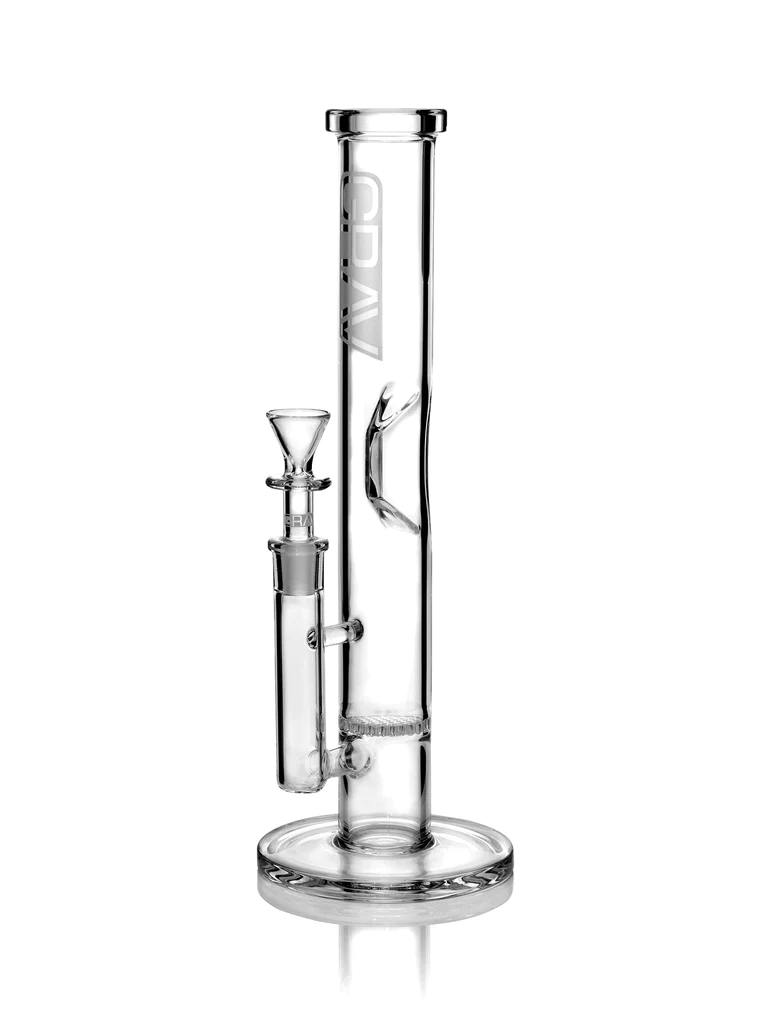 The 12″ Grav® Straight Base bong is a serious tool. This thing will get you higher than you could ever imagine.
Its straight 12-inch tube provides users with a huge amount of volume which can be filled up with a lot of milky smoke. Aside from that, you can also pack it with some ice to improve the quality of the hit.
The 14mm female stem is connected with two very sturdy joints to the tube. Along with the base disc it provides a very robust sense given its size
You can order this bong online, in black, white, blue, green, red, purple, yellow, orange, or etch. The hits you'll take from this 12-incher will be essentially smooth and cool.
The percolator near the bottom of the base should be covered with about 1-2 cm of water for the utmost diffusion and perfect taste.
The 12″ GRAV® Straight Base bong goes for a reasonable $112, and it comes with a 14mm funnel bowl.
10) Ventura Recycler by Maverick Glass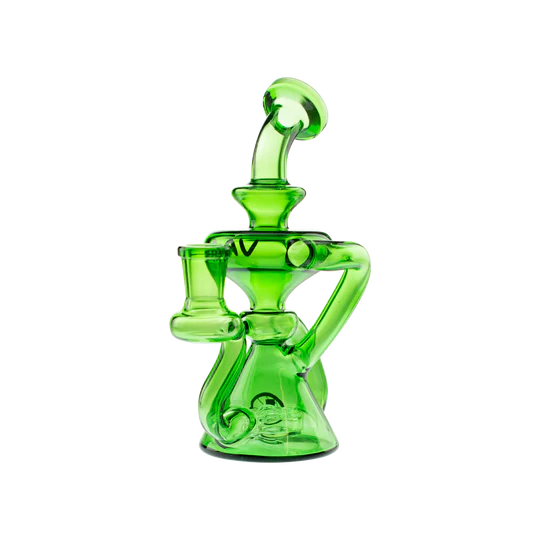 Made by Maverick Glass, The Ventura just rips.
This piece is another crazy design, which you may notice is starting to become a trend with elaborate and expensive bongs.
The Berkeley is available in a variety of colors combined with a holographic opal glass marble for added bling.
It has double uptake, two separated chambers and a 4-hole diffuser that cools down your smoke and amps up the flavour.
11) Microscope Recycler by Maverick Glass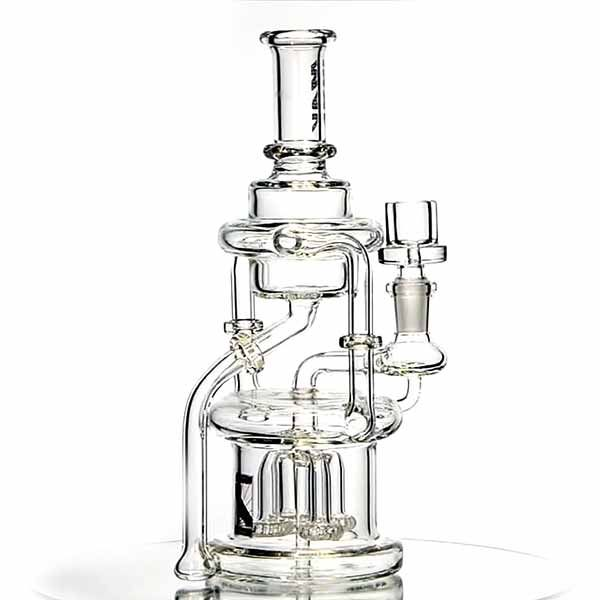 This beautiful piece is also my dream piece as I've been wanting a Microscope Recycler for a while now. Just look at all those percolators and tubes.
It has a built-in splash-guard and 4 percolators at the bottom of the chamber which diffuses the smoke to a whole 'nother level of airy.
It is only 7″ inches (18 cm) tall but the volume is definitely there as it is quite wide and it has several tubes that provide additional volume.
It comes with a female 14mm joint and a quartz nail, seeing how it is primarily meant for oil consumption. The glass is made in the US from 5mm thick Borosilicate.
The Microscope Recycler features a double-arm with a widened chamber which eliminates any possible splashes that appear. However, those arms also pose a threat of breaking as they do stick out somewhat, but that's a trade-off you have to make for such a beautiful design.
At the top of the bong, you'll find that its mouthpiece is flared outwards to conform better to your lips. This way it also creates a nice airtight seal which makes the Microscope Recycler comfortable and easy to use.