Rolling papers are very likely the most used weed smoking accessory in the world. In fact, they are so common that it is safe to say that every weed smoker must have come in contact with them at least once in his life.
Throughout history, rolling papers have been the most common way of smoking not only weed but cigarettes as well. And if you're not into bongs, you'll most certainly need them.
The tobacco industry has made billions of dollars selling cigarettes rolled in papers, as well as papers separately, and nowadays we are starting to see smaller, weed-focused brands appear on the market.
It is common knowledge that rolling papers are made out of wood pulp, just like other types of paper. However, not very many know that rolling papers can be made from other materials as well.
Two of the most popular materials for rolling papers other than wood pulp are hemp and rice.
These have picked up in popularity over the past 20 years and are now becoming hugely popular in the weed front.
Below you can see a comparison table, showing how they perform regarding some of the aspects I think are important to smokers.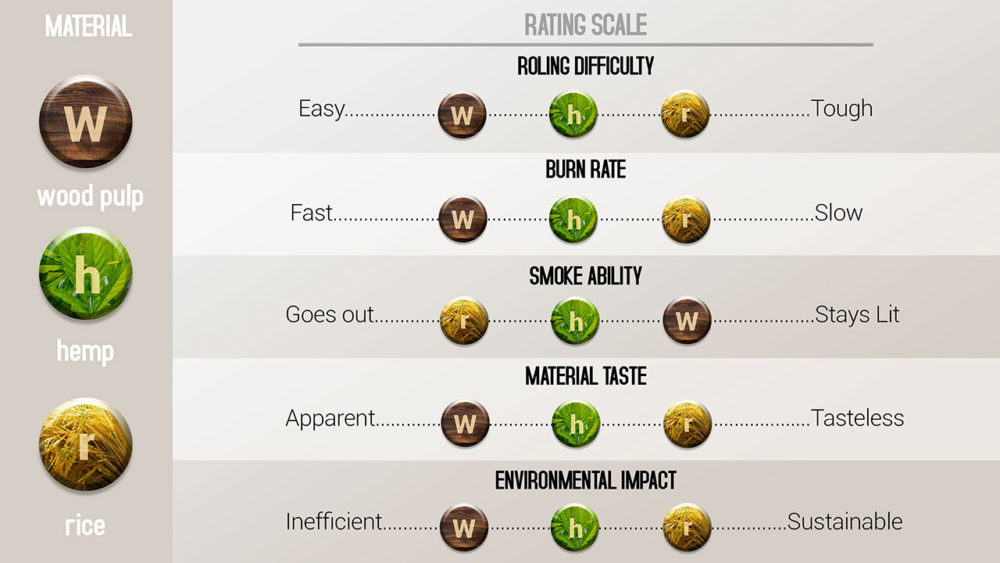 Embed this table on your website:

Hemp rolling papers
Rolling papers made of hemp have just recently started making a boom on the market, as hemp has not been a very popular material to work within the last 70-80 years. With the industrialization of cannabis and hemp, rolling papers made out of hemp have increasingly started becoming more and more popular over the last 2 decades.
Hemp papers compare very well with the other two types, as they come in second in all of the categories above. They are relatively easy to roll, as they usually have a very fine texture, giving them a nice grip.
They don't burn too fast and they also don't go out as often as rice papers. Hemp papers also have a notable taste which isn't necessarily bad, but some might not like it as they have a slight sweetish note.
Pro tip: Hemp papers aren't sold everywhere, so you might have trouble finding them every now and then. There's an online subscription service, which will send rolling papers every month via mail to your doorstep for as many packs as you decide while signing up for the service. It's really awesome and one of my favorite weed startups!
Rice rolling papers
This type of rolling papers is made out of processed rice and on occasion additives, such as sugar or flax. Rice papers are many people's favorite choice as they very thin and have little to no taste to them. They also burn very slowly, which means that they also go out very often.
Rice papers are my personal favorite as I tend to sometimes forget my joint in the ashtray and leave it there to burn. Rice papers are very helpful if you are like me, as they will prevent your joint from burning out and it will quickly go out if left burning for a minute or two.
They are notoriously hard to roll as they are thin and even the smallest bit of sweat on your hands or any other type of dampness will make rice papers nearly impossible to roll.
They are great for making backrolls or inside-out joints, which are also difficult to roll, so if you're up for a challenge, try backrolling with rice papers.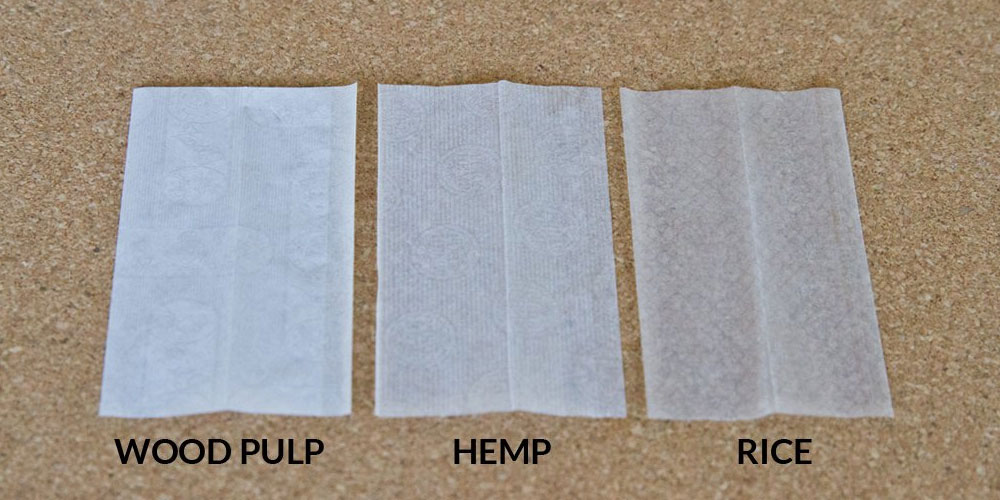 Source: https://brfoundersblog.com
Wood pulp rolling papers
Wood pulp rolling papers are the king of rolling papers as they've been around for a century or two. By far the most common type of rolling papers on the market, wood pulp papers have been the papers of choice for billions of people throughout the centuries.
Even though they come absolutely last on our list when it comes down to the taste, the rate of burning and environmental effects, wood pulp papers stand strong. What plays into their hand is the fact that these papers are thicker than hemp or rice papers, making them very easy to roll.
Beginners to joint rolling should stick to these until they master their skills and get used to the feel of rolling a joint. Keep in mind that these papers are most sought after but not most preferred by consumers and that at some point you will probably want to switch to hemp papers.
Another reason to do is that wood pulp papers more often than not end up bleached to get the right shade of white so that smokers will see it as more desirable.
Best rolling papers currently on the market
Raw rolling papers
Raw has been one of the biggest brands in the past 30+ years or so. They have grown their business immensely thanks to the cannabis industry going legal in the US and Canada, and have thus started to branch out and introduce new types of rolling papers.

My personal favorites are the Raw Organic Connoisseurs KSS (King Size Slim) which are made out of hemp. These come with a pack of tips for rolling filters. RAW calls these papers the "beauty and pride of RAW", and they are certainly one of their most popular products.
Wiz Khalifa rolling papers
Most people that smoke weed are probably familiar with Wiz Khalifa and his stoner hits that revolve around how much weed he smoked and how good his All-Star Converse look on his feet. But, did you know that Wiz Khalifa has his own brand of rolling papers?

That's right, as of a couple years ago, Wiz has teamed up with RAW, the company we previously talked about and made his own brand of rolling papers. These rolling papers are also made out of hemp. As you can see, hemp papers are more and more becoming a trend, as most major manufacturers are tending to make new types of papers that are more likely to be bought by the ever-growing environmentally-aware stoner population.
OCB rolling papers
While not very popular on the North American market, OCB are very well known to the stoners of Europe and South America. In fact, there is a legend going around that if you were to pickpocket any kid older than 13 years in Eastern Europe all you would find in the pockets would be OCB papers and a restraining order.

OCB produces several types of rolling papers, however, the wood pulp slim version with filters is by far the most common and widely sold. It also has a very recognizable box, which is probably why most of Europe favors them.
Zig Zag rolling papers
"Colt 45, two Zig Zags, baby that's all we need
We can go to the park, after dark, smoke that tumbleweed"
If you're a stoner and you haven't heard this song before: Afroman – Colt 45.
Zig Zag rolling papers have been in songs, movies, front pages of magazines and in our hearts for decades. By far the most common brand of rolling papers in the world.
However, Zig Zag rolling papers are more well known in the world of cigarette smokers, as their rolling papers are usually sold in 1¼ length, making them a bit short for a proper joint.
They sell king size papers as well, but many people find king size Zig Zag's not comparable to other, more weed suited brands.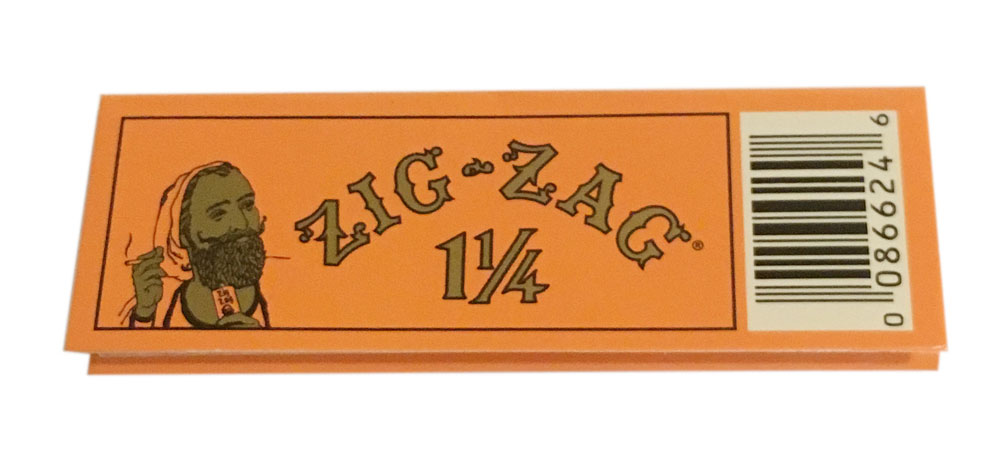 What are your favorite rolling papers? Which brand do you prefer and why do you prefer it over others? Do you like hemp or rice papers, or perhaps you like sticking with wood pulp papers? Tell me all about it in the comment section.