Find out which secret phenotype is carried on through this strain by reading this Pink Kush strain review all the way to the end.
The Pink Kush strain is a hybrid that was brought onto the scene and quickly gained popularity thanks to its astounding pink pistils and quality genetics.
Pink Kush is one of the strains belonging to the Kush family. This strain quickly became a fan-favorite in Canada as it flooded the medical cannabis circles.
As for its genetics, Pink Kush is an Indica-dominant hybrid. It is said that Pink Kush is a relative of OG Kush.
It gets its name after its pink pistils, which come out of the flowers during growing. After harvest, these pink pistils are not as visible as during the flowering phase.
Sometimes, Pink Kush isn't pink at all. This trait is actually called incomplete dominance.
It happens when the dominating gene (let's say purple gene) isn't completely transferred onto the offspring.
Once growers saw this trait in Pink Kush, they stabilized it through breeding, which is why we now have both Purple Kush and Pink Kush.
Visual aesthetics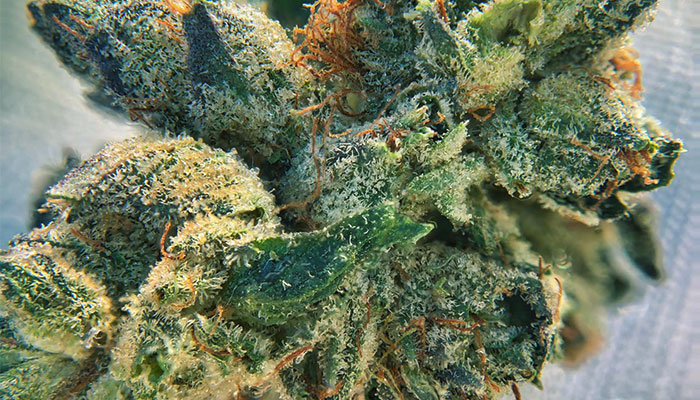 Pink Kush nugs will have a variety of colors on them after they've been properly dried and cured, but pink is not one of them.
The nugs coming off this strain won't be huge, although they are thick and smelly.
Pink Kush has a lot of resin, and its nugs can often be covered with white resin if you look through a macro lens. However, when looked at from a distance, they just seem eerily green.
Aroma & Taste
It is said that Pink Kush has a distinct floral taste, but I'm not on that train. For me, this strain has a classic Kush taste.
After each drag, you feel that pungent, sweet smell.
As for growing, Pink Kush is one of those strains that reek when they enter the flowering phase.
Since it can be grown both outdoors and indoors, it's best to find a place where the smell of the budding flowers won't disturb your neighbors.
A lot of users describe the taste of Pink Kush to be sweet and earthy.
Others say that it's totally similar to OG Kush in both its smell and aroma, which kind of makes sense since it's closely related to it.
Availability
Several licensed producers have had Pink Kush over the last few years, most notably CannaFarms and Broken Coast in Canada.
Since the legalization in Canada, Medreleaf and its brand San Rafael '71 have Pink Kush on the shelves.
As for the United States, like most other Kush strains, Pink Kush is hugely popular in California.
Given that it's a relative of OG Kush and has Californian genetics, Pink Kush is very much available in many dispensaries of LA, San Fran, Oakland, and Anaheim.
Effect
Just like OG Kush, it too has a powerful body-effect which will have you relaxed in no-time.
Users say that Pink Kush will first make you relaxed and worry-free, before sending you to a deeply sedated state.
Medical users say that it's perfect for treating high levels of anxiety, migraines, nausea, pain management and taking control of your depression.
Pink Kush is an Indica-dominant strain that has a high amount of THC (>20%) and a fairly low level of CBD (<1%).
This might be a bad choice for first timers and inexperienced smokers, as strains with such levels of cannabinoids are known to induce paranoia and can potentially have disrupting effects.
Flowering time and yield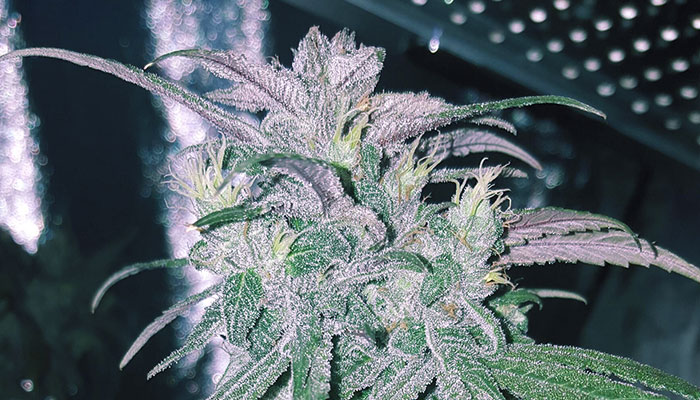 Pink Kush is a very high yielding strain on average, although it doesn't grow that big.
High yields can be expected, even up to 600-700 gr/m2. Pink Kush plants usually grow up to 1.2m in height and they are known to be bushy, just like other  indicas.
If you start seeing pink pistils showing up on the flowers you will know for sure that that's Pink Kush you're growing.
Pink Kush can be successfully grown in both water and soil, although it does prefer to grow outside in an arid climate.
The flowers will be ready for harvest in most cases after 9 weeks, but keeping it for a week longer will definitely bring out the strong Kush effects.
Just like most other Kush strains, this phenotype doesn't like very moist conditions and it will develop mold quickly.
Its dense buds are susceptible to mold, which is if you plan on growing it in a hydroponic environment you should definitely keep a few dehumidifying packs around.
Pink Kush definitely falls under the group of strains that are not that hard to grow, but you also wouldn't recommend them to first-timers.
LST and other training techniques are a must-do when it comes to Pink Kush, as the canopy can often throw shade on the thick buds.