Higher Standards offers numerous cannabis smoking gear and premium products for their maintenance. Today we'll talk about their Beaker Package that is on sale at our accessories shop — Bloomgroove.
Click here to view the Higher Standards Beaker Package on Bloomgroove
Let's start with the basics.
The package includes two things — one Beaker Water Pipe and one Ice Mold, and you get them in a nice box.
The Beaker is actually a bong, made of high-quality, durable glass. We are talking about medical-grade borosilicate glass, and they couldn't choose a better option for a bong than this. Why is that?
Well, this is a type of glass that combines silica and boron trioxide as two main ingredients. This combination is great because it has very low coefficients of thermal expansion, which means it is much more resistant to thermal shock than any other glass.
In other words, it's less prone to breakage when thermal stress happens. So, when you invest in a bong like this, you know it will last you a long time.
Before I start with an in-depth review, let me give you a quick piece of information about bongs in general.
If you ever hear words like bubbler, binger and billy, don't get confused. Those are just nicknames for a bong, which is a water pipe used for smoking cannabis.
In the beginning, they made them only from bamboo. Bongs have Thai origins, and the Thai word for bamboo is baung. Hence, bong.
Nowadays, we are able to find bongs made out of many different materials, and we can choose according to our preferences.
Beaker Package Technical Specifications
This bong has a wide base that provides great stability and it can withstand high temperatures.
It has a diffused downstem as a connector, which creates those nice bubbles when used so you can enjoy a low-temperature, water-cooled smoke that has a smooth, yet strong taste.
The first thing that impressed me was the material. It is made from one of the most durable glasses, and when you look at the price, you don't expect it to be that good. Well, it is.
The glass is thick and not prone to scratches. It will remain the same even after many uses and washes. It is easy to clean, and you don't have to worry if you press it too hard, it won't break.
Let's take a look at other specifications, so you can have a better picture of this product.
The size is 14.25 inches which makes it compact and easy to use.
The material is medical-grade borosilicate, one of the most durable glasses.
Design: Extra Thick (7 mm), which means it won't break easily.
Connector: Diffused downstem which provides a much better experience.
Wide base for greater stability.
Ice catcher and custom ice mold that help create smooth ripples.
Easy to disassemble, which makes it easier to clean and carry.
Comes with a collector's case.
Made in: USA
The first thing I noticed after using the Beaker bong is that it adds another level of smoothness, thanks to the ice catcher that comes inside.
The ice mold makes cubes that are sized specifically for this bong, allowing for much easier use. You don't have to worry about finding small ice molds that will be able to fit. That is one of the many reasons I prefer this set over some other ones.
How to Assemble the Beaker?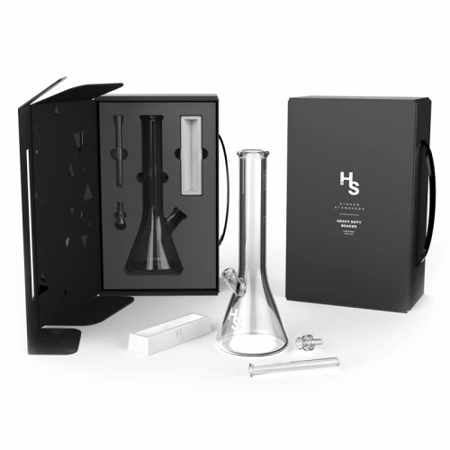 This part is quite easy. When you open the box, you will see different parts that are completely secured. Our advice is to open the box carefully because it's made of durable materials that will protect your bong later. This way you will always have a nice place to put it back and be sure it is safe.
Start by removing the bong itself from the box, and later take out all smaller parts. You will have two additional parts inside (plus an ice mold), and the only thing you have to do is put them on the bong. It doesn't require any extra effort or strength. When you put all of them together, use the mold to add ice, pour water inside and that's it. Your bong is ready to use.
There is also a detailed instruction written on the inside of the box. So, if you need extra help, set the box apart carefully, and you will see it.
Once you are done, disassemble it the same way and clean it immediately after use.
The Design and Quality
If you are a collector, you'll certainly want to have this handcrafted piece displayed on your shelf.
The Beaker's minimalistic modern design is not only something to look at, but also functional. It is designed to provide stability. When you put it on a table, for example, it will stay still without becoming wobbly.
It has a specially designed ground-glass connection that creates an airtight seal and gives it that unique, contemporary vibe. This is actually a combination of traditional bongs and modern style that Higher Standards implements in most of their products.
Another great thing about this package is that it comes in a collector's box where you can store the Beaker safely, or take it with you while traveling. It's filled with premium foam with a dust-resistant and break-resistant design.
The box is compact and it comes with a handle, so it's easy to carry wherever you want. It weighs only 3.45 lbs, therefore it's quite convenient to use. Water pipes are extra thick, but when you take them in your hand, they are light as feathers.
As for quality, it's been a while since I first tried it and it still looks the same. If you maintain it properly, you won't see signs of usage.
Conclusion
Beaker Package is a great choice if you are looking for a high-quality bong at a reasonable price.
For $160, you'll get everything you need, and you won't have to worry about the bong's durability.
If you have zero experience with bongs, keep in mind that they are a great solution for smoking cannabis, since the water in it eliminates the dry heat that comes with smoking a joint. Instead of the harsh taste of cannabis often followed by a cough, you'll get an effect of a cool, creamy and smooth taste.