I went to Barcelona to see the Spannabis festival, and while there I was introduced to some of the best seed banks in the world.
In times before ours, when most goods were transported by wooden ships, and when ports were the only place sailors could see people outside of their ship crew, cities hosting these ports were very unruly.
That is why today we see legal prostitution in cities which were once major hubs of transportation and trade in Europe, such as Amsterdam and Hamburg. However, prostitution wasn't the only thing sailors were looking for. Drugs, booze and forgiveness were also on their list.
Nowadays, Amsterdam is the only city that truly depicts that lifestyle and the history behind it. Due to this affiliation, Amsterdam became the "city of drugs" and "party city of Europe".
In the second half of the 20th century, Amsterdam became the weed hub of Europe, but this title might be slipping from its hold, as Barcelona has seen a meteoric rise to fame among cannabis lovers from all around the world.
So, in order to see what's all this fuss about I went and visited Barcelona during the biggest weed event of the year — Spannabis festival.
Seeing how cannabis isn't legal in Barcelona, but just decriminalized, I didn't really know what to expect so I went there with expectations on the low end.
Just follow the crowd, mate!
Barcelona is a pretty big city, and finding your way around isn't really an easy task if you've never been there. This was my first time there so I had little issues, but nothing major.
I landed at the Barcelona airport early in the morning, around 8am local time, and headed straight for my AirBnB. After I showered and got breakfast I took a look at Google Maps and noticed that the event is located on the complete opposite side of the city, in a rural area close to the airport.
Luckily, everything is written in both Spanish and English so I had no trouble finding my way to the metro. I found out I was supposed to change 3 metro lines to get there, and since I didn't know the lines well I had to ask around.
I spotted a Brit sporting a shirt that screamed "I smoke weed and am here for the festival" so I asked him for the way there, to which he simply said: "Just follow the crowd mate, we're all going there, yea".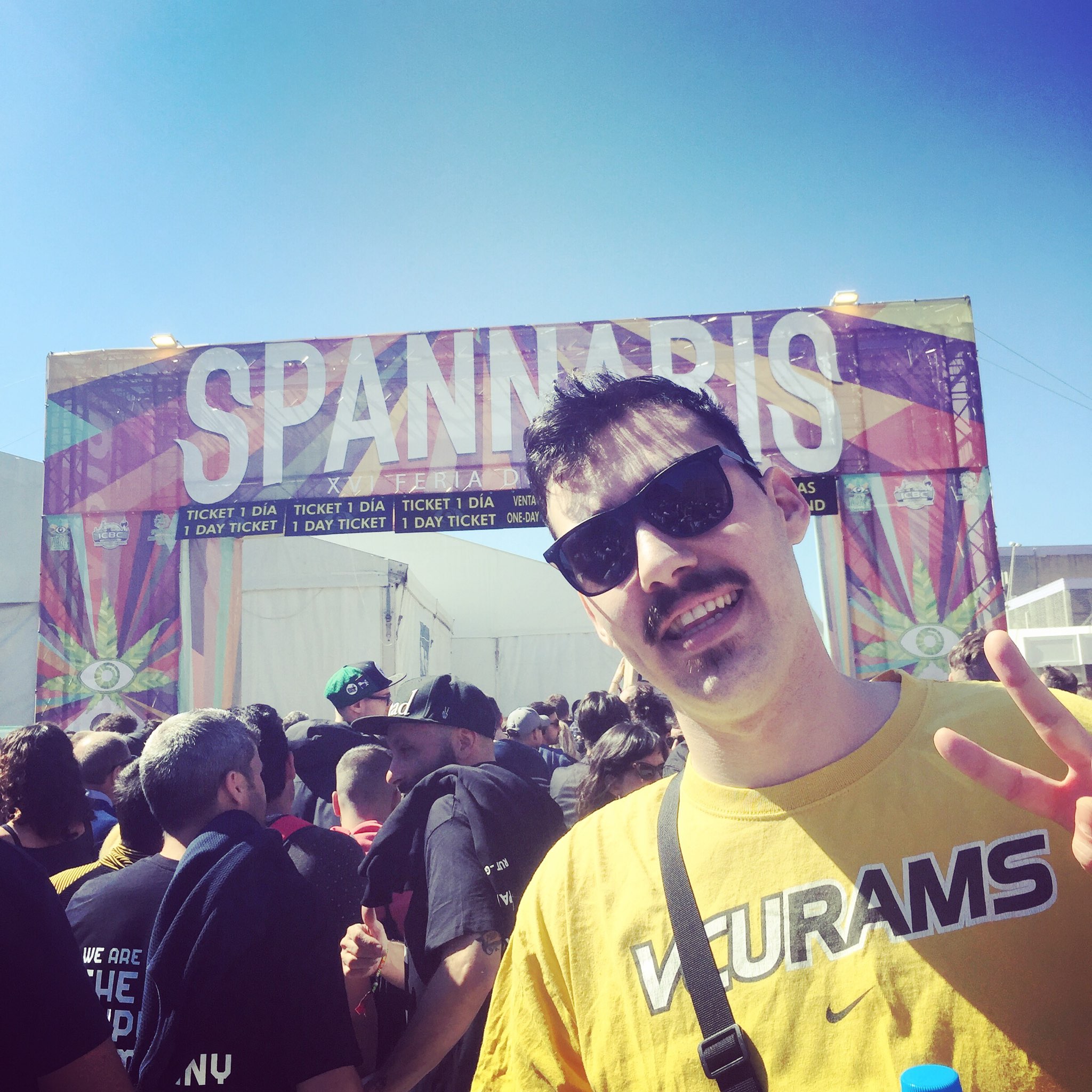 He said it as if the whole Barcelona was going there, and it very well could have judging by the number of people. I stood there for a second as I was completely shook.
There were at least a couple of hundred people on the metro station, and the first two trains that came couldn't even fit half the people waiting on them.
We boarded the metro, and I was now officially a part of the Spannabis crowd, even though we didn't even get there. The metro arrived at the station, and every single last person left the train.
My hunt for perfect genetics
So, I left the metro and worked my way through the crowd all the way to the ticket office. The line for tickets was ridiculous, but I had no problems getting mine since I had press credentials.
Other guests, well, let's just say they didn't have a good time waiting around in the noon sun.
After the gates opened and the majority of the crowd got in, I got to walking around. It was pretty cool, the setup was great – there was an indoor and an outdoor section. There was even a big stage where DJ's played reggae one after another.
I walked around the stands for quite a while, and then I started talking to one of the festival-goers about who has the best seeds. He pointed me towards the indoor area and said "Go in there and look for Dutch growers, don't even talk to the other guys…" and so I did.
The first Dutch company I saw was Bulk Seed Bank, a company I've known about, but never got the chance to familiarize myself with. As I approached their stand one of their guys asked me if I need anything, and I told him what I was looking for.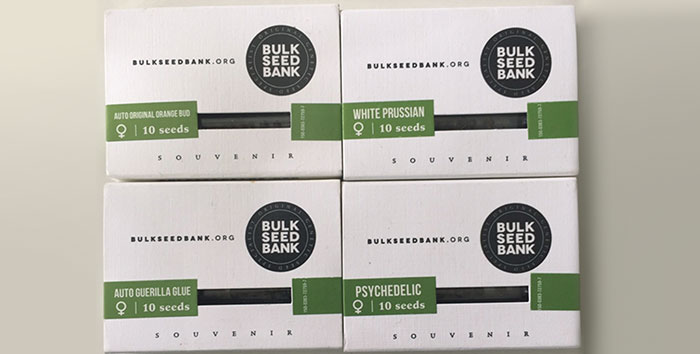 We started chatting, and he went on to explain how Bulk Seed Bank is different from other companies. It was founded by a group of friends who were each growing a different few strains.
"I had Amnesia, a friend of mine had Haze, then a friend of a friend had some good skunk and I wanted that, so we swapped seeds… and at one point about 8 years ago we decided to turn it into a business."
He went on to explain how the future of marijuana is going to be more in the commercial strains, rather than the ones intended for medical use.
"Think of strains like Gorilla Glue, they hit you hard and fast, the high is very long-lasting, and is relatively easy to grow. Our strain Armageddon is just like that, and it's soon coming to market so make sure you check it out if you are into growing."
I got a little parting gift from the boys over at Bulk Seed Bank which should grow in just a couple weeks, and I was on my way.
Feeling the passion
I proceeded to walk around in circles, and then I ran into another interesting seed bank. I knew this one was the one I'm looking for because its name was Dutch Passion.

After introducing myself, the staffers invited me into their booth, and I was joined by Jouke Piepenbrink. Dutch Passion was named as the "Best Seed Bank in Spannabis" five years ago, so I wanted an update on the company.
I already knew a little about Dutch Passion – it's a very old company that's been making some of the best seeds in the world since their success went worldwide with their Orange Bud seeds in the '80s.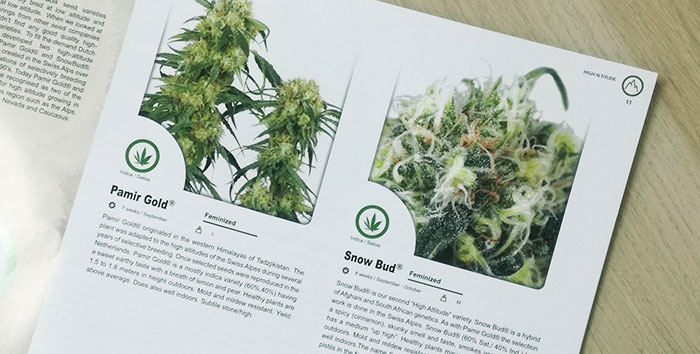 Its founder and owner Henk van Dalen was the OG strain hunter, as he traveled the world looking for seeds of weed plants in Asia, Africa, South America, way before Arjan Roskam. Arjan just popularized it when mass media started picking up on the cannabis trend a decade ago.

Many may not know this fact, but it was Henk van Dalen who first created feminized cannabis seeds. This method of feminized seeds was later popularized and we now know it as the "colloidal silver method".

"We work on all continents, except for Antarctica. We have offices in the Netherlands and now Barcelona too as of recently. We work a lot with Canada, we supply most of the LP's with seeds as we're one of the few, maybe the only company that has all the paperwork required."

Seeing how Dutch Passion made it big here at Spannabis 5 years ago, they thought it would be appropriate to share some news with the world in the same spot.

Jouke went on to explain how Dutch Passion was on the road to becoming the first vertically integrated cannabis company in Europe.

"We came here with a group of companies, a sort of an alliance if you would. BioTabs which is an organic nutrient producer, Super Sativa Seed Club, SeedStockers, and another LED lighting company all joined us here. We'll also add retail to this group as we are speaking to a couple of brands for cooperation. At one point, we'd like to close the loop in the seed-to-sale cycle."

I left the booth happier than ever, armed with some of the best news I've heard in a while. Europe is getting it's first vertically integrated cannabis company, and I was one of the people to hear it first.

Jouke gave me a VIP card which gave free membership to its owner in the Dr.Resin cannabis club so I made sure to use it and made a B-line for that club.

The variety was huge, they had a way better offer than in most Amsterdam coffee shops. Another thing to point out was that there weren't too many tourists, and people weren't sitting on top of each other — like they would in Amsterdam.

I didn't even have to share my table with anyone, and anyone who's been to Amsterdam knows there's no way in hell you get a table to yourself in one of their coffee shops.
Barcelona is definitely on my list of places to visit again, as there's no need to go to rainy, windy Amsterdam anymore.