Plenty is one of the newest vaporizers manufactured by the iconic Storz & Bickel. Although somewhat similar to Volcano and Mighty, it's a standalone product with a unique set of features and attributes.
How good is the Plenty vaporizer? Who should use it? What new features does it bring to the table? Read along for detailed information about this product.
About the company
Storz & Bickel is a market leader when it comes to quality and innovation. If you want to get some of the best vaporizers in the world, this is the brand you should look at. The company is really good at implementing cutting-edge technology and making their products accessible to everyone.
Their Volcano is an extraordinary vaporizer and it already achieved legendary status while the Mighty has been officially rated as one of the best performing vaporizers upon release.
The Plenty vaporizer follows behind with outstanding functionality and some of the strongest vapor on the market. Furthermore, the product is easy to use, convenient and shows superb durability.
What does the package include?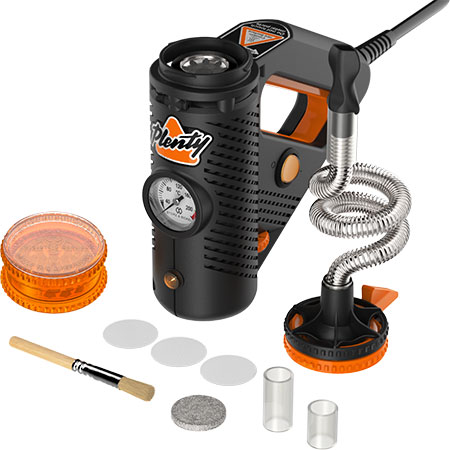 Let's take a closer look at what's inside the Plenty vaporizer packaging:
Cleaning brush
Filling chamber
Cooling coil
3 normal screens
Liquid pad
Mouthpiece
2 tubing sections (a short one and a long one)
User manual
Storz and Bickel grinder
Plenty vaporizer
Appearance and design
The visual aspect of this vaporizer really stands out. Simply put, Plenty doesn't look like a typical vaporizer at all. Instead, it looks like a power tool as its mouthpiece is directly attached to the coils (for cooling purposes).
Whether the Plenty is visually appealing or not is debatable, but the producer has certainly increased its standards to achieve an innovative design.
While many vaporizers today come with cheap construction and low build quality, that's certainly not the case with Plenty. Not only does the vaporizer come with outstanding durability, but it's also a prime example of traditional German engineering (which is great).
Main features
Airflow
The great thing here is that the speed with which you draw will not affect the airflow nor the overall quality of your vapor, in most cases.
However, if you manage to draw too fast, you'll likely hear a whistling sound warning you to slow down.
Heat
Having a massive heat exchanger has become a trademark of Storz & Bickel's products and Plenty is no exception.
Due to the fact that Plenty vaporizer uses conduction heat to reach an ideal temperature, you can vape for quite a long time. Even better, you can actually control the heat level on your own. If you do it properly, the vapor is not going to disappear any time soon.
Handle
Plenty's control mechanism is not exactly what you would expect from a typical desktop vaporizer, but it does its job well. It may take some time for you to get used to it, though.
You need to do two things to start up the vaporizer properly:
Turn the vaporizer on (with the power switch)
Squeeze the trigger on the handle
Once the light is turned off, everything is ready, and you can finally enjoy the smooth taste of your vapor.
Switch
The switch can be seen as the core mechanism of the whole vaporizer. It's a crucial component that controls the temperature and allows you to vape for a while. So, how does it work?
In order to make the Plenty vaporizer reach its ideal temperature, you need to squeeze the trigger multiple times; if you don't, the heat will drop.
From time to time, whenever the heat level becomes too low, you'll need to squeeze the trigger to re-engage the heater.
This is potentially a downside for some customers as not everybody is patient enough for such repetitive action.
Temperature control
The Plenty vaporizer allows you to very easily control (and maintain) your ideal temperature with a small wheel beneath the handle. The temperature range is 266° F-396° F.
While there are vaporizers with higher temperatures, what we have here is more than enough for quality vaping.
Coil
Plenty's coil is quite unique, and its cooling performance is astonishing. It cools down the vapor very quickly and efficiently.
Just make sure you don't touch the metal area right after you've used the vaporizer for a while as you may get burned.
Since it cools down in just a couple of minutes, though, it's easy to prevent this scenario.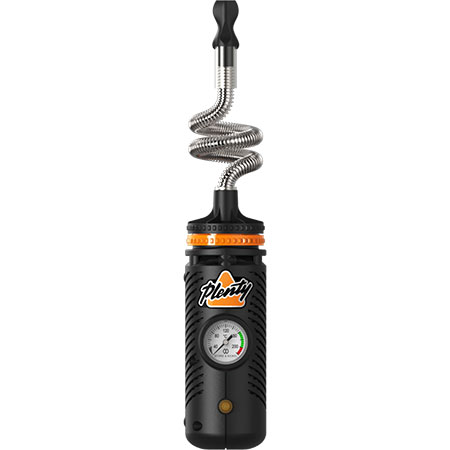 Vapor quality
The single most important thing that one should look at when choosing an optimal vaporizer is vapor quality.
If this parameter is subpar, the product is essentially a wasted investment, even if it comes with tons of different features.
How does Plenty vaporizer fare in that regard? Pretty good!
There is only one word that can describe the vapor quality of this product – impressive. Even inexperienced users can easily make exceptionally cool clouds without much effort.
The cooling unit at the top of the vaporizer will ensure that the vape is as flavorful as it can be while the oven is there to make every session as long as possible.
In general, the vapor quality is certainly one of Plenty's biggest upsides.
Ease of use
Even though Plenty is a technically complex device, it basically has no learning curve. It's a perfect entry-level vaporizer, but it can also satisfy more advanced users.
To use it, just load the blends in the filling chamber and choose your desired temperature on the Adjustment Wheel.
Then engage the heater and that's it – you can start enjoying that smooth and tasty vapor.
As soon as your ideal temperature is reached, a red light will turn on with a single click.
The heat will disappear after a while, but you can easily re-engage the heater by squeezing the trigger.
It may take some time for you to adapt to this habit, but once you do, it becomes second nature in no time.
To get the most out of your Plenty vaporizer, you'll need to optimize both grinding and loading processes.
A grinder is already included in the box, and using it is pretty straightforward.
However, loading could pose a challenge, as you have to load plenty of herbs and they need to fill up the whole screen.
Luckily, there is a trick to achieve this more easily. You can fill up the chamber halfway and just cover the empty area with a concentrate pad. Perhaps it's not as practical as it should be, but it does the job perfectly.
The whole process may seem complicated at first, but once you figure out the basics, it becomes a piece of cake.
Additional accessories
Once you unpack your Plenty vaporizer, you'll get all that you really need in the box. Even if you're a more demanding user, what you want is probably already included.
The question is, if you want to expand the default possibilities of this vaporizer, can you do it? And does the vaporizer support additional accessories?
The answer is yes and no. You can replace the existing accessories with the same (new) ones, but you can't get any accessories that were not part of the initial setup.
In other words, there are no new accessories that can extend the product's main capabilities.
This limitation is possibly the biggest downside of the Plenty vaporizer. Sure, you probably have everything that you need already, but if you want a brand new experience after a while, you'll need to get a different vaporizer.
Who should use the Plenty vaporizer?
The Plenty vaporizer can be used by anyone who wants an easy-to-use device that delivers outstanding vapor, and doesn't mind that it is not portable.
It is a great solution both for experienced users, as well as people who are totally new to the world of vaporizers.
Plenty is for people who value a good investment – the price of $249 is not exactly low, even though this is so far one of the most budget-friendly vaporizers by Storz & Bickel.
Who shouldn't use the Plenty vaporizer?
If you have trouble with the fact that you need to squeeze the trigger to re-engage the heater and you want a vaporizer where you can vape continuously without any wait time, this is probably not the product for you.
Plenty is also not for people who may be interested in extending the existing functionality of the vaporizer with new accessories.
Finally, people who are very concerned with the cost and are less interested in quality, long-term investment may want to skip Plenty and look at other brands.
Pros
Top-notch performance and vapor quality
Very easy to use
Outstanding durability
Innovative design and superb functionality
Ideal vaporizer for parties
The heating chamber is huge and allows you to pack quite a lot of herbs
Cons
Slightly more expensive than other desktop vaporizers (though it's Storz & Bickel's cheapest product)
No option for adding on brand new accessories
Not portable
Users need to press the trigger to re-engage the heater from time to time
Summary of key features:
| | |
| --- | --- |
| Warm-up time: | 5 minutes |
| Temperature range: | 266°F-396°F |
| Dimensions: | 15.2 cm x 22.6 cm x 5 cm (6.1″ x 8.9″ x 2″) |
| Weight: | 0.68 kg (1.5 lb) |
| Price: | $249 at Bloomgroove.com |
In conclusion
The Plenty vaporizer may not be perfect for everyone, but it comes with some amazing features that are worth recommending. Ease of use, impressive vapors and solid, durable device are qualities that many users look for in a vaporizer, and Plenty scores high on all these accounts.
It's a universal product at its finest.