Arizer is one of the most reputable vaporizer companies in the world. They are known for creating reliable and sturdy vaporizers that accommodate the needs of beginner to advanced users.
Now, you may wonder why are we reviewing this product when there are so many newer and better products from their line.
The truth is that this vape set the standard for many other companies trying to imitate and one-up their technology, which is exactly the type of impact we are looking for in tech.
Arizer developed several bigger versions of their own vaporizers, some of which are now setting new industry standards when it comes to vapor quality and innovation.
Arizer Solo comes in three different versions: The standard Solo, Solo 2 and Solo NLE (Northern Lights Edition).
The major competitors to the Arizer Solo are all products from Pax, as well as the Ghost MV1 and Arizer's very own Arizer Air.
What's in the Arizer Solo box?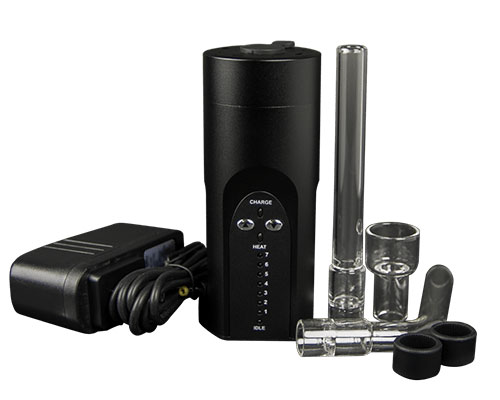 The Arizer Solo comes packed with a bunch of stuff.
1 x Solo Portable Micro-Heater
1 x Solo Charger
1 x Solo Glass Aroma Tube (Curved)
1 x Solo Glass Aroma Tube (110mm)
1 x Solo Glass Aroma Dish
2 x Solo Silicone Stem Caps
1 x Stainless Steel Stirring Tool
1 x Sample Aromatic Botanicals
1 x Solo Instructions Booklet
Tech specs
First off, the Solo's battery life is excellent and it can last up to 120 minutes.
This is a portable unit, which uses a 18650 battery with as much as 2200 mAh of capacity. Needless to say, this battery heats up fast (under 20 seconds), and enables temperature control using 7 different settings.
The temperature range is 50°C – 210°C (122°F – 410°F).
Chamber is not the biggest in class, but it still enables you to share your vape with another person as it holds 0.15 grams.
Vapor quality
The Arizer Solo has a pure glass vapor path which is also quite long. This gives vapor a lot of time to cool down and lose harshness.
You will taste even the minor terpenes with the Solo, depending on the temperature you are vaping at.
Vapor is thick, milky and packed full of taste.
Design
You either like Arizer Solo or you don't — this is a minimalist, utilitarian device and screams usability.
I would have loved for it to have an LED screen (the Solo 2 has it) and for the buttons to be a bit more modern, but overall it looks decent.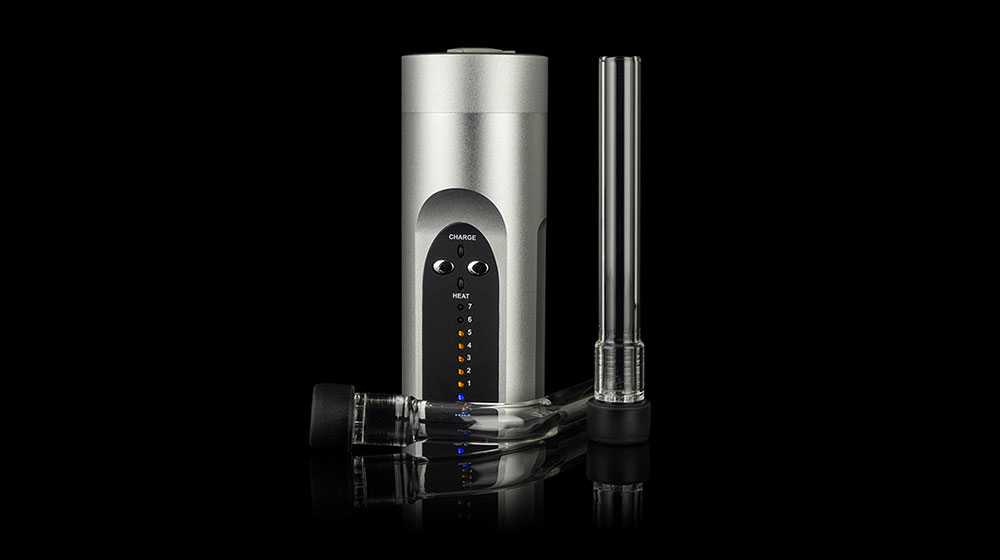 However, the rest of the Arizer Solo is extremely sturdy and it won't break even if you drop it from 5-6 feet.
What I like about this design is that it has just a couple of piece, which make maintenance a walk in the park.
How to use Arizer Solo
Using the Arizer solo is rather straightforward. The chamber is located outside of the device, and is actually a part of the glass tube.
The Arizer Solo unit stays pretty clean thanks to this solution, and makes it easier to pack as well.
Here's how to use it:
Push both buttons to start up the heating process;
Select temperature level with up/down arrows;
Give it some time to reach selected temperature
Start drawing vapor by creating a vacuum with your mouth and the end of the glass part.
Solo has a 12 minute automatic shut-down mode, in case you forget to turn it off.
Even the folks at the Arizer say that vaping with Solo can sometimes be a bit tricky:
"Drawing vapor from this system can be challenging, mainly because of a tight draw".
If you notice resistance while taking a draw, slide and shift the glass one or two millimetres in order to improve the airflow.
Arizer Solo is a great pick for first time users that are looking to try out this type of cannabis consumption. It's relatively straight forward when it comes to using it, and doesn't require almost no cleaning and maintenance.
In fact, the only part that you'll be needing to clean is the glass part.
You can clean it by soaking it in a bowl filled with isopropyl alcohol and it should look spanking new again in a few minutes.