So, you're looking to buy a top tier weed vaporizer and you aren't shying away from paying a premium price?
The Ghost MV1 might just be the right vaporizer for you.
With a price tag of just over $200, premium build quality, state-of-the-art technology, eye-catching design, splendid vapor production, and convection heating, on paper at least, the MV1 seems to tick all the boxes for perfection.
But what it's like to actually live with it?
Do the promises of unprecedented vapor quality and stunning looks fall to pieces after you've spent a few months with the MV1?
What are its shortcomings?
Let's dissect this seemingly flawless prospect and discover if there's a new sheriff in vape town.
Something's Missing?
Whenever we do a review of a high-end product, we try to emphasize that what you get in the box is almost as important as how good the device is.
When you're paying a substantial amount for a vaporizer, you shouldn't be asked to purchase additional accessories in order to make your vaping experience a premium one.
As far as the Ghost MV1 is concerned, you do get the essentials. But after you've used the device a bit, you get a sense that something's missing.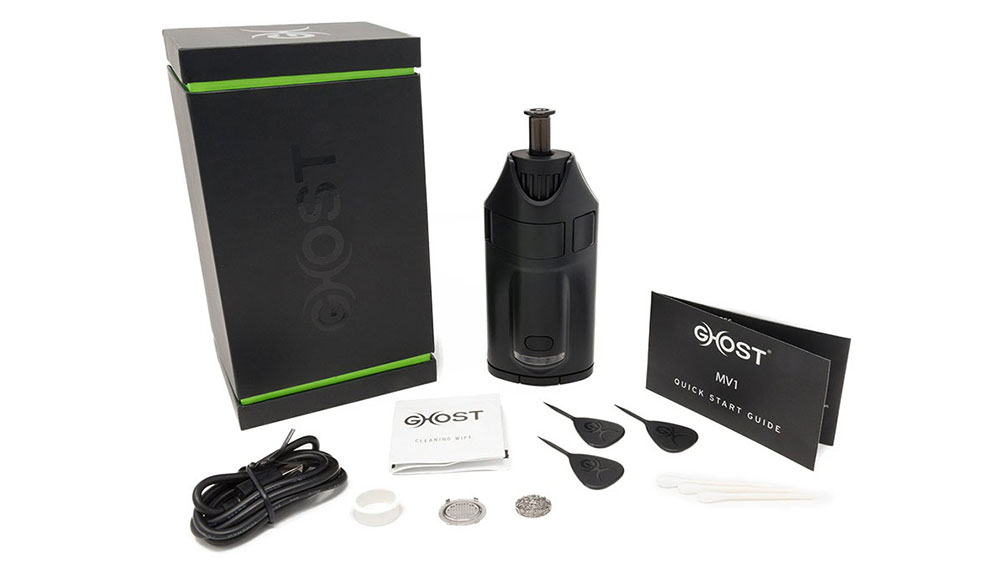 Straight out of the box, you get:
The MV1 unit
USB charging cable
1x Concentrate pad for wax concentrates
1x Crucible (where you place your herb or wax)
3x Cleaning tips and alcohol wipes
3x Picks
User manual
However, it turns out that Ghost offers its customers an even more premium bundle of accessories that make life with the MV1 a more convenient one. And I'm not very keen on that approach.
With the premium bundle, you get a fast charger (which is a must), a spare battery, and a very practical crucible dispenser.
What bugs me about this is that, without the fast charger, it takes upwards of seven hours for the battery to fully charge. As far as I'm concerned, I think that they should've provided either a fast charger or a spare battery with the standard product.
On top of that, the crucible dispenser makes life with the MV1 that much easier. But more on that later.
Gorgeous and Practical?
There's no denying it. The Ghost MV1 is a stunning-looking vaporizer.
Despite its futuristic design features, it still manages to look simple and elegant enough to remain appealing to a much broader audience.
It boasts a lightweight alloy body that sits and feels gorgeously in the hand. Of course, that tactile satisfaction stems from the MV1's smart ergonomic design.
The device comes in various glossy finishes that, while appealing, aren't that practical. But that's the nature of glossy finishes. Try keeping fingerprints and dust off of those…
My advice would be to settle for a matte black version of the Ghost MV1 if it doesn't look too sinister for you. Apart from not being a dust and fingerprint magnet, it's much less slippy. And you're going to want that.
Sadly, there's a cost to its ergonomic and futuristic design.
Though it can still be categorized as a portable vaporizer, it's nowhere near as small and pocket-friendly as some of its counterparts. Good luck being inconspicuous with this bad boy in your hands.
Sure, the retractable mouthpiece is an amazing implementation that not only keeps the mouthpiece protected while it's not in use but also saves up a bit of space in your pocket because it doesn't protrude and bother the carrier. So, kudos for that.
Another great thing about the mouthpiece is that it's made from glass. Keeping the vapor cool is an absolute must when it comes to vaporizing, and there's no better material to use for such purpose than glass.
Also, the mouthpiece sits snuggly in the heatsink which works wonders for heat-dissipation.
When you combine a perfectly functioning heatsink with a glass mouthpiece, you get the purest possible vapor. Therefore, honestly, it's hard to match MV1's vapor quality and production!
One implementation that makes a lot of sense on paper, but makes the device a nightmare to live with sometimes, is the use of the aforementioned crucible.
Most vaporizers require you to open the lid of the oven and dump your herb in it. Nothing less, nothing more. Thus far, I haven't heard a single complaint about this particular design, nor have I thought it needed changing.
And so we come to our biggest problem with the MV1.
In order to load the chamber, you have to open the lid, pull out the tiny crucible (which holds no more than 0.12 grams), pour your finely ground herb into it, put the lid back on the crucible, return the crucible into its chamber (this part is particularly finicky), and then close the chamber lid. Sheesh.
Battery Life and Temperature Control
The Ghost MV1 packs a removable high-capacity 2600 mAh battery.
Honestly, I haven't had any issues with its performance or battery life. Each time I've easily managed to go through at least ten full crucibles on a single charge. While it's not mind-blowing, the battery performance is decent enough.
The only thing that bugs me about it is that it takes a soul-crushingly long time to recharge. We're talking almost eight hours without a fast charger.
Precisely because of this fact (which can easily become a deal-breaker for many), I expressed my disapproval of Ghost's decision not to include a spare battery or the fast charger as standard accessories that are shipped with the unit.
When it comes to temperature control, the MV1 works brilliantly when paired with Ghost's proprietary app. It allows you to set your preferred temperature anywhere between 300-470°F – 149-243°C.
However, the device itself comes with three default temperature presets (340/365/390°F, – 171/185/199°C) that will suffice most people's needs. They're not set too high, thus allowing you to squeeze the best possible taste out of your herbs.
I'd like you to keep in mind that the highest temperatures aren't meant to be used with dry herbs because of the risk of combustion. Therefore, keep those for concentrate use only!
Burdensome Maintenance
Let's make something clear.
Each and every vaporizer needs a bit of love from time to time. If you want it to keep performing well, that is.
Therefore, cleaning is an essential part of owning a vaporizer, especially when you have a complex unit as the MV1 in your hands.
Now, because the Ghost MV1 uses crucibles, cleaning the thing becomes a properly arduous task.
First, you have to dismantle the mouthpiece and sink those components into a bowl of isopropyl alcohol.
Then, you have to clean the crucible, and the crucible chamber with q-tips soaked in isopropyl alcohol.
On top of that, if you own a glossy model, you'll have to regularly wipe down the unit with a dry cloth for it to remain fingerprint-free.
Bottom line, it takes a bit of patience and dedication to take care of the MV1, but it's not in vain, that much is certain.
The Purest Vapor You'll Ever Taste
Despite some of its impractical implementations and average battery performance, the Ghost MV1 can't be matched when it comes to vapor production and quality.
Due to its convection heating technology, which makes sure that the herb never gets in direct contact with the heating source, as well as its remarkable heatsink and glass mouthpiece, the MV1 produces the smoothest, purest, and coolest vapor you'll ever taste!
Sure, as is the case with most other innovative vaporizers on the market, you'll need a bit of time to get the hang of the drawing technique that'll squeeze out every single terpene molecule out of the herb. But boy, is it worth the wait.
Best of all, we're talking about an on-demand vaporizer that heats up in virtually no time. This means that you can split your vaping sessions into multiple ones. The herb will taste exactly the same tomorrow as it did the day before!
A Lot of Bang For Your Buck
When all is said and done, the Ghost MV1 manages to justify its somewhat steep price tag. After all, it's a vaporizer designed for experienced weed connoisseurs.
This means that you won't be complaining about the lack of taste or the thickness of the vapor. The MV1 is a true cloud making machine.
Though Ghost's laborious effort of trying to create the ultimate state of the art vaporizer is applaudable, they did go overboard with certain implementations that make the device harder to use and enjoy.
Therefore, if you consider yourself an experienced cannabis user who's had his or her fair share of vaporizers, then the MV1's steep learning curve won't pose a threat to you, and you'll be enamored with its design and capabilities.
However, if your experience with vaporizers is scarce, you'll have a tough time getting the hang of the Ghost MV1.
Overall, I think this is a remarkably innovative and appealing vaporizer that's targeted at a very particular audience. It most certainly isn't for everybody, but that shouldn't be held against it!