A new Lexaria animal study shows DehydraTECH formulation can pass up to 475% more CBD into the bloodstream than MCT oil based products.
Lexiaria's DehydraTECH formulation was shown to deliver more CBD into the bloodstream (up to 475 percent more) within 15 minutes than a coconut oil based product did in an hour. Coconut oil, a medium chain triglyceride ("MCT") oil, is often used as a co-ingredient to make cannabis edibles throughout North America.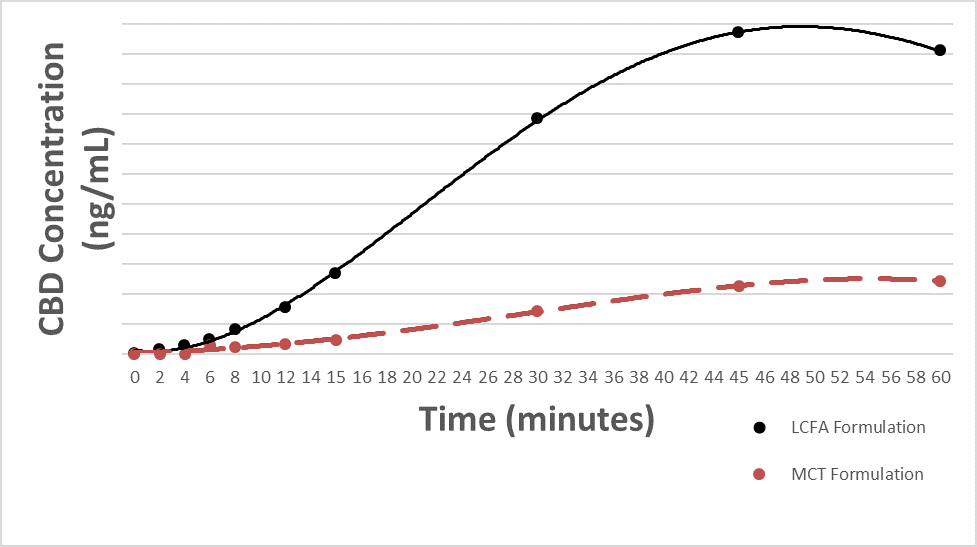 The DehydraTECH process, which combines cannabinoids with long-chain fatty acids, reduces CBD to an odorless and tasteless powder that masks the bitterness of cannabis without using sweeteners or artificial masking agents. This powder can be added to foods, drinks, and creams.
The formulation was not tested using THC, although the company stated in a release that it "has every reason to believe that virtually identical results would have been achieved if THC was instead the cannabinoid under examination."
These test results are the first to be released since Lexaria, headquartered in Kelowna, B.C., announced on March 20 that it would be undertaking its largest-ever cannabinoid research and development project.
The project, made up of 11 animal studies, is testing a variety of performance-enhancing variations of DehydraTECH delivery. The R&D program is also planning to be the first to evaluate their technology in combination with nanoemulsion formulates, which recently began making waves as a way to make cannabis-drinks viable for the recreational market.
If they brew it, will they come?
In April, Lexaria announced a beverage license deal with a private California based cannabis company to use DehydraTECH to create ready-to-drink beverages, such as non-alcoholic beers, coffees, and other recreational beverages.

Companies are beginning to prepare for what Molson Coors believes could be a $3 billion cannabis-infused drink market. Both Canopy Growth Corp and Molson Coors, in partnership with Hexo Corp, are planning to release lines of cannabis beverages once Canada legalizes edibles and oils in October.

A New York Post article also showed that Walmart and Target have been "quietly meeting with makers of drinks, topical creams, and other products that are infused with cannabidiol, or CBD." They also reported that a few larger supermarkets in the U.S. where "requesting samples of CBD products."

Not everyone is as optimistic. A company executive at Aurora Cannabis told BNN Bloomberg that the company doesn't plan to invest heavily in cannabis beverages, anticipating "low market share" once Canada legalizes edibles and oils this upcoming October. BNN Bloomberg also reported that a BDS Analytics report shows cannabis-infused beverages making up only 0.5 percent of the legal U.S. pot market.
"There's not going to be any cannabis bars open anytime soon," Cam Battley, chief corporate officer at Aurora Cannabis told BNN Bloomberg.