Dr Dabber Aurora wax vape pen is Dr Dabber's latest invention, the first-of-its-kind vaporizer with SnapTech magnetic technology and unique design.
The Aurora vape pen is truly a wonder in the growing vape market, and is sure to be copied, but never replaced.
Why is that? Well, first of all, it has a really unique look, especially the limited edition Aurora X AHOL which comes in a stylish spray bottle and is an artistic series.
More importantly for users, Aurora comes with a lot of different accessories to choose from, which are included in the original packaging.
The idea is that with this vaporizer you don't have to deal with threading, and you don't need to screw on different parts together by hand. They are all well connected with magnets, which makes the vape pen pretty cool and easy to use.
Also, you can choose between three different temperature levels just by clicking on the home button.
What's in Dr Dabber Aurora box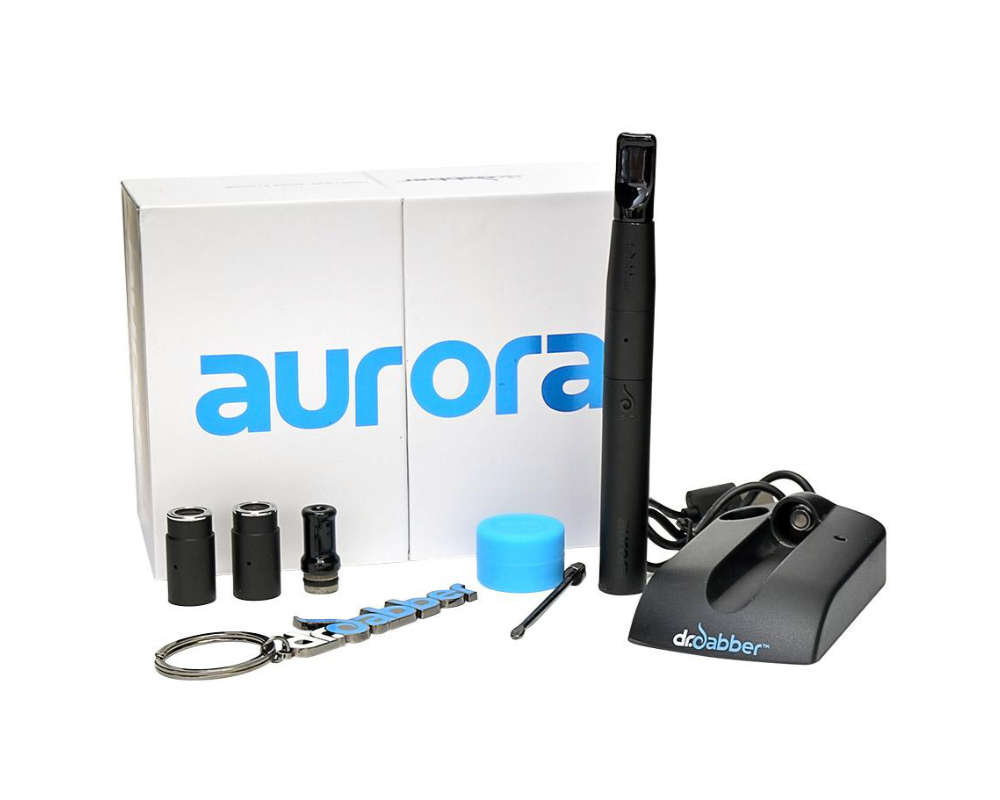 Dr Dabber Aurora packaging includes:
Dr. Dabber Aurora vape pen
Quartz on quartz magnetic atomizer
Ceramic on quartz magnetic atomizer
Ceramic halo on quartz magnetic atomizer
Loading tool
Silicone storage container
Magnetic USB charger
Dr Dabber keychain
User manual instruction booklet
The dual ceramic atomizer is most suitable for higher viscosity oils, while the dual quartz is more for lover viscosity oils.
The Aurora ceramic halo atomizer is definitely more suitable for waxier oils, and they all have a quartz dish inside the coil.
The dab tool itself has a little handle and can be attached to a keychain, so you can't ever lose it (and it's pretty cool to wear it like that, isn't it?).
The silicone container serves the purpose of storing your concentrate for an easy use, and the keychain is just a cool gift you get for trusting their product.
One button to serve it all
There is a power button on the vape pen in the shape of a flame. This button is used for all commands.
The 5-click safety feature is used to turn the pen off and then turn it on. This safety measure is designed to prevent the vaporizer from running when not in use.
The same button, when clicked three times, serves as a heat variable.
The green light indicates low heat with a temperature of 230°C (450°F). The blue light shows medium heat of 287°C (550°F), which is used mostly with the dual-coil ceramic core. The pink light indicates the highest heat setting of 343°C (650°F).
How to use Dr Dabber Aurora wax vape pen
First of all, it is really easy to use. You can find all the technical details in the instruction manual, so we are going to tell you a bit more about how to use Aurora from the actual user perspective.
Pull the mouthpiece up to separate it from the heating chamber, which shouldn't be hard to do, since the whole piece is connected with magnets.
Prepare your concentrate from your silicone storage container and load it with the provided dab tool directly onto the atomizer. While doing so, be careful not to touch the core directly with the tool, to avoid possible damaging of the core.
Reconnect the mouthpiece, but be careful not to overload the chamber. This can cause malfunction and leakage of the concentrate over your pen.
Press the home button five times quickly to turn the vaporizer on. Press and hold the same button while inhaling to administer the vapor.

How do you charge Dr Dabber Aurora
This is the easiest part. Put the battery on the charging base, plug your USB, and that's it. Once the device is fully charged, the light indicator will change from red to green.
Aurora's USB charger is also magnetic, and it even has a little stand for your mouthpiece with the chamber, so you can use it while the battery is on the charger.
Depending on your vaping habits, Aurora will deliver 250-300 hits only on one charge. This results in approximately five days for an average user, and 2-3 days for a serious user.
The Aurora vaporizer takes about two hours to be fully charged.
What separates Aurora from other Dr Dabber vapes
In the Dr Dabber universe, Aurora is its brightest star. Its shape resembles the Ghost vapor, also by Dr Dabber. But what's different?
The Ghost is one of best-selling vape pens on the market because of its simplicity and style, but that's as far as the similarities between the two go.
Ghost was made only for low heat, high resistance performance. It was the first vape pen with a titanium coil, but all the parts had to be screwed on.
Then Aurora came, the first vape pen to use SnapTech magnetic technology with three different atomizers to choose from, and a variety of temperature settings.
Aesthetically, Aurora is discreet but sophisticated, and an award winning vape pen in the ever growing vaping market.
Additional information
The following information is a compilation of safety, fun, and useful tips picked up from the manufacturer's official website and other users.
Vape pens that use wax or any other concentrate instead of herbs usually provide a solid hit every single time, so just take it easy with the Aurora.
You can add all kinds of Dr. Dabber attachments to your pen to make it into a bong.
The coil of the pen needs to be replaced every 4-12 weeks, and we don't recommend using the dab tool to clean your chamber because it can damage it.
You can easily clean your chamber using a cotton swab and alcohol, and make sure you clean it after every use so it lasts you longer.
Register your pen after purchasing it to activate your warranty. This unit is under one year "No questions asked" warranty which is valid for the battery and the USB charger, but not for atomizers.
Dr. Dabber products including Aurora are not designed as smoking devices and can't be used with e-liquids or any other nicotine product.
The price of Dr Dabber Aurora is approximately USD 99.
Conclusion
If you use it properly, and clean it after every use, Dr Dabber Aurora can last you a long time; you just need to replace the atomizers when necessary.
The vape pen's easy design and quality features make it unique and an absolute bestseller in the ever-growing market.
Overall, Aurora is a great innovative vape pen that can satisfy every user, beginners as well as active smokers.