Dr. Dabber Switch is no ordinary dab rig. It's so innovative and technologically advanced that it paved the way for a completely new generation of vaporizers.
One of the main reasons why the Switch turned out to be a game-changing product lies in its patent-pending induction heating technology.
This method generates heat incredibly fast, while keeping the coils cool at all times.
Precisely because of this, the coils won't ever have to be replaced.
In addition, the Switch falls into a very rare category of handheld dab rigs. Only a handful of manufacturers have ever managed to build bong-like vaporizers that offer their users such superior vaping experience.
Many vape experts have already defined the Switch as the ultimate multi-use vaporizer.
Let's find out why.
What's in the box?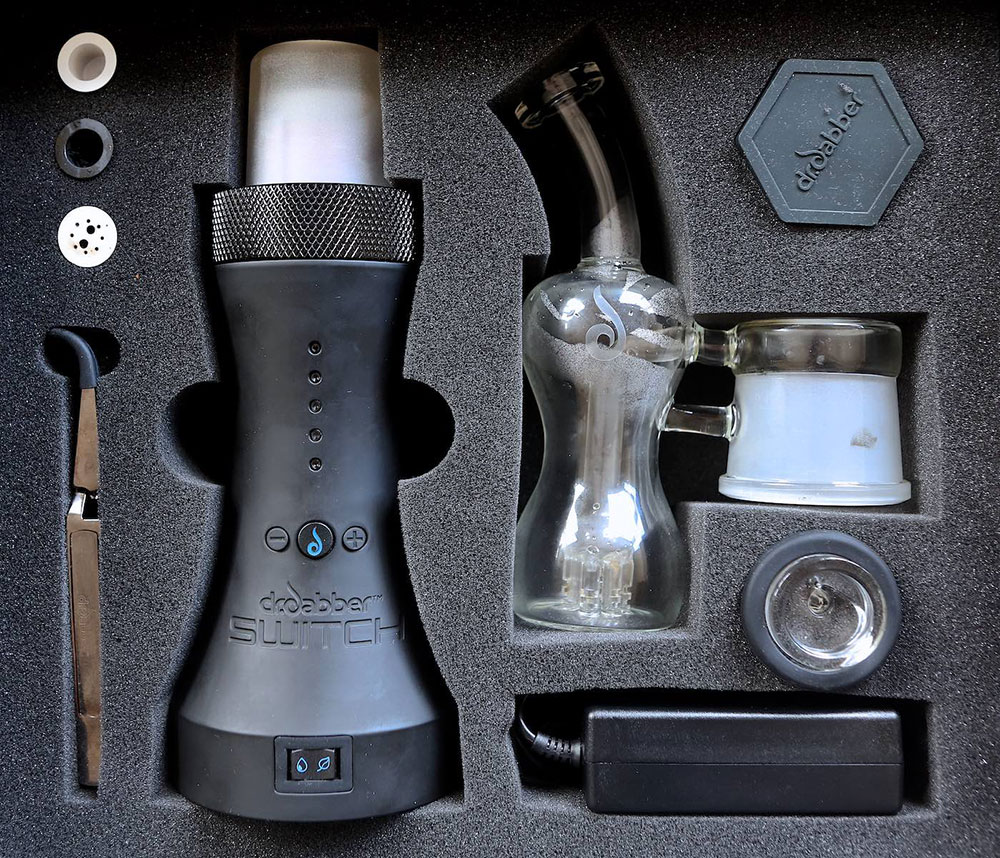 This is what welcomes you when you open the small-sized suitcase the Switch comes in:
The Dr. Dabber Switch unit
Glass bubbler
Two ceramic induction cups (aka nails)
Silicone wax container
Ceramic flower filter
Carb cap
Dab tool
Tweezers
Charging cable and adapter
Each item found in this box is extremely well built. Nothing feels flimsy nor cheap. However, given the steep price of the Switch ($400), that's exactly what you'd expect.
In case any of these parts need replacing, you can easily find them on Dr. Dabber's official website. Moreover, if you're looking to revamp the look of your new vaporizer, there are plenty of different bubblers to choose from, as well as many other accessories.
The only thing that could upgrade the unboxing experience even more would be the presence of a quartz nail. Unfortunately, for now, Dr. Dabber only sells these as optional accessories. Fingers crossed that'll change in the near future.
The absence of a quartz nail is a bit disappointing because it means you can't use the Switch's awesome CRYSTAL MODE straight out of the box, and, trust me, you really don't want to miss out on that experience.
Ultra-modern design and features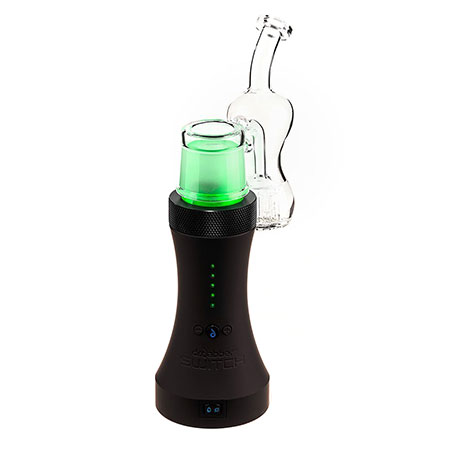 Design-wise, the Switch is a force to be reckoned with.
Given that it stands 9.5 inches tall without the bubbler mounted on top, it's safe to say that it's an attention-seeking piece of equipment.
Each part of the Switch is crafted from top-quality materials, including high-grade silicone, ceramics, and borosilicate glass. The most important thing is that the Switch is super easy to assemble due to its pieces snapping perfectly together.
Despite it being a sizeable vaporizer, the Switch is an absolute joy to hold. Mostly because of its sleek hourglass design, it fits very easily and comfortably in hand. That's great news if you're a fan of long vaping sessions.
One of the biggest letdowns is that there are no other color options to choose from apart from black. But, to balance the situation out, the Switch's glass top produces an ambient light in different patterns and colors. Even though you can't choose the color of your device, you're fully in charge of the Switch's superb light show.
Using the Switch
Even though the Switch is packed with all the latest and greatest technology, it's not as difficult to operate as you might expect.
At the bottom ring of the device lies a switch that allows you to change between modes (leaf or oil) quickly. Above it, there are three separate buttons. The push of the central button starts up the heating process, whereas the + and – buttons allow you to change between five different power levels per mode.
The only "touchy" step is the placement of the ceramic induction cups. Because they're tiny and fall snuggly into place, you have to use the reverse-action tweezers in order to mount them into place securely.
Apart from that, everything else is pretty much very straightforward. When you choose the mode (leaf or oil), select the desired temperature, and press the main center button to start the heating process, you wait for the LED lights to turn green, and you're free to start vaping. It's that simple.
If you acquired the additional quartz induction cup, you can also use the crystal mode which allows you to operate the device in 25 different power modes and different heat profiles ranging from 300°F to 800°F.
Note that using higher heat profiles drains the battery faster.
Step-by-step instructions
At first glance, using the Switch may seem like a daunting task. After all, it is a portable desktop rig capable of vaporizing both wax concentrates and dried flowers, equipped with the latest induction heating technology.
Hence, the Switch is often seen as one of the more complicated vaporizers available on the market today. Though we've touched briefly upon how easy it is to use, here we'll describe in more detail all the necessary steps you need to take in order to use this device properly.
First and foremost, you have to fill the glass bubbler with water. Be careful not to overfill it. A few ounces of water will do the trick, but if you overfill it, you may end up causing permanent damage to the device if the overflowing water reaches the battery and internal circuitry.
After that, load the induction cups. The white ceramic nail should be used for oils and waxes and the black one for loose-leaf materials.
When you've loaded the heating cup, it's time to mount it onto the unit using Dr. Dabber's proprietary reverse-action tweezers.
Then, secure the glass top in place, and plant the carb cap accessory and glass loading tool atop the induction nail.
Choose your preferred mode by pressing the switch located at the bottom ring of the device.
Lastly, push the center heating button, and your vaping journey will commence.
Not so daunting anymore, is it? However, we'd like to give you some important tips that'll help make your experience with the Switch an even better one.
As you might expect, the device operates at an optimal level in both the leaf and oil modes. However, in order to unleash the full potential of the device, it would be best to stir the mixture within the induction cup in between vaping sessions. Just grab the carb cap and give it a gentle swirl.
By doing this, you'll make the concentrates or dry herb contents heat up perfectly because stirring up the mixture will allow for an even transference of heat.
Lastly, if you start the device without fiddling with its power modes, only one yellow LED light will turn on. That means that the device is set for optimal flavor delivery. You can, of course, crank it up to achieve bigger cloud production. In that scenario, you'll see five instead of one yellow LED light shining.
Unparalleled performance and vapor quality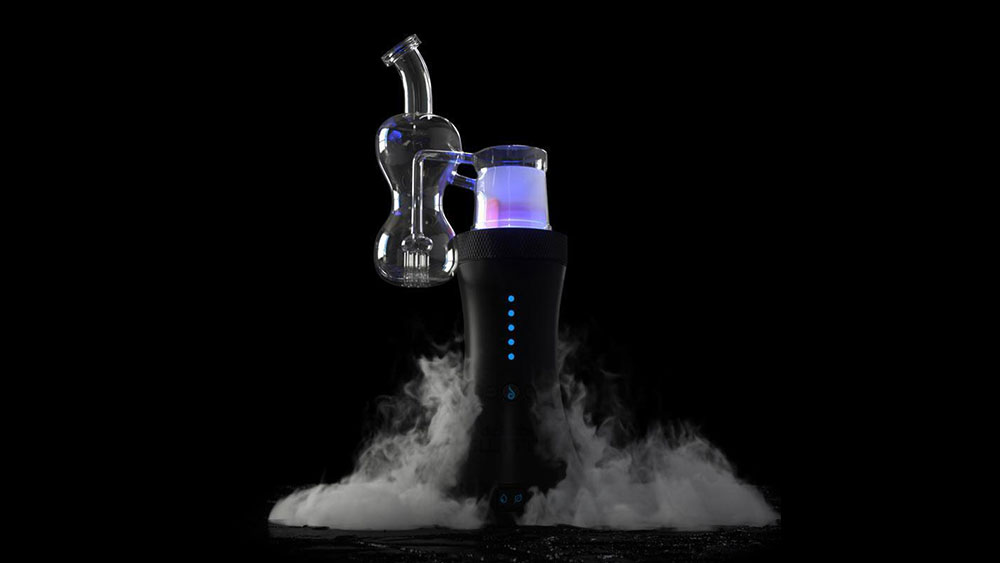 Before we tackle the question of whether the Switch is a vaporizer worth buying, let's discuss its performance and quality of vapor. After all, these two factors are the most important when it comes to deciding whether or not to settle on a particular vaporizer.
Let's kick things off with the battery.
Once again, the Switch is in a category of its own when it comes to battery performance. Its capacity is 33.3 watt-hours. Not only does it fully charge in less than two hours, but it's capable of lasting for an outstanding 150 hits!
The heat settings span from 300°F (149°C) to 800°F (427°C). Now, because of the induction heating technology and the immensely powerful battery, the Switch takes no more than 3 seconds to heat the induction nail in low-temperature settings, and 12 seconds in higher ones.
This means that you're ready to start vaping almost immediately after pressing the start button. That's exactly the kind of performance we're looking for in a weed vaporizer.
What about the vapor, then? Well, given that everything about this device so far has been brilliant, the vapor quality with wax is off the charts as well, especially in low-temperature settings. The aroma is second to none. As you crank things up a bit, the cloud production goes up and that does impact the flavor quality, but it never becomes harsh or unpleasant.
The only "issue" is that the vapor quality with dry herbs isn't exactly up to par. The taste is a bit charred and mild, but Dr. Dabber has publicly stated that they're working on improving this aspect of their device.
So, if you're looking for peak performance, it would only make sense to stick with wax concentrates with the Switch until the company figures out how to improve the vapor quality with dry herbs.
Should you buy it?
If it weren't as expensive as it is, the answer would be a resounding YES! Honestly, the Switch is by far the most advanced weed vaporizer we've had the pleasure of testing in a very long time.
Even though it comes with a limited two-year warranty on its electronic components, it's made from top quality materials that are destined to last for a very long time.
If you combine that with the Switch's splendid and superior induction heating technology, long battery life, and an ability to vape both concentrates and herbs, you get a vaporizer that's extremely hard to say no to. If you're an experienced cannabis user, that is.
That being said, if your cannabis journey has just begun, settling for a less expensive entry-level vaporizer would be a smarter thing to do. After all, you might discover that dabbing isn't exactly your cup of tea.
All in all, if you're a tech buff, an avid cannabis user, and have plenty of cash to waste, there's no other vaping rig we could recommend more than Dr. Dabber's Switch.