Flowermate has been a very recognizable name in the vaping industry through the years.
Here are only a few of the things they did (and do) right:
They are the first vape company to incorporate a ceramic heating chamber in their devices.
Their vaporizers use conduction heat to vaporize your aromatic herbs and concentrates.
Flowermate features a pyrex stem, and aluminium shell in 6 different colors.
It's easy to use, and even easier to clean.
The company offers ten different units to choose from, making it difficult for users NOT to find a device of their choice.
Their vaporizers provide quality vaping experience.
We are going to introduce some of Flowermate's best selling products to you, so keep reading.
Flowermate V5.OS
Flowermate's first big hit among vaporizers must have been the Flowermate V5.OS.
It is their basic, but most recognizable model.
Flowermate V5.OS is compatible with dry herbs, solid concentrates, and liquid ones as well.
Here are its main characteristics:
It is great value for the price; it performs really well
It has a 5 click button to turn on your device
It uses 3 different heat ranges, marked blue (the lowest), purple (medium), and red (highest)
It also has an auto shutoff: after 5 minutes of non-use it turns off automatically
The mouthpiece of the device is stored internally, which really makes it easier to carry around
Really impressive battery life (almost 3 hours)
Adjustable airflow, so you can customize the smoke as you want it
30 seconds heating time
What's in the box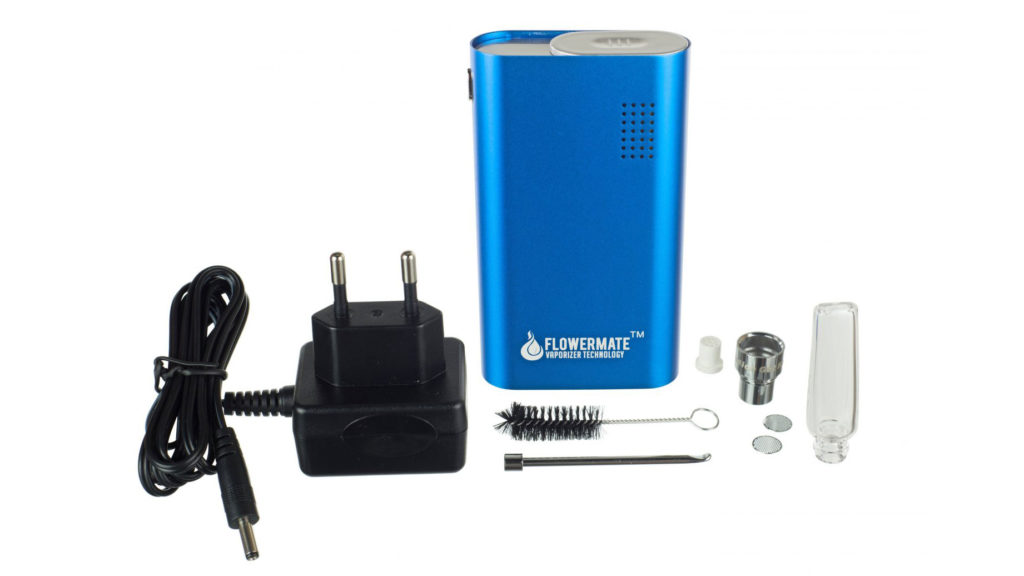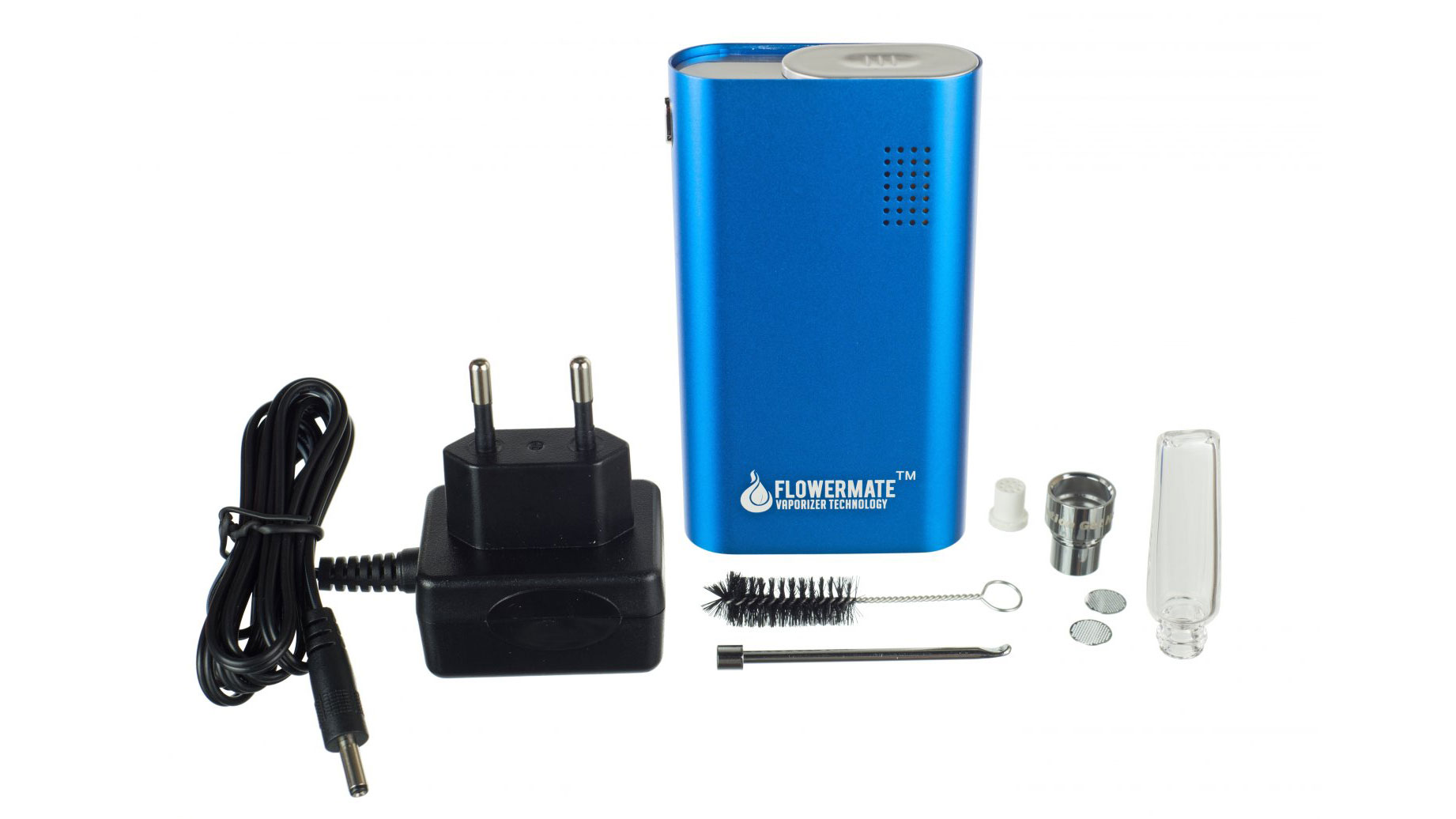 You'll find the following in your V5.OS box:
Borosilicate glass mouthpiece
Dry pod
Oil and wax pod
AC/DC adapter
Mouthpiece screens
Chamber screens
Loading tool
Cleaning brush
User manual
How to use Flowermate vaporizers
Besides the Flowermate V5.OS amazing performance, the cool thing about it is that it is extremely easy to use.
This, combined with its discreet and unique composition, makes it one of the best vaporizer choices for beginner smokers.
So, when you take your device for the first time, you turn it on by clicking on the power button five times, and you also want to do the same when turning it off.
The next thing is to adjust the heat.
Every time you turn on your vaporizer, it starts flashing the color blue, which is the lowest temperature (about 385 F).
If you want to go up to a higher temperature, just hold the control button for 2 seconds and it will flash the color purple, which is medium heat (around 400 F).
And if you want to reach the highest temperature, just click and hold the button again until the light indicates the color red (around 415 F).
To load your device, you simply open the chamber socket, which leads to the herb chamber.
Load up the lid provided (not all the way to the top), put the lid back on and simply drop it back into the chamber (or you can fill the chamber directly).
How to clean the Flowermate vaporizer
This is probably the easiest part, especially if you are only using dry herbs.
Concentrates tend to be a bit sticky, making the vaporizer a bit trickier to clean. That's why all the professional users recommend this piece just for dry herbs.
To clean your main chamber, turn it upside down and brush away the rest.
As for the metal parts, take them off, put them in a container containing alcohol for a few minutes, and then rinse.
The glass mouthpiece can be washed with a bit of alcohol using a cotton cleaner.
The last and very important thing regarding maintenance is that you need to change the little screens from time to time. That's the only thing that needs to be replaced on your Flowermate V5.OS vaporizer.
Introducing the V5.OS Pro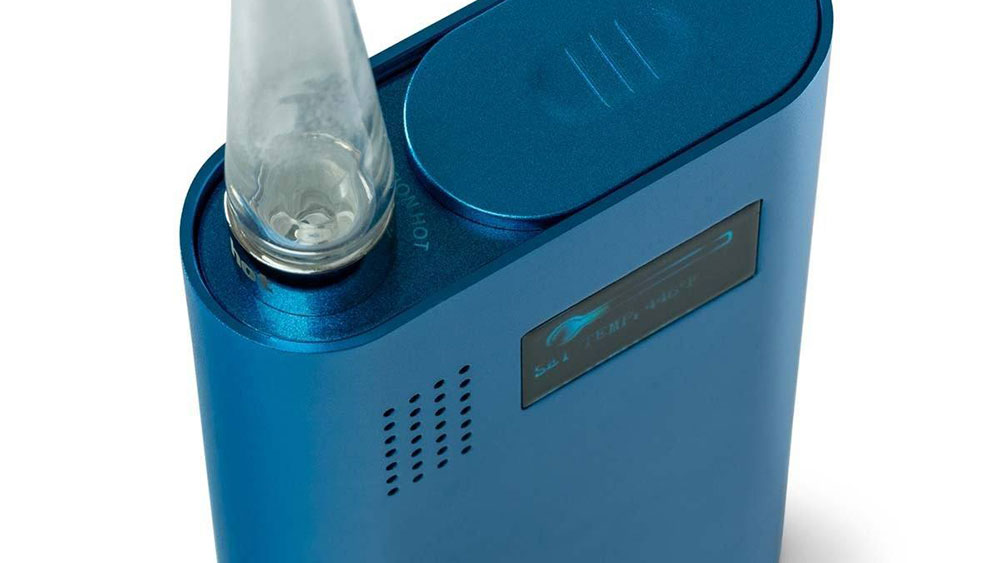 This little vaping wonder is the newest version of the Flowermate V5.
The main difference between the basic model and Flowermate V5.OS Pro is that this piece has an OLED display, so you can change the temperature easily with just a few clicks.
It also heats up really fast, in approximately 8 seconds.
The original V5.OS had only the AC charger included, but the PRO has a USB charger and a port integrated.
Its battery life is even more amazing than with the basic model (and what many other manufacturers offer). Plus, now you can see the battery life on your screen and keep track of the temperature settings.
When Flowermate PRO came into the market, it really made an impact. It instantly became a bestseller, and pushed the Flowermate company to the very top of the vaping market.
The best thing about it is that Flowermate actually listened to their users, and incorporated all the things that V5.OS missed into this new vaporizer.
So, that's another reason this product is amazing – the users practically helped build it.
Flowermate V5.OS Pro Mini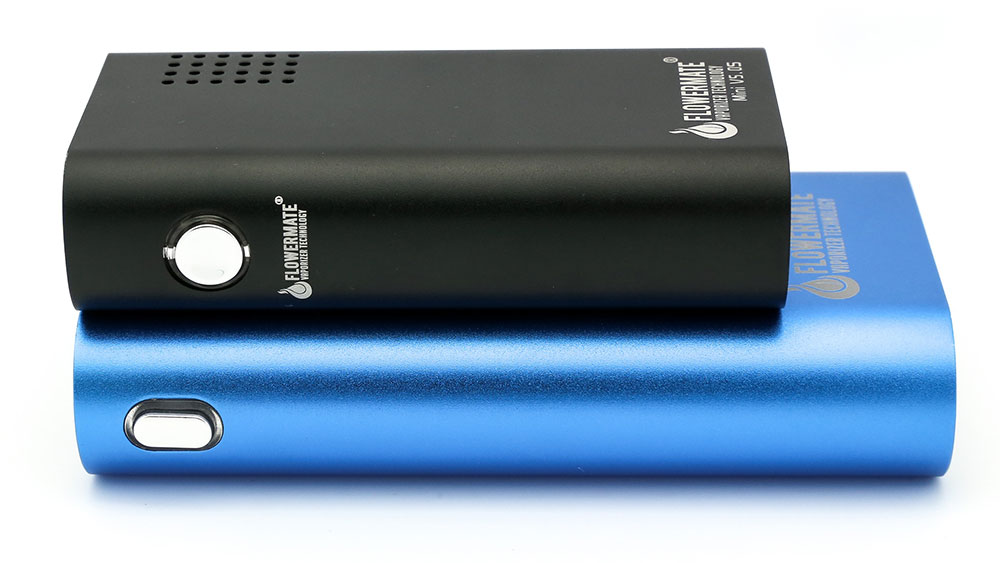 Flowermate V5.OS Pro Mini has all the characteristics of the V5 PRO, but in a smaller packaging.
The PRO MINI has to be the cheapest and most discreet one, just because of its really small size.
It combines the best features of the V5 PRO and the original.
It has a full temperature control to the degree, tiny form-factor, LED display, and more – all for a very reasonable price.
It also has a few new additions, such as a water pipe adapter, and 2 USD ports – one for charging the vaporizer itself, and the other serving as a full proper power bank for your phone!
It features sliding doors on top and bottom for an easier airflow, and it also has room for a mouthpiece included, despite being so small.
Though an amazing product, maybe it is not for everyday use just because the battery life is not so great.
It can provide up to 4 sessions of 10 minutes each. But we can't expect more from such little packaging.
About Flowermate in general
Flowermate is the giant of the vaping industry, and it is not just popular in the US and Canada; it also found its way as Europe's most wanted vaporizer.
It is manufactured in China, but the appearance and the characteristics were designed in the US.
Flowermate technology is mostly focused on the end user and their experience, so it provides a lot of options to choose from.
Flowermate has also stated that all of the materials used in their vaporizers are medical grade and safe to use.
The ceramic heating chamber in all of their products is specifically designed to ensure your material is evenly vaporized with no stirring.
Their vapor is smooth, flavorful and easy on the lungs. It may not have the biggest clouds, but that's because it heats evenly and slowly.
The glass mouthpiece does a nice jos of cooling the vapor. It keeps the flavor nice and strong, and it gives you almost 15 draws from a fully loaded chamber, which is quite impressive.
Conclusion
Flowermate strives to bring the very best vaporizers with amazing battery life and an overall discreet nature to their users – for the lowest possible price.
All Flowermate products come with a one year warranty, and a lot of different accessories.
Just be careful – never use any of these vaporizers while they are charging.
The Flowermate vaporizers are here to stay, and are constantly being improved according to user feedback.
So, if you're looking for your first or your next vaping device, be sure to check out Flowermate.