If you haven't gotten acquainted with the company yet, G Pen (Grenco Science) is well-known for the convenience and the sheer flexibility of their products.
No matter what G Pen vaping device you're looking at, all of them have three things in common – ease of use, great visual design, and high-quality vapor.
The G Pen Connect is no exception. This cannabis concentrate vaping model is a great choice for both newcomers and experienced cannabis enthusiasts who want to add one more unit to their collection.
Is it a perfect product? That's a bit far-fetched. But is it worth the price tag? Absolutely!
In the review below, I'll cover everything you need to know before deciding whether you should pursue this product or not. By the time you've done reading the review, you'll know what to expect from the G Pen Connect.
Let's get started!
Technical Specifications
| | |
| --- | --- |
| Delivery method: | Direct Draw |
| Charging time: | 1.5 hours on average |
| Battery capacity: | 850 mAh |
| Heating type: | Convection |
| Temperature control: | Yes, the unit has manual temperature control |
| Price: | Get it for$ 149.59 at Bloomgroove.com |
Unboxing G Pen Connect
Here's a full list of accessories that you can expect to see upon unboxing the product: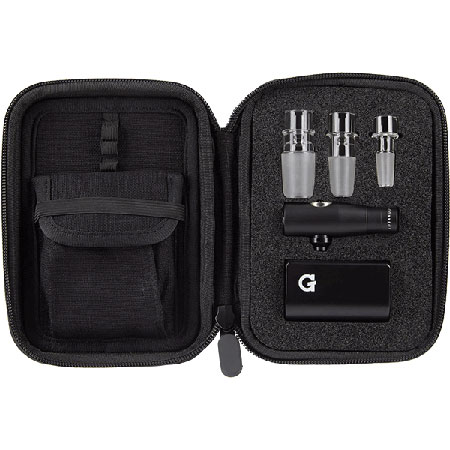 One Tank
One Male Glass Adapter
A Metal Connector (for the adapter)
The Micro-USB Charging Cable
The Official G Pen Connect Battery
Everything that you'll ever need is already supplied with the product and you won't have to spend additional cash for any extras, which is great news for people on a restricted budget.
Design And Features
From a visual standpoint, I can say that the product is very well built. The unit is compact, durable, and adequately portable, as well.
Even though G Pen Connect is mainly designed to be used at home, you can use the additional kit to turn it into a true travel-friendly device for transport.
The only thing I can complain about is its lack of discreteness. Whenever you take a hit from the bubbler, you will definitely attract a lot of attention and this is something that many people (myself included) will have problems with.
Nonetheless, the design gets a very solid 8/10 from me and I can say that G Pen did an outstanding job (yet again).
Heating Element
The heating system used by G Pen Connect is quite unique and revolutionary. It is a brand new patent-worthy concept that doesn't involve holding a button to heat the temperature to a certain degree.
Instead, the device uses reverse airflow technology to vaporize all of your concentrates with the highest possible efficiency. This technique ensures that you're always getting the highest possible vapor quality there is.
The G Pen Connect comes pre-packed with a 14mm male glass adapter, but the good news is that you can also use 10mm and 18mm alternatives if you prefer. There's definitely a lot of flexibility here and that's always a great thing to have.
Temperature Settings
The device comes equipped with three temperature options – 3.1v, 3.6v, and 4.3v – for you to choose from. It even comes with an extended draw mode that allows you to take some additional hits.
You should be able to find your optimal heating level easily as they each are quite different from one another and produce very distinct results you can experiment with.
Portability
Now, I've already talked about portability above, but it's time to extend that story a bit.
The portability of this device is good, but if you want to use it outside your home, you'll need a bubbler or a j-hook. It may not be an ideal solution, but it's still a system that gives you a lot of flexibility nonetheless.
If you want a vaping device that you can carry around as you go without any attachments, however, this isn't the ideal product for you.
Battery Life
The battery life of this unit is outstanding. You will get around 10-15 sessions on a single charge, which is enough for one whole day.
Given that a dab high can last between 1-2 hours, the G Pen Connect's battery life can provide you with back to back sessions without recharging.
If you use it wisely, the battery may even last for two days straight. That's quite a decent length of time for a product in this price range.
Vapor Quality
Overall, the vapor quality is very good, but there are a couple of things that I need to point out. First off, if you don't clean the device regularly, the consistency of your flavor will fade.
That's because the G Pen Connect uses a ceramic disc atomizer instead of a pure quartz atomizer. Overall, it works great, but maintenance is needed on your part if you want good results over the long run.
Another thing I have to point out is that the weed taste and flavor will "suffer" if you use the high voltage setting all the time. Not by much, though, but you may notice the difference.
Despite some of these drawbacks, the overall vapor quality is pretty good. G Pen certainly doesn't let you down in that area.
Ease Of Use
The G Pen Connect is extremely easy to use and that's certainly great to hear if you're a newcomer to this field.
Obviously, handling dab nails and torches aren't exactly ideal for users new to dabbing. The G Pen Connect is a good gateway device if you want to try out other dab rigs in the future. As soon as you do the whole procedure once, you become a master. That's how easy it is
If you're an experienced dabber, you can appreciate the ease and convenience of the device. Here are the steps you need to follow:
The first thing you need to do is twist the glass adapter (you can find it at the bottom of the device).
Now insert the device into the dab rig (the joint area of it, to be more precise).
Make sure that the cap is removed and put the dab into a ceramic bowl. Then replace the cap.
Take the battery and attach it onto the connection point.
Turn on your G-Pen Connect. You can do that by pressing the button five times repeatedly.
Now press the same button three times in a row to select your voltage.
Finally, press the button twice to kick off the automatic heating mode. If you want to switch to manual heating, hold the power button for fifteen seconds straight
When the heating is complete, hold down the carb release button to increase your airflow.
You can then start vaping.
Get a look at the company's How to use G Pen Connect video to ensure you're doing it right. Not so complicated, is it?
Pros
The product has a very good performance for the given price
It's a very affordable product
It has a great visual design
The ease of use is outstanding
All the attachments you need are already included with the product
Cons
Its level of discreteness is far from optimal
The product is mainly designed for home use and if you want to use it outside your home, you'll need to use a bubbler (or a j-hook)
The vapor quality is good but not consistent enough
Conclusion
Even though the G Pen Connect is far from an ideal vaping device, it's still a quality product that is well worthy of your attention.
With a great price-performance ratio, good visual design, exceptional ease of use, and a handful array of accessories, G Pen Connect is a product that I recommend to both veterans and newcomers alike.
By learning how to unlock its full potential, you'll get a vaporizer that you can use for a really long time.