The G Pen Pro from Grenco Science is a portable entry-level vaporizer that is primarily compatible with dry herbs. It's a significant upgrade to the company's G Pro Herbal from 2014 in almost every way.
While the overall design philosophy of these two products is identical, G Pen Pro brings several key innovations that make this vaporizer superior in the long run. It's a vaporizer that comes with a relatively low price tag, but the functionality you are getting is truly amazing.
In the lines below, I will cover all the details that you need to know about this product. We'll go over all technical details and I will also list both the product's upsides and downsides.
By the end of our review, you'll be a real G Pen Pro expert and you will know exactly what you can expect from the product before you decide whether you should buy it or not.
Let's get started!
The makers of the G Pen Pro
Grenco Science is a relatively young company but it's growing as we speak. The company was founded in 2012 in Los Angeles and the people behind it were quickly recognized as high-quality makers of cutting-edge, entry-level vaporizers.
Grenco Science is known for being the first company in the world to introduce a functional pen-style portable vaporizer. Their G Pro Herbal achieved great market success and it was a best-buy vaporizer upon release. It also showed that, to get a high-quality vaporizer, customers don't need to break the bank at all.
With the G Pen Pro, they want to push the limit even further and improve upon the downsides of its predecessor while keeping all of its pros (including a superb price-performance ratio) intact.
Technical specifications
Before getting into our overall review on the product, here's how the G Pen Pro stacks up technically as a vaporizer:
Materials type: Dry Herbs
Heating style: Convection
Vapor pathway: Plastic
Oven material: Ceramic
Battery life: 40 minutes on average
Charge time: 2-3 hours
Charger: USB
Battery Capacity: 1300 mAh
Battery Voltage: 110V
Heat-Up Time: 30 seconds
Draw resistance: Very low
Temperature range: 375°F-428°F (190°C-220°C)
Width: 0.98″ (2.5 cm)
Height: 4.56″(11.6 cm)
Weight: 180 g
Price: You can get it for $89.95 at Bloomgroove
Unpacking the G Pen Pro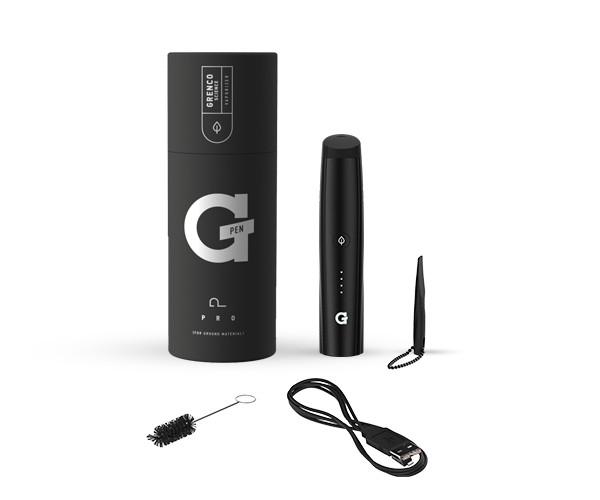 The box looks pretty nice and one can easily tell they're dealing with a high-quality product at first glance already. When it comes to the box's contents, there's not a whole lot, but here's what you get upon unpacking the G Pen Pro:
One cleaning brush
One G Pro tool
The USB/Mini-USB charging cord
The official G Pen grinder
G Pen Pro itself
You can buy additional extras if you want, but as a starter kit for consuming your weed, these accessories will do their job perfectly.
Design and features
The first thing you'll notice when examining the G Pen Pro is how small and convenient it is. It's much smaller than the G Pro Herbal and it fits perfectly in one's hand.
Likewise, thanks to its ultra-sleek design, this vaporizer can also fit just about any pocket without consuming a lot of space. This convenience is one of the biggest upsides of G Pen Pro and it deserved to be a section opener.
From a visual standpoint, the product looks amazing. We have the traditional "G" trademark at the bottom and the combination of dark grey and white really fits the overall theme of the product.
There's nothing unique here but it's obvious that Grenco wasn't aiming for groundbreaking appearances. Instead, they wanted a product that looks nice and simple, and they've certainly succeeded there. Not to mention that the main focus was (obviously) put on functionality.
The exterior is covered with aluminum while the mouthpiece is made from pure silicone. Some people may prefer a less sturdy mouthpiece, and this can be a problem for some buyers. I personally think it supports the overall concept of portability very well which is yet another sign that Grenco carefully thought out every step before implementing their ideas in practice.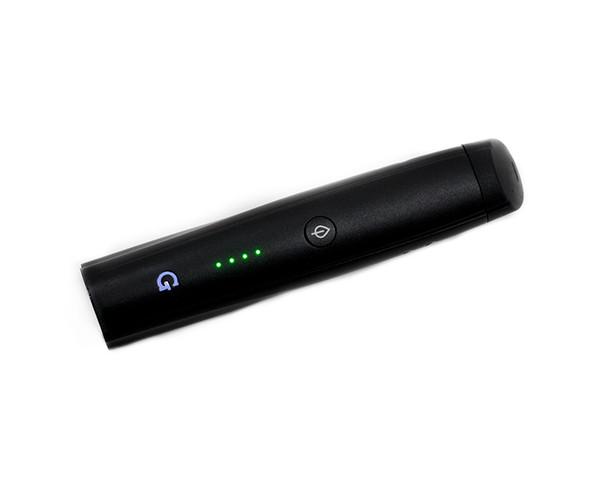 Now let's take a closer look at the features.
Button
The button controls whether the vaporizer is active or not. To turn your G Pen Pro on, you need to press the button five times. This part can be a bit tedious, but you will unintentionally click the button while holding the vaporizer in your hand.
It will happen occasionally whether you like it or not and there's nothing more irritating than a vaporizer going off in the middle of the session. So ultimately, it's not surprising that we have this kind of protective mechanism.
To turn off the vaporizer, you need to press the button five times again (and for the same reason that I've described above). If the vaporizer is not active for five minutes, it will turn off automatically.
Temperature modes
There are three different temperature settings and they are all marked with different LED indicators – Blue (375° F), Green (400° F), and Red (428° F). By default, you will see a blue light when you turn on the vaporizer which means that, at that point, the temperature is locked at 375° F.
To switch to other modes and increase the temperature, you need to hold the button until you see a green light (for medium heat) or a red light (for the highest heat). It takes five seconds to switch from one mode to the next.
Overall, some vaporizers come with a bigger variety of temperature settings, but I feel that having just three of them is enough here. You can very easily differentiate between three levels of heat and find your optimal mode as the temperature difference is even yet significant enough.
G Pen Pro will take 30 seconds to heat up and that's when you can start pulling. As the draw resistance is very low, this will be fairly easy even for newbies.
As long as you grind your weed properly, you shouldn't have any issues whatsoever and each pull will produce vapor of equal quality throughout your vaping session.
Chamber
I've seen better chambers, but this one is good enough and it serves its function well. The best thing about it is that it doesn't consume a lot of space, but it's big enough to ensure that the airflow is smooth during the entire session.
Overall, you can put up to 0.25 g of ground-up dried herbs without concentrates into the chamber, which is quite decent for an entry-level vaporizer.
Vapor Quality
While all these features are nice to have, the key question is – is the vapor produced by the G Pen Pro any good? The short answer is – yes, up to a certain degree. The long answer would be – yes, vapor quality is pretty good for the given price but it's not extraordinary.
There's a good reason why people spend a lot of money to get a vaporizer that can produce high-quality vapor. G Pen Pro can't compete with these high-end models in that regard, but still, the overall quality is good.
That being said, the biggest issue is that the quality is not consistent. You'll get the strongest flavor at the beginning of the session, but as time goes on, you won't get that much enjoyment and the whole experience will be progressively worse.
On top of that, the vapor lacks the thickness that many other vaporizers can produce without any significant effort from the user. As a result, I can conclude that G Pen Pro's vapor quality is average at best. It's good, but don't expect too much.
Power Supply
G Pen Pro comes with quite a powerful USB charger. Whenever the unit is out of power, all you need to do is plug the vaporizer into the charger. After about 3 hours max, your G Pen Pro will be up and ready for another vaping session.
Cleaning and Maintenance
Cleaning is always the part that we want to avoid, but the truth is, it has to be done if we want our vaporizers to last a long time.
Luckily, the G Pen Pro is easy to clean and it requires minimal effort. Just make sure you remove the mouthpiece before you start with the cleaning session.
The chamber is a bit more difficult to clean, however, especially if you don't do it every day. But, if you do it daily, or even several times a day, you shouldn't have any issues at all.
Additional Accessories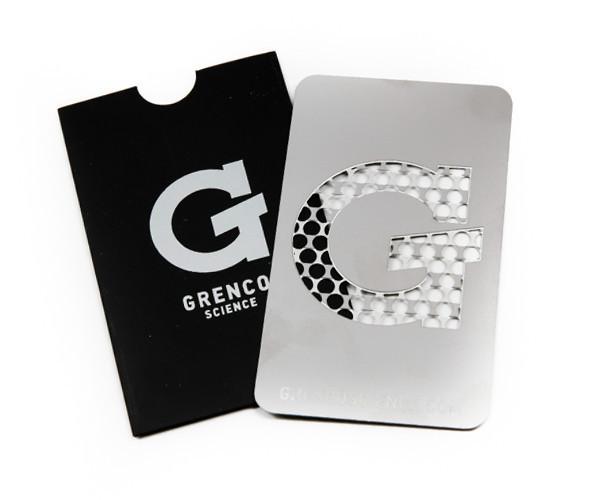 If you want to get the most out of your G Pen Pro, the default accessories won't be enough.
There are four extras that can improve your G Pen Pro experience and they are:
G Card
Filter Screens
Shredder x Grinder
Additional mouthpiece
Many people will be satisfied with what they already have, but whoever needs more from their vaporizer can easily upgrade its functionality with one or more of these accessories.
Ease of Use
Overall, the G Pen Pro is extremely easy to use and that is certainly a huge plus. You can do everything with just a single button. Even customers who have never had a vaporizer before can easily grasp the basics of vaping weed with this device.
As long as you remember for how long you need to hold the button to switch between different temperature modes and how many times you need to press the same button to turn the unit on or off, you won't have any problems with this product.
Charging is just as easy and convenient. Just plug the vaporizer into the USB charger and wait a couple of hours before you start using it again.
Who should buy G Pen Pro?
Everyone who wants an affordable entry-level vaporizer should seriously consider getting the G Pen Pro. It's an ideal product for customers who never owned a vaporizer before. It's extremely easy to use, clean, and maintain.
Furthermore, it comes with an outstanding price-performance ratio and it's very convenient as it can easily slip into any pocket and backpack.
The product does have some obvious downsides, but if you can cope with them, it will certainly be a worthy purchase.
Who shouldn't buy G Pen Pro?
If vapor quality is your primary concern, you may want to consider whether this is an ideal product for you or not. As I've mentioned above, while the vapor is fairly decent, it's not nearly as dense as the vapor coming from most high-end vaporizers.
At the same time, if you enjoy long vaping sessions, that's not something you can expect from the G Pen Pro. You'll get the best flavor at the beginning of the session, but as time goes on, it will keep getting worse. For many customers, this is an obvious deal-breaker.
In case you want an advanced vaporizer with cutting-edge performance and vapor quality, you definitely won't find that here.
Pros
The product comes with an affordable price tag.
It has a great design and it's very convenient.
G Pen Pro comes with no learning curve and it's extremely easy to use.
Cleaning is also very easy to do, especially if you do it every day.
The vaporizer has an outstanding price-performance ratio.
Cons
The vapor quality is average at best.
If the herbs aren't grounded properly, you'll have serious problems.
The vaporizer doesn't have a digital display so you have to memorize the temperature levels manually.
For many people, having a silicone mouthpiece will also be a problem.
In conclusion
Overall, the G Pen Pro is a vaporizer that I can certainly recommend to everyone. It has its fair share of downsides, yes, but it's a great product nonetheless.
It's one of the best vaporizers that you can find under $100, and for that price, the value that you are getting is enormous.
If you're new to vaporizers in general and your budget is limited, give the G Pen Pro a try. You won't regret it.