Cannabis-infused gummy bears are the most searched cannabis item online, and Health Canada will most likely not allow for sales of these chewy treats.
Health Canada may soon release regulations for the next wave of cannabis products which will contain everything from vaporizers to edibles.
Whatever those regulations may be, we know one thing for sure—nobody is expecting to find cannabis-infused gummy bears in legal retail.
The second part of Canada's legalization of recreational marijuana will bring regulations that will define what types of edibles will be allowed.
Items such as mints, tablets, chewable products and other forms of oral ingestion will also be regulated after public consultations.
Taking a look down South
Seeing how many states in the US legalized recreational marijuana before Canada, it would make sense to learn from them.
Take California for example—recreational marijuana was legalized in January, along with edibles and everything else.
Farmers were given time to stop producing illegal cannabis and they were incentivized to move into the legal system.
That made possible for the system to offer more than just dried flower and oil, which is all that you'll find on shelves in Canada at the moment.
The US market offers users a variety of edibles such as brownies, cookies and chocolate bars, aside from everything else.
On the list of increasingly popular items in California, you'll find cannabis-infused mints, tinctures and tea, lemonade and cola and many others.
Packaging will be unmistakable
Health Canada has been very clear about cannabis packaging. The restrictions were very comprehensive, at the very least.
In fact, many assumed that they would be far more restrictive than they turned out to be. Take a look below at the list of limitations and restrictions in regards to packaging: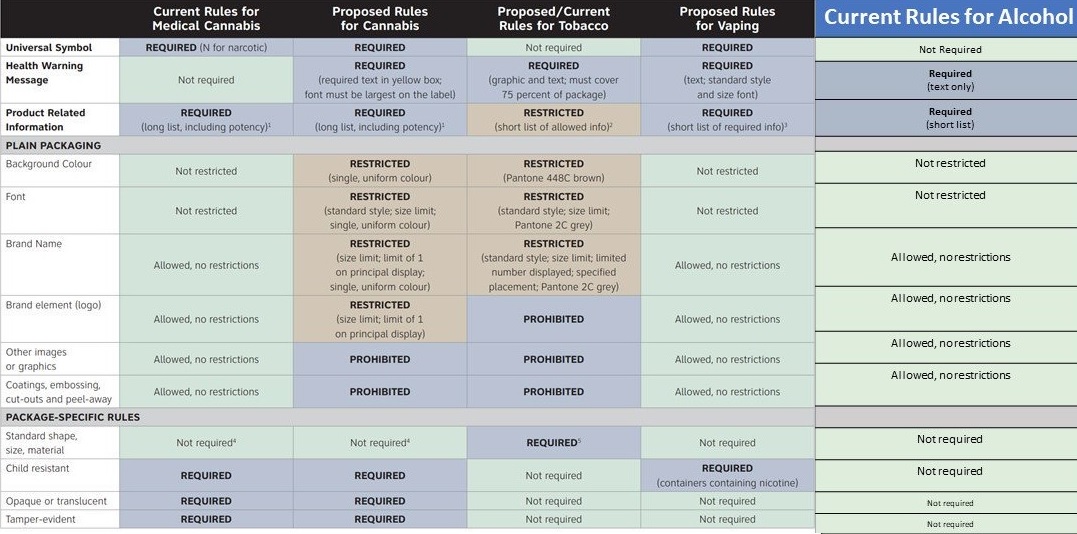 As you can see, Health Canada imposed far greater regulations for recreational cannabis than any other type of vice, especially alcohol.
We shouldn't expect edibles and infused treats to be any different. After all, packaging and labeling help with identifying what's a cannabis treat, and what's not.
Ultimately, this will make a difference between kids enjoying sweets and going to a hospital due to THC ingestion.
Gummy bears are out of the question
CBD gummies were one of the most Googled foods in 2018. This trend will only increase with the expected legalization of hemp in the US.
However, we're not here to talk about hemp or CBD, we're here to talk about gummies.
Gummy bears are many people's favorite way to get that throwback to childhood when you'd get a big bag of Haribo gummy bears for Christmas.
According to the Cannabis Act, products that have the "appearance, shape or other sensory attribute or function" which could appeal to young people will not be legal.
Given that there is no way to tell infused gummies from the regular ones without testing them for THC, it is very likely these treats will not be seen in weed stores across Canada.
Not to have it mistaken, making your own edibles and gummies is perfectly legal right now as we speak, it's just the sales of these items that is still federally prohibited.