Cannabutter is the first and the most important step in making your own edibles.
So pull up a chair, grab some snacks, and get ready to learn:
How to make cannabutter, step by step
Cannabutter dosing guidelines
How to decarb weed
We have a lot to cover so let's get started.
Step-By-Step Cannabutter Recipe
Ingredients:
4 sticks of butter (1 pound)
7-10 grams of weed (preferably with 15% THC)
Directions:
Decarb your cannabis. Bake your lightly ground cannabis flowers for 30 minutes at 250°F (120°C). Read our full decarbing tutorial here.
Boil water. Pour 4 cups of water into a semi-deep cooking pot and bring it to a boil.
Add butter to the boiling water. Wait for the butter to melt, all the while stirring and mixing the pot.
Add decarbed cannabis into the pot. Lower the temperature and simmer the mixture for 20-30 minutes, without boiling.
Strain out the mixture through cheesecloth into a glass bowl (or a jar). Leave it on top of the cheesecloth to strain fully. The bulk of the plant material should be in the cheesecloth.
Store in the fridge for 5-6 hours. The butter will form a crust on top and separate from the water.
Cut the butter out. Use a knife to cut it out and then you can re-melt it in your microwave or just use it in an edible recipe.
Owning an extractor machine could hugely help out with some of this process.
Bonus: 5 Delicious Cannabutter Recipes
We are giving away a free ebook that'll teach you 5 ways to use cannabutter in regular meals. Just let us know where to send it (takes 5 seconds).
How Much Weed Do You Need for Cannabutter?
Generally speaking, if you are making a pound of butter you'll need between 7 and 10 grams of weed—that is if you're using weed with an average potency of around 15% THC.
So, for math's sake, let's say your weed has 15% of THC.
One gram of cannabis has 1000 mg (one thousand milligrams), which means that, in our case, it contains 150 mg of THC.
When smoking a joint, you usually roll up anywhere between a half and a whole gram, and you share that joint with 3-4 people, which would indicate that 150 mg is enough to satisfy 4-5 people easily, or 30-50 milligrams of THC per person.
Cannabutter Dosage
Keep in mind that edibles are always more potent than other methods of consuming cannabis. Here's the recommended dosage for edibles:
First-timers: 5-10 mg of THC
Light users: 20-30 mg of THC
Casual users: 50-70 mg of THC
Heavy users: +100 mg of THC
When making cannabutter, you'll want to get a pound (4 sticks) of butter and 7-10 grams of weed which contains around 15%THC, or 150 mg of THC per gram.
This means that you'd have 7*150 mg = ~1000 mg or 10*150 mg = ~1500 mg.
Once you mix it with the butter, you could make 20-30 portions for casual users, or 30-50 light portions for novice users.
This is especially important because later on when you make edibles you will have to carefully measure how much you put in your food.
A pound of cannabutter is enough to keep you busy for at least two weeks, and in that time you should be able to bake at least two or three types of brownies, cookies, or whatever you like.
Don't Forget to Decarboxylate Cannabis Before Using It in Edibles
Decarbing is a process of heating up weed so that it activates THC. This is an essential process for making weed edibles.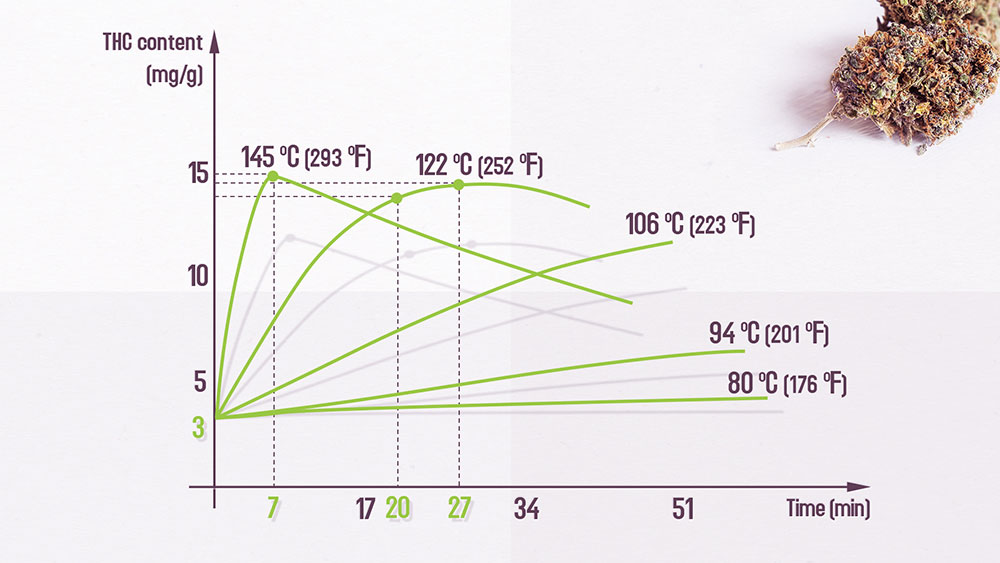 The process of decarbing happens at 200-250℉ or 90-120°C.
That temperature is a lot lower than the temperature at which cannabis burns when smoked, which is between 400°C and 900°C.
As you can see in the chart above, the best way to reach the desired amount of THC is by following the curve.
Baking the buds at a high temperature for a shorter period of time has proven to be more effective than baking them for a bit longer at a lower temperature.
For an optimal THC content of 15-20%, you should bake your buds for 7-25 min at 300 or 250℉ (150-120°C).
You can also use the chart below to plan your decarbing process.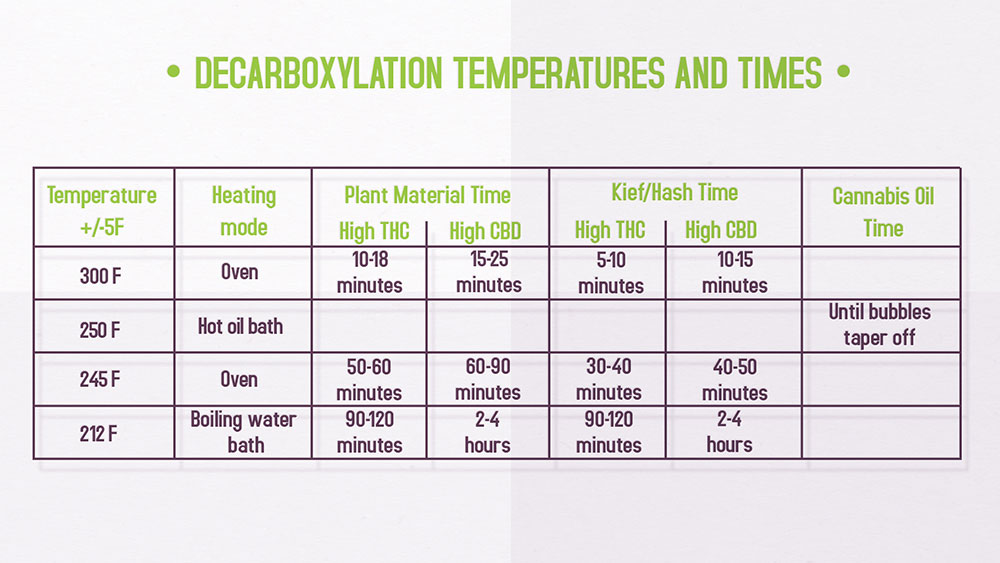 Butter, Water, or Coconut Oil? Which One Should You Use for Cannabutter?
All are a good choice if you have something that stops you from taking the other. For example, you might be lactose intolerant so you decide to go with coconut oil.
Coconut oil tends to cover up the taste and smell of weed, so take that into account as well when deciding on which one to use.
While coconut oil and plain butter are favorites as the best base for cannabutter, most recipes rely on water as one of the main ingredients.
In the end, it's all up to your personal preferences.
How Long Does Cannabutter Last
Now that you learned how to make cannabutter at home, you may wonder for how long you can store it.
If you store your weed butter in the fridge in a tinted airtight container or a tight plastic wrap, your cannabutter will be good for consumption for several weeks.
Just be sure that every time you take some amount of cannabutter, you close the container or wrap the rest of the cannabutter properly, to prevent air and moisture to spoil it.
For those who don't visit the kitchen too often, freezing cannabutter is a good idea. You can make a greater amount of cannabis-infused butter, place it in an airtight container, and store it in the freezer for up to six months.
If you notice that your cannabutter smells weird, looks moldy, or tastes rancid, it's probably gone bad and you will need to make a new cannabutter.