Introduction
Yocan is an established vape manufacturer from China, and the Evolve Plus is an upgraded successor to the original Evolve vape pen.
The main difference between these models is that the Plus model heats up almost instantly. More precisely it heats up in less than 3 seconds.
The Evolve Plus is a relatively simple wax concentrate vaporizer, but the results it brings are truly exceptional considering the very affordable price.
What's in the Yocan Evolve Plus box?
The Evolve Plus comes in a nicely designed box, and has all the essentials you'll ever need.
Inside the box you'll find:
Wax Dabbing Tool
1100mAh Battery
Micro-USB Charger
Dual Quartz Wax Atomizer
Backup Dual Quartz Coil
Yocan Evolve Plus Pen
Yocan Evolve Plus tech specs
7/10
This concentrate vape pen is powered by a 1100mAh battery, and this type of battery is significantly larger compared to other vape pens I've encountered, which usually have a 650mAh one.
The bulky battery allows you to have extended sessions, and if you moderately use the Evolve Plus, the battery will last for a couple of days.
This vape pen has a micro-USB jack, and it takes 4 or 5 hours for the pen to charge fully.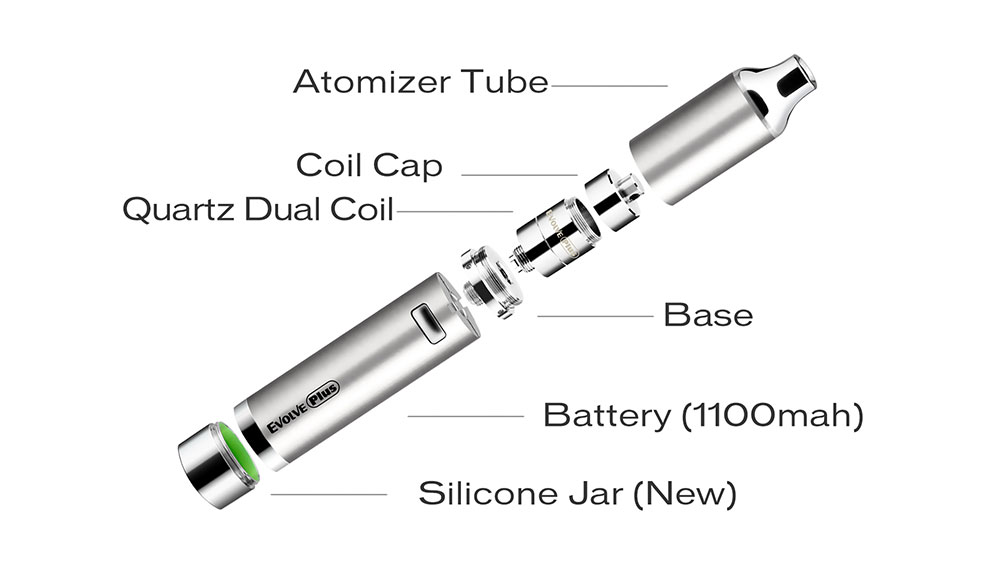 The Evolve Plus is made only for concentrates – primarily wax. It doesn't have an LED-screen, but using it is very simple, so a screen isn't really something you'll need, at least in my opinion.
The atomizer cap is excellent, as it holds and evens out the temperature emitted by the coils.
Even though there's no built-in temperature control, there is a nifty trick that allows you to "fine-tune" the temperature of your device. It involves playing with the power-button a bit.
I'll elaborate on this a bit later in the review.
Yocan Evolve Plus Vapor quality
7/10
Yocan Evolve Plus has a pretty decent vapor quality, thanks to its dual-quartz atomizer.
This type of atomizer setup is implemented on a lot of wax pens, and in order to really maximize the quality of the flavor, "fine tuning" of the coils should be used.
If you just continue to hold the "heat" button, the temperature will get too high and the vapor will become too harsh, especially towards the end of the session.
The thickness of the vapor is pretty solid for this price, but it's definitely not breathtaking.
Yocan Evolve Plus Design
7/10
This vape pen is somewhat thicker because of the upgraded battery, so it's probably better to refer to it as a vape-marker, rather than just a vape-pen. Of course it still easily fits in any pocket or a bag.
The design isn't really groundbreaking or jaw-dropping, but it's fairly decent for such an affordable device.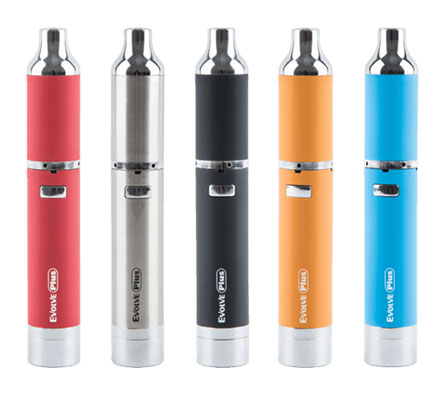 This unit also has a handy container which is located on the opposite side from the mouthpiece. The compartment is coated with silicone, which is perfect for carrying wax.
The Evolve Plus is a relatively heavy and sturdy-looking device, so it feels like it can withstand some wear and tear, which can easily come in handy because dropping stuff definitely happens on potent concentrates.
As far as discreteness goes, it's pretty inconspicuous and lowkey, so you don't have to be worried that someone figured out what you're puffing on from a mile away.
How to use the Yocan Evolve Plus
To start it up, press the button 5 times in a row. Once it's turned on, the light around the button will indicate that it's ready for use.
Before you place any wax inside the ceramic chamber, you should first prime the coils by "igniting them" a few times, which is achieved by just holding the power button.
Loading the chamber is also a walk in the park, and it can hold approximately 1 gram of concentrate, which is really a lot.
Of course we don't recommend placing the entire gram of wax inside it, because of the powerful effects of this cannabis concentrate (it has a lot of THC).
Just start low, for instance 0.1 or 0.2 grams, and up the dose if you want to get higher.
Once you've packed the chamber, you can use the Yocan in two ways. First, you can hold the button without pause which in my opinion raises the temperature too much, which results with a vapor that isn't too tasty, especially at the end of the session.
If you're continually holding the power button, the coils will automatically turn off after 15 seconds, to preserve battery life and to stop the temperature from getting too high.
In order to avoid the temperature getting too high, press the button for a few seconds while you're taking a toke, and then release it for a few seconds (also while inhaling).
Perform this technique during your session to maintain the heat at an optimum, and it will truly work wonders for the taste of the vapor.
Once you're finished with vaping, turn the device off by pressing the button 5 times in a row, exactly the same like when you're turning it on.
Concentrates demand frequent cleaning because of their semi-liquid gooey texture, and Yocan Evolve Plus is no exception. Clean your device regularly (for instance after every other use), and this will significantly prolong its life.
Yocan also found a great way to reduce splatter and flooding, and this is achieved by the square edges inside the chamber, as the refuse moves in that direction, avoiding the coils. Use cotton swabs soaked in alcohol to remove the excess debris.
This vaporizer is great for first time users as it's extremely user-friendly, but also because it's very affordable.
Yocan Evolve Plus Standout features
The best feature on the Yocan Evolve Plus is the battery, because it's truly superior compared to most vaporizers in this price range.
I think that this particular feature is a great reason to buy this device but only if you're planning to frequently use it while you're out and about, because the extended battery life doesn't really have a purpose if you're only going to vape in the comfort of your condo.