Many entry-level solutions are more than enough to satisfy our basic vaping needs. Very often, though, that is not enough.
If you're a more demanding buyer who needs more from their vaporizer, Yocan Cerum jumps to the rescue. This fully ceramic atomizer can create a truly astounding aroma and a flavor that is extremely hard to replicate.
Who would have thought that such a simple product can be so powerful! Then again, Yocan stands behind it, so we shouldn't be too surprised.
Let's see what makes Yocan Cerum so good and who should look forward to buying it over other atomizers.
Company overview
If there's one company that knows how to deliver superb products for a highly affordable price, that would certainly be Yocan. This Chinese-based company is a synonym for high-quality vaping today and is one of the most recognizable names in the industry.
Yocan has won numerous awards over the years and with good reason. Their first product was the legendary Yocan Evolve. It was the first vape pen with a working coil cap and also the first vaporizer on the market that could easily compete with more expensive models.
Building on their first success, the company continued to produce outstanding products – Evolve Plus, Evolve Plus XL, Hive 2.0, Stix, and many more. Although all of these vaporizers are unique and different from one another, they still have one thing in common – extraordinary quality.
The heating attachments that come with those devices are no exception and have all the same quality trademarks that you can find in a typical Yocan product.
Technical specifications
If you're a cannabis-vaping gear enthusiast, then you know how important an atomizer is. For those of you just starting to vape, an atomizer is the core of a vaporizer.
It's the heating component of the device that is responsible for heating your concentrates and can be designed specifically for dry herbs, shatter, wax, or oils.
Yocan Cerum is geared towards wax vapers who are looking to boost their vaping experience and need something more powerful.
And that's what you get with the Yocan Cerum:
Material: Ceramic
Coil compatibility: Dual quartz coil, ceramic donut coil (sold separately)
Recommended Wattage: 15-25W
Resistance: 0.8 ohm
Price: Get it for $19.99 at Bloomgroove
Unboxing Yocan Cerum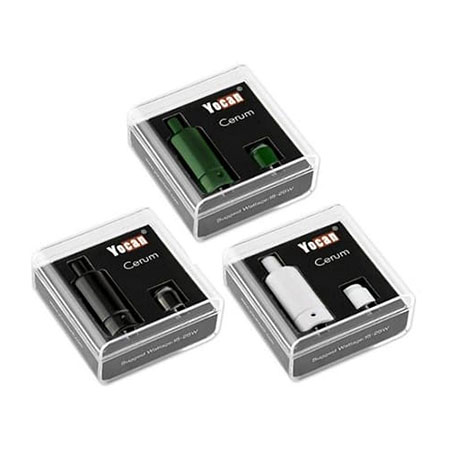 The Yocan Cerum box includes:
1 Yocan Cerum atomizer
1 replacement coil
Here we have to highlight the Yocan Cerum coil feature. First, the quartz dual coil allows a fast heat up time and can produce good vapor with big clouds.
Second, this takes us to the design of the Yocan Cerum which allows you to actually swap out the coils, which means you can switch from a quartz dual coil to a ceramic donut coil (for dry herbs and wax) easily.
So you can switch the default quartz dual rod coil out when it gets worn out. Don't worry, though, it won't happen that often.
Design and features
If I could choose only three words that I would describe the design of Yocan Cerum with, they would be – compact, sleek, and portable. Yocan Cerum is one of the most flexible solid concentrate atomizers on the market and it's a simplistic yet very functional product.
The atomizer consists of several different parts – ceramic tube, ceramic coil cap, quartz dual coil, and ceramic base. All components under the ceramic tube are stacked and can be taken apart for easy access.
Just lightly twist the top ceramic tube off and pull up on coil cap to reveal the coil heating chamber (where you deposit your concentrate). You can then twist the coil itself off to replace or to swap it out for a ceramic donut coil. The base itself can then be twisted off the battery just as easily.
Unlike many similar alternatives, the product comes with a fairly small heating chamber, which is not necessarily a bad thing. In fact, it suits the device's concept of sleek, portable yet functional design perfectly.
Two air holes on the side of the ceramic base help channel air into the heating chamber and through the ceramic cup's air inlets, providing more airflow through the atomizer as you pull.
One thing that may bug you, though, is that you will need to get the batteries on your own. Luckily, the compatibility is quite good. As an atomizer, the Yocan Cerum is compatible and interchangeable with other standard vaporizers and batteries.
The Yocan Cerum comes with a widely common 510 threaded connection, which most devices are designed with. In other words, you shouldn't have too many issues to find the optimal solution.
Another item to mention about the battery compatibility is the battery power itself. As noted in the tech specs, the Yocan Cerum works best with 15-25W batteries, which will provide the wattage needed for a good wax vaping session. Anything below that will result in subpar performance and anything above that risks damaging the product.
Vapor quality
As the Yocan Cerum is a heating attachment primarily made for people who want more from their vaping sessions, you can rest assured that, with this atomizer, the quality of your vapor will be extraordinary. The flavor is deep, potent, and offers a truly remarkable experience.
The Yocan Cerum is almost entirely made of ceramic, a type of material that serves as a good insulator. This produces a slower heat time, but because ceramic is a neutral material, it doesn't impact the flavors, which is what makes it such a powerful flavor booster.
Instead of a regular fiber wick, the Yocan Cerum uses a quartz dual coil that provides exceptional smoothness. And that's not all – you can improve the quality even more with a ceramic donut coil.
Yocan obviously wanted to please the most demanding customers with this concept, and I can say, they did a really good job here.
Ease of use
As this is just a heating attachment, Yocan Cerum practically has no learning curve whatsoever. All you need to do is screw your Yocan Cerum into the battery, and voila – you're ready to vape! Quite simple, isn't it?
Cleaning and maintenance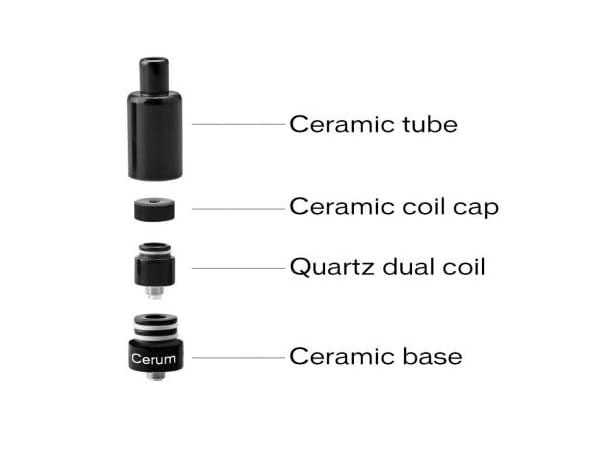 You can clean your Yocan Cerum just like you would clean any other vaping device, except there's much less work to be done here.
The frequency for cleaning Yocan Cerum depends on your vaping and session habits. If you're a frequent wax vaper, I recommend cleaning it at least once every day for the best output.
As always, isopropyl alcohol will do wonders here and it will make your job even more simple. You can simply soak all the ceramic parts in the alcohol for a bit, rinse them off and air dry overnight.
As to the quartz rod coils – these are, by their nature, harder to clean. But you can follow this Yocan coil cleaning guide to help you out. You also have the option of replacing the coils completely after a number of uses.
One thing you can do to help keep the coils maintained is to ensure you completely finish your bowl of heated concentrates first; don't leave any liquid substances unvaped in the heating chamber.
Another thing to note is the size of the small heating chamber mentioned earlier. While this is great for the sleek design, the size of the chamber makes it easy to overfill if you aren't careful. Your concentrate can block and leak out through the side air holes, affecting your pull and, moreover, leaving you with a mess to clean up.
Additional accessories
You can easily buy replacement coils in case the quartz dual rod coil is no longer functional or beyond maintenance.
In addition to that, you can buy a ceramic donut coil separately to improve the vapor quality even more. It isn't expensive at all and will pay off tremendously.
Who should buy Yocan Cerum?
Everyone who wants to make their vaping sessions more enjoyable should certainly consider getting Yocan Cerum. If you want deep, superb flavor, and strong, long-lasting effects, this is the product for you.
Who shouldn't buy Yocan Cerum?
Yocan Cerum doesn't have any major deal-breaking downsides, but two problems come to mind (and I've mentioned both of them briefly).
First of all, you won't get a battery with the product, so you'll need to get that separately or already have one.
Second, getting the right battery can be problematic as Yocan Cerum is not compatible with all of them. If you're the type of person who likes to get everything included in one package, you may not be fully satisfied with this offer.
Pros
Yocan Cerum is one of the most sleek and functionally designed atomizers on the market
It comes with an affordable price tag
The vapor quality is beyond outstanding
The overall product is quite easy to clean and maintain
Cons
The battery is not included in the box
You may have some battery compatibility issues
Beginners may find the coils difficult to clean
The donut coil has to be purchased separately
In conclusion
Overall, Yocan did an outstanding job once again. If you're a devoted cannabis enthusiast who enjoys long, flavorful sessions, Yocan Cerum is a must-have for your gear collection.
The value that you're getting for such a small price is outstanding, and most importantly, you're getting a product that can last for decades on end (if you use it appropriately, of course).
Thank you for another amazing product, Yocan, keep up the great work!