After completing a very important milestone in our website's history, a couple of us decided to splurge a little and visit the "Holy Land" of cannabis.
We arrived at Schiphol airport at about 3pm and quickly grabbed a train headed to the city centre.

The 15 minute train ride to the centre was very pleasant and allowed us to see just how beautifully modernistic the outskirts of this city are.

Train tickets go for 5€ for a one way trip and you can purchase them right at the airport.
Stick to the canals
Once we arrived at Amsterdam Centraal (their central station), we strolled towards our accommodation so we could wash up, leave our luggage and dash towards the nearest coffeeshop.

We lodged at a gorgeous little apartment building in Amsterdam Centrum, which is the inner core of the city, interwoven with canals.

Here is the place we stayed in.
This particular section of the neighborhood had very few tourists roaming around, a commodity we learned to appreciate in the following days.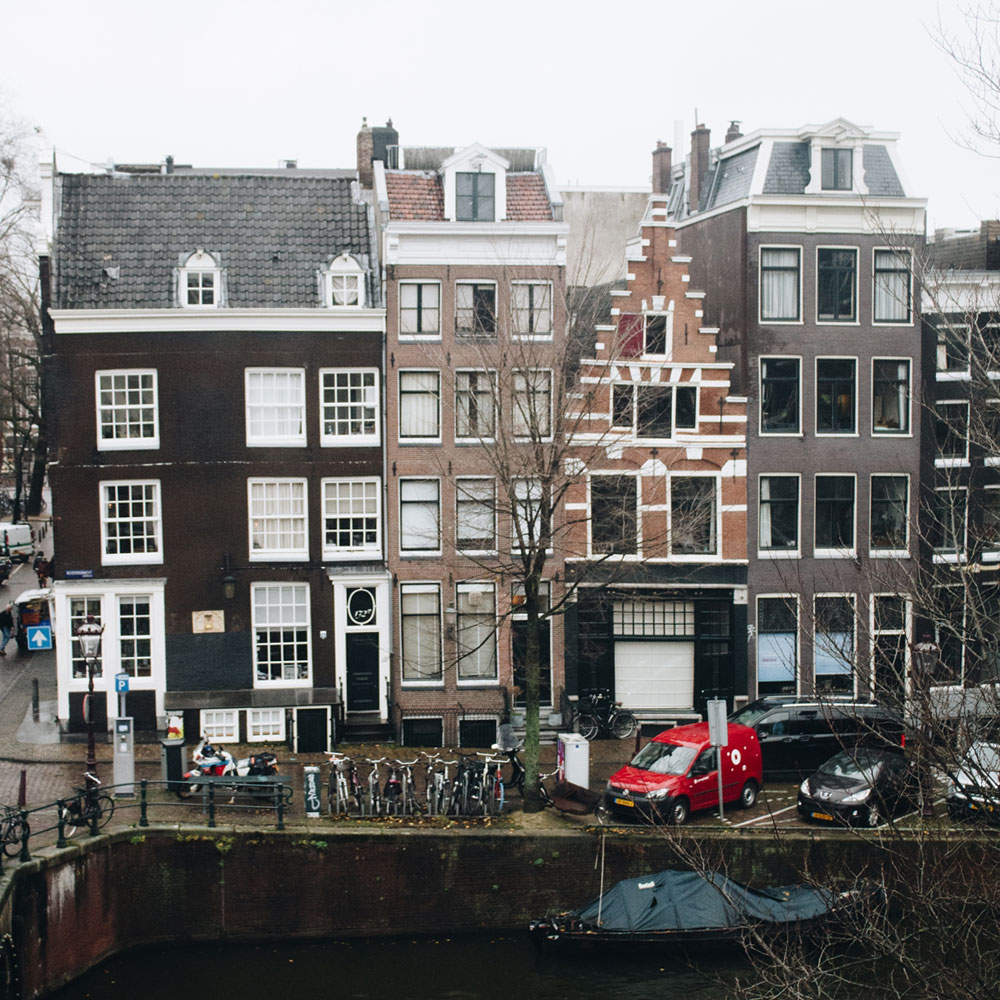 Directly underneath the apartment is Café Brandon, a classical bruin café (brown cafe) which has a very vintage feel to it. We were told that the entire interior is original and dates from the 19th century.
Click here to find Cafe Brandon on Google Maps
The only downside to this location is that there are a lot of super friendly tipsy locals around, with twice as much lame jokes—to be perfectly honest, everytime we went outside we had to go through a barrage of questions and cringy jokes.

Naturally you can't smoke or vape indoors and this wouldn't pose an issue if only the stairs in Amsterdam weren't so steep.

This lovely building (just like many other in the old town) had the narrowest bloody spiraling stairs you can imagine.

However, what I soon learned is that you need to be in this area if you're going to experience Amsterdam in a way that will allow you to follow the footsteps on Rembrandt, Van Gogh and many other notable historical figures who made this city what it is.

Please, do not get baited on staying in the near vicinity of the Red Light District. Stick to the canals and you will experience Amsterdam just like you're supposed to.
Can you smell the flowers?
Once we finished getting settled, we went outside to find a random coffeeshop so we could finally spark up.

It was around 5pm and as we were feeling pretty woozy from the flight, we decided to get an energizing sativa strain to help us with our low energy levels.

It took us about ten minutes to find a coffee shop—Rockland.
At first we weren't really satisfied with the feel of the place, because it appeared like a modernistic cafe, all cold and calculated.

At the end of the trip we came a conclusion that this was actually the best one we visited, but I'll get to all of that a bit later on.

After a minute of browsing, we set our sights on a gorgeous Sour Tangie strain, a sativa dominant with about 17% THC.

The first thing that caught our attention was the taste of the bud. An exquisite citrusy aroma flooded our senses, and afterwards we were in unison that Sour Tangie was the tastiest strain we tried in Amsterdam.

Tangie was undoubtedly very rich in limonene, an invigorating terpene which is also present in various citrus fruits.

As we were admiring the yumminess of Sour Tangie, the first cerebral effects slowly crept up on us. Just like with other lemony strains, this one was also a pretty mild, invigorating high—a complete opposite from myrcene-laden strains.

While we were chilling and drinking our coffee, we noticed a dapper businessman who was sitting a few tables away us. The most interesting thing about him besides the impeccable tailoring and the general suave aura he presented was the size of the joints he smoked.

Seriously these were some monster 120s, and somehow he was able to kill two of them in the 30-something minutes we were there. The scene appeared very peculiar, but the level of social acceptance was really a sight to behold, where a young successful person could get high like a kite after work and forget about his troubles in front of everyone, without being labeled as a stoner f***up.

After a while, we got hungry which doesn't really come as a shocker considering the long flight and those two joints, so we began searching for some grub.

We found a decent street diner that suited all of us, which was great because 50% of our crew is vegetarian.

Once we were done with satisfying the munchie demons, we rolled another one and continued to walk around our neighbourhood for a little while longer.

We were all pretty exhausted from the jet lag, so we returned to our apartment to rest up and attack the new day with proper vigilance.

The lemony scent of combusted cannabis flowers was still in my nostrils. As in a perfect lullaby.
Seize the day
Waking up from a good night's THC-infused restorative sleep, we rushed outside so we could seize the day.

I noticed how beautiful Amsterdam was the moment we got there, but because it was almost dark from the moment we landed, I couldn't fully wrap my head around how majestic it actually is.

Presented in subtle daylight, the city really blew me away.

I'm not much of an architecture buff, but there's something about those colorful houses/buildings (not sure how exactly I should call them), and combined with numerous narrow canals, Amsterdam Centrum is breathtakingly dazzling.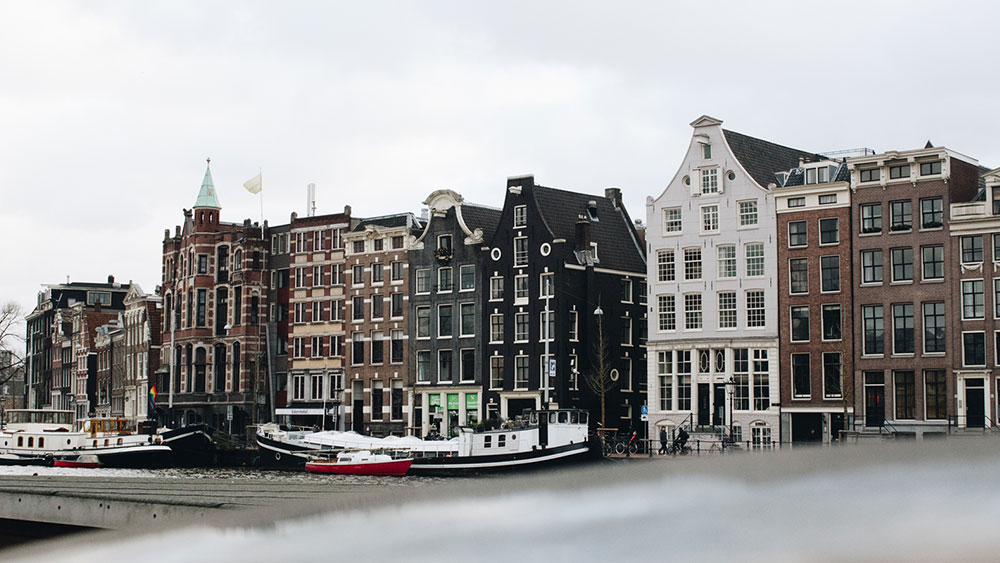 Image credit: Greencamp

Each building is slightly different and has different tones and colors on it, but somehow all of them fit perfectly with one another.

The Dutch also rarely use curtains, so you can unleash your inner voyeur but also admire the simplistic manner in which they decorate their high-ceiling homes.

We naturally blazed another Sour Tangie as soon as we got out of the door and embarked on a quest to find something delicious to devour.

Our prayers were answered in the form of Pancakes Amsterdam, which has four locations in the city center.
Here is the one we went to, located near the Anne Frank house.
The reason why I can recommend this place is because the pancakes were awesome, and so was the cappuccino.

Once we were done with the most important meal of the day, we were ready to score something new.

We stumbled across Grey Area, one of the oldest coffeeshops in Amsterdam with over 25 years of continuous work.
Here we bought wonderful Mango Haze, and two grams of Lemon Hash, which is also a sativa-dominated derivative.

Of course it was utterly impossible to find a seat in the coffeeshop, actually there was a long line of people coming out of Gray Area, patiently waiting to purchase their weed.

Both Mango Haze and Lemon Hash have energizing effects and we focused on these varieties to avoid getting our bodies too stoned because we wanted to stroll around the city uninhibited.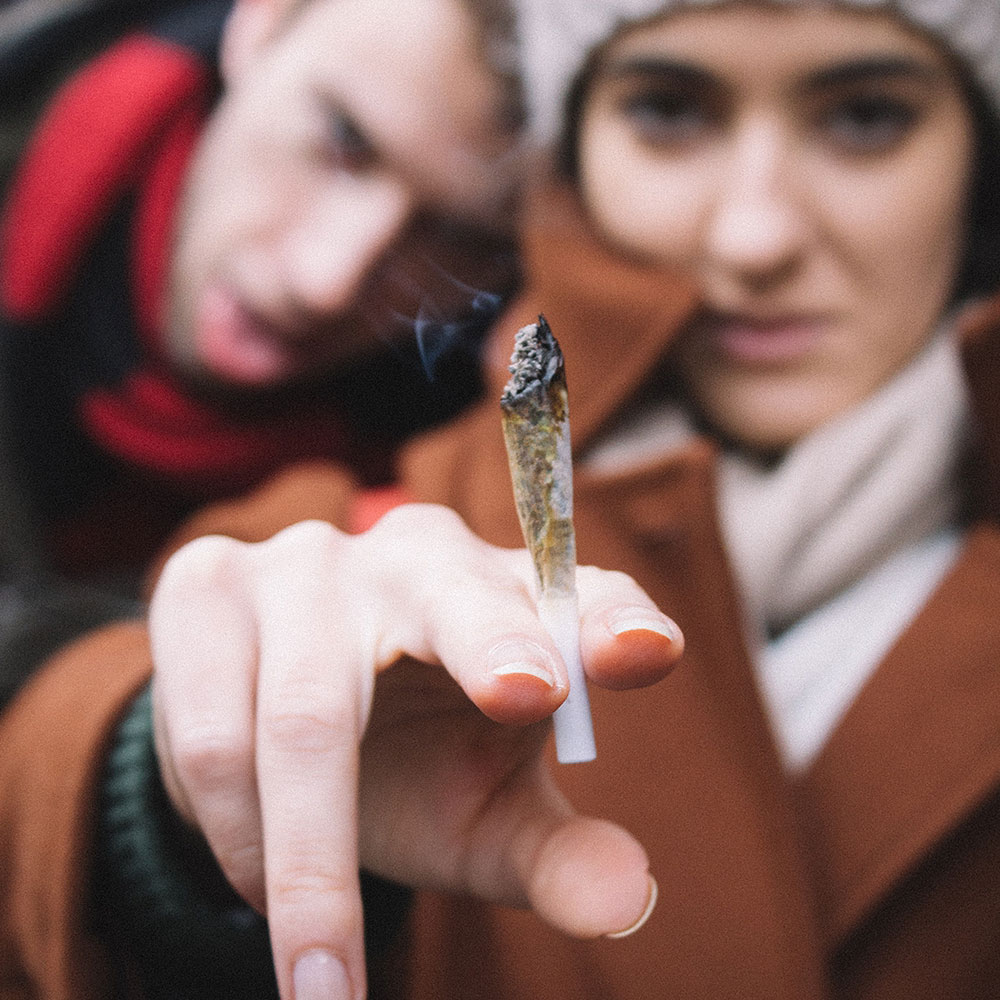 Image credit: Greencamp

Mango Haze had a truly magnificent aroma, and its high levels of myrcene is to blame for this.

Lemon kush was very potent with around 22% THC, and was really soft and easy to handle.

The second day was the rainiest, so we spent a couple of hours in between bars and roaming around the city. Since only Helena was smart enough to bring an umbrella, us boys were soaking wet and, of course, very high by 7pm.

We came back to the apartment to change clothes and dry off, and a bit later went to grab a bite.

After we quenched our hunger at Wok to Walk, we decided to visit the main tourist attraction, the Red Light District.
I have to say I was definitely curious and maybe even moderately tempted before we arrived, but once we were there, I quickly came to a conclusion that this wasn't my cup of tea.

There were so many people scrambling around and all those girls standing in their windows waving and smiling, the entire vibe was completely asexual, and even grotesque to an extent.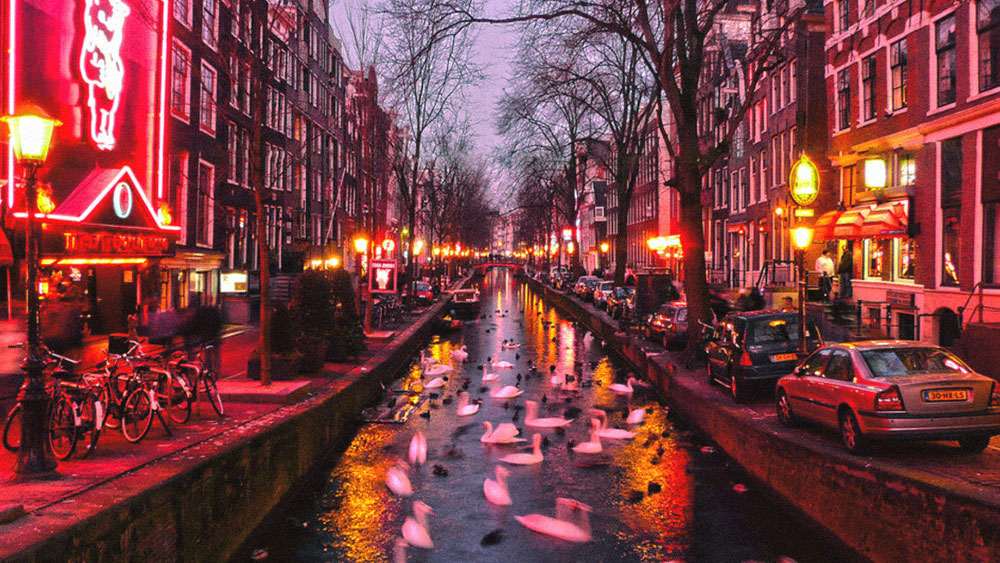 Image credit: Greencamp

I'm aware that prostitution in Amsterdam is highly regulated but despite that, the scenery seemed kinda filthy.

The District is highly unusual and definitely something worth visiting in my opinion, with its flashy neon lights and cheap decadent thrills.

I also had a run-in with the police while we were there, because apparently you're not allowed to consume alcohol on the streets of this city, which is something I was totally unaware of.

The extremely polite biker-lady-cop informed on the situation and said to dispose of my Heineken bottle asap, or she would write me a 90 euro fine right there on the spot.

As I was severely high I quickly began a clumsy apologetic rant and threw the beer bottle as quickly as I could, so the entire situation was resolved very smoothly.

On our way home we stopped by one of the famous Bulldog coffeeshops (where you couldn't find a spot if your life depended on it), to get some heavy indica because we were buzzing too much from all that citrusy stuff.
We opted for the lovely Gorilla Glue #4, which had a really pungent flavor and provided us with some serious laughing fits. We also came across a supermarket where we got a ton of sweets to finish the day on a high note.

Getting the Gorilla was definitely a good idea because we were sleeping like babies. Well, like the ones that actually sleep super tight, not those screaming babies that constantly wake their parents up.
Disneyland for stoners
This was our last day in Amsterdam, and we started to get a little cranky because we realized three days wasn't nearly enough to get properly acquainted with this city.

To lift our spirits, we decided to get morbidly high—to do that, we mixed half a gram of Lemon Kush with a bunch of Mango Haze into one monster joint.

We went outside to smoke, and because we didn't have any breakfast before that, it really hit us like a ton of bricks.

Then of course we experienced the infamous anxiousness and paranoia from too much THC, and in all that confusion we found a bakery hoping that food will somehow help.

Naturally we were both really awkward with our red eyes and dry mouths, but the girl serving us didn't really give a hoot about it, even though it took us like 7 minutes to determine what type of pastry we want to get. She was probably quite accustomed to customers like us.

We somehow gulped whatever it was that we were eating, and since it was our last day, we went to buy some touristy stuff for the people back home. Luckily the wicked sativa combo left our bodies functioning, even though our minds were shattered.

Our brain fog was still in full gear as we were choosing fridge magnets for about 15 minutes, but truth be told a lot of them were really dope, so it was very hard to pick just a couple.

We got a bunch of other souvenirs like their famous cheese, and from all that shopping the severity of our high fortunately got somewhat diminished.
For our final meal we wanted to try their famous waffles, and they were insanely delicious. Don't even try them if you're not blazed, as it would be a real shame to deny your heightened senses from all that sugary pleasure.

I managed to forget where exactly we had them, but do not fret, the city is packed with all kinds of waffle houses.

Once we got home we wanted to smoke the final joint before we started packing, and as I mentioned I left the keys in the apartment, locking us outside.

Fortunately our host Joris was arrived at the scene about an hour and a half after that, and all we had to do is have a few drinks in Café Brandon while we waited for him.

Of course this stressful situation demanded that we smoke another one, and this officially ended our lavish stash.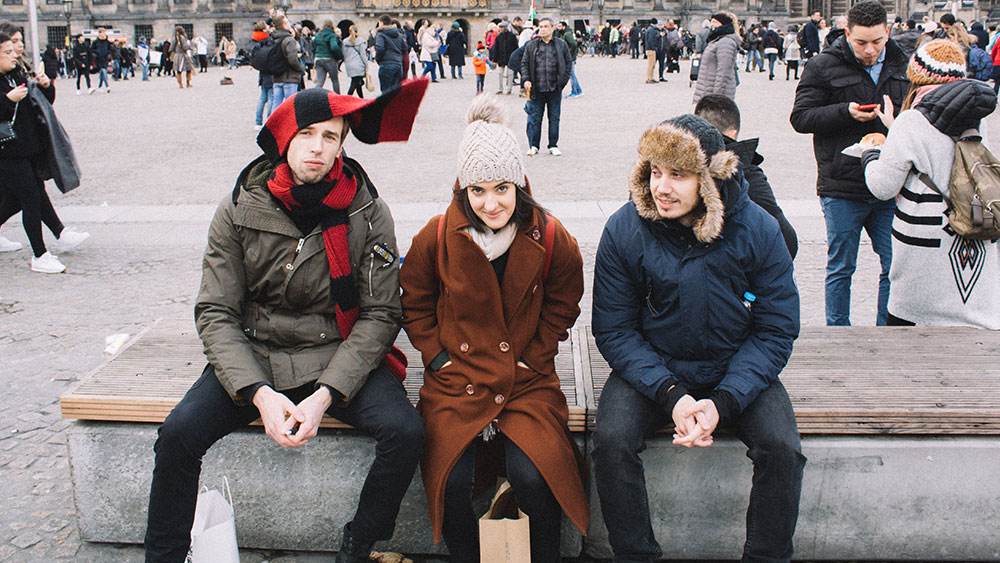 Everything about this city was enchanting, the scenery and the architecture are mind blowing, the food is delicious (especially when you're faded), and the prices are generally reasonable.

All cannabis we purchased was outstanding, and we literally didn't have a single negative experience regarding the weed.

Some of the Dutch budtenders were a bit too arrogant considering what their function is, but serving stoners all day doesn't really sound like that much fun, so all is forgiven.

To wrap this up, if you love the plant I sincerely advise you to visit this place because it's basically Disneyland for stoners.