Arizer Air is one of the most popular vaporizers to ever hit the vape market.
Even after the release of Arizer Solo 2 and Arizer Air 2, Arizer Air still remains one of the favorites among the customers, especially beginners.
For nearly a decade now, Arizer has been researching and developing devices suitable for both medical and recreational users. They are generally seen as a trustworthy, reliable brand and they even have their own Reddit thread where people to go talk vaping with their gear.
Arizer is a Canadian company that makes different types of vaporizers and accessories. With a sophisticated high-tech heating system and a simple design, they have a range of products for every level of experience.
Besides the Air, their range of products also includes the Arizer Air 2, Solo and Solo 2, V-Tower, Extreme Q, and Arizer ArGo.
So, let's have a look into Arizer Air and see why it's worth your money.
What's in the Arizer Air box?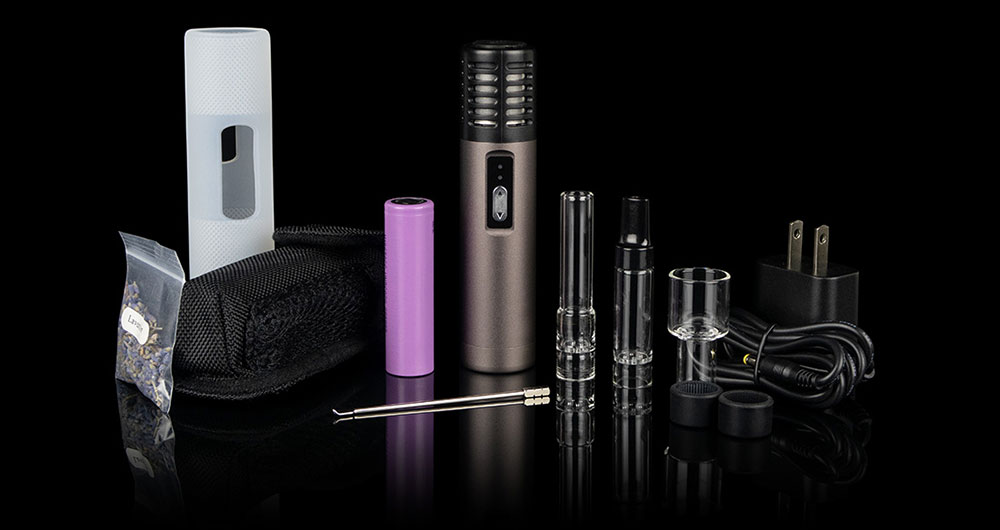 The package itself weighs about 500 grams, and contains the following accessories:
Portable vaporizer with battery
One charger (and you can choose the power option for North America, Europe, UK and Australia)
Tipped glass stem (70mm)
Glass stem (70mm)
Glass aroma dish
Belt-clip carrying case
A clear protective silicone skin
two silicone stem caps
Stainless steel stirring tool
Manual
Arizer Air tech specs
Battery life & charging options
Air's battery life is not its strong point and that's probably the reason why Arizer released a charging dock which you can order separately.
Air has a rechargeable and replaceable 18650 li-ion battery.
It takes about 2 and a half hours to recharge a completely dead battery.
When the battery is fully charged, it can last up to 45 minutes. So you can take breaks and split your session into 3 to 4 rounds lasting 10 to 15 minutes.
And that's perfectly fine when you are at home and have the power supply all the time. But for more durable sessions outside, especially if you are going to share it with someone, or if you are traveling and won't be having a power supply with you, you'll probably need to get a charging dock.
As an interesting bonus, Arizer Air has an option for pass-through charging after 20 minutes of initial charging.
Since Arizer Air has a replaceable battery, another option is to just buy another one and keep it fully charged by yourself all the time. That way you can easily replace it when the one in the utensil dies.
Note: When you are ordering your device, don't forget to choose the power option suitable for your country.
Flowers, concentrates or both?
Although it says it's suitable for dried herbs and concentrates, the device performs best with dried herbs.
The chamber can hold around 0.2 grams of ground weed which is just enough if you are going to vape alone. If you are going to share it, you'll probably have to pause the session to repack it.
Temperature control
The most important thing when it comes to vaporizers like this is temperature control. Arizer Air offers five temperature different temperature settings — from 180°C to 210°C.
One thing I didn't like about it is that there is no screen that numerically shows the temperature, but instead there is a little LED light that changes colors:
Blue light means the temp is set to 180°C;
White means the temperature is at 190°C;
Green light signals that the temp is at 200°C;
Orange means it's set to 205°C;
Red light means it's at 210°C.
It's actually easy to control the temperature on the Arizer Air.
There are two buttons — up and down, so you can change it without trouble. Depending on the strain you are using, I think the device should be set between 190 and 210°C for best results.
Have in mind that Arizer Air is a fast heating device.
When you load it, it takes about 1-2 minutes to achieve the desired temperature. The LED light will blink until the unit is heated up and then it will turn to a solid color so you'll know when it's ready to use.
Unfortunately, Air does not hold the temperature as expected.
If you are drawing a bit quicker than usual, the LED light will start to blink again for another 10-15 seconds until the device heats back up.
But looking at it from a different perspective, that's not that bad as you'll need to make a break between tokes anyway (unless you're our news editor).
Arizer Air vapor quality
The mouthpiece on the Arizer Air is just long enough for vapor to cool down.
I read a few comments from people complaining how the glass mouthpiece is a bit loosely attached to the device, which makes the vapor leak from the sides.
This used to be a common problem with Arizer devices, but I guess they managed to fix it as it's now really rare with Air.
When it comes to the vapor itself, I think this device is suitable for everyone's taste. In case you'd like more flavor and thicker vapor just turn up the temperature.
If you sterilized it the right way, right after opening the product, there won't be any flavor from the unit left in the vapor. The only taste you'll feel is from the herb and nothing else.
You'll need to draw slaw but you'll quickly realize that the airflow is really smooth, almost perfect.
Arizer Air design and build quality
Sleek and elegant, pocket-size little vaporizer device, very practical and easy to carry around in your bag. As a bonus, it fits really nicely in your hand.
It comes in three different matte colors: black, silver and titanium (with titanium being my absolute favorite).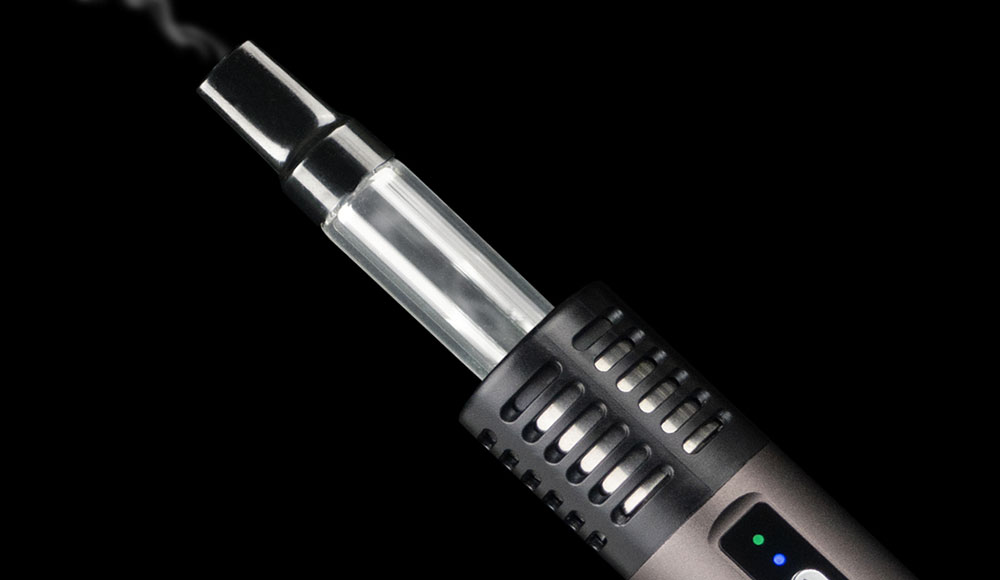 It's made from the finest plastic, with every piece just fitting together flawlessly.
The mouthpiece is long, but not too long to accidentally break in your bag or your pocket. You'll get a silicone skin to protect it from damage while carrying it around, but still it doesn't hurt to be careful since they are made of glass.
In my opinion, the Air's size could be classified as discrete and is great if you don't want to draw too much attention on your vaping.
The silicone sleeve you get to protect you from the heat with the device doesn't have holes, so it covers the vent area and prevents it from cooling, which is an odd mistake, hence a bit lower grade in this section.
How to use Arizer Air
Arizer Air is quite easy to use and maintain and you don't even have to put too much effort into cleaning it. Here's what you need to know before you start using it.
Sterilization
Before you load any vaporizer for the first time, it's essential to sterilize it in order to get rid of any substances left from the manufacturing process.
With this device, this couldn't be any simpler. You just turn it on, set the highest temperature and let the full cycle run for about 10 minutes — this will wipe out all chemicals.
For best results, I recommend going through this process twice (just to be on the safe side).
Filling it up, chamber info and getting started
To get started, load your ground herbs into the glass stem, but don't put too much cause you'll need the air to flow smoothly through it.
The perfect amount for dried herbs is about 0.2 grams. Depending on your appetites, this could be enough for you, or you could possibly share it with someone else if need be.
The way you go about it is you first insert the stem into the unit and hold the power button until the unit is on.
Then choose one of five temperature options and when the blinking LED light turns to solid you are ready to vape.
This simplicity is why I think this device is perfect for vaping rookies, as well as more experienced users.
Cleaning and maintenance
Generally, Arizer Air is easy to maintain.
It needs to be cleaned every now and then and you can do it by yourself without buying extra products. The only things that need cleaning are the heating chamber and the glass stems.
To clean them, dip one side of a cotton swab in alcohol and clean the inside of the heating chamber. Then turn the device on for the full cycle to vaporize any leftover alcohol.
Soak the glass stems and mouthpiece into soapy water for about 30 minutes and rinse it with clean water. After the stems and mouthpiece are completely dry, the unit is ready to use.
Arizer Air Standout Features
Arizer gives out a two-year warranty for the Air device, which is fair enough for the price and this kind of product.