There's a fun fact about Arizer Air vaporizer – most people who bought it years ago still use it. And report the same outstanding performance.
It's a true quality that lasts. And probably the reason why it became so popular.
Surely, everyone was expecting a lot from its heir – Arizer Air 2, especially after the release of Arizer Solo 2. At least I know I did.
Since I've already reviewed Arizer Air, the job of examining its successor naturally came down to me. And boy, am I glad it did.
But enough about me. Let's get down to our review.
Inside the box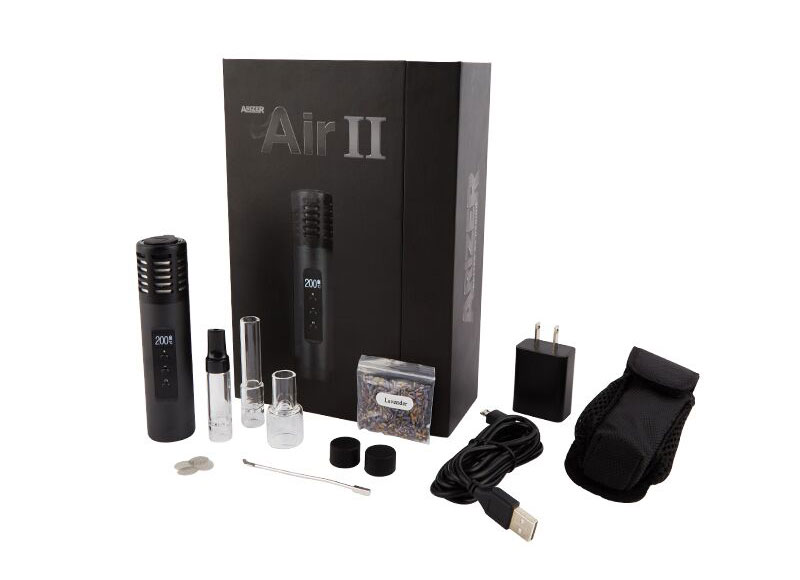 The Arizer Air 2 comes with:
Arizer Air 2 battery
USB charger
Glass aroma tube (70mm)
Tipped glass aroma tube (70mm)
Glass aroma dish
Silicone stem caps
PVC travel tubes with cap (70mm size)
PVC travel tube with cap (aroma dish size)
Belt-clip carry case
Stainless steel stirring tool
Stainless steel filter screens
Sample aromatic botanicals
Manual
I must admit I laughed a bit when I opened the box: does anyone really order this because of an aromatherapy addition? The sample bag of lavender looked kind of cute.
Jokes aside, the first thing you have to search for in the box is a hologram mark. There are a lot of fake products on the market, and it's highly advisable that you buy only authentic goods.
Now that we've cleared that out of the room, let's turn this pup on.
How to use the Arizer Air 2?
The best thing about this vaporizer is that it has no learning curve.
You do have a thick manual on hand, but the usage is the simplest it can get. As a matter of fact, I can say it almost with certainty, you'll soon find yourself playing with it on an expert level.
That's why it's perfect for both rookies and real connoisseurs.
There are 3 things you have to do to start the vapor going: sterilize, assembly, and press the ON button.
First things first, you'd want to get rid of all the leftovers from the manufacturing process. You don't want those chemicals in your vapor.
To do this, you simply have to turn the unit on by holding the ON button for several seconds, set the highest temperature, and let it run for 10 minutes. Do it twice, just to be sure.
The burn-off cycles will not only sterilize the unit, but will also loosen the chamber so that a glass stem can fit in more easily.
Fill a chamber at the bottom of a glass stem with 0.2 grams of roughly ground herb, pack it up a bit, insert it into the unit, and you've successfully completed the assembly process. Simple as that.
Turn the unit on. Set the desired temperature. Wait about 1-2 minutes. Draw once and disregard it (this is not representative of an actual hit or the hits that you'll get from the device; this is only to help heat things up a bit more). Draw the second time and you've got yourself a tasteful sweet spot.
Battery life
Like its predecessor, the Arizer Air 2 has a rechargeable and replaceable 18650 li-ion battery. Say what you like, but that's always a welcome feature in a portable vaporizer.
The real improvement is a USB charging option that is absent from the original Arizer Air. This new addition makes a whole world of difference.
On the other hand, I'm really glad that they've kept the pass-through charging option. It lets you use the unit while charging (you can turn the option on by pressing any button after some 10 minutes of charging).
And while we're on the comparison side of things, let's not forget the extended battery life. It's tough to estimate how long it will last because it all depends on the temperature you're vaping at, how long you vape, and how frequently you vape. Note that when it's completely dead, though, the battery needs more than one hour of charging.
And yes, we all know Arizer Solo 2 can do better than that, but then again, it's one of the reasons it isn't as portable as the Arizer Air 2. I suppose it all comes down to your individual needs and preferences.
Anyway, buying a spare battery or two won't hurt your wallet, and you'll always have a backup plan.
Temperature range
Someone from ArizerTech must have read my review on Arizer Air and the comment about the LED light indicator. I really hated it.
It was a relief to see a little LED screen on the unit. It lets you know precisely what temperature you're vaping at.
But the real step to the next level is the temperature range itself. This pup from the second generation lets you choose a temperature on a scale from 50°C to 220°C (122°F- 428°F) in both 1- and 10-degree increments.
More importantly, it stays cool to touch.
On the other hand, there's not much change in the heat-up time in comparison. It does get there a little faster (I didn't perform the exact measurements), but it still needs a minute or so.
Design and build quality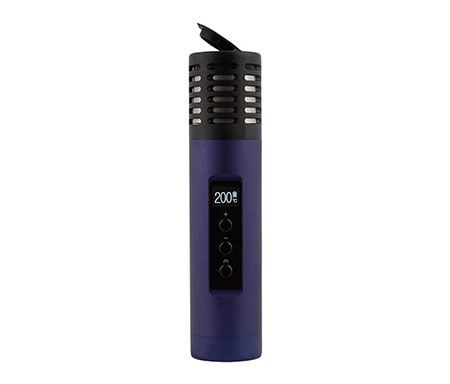 The quality in design more than makes up for this lack in improvement in heat up time.
As I implied already, the Arizers were built to last. You can see it by the materials and by how solid they feel in hand.
As for portability, I must admit I slightly changed my mind. Yes, the Arizer Air edition is fairly portable, but if that's your number one priority, you should have a look at the ArizerArGo.
I myself would never trade functionality and quality to portability. But that could be just me.
Chamber capacity and glass stems – oh my, oh my
According to many online reviews, the main weak point of Arizer Airs is the breakable stem. It's too long. It's made of glass. It's indiscreet.
I don't want to disrespect fellow reviewers, but this perspective seems to me as splitting hairs.
Yes, it's long but that's why the vapor is cooler.
Yes, it's made of glass, but that's the best material for your respiratory system.
Yes, a passer-by might see what you're doing, but, hey, it's a green rush out there anyways.
As for the chamber, it would be nice to pack more than 0.2 grams in it. However, I've given it a considerable amount of thought, and I'm not sure how this could be achieved practically.
Vapor quality
Speaking of glass stems, let's be sure to emphasize how they play an important role in vapor quality.
When using a glass stem, there are no additional or funny aromas. Just pure terpenes. No hot vapor either. When it arrives in your lungs, the vapor won't cause irritation.
To cite ArizerTech themselves,
[Quote] "Our unique hybrid heating system utilizes a pure borosilicate glass vapor path to deliver smooth & tasty vapor."
That's a fancy way of saying that this airpath is simply good for you.
In terms of density, I'll say I've seen vaporizers producing thicker mist. In addition, the draw resistance is more or less the same as in Arizer Air. Don't get me wrong, there is an improvement. However, I did expect a bit more of the second edition, but that's my personal opinion.
Security features
One of my favorite little things about Arizer Air 2 is how efficiently it can beat my clumsiness.
Namely, the power-on delay makes sure you don't accidentally turn on the device in your pocket. You can set up the delay to 2 seconds, 4 seconds, 6 seconds (default) and 8 seconds.
Additionally, you can set up the auto-shutdown from 5 to 15 minutes of inactivity and prevent a lot of battery power from going to waste.
Little things, big results.
Maintenance
Keeping the Arizer Air 2 clean is just as simple as its usage. The only parts you'll have to clean are the glass stems and the heating chamber.
You should soak the glass stems every now and then in isopropyl alcohol or soapy water, leave it in for 30 minutes, and rinse them thoroughly.
A Q-tip soaked in isopropyl alcohol works best for cleaning the heating chamber. Be sure to run a full cycle afterward to vaporize any remaining alcohol.
Also, it's a good idea to remove any leftovers from your sessions. The residues can and will lead to clogging more sooner. Prevention is the best maintenance strategy by far.
Final verdict
I'm not so sure what to recommend to those of you who already have the Arizer Air.
If you've found the Arizer Air your first favorite vaporizer, you may not even need a replacement unless you really want to check out the latest generation.
But if you're searching for your first (or second) favorite vaporizer right now and need something between a desktop vaporizer and a portable one, and want it to last for years – the Arizer Air 2 is probably your thing.